So in all the excitement of writing about Evan's visit, I forgot to mention that there was a toga party. Maybe because after all the excitement of Toga Keggers I-IV, regular toga parties have a hard time living up. At any rate, it happened, and I once again sported what I believe may be a Hershfield original, the poor man's toga, in which you put one of your arms through the neckhole. Feel free to try it sometime when you're laying around the house thinking "Man, I could sure be wearing a toga right now." Just know that the shirt may not be the same.
So on the five-day, I ventured into Grand Cayman for the first time. It's fairly crazy that I haven't yet, but it's our show day, so I like to be fresh, plus I heard it was kind of dull. And it was. But I did meet up with Mike and Megan at the Daily Grind (a good little place for all your internet needs), and we went for drinks. And now I can say I've been there, which is probably more than most of you can say.
Then St. Patty's Day. Good times were had, green was worn. There was a Crew Party, nominally hosted by Second City, so we were working the bar. I did my shift with Mike, me opening Coronas as fast as I could, him making them green. (Though it must be said that many of them went out ungreened, as the crew is pretty international, and the rule seemed to be if you didn't know what the holiday was, you wanted your beer normal.) My favorite decoration at the party was a Romanian leprechaun Rodney drew. For some reason, it was a vampire, and so I suggested the name St. Vladdy. It was so dubbed, hung on the wall for all to see, and Dragos (our local Romanian) went crazy for it and took several pictures with it.
Then in Cozumel, a group excursion. Rodney took four of us (no Nate) to La Choza, reputedly the best Mexican food around. This was a very big deal, because it was Rodney's first time off the ship in about sixty days. I know. Don't get me started.
At any rate, the food lived up to its advanced billing. The guacamole was holy moley, the tortilla soup was decadent joy, and we had fajitas as a group, which were delish. And Ashley played drums with the wandering mariachi band, which was very charming. The meal done, Rodney raced back to the comfort of the ship (not to leave again until we disembark, by the looks of things.) The rest of us went on to Playa Azur for lazy fun in the sun. All in all, a very nice day.
It was this night that I finalized my March Madness picks for a pool run by Allen Morrison. I essentially went with Obama's picks, as he's the decider and all, with a few variations of my own. My big success: for some reason, I had a feeling it would be a bad year for Mormons, and based on this, I went against Obama and successfully predicted two upsets, Texas A&M over Brigham Young and Arizona over Utah. My big failure: I went with Obama and picked Temple to win; Jo goes there and it sounds vaguely Jewish, and while these are positives in the grand scheme, I should have known they would not augur well for basketball success. And of course, I needed Duke to win to stay ahead of Simone Bailly, and they lost, giving her the well-earned right to be insufferable. For that reason, I suggest everyone call them "Douche" for the entire off-season. That'll learn them.
The sea days were fairly unremarkable. I quite regrettably made what may have been the world's first too-soon Natasha Richardson joke. Ashley and I have been, as all good Canadians do, yelling out "Canadian!" any time a Canadian celebrity is mentioned. And having only briefly scanned the Globe and Mail webpage over the few days preceding, all I knew was that she'd hurt herself on a bunny slope, so I'd presumed it was one of those typical ridiculous Canadian news stories where we make a huge deal out of anything that happens to a celebrity while within our borders. So anyway, we were at dinner, Nate says "Hey, did you hear about Natasha Richardson?" and I quickly blurt out "Injured in Canada!" Oy! The moral of the story, besides "Don't be a sardonic asshole," seems to be "Don't do topical humour if you don't know the topic." Since I'm probably incapable of the former, I'm going to focus on the latter. (Or feel guilty; it comes pretty naturally.)
The other "event" of the sea days is I finally started taking advantage of the spa. After 10 p.m., the spa is open to crew only, so we can go down there and hot tub, sauna, steam, etc., all away from passengers' prying eyes. On the one hand, I'm kind of an idiot for not having done this all along. On the other, I was somewhat consciously saving it, and I'm glad I did. I can tell it's the kind of thing I would have tired of, but having saved it, it's a fun little ritual that I'll probably do every few days until we leave. I must say, nothing brings the mind into focus like going from the hot tub into the plunge pool (which is a nice cold, not a crazy ice cold.) And I should probably take a shvitz, if only because I like saying "shvitz."
Then a pretty laid back day in Miami. I did manage to buy a pair of drumsticks, figuring to take advantage of having both a good teacher available in Rodney and regular access to a drum set in the Crew Bar. Thus far, I've only actually used the drum set once, but I've been puttering around in the room fairly often; my paradiddling is coming along nicely, thank you for asking. I also made a point of downloading a fair number of podcasts to while away the remaining hours: CBC Radio 3 for music (it's an excellent podcast, enjoy it now before Stephen Harper successfully makes Canadian culture illegal), The Sound of Young America for my pop culture needs (thank you, Kevin Lee), and Stop Podcasting Yourself for the occasional sound of familiar voices. All good stuff thus far. I also procured some Gaelic Storm, who I missed during Ships 'n Dip but everyone's been raving about, and they have not disappointed. Check 'em out, folks!
That night, dinner at Azura, where we were introduced to Serpe, a guest of Megan's. (She is technically a Megan too, but due to our Megan's seniority, she gets the last name treatment.) She's delightful, and it's been very enjoyable to watch the Megans finish each other's thoughts the way old friends can.
The first sea day, we got a tour of the engine room. It was hot, it was loud, it was neato! I can't say I know substantially more about how things work than when I went in (it was pretty loud), but what I did learn was fascinating, and the scale of the operation is impressive. To prove this, here is a picture: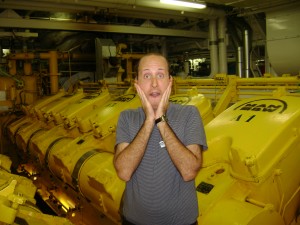 Oh, and those are earplugs, though if you thought my ears were bleeding, you wouldn't be far off.
The next day was Samana, where I did the Mangrove Exploration by Kayak excursion. It was one of those excursions where you feel like you're being rushed the whole time, but I do like me some caves and mangroves. Of course, the rum was flowing pretty hard and heavy on the way back, which got the passengers all riled up and interfered with my well-intentioned plan to nod off. Ah well.
Then the shows, and a retreat to Crew Bar, where I suffered the first pangs of premature nostalgia. There's a lot I'm looking forward to about coming home, but I am going to miss these people and this life. But 'tis better to have lived and lost…
In Tortola, we once again faced the where-to-take-a-guest dilemma of Virgin Gorda vs. Brewer's Bay, and once again, we opted for the latter. This time, there was not even an attempt at snorkeling, but the upside was that we had, for my first time this cruise, huge waves! Happy, happy, joy, joy! I don't know if they were huge to wave-knowing folk, but well over our heads at any rate. I alternated between trying to stand up to them and trying to ride them, and both provided great entertainment. One particularly good wave drove me backwards, planting my shoulders into the sand ridge and flipping my body over, an experience that ended with the most public display of my junk since my bris. But damned if I didn't keep going back for more.
We then retreated to Pusser's for lunch, we being Megan, Serpe, Mike, and myself. I can't say the food was bad, because it was certainly tasty, but Serpe bit into a chunk of wood in one of her conch fritters, and digestion problems from my curried chicken roti forced a fairly hasty retreat to the ship. A somewhat inauspicious end to one of my favorite ports, but oh, those waves!
That night, I ended up having an unintended dinner with JAR Fran, unintended in the sense that we both just happened to be at the Garden Café alone at the same time. It was interesting, because most of the people you meet on ships you only interact with in group settings, and it was fun because she's young enough that you can actually track her growth as a person from when we first got onboard to now. As previously mentioned, nostalgia has kicked in.
In Antigua, I did a Kayak and Snorkel Adventure. The snorkeling was somewhat underwhelming, but fearing I might not get another chance, I polished off the remaining film on Evan's underwater camera. (You'll develop them and you'll like it, Stinkpot!) And I did get a single kayak, which was fun.
In Barbados, I finally got an excursion that I've been signing up for for weeks, the trip to Harrison's Cave. It was kind of sad to miss my last Boatyard (nostalgia!), but it was pretty spectacular. Here's a picture: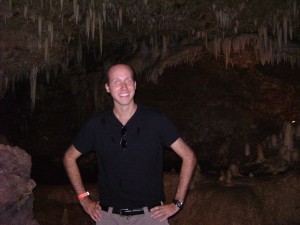 Notes on the picture: I actually turned off the red-eye reduction just before this picture was taken, because it was taking too long for pictures of the cave itself, and then someone asked me if I wanted my picture taken. Murphy's Law. And the drops all over my shirt that look like stains are actually from water dropping from the roof of the cave. So stop with the judging already. (Although if you were inclined to judge, you might notice that I need new shorts, as, since the weight loss, my shorts often tend to slip below my belt. I smell another shopping spree!)
That night, I discovered that the "four crew maximum can sit together in the Garden Café" rule was apparently being enforced. I mention it only because it's irritating, especially with me being all nostalgic. Plus the rules don't apply to Second City (as guest performers), but we count against other people. In other words, if there were four crew members eating together and I was to join them, they could lose their privileges but I wouldn't. It seems silly to me, but no one's putting me in charge of anything, and since I have nothing to lose, it's not really my place to play Rosa Parks. But maybe Norma Rae…we'll see if I can come up with a catchy protest slogan in time…
In St. Lucia, I did the Horseback Beach Adventure excursion. Somewhat disappointing, but hey, time on a horse! His name was Smoky, and his pace makes me think the name may be because of a pack-a-day habit. In case he finds himself missing me, here's a picture to show him: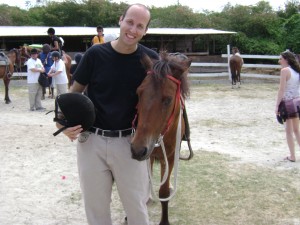 That night, we had our improv shows. They went pretty well: Mike picked me up and spun me around in a dance number for what may have been the last time (more on this later), and in what was generally a strong 1,001 Blanks for me, I found out the hard way that Canadians are apparently the only ones who use the phrase "homo milk." Live and learn.
The next day, I was teaching the workshop with Nate (me leading, he had the previous one we did together.) I was waiting for him to show up, and he ended up arriving just before it was to start, delayed because Mike had apparently broken his foot (a self-diagnosis that was later confirmed.) He'd been playing soccer up on the sports deck when strong-man JAR Massimo stepped on his foot. It is a major bummer, of course, but Mike is handling it with usual aplomb, and we are waiting for Miami to get him to a hospital and find out exactly what the prognosis is. And on the plus side, if he was Smoky…
The workshop was fun. The new thing I introduced was Animal Characters, which there wasn't much time for, but as with all the times we give passengers character exercises, there were big laughs, many of the horrified variety. But for my last workshop onboard, a fun one to go out on.
That night, I went out for drinks at Star Bar with Annelise, a JAR from France (ooh la la!) It was very nice, as I enjoy her company greatly, and what better way to ring in a birthday than dressed to the nines with a beautiful lady? That's right, the big 3-2. I'm still not a big one for birthdays, as it seems to me that celebrating your birth is something best left to emperors and the like, but when on a cruise…Festivities planned for tonight include a group excursion to see Cirque Bijou, a sushi dinner, and a late-night improv jam. And at some point, I will hold my breath until someone peels me a grape.
And now, I leave you with some vaguely racist comments I heard passengers say over the last cruise:
In Samana: (to a guide who really didn't) "Hey, you look like Barack Obama!"
In Barbados: (in response to a guide talking about the national sports of BARBADOS) "What about your bobsled team?"
In St. Lucia: (to a guide talking about school uniforms being mandatory throughout the country (and to be fair, this one may have been strictly ageist)): "I wish we had that. Maybe then we wouldn't have the problems we have."
Vive le difference!< >< ><–>