C'mon, Hershfield, you can do this.  It's like riding a bike…in the sense that you haven't done that in forever either.  Alright, here goes.
Hey, remember August?  I vaguely do!  Mine started with a trip to New York with my father…and I think it might have gone…a little something…like this:
August 2nd:
We take the bus.  It is not a short bus ride, but the time passes fairly pleasantly.  We arrive at the Port Authority, and as we get into view of the line of cabs, one of the drivers comes up and helps us with our bags.  Which would be all well and good, except in doing so, he's jumping the line.  And now, a bunch of cabbies are threatening to kill each other in the international language of rage.  We have arrived in New York.
We check in at our hotel (the Beacon Hotel) on the Upper West Side, and grab a late dinner at the Viand Café next door.  Nothing else too interesting happens this night, except that as we wander around the neighborhood, we happen to cross an island in the middle of the street, and as we do so, about a hundred rats come flying out of everywhere in a rat stampede.  It is the closest I've been in my life to tucking my pants into my socks.  Oh, New York!
August3rd:
Where do we go for breakfast?  That's right, the Viand Café.  Two meals in, and we're in a rut.  But it's oh-so-next-door!
Our tour of New York begins with the American Museum of Natural History.  In truth, just the lobby, but it's a very impressive lobby.  Teddy Roosevelt + dinosaurs = impressive.  As we made our way downtown, I stopped into the YMCA to go to the bathroom, which I mention only because I also stuck my head into the little theatre they have there, and it was adorable, and I want to do a play there someday.  This is my note to self.
Next landmark: the Ed Sullivan Theatre.  Sadly, Dave was on hiatus.  But around the corner, the Hello Deli was open, and Larry and I stared through the window at Rupert G, until we remembered that he was a real person, felt Canadian and moved on.
Then, Times Square, in all its spec-tacky-lar glory.  Right off the square was the theatre where West Side Story was playing, featuring Cody Green as Riff.  This is of significance because my father and his father are old friends, thus making a show-and-post-show-chat an intriguing possibility to Larry, and thus far, we'd been unable to get in touch.    So Larry wrote Cody a note and we got buzzed in and went backstage to leave it for him.  And that's how I got to be backstage at a Broadway theatre.  Ta da!
I was not so nerdy as to take pictures backstage (as I didn't want the very friendly and accomodating stagehands to shake their heads with disgust), but I did take these on the way in: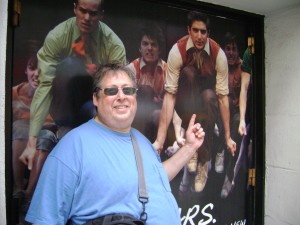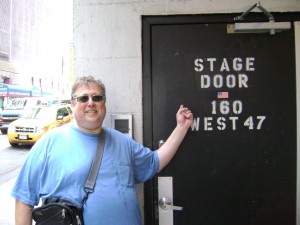 That excitement behind us, we continued our walk, passing the flatiron building  (so flat!  so iron!), Union Square, and then made our way west on 12th through Greenwich Village.  We walked around Washington Square Park (where there was a possible Mark Metcalf sighting that went unconfirmed) and spent a little time watching the chess players.  We then put in a little time at Bleecker Bob's.  Yep, we did that.
And eventually, and quite unintentionally, we found ourselves at 4th and 6th: The Cage!  It was the Kenny Graham tournament, featuring two top-notch high school basketball teams.  Subsequent research has informed me that NBAers of note who toiled there back in the day include Kareem Abdul-Jabbar, Stephan Marbury, Rod Strickland, and Rafer Alston.  It was a pretty incredible thing to stumble upon, and we watched their whole game from start to finish.  High schoolers should not be able to play like that.  Also adding to the experience were the crusty old experts on the sidelines (apparently, colleges like to recruit guards from New York and forwards from Chicago), the vial I found under my feet (thank you, The Wire!), and one of the coaches flipping out.  Oh, and the guy calling the game on the megaphone.  Pretty great.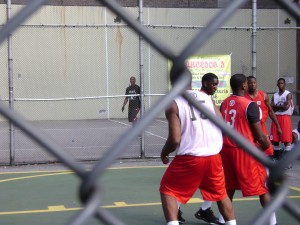 After that, we walked down MacDougall to Prince, through Soho, and then the northern part of Little Italy, to the Bowery, down Delancey (ye olde Lower East Side), up Ludlow (where there was a guitar store and a restaurant called Poutine side-by-side, which would have bore further investigation were time not a factor), and then to Katz's Deli.  Where Larry insisted upon this picture.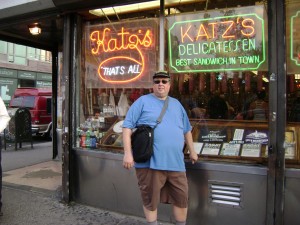 I'll have what he's having.
Then we were off to meet high school buddy Dave at UCB, Upright Citizens' Brigade for the uninitiated, New York's improv/comedy mecca.  We bought our tickets and went around the corner for some Chinese food.  I quickly realized how empty my life had been up to that point by eating soup dumplings for the first time, and we had for our entree one of Mao's favorite dishes, a pork with chestnut concoction.  I took a picture of the menu to capture the most incredible names of dishes I've ever seen: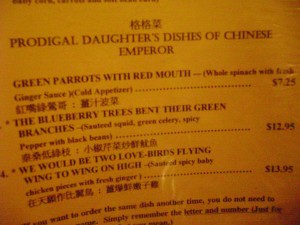 And here's one of Dave (no relation, but we get that constantly):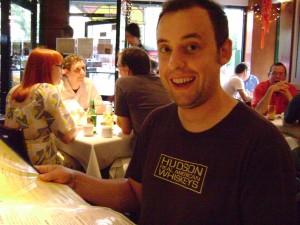 The show was at UCB, but it was in fact Chicago folks (who tend to be my favorite folks): 2-Square, with Peter Grosz (The Colbert Report) and John Lutz (30 Rock) representing half of their normal four-person show.  Pretty damn awesome.  (And a fairly good preview of Larry's senility, with several interjections of "What'd he say?" and "Why was that funny?"  Though, to be fair, I was feeling pretty old for that crowd, so I can only imagine how he was taking it in.)
So we got back to the hotel, where a couple of messages were waiting for us.  We found out, sadly, that Cody was injured, and thus wouldn't be performing while we were there.  Bummer.  And I got in touch with Yael, from McGill days of yore, regaling occurred and some hasty plans were made.  (I, idiot that I am, only got in touch with people upon arriving.  Part of that was waiting to figure out when I would free of the pater, but still, probably should have given people more notice.)
August 4th:
Larry had an afternoon meeting, so we tried to cram some sightseeing into the morning.  We walked by the Dakota again without recognizing it (never assume the plaque!), and took the scenic jaunt through Central Park, then by Carnegie Hall, Carnegie Deli, Radio City Music Hall, and Rockefeller Center.  We tried to go to the Paley Center (which was irritatingly closed) and ended up putting in a little time at St. Patrick's Cathedral instead (and I'm not sure, but it may have been the first time I've actually seen people dealing with holy water?  Which of course got the Jewish nerd in me thinking about vampires.  If there's ever an outbreak of vampires in New York, you could be in a lot worse places than St. Patrick's.  Pretty stained glass too.  Hey, "stained" is an anagram of "sainted."  Live and learn!)
Finding ourselves with more time than we'd expected (ironic "thank you", Paley!), we went down to Grand Central Station and checked out the transit museum, and we also picked up a "J line" T-shirt for Mother.  (Yes, I refer to my father as Larry and my mother as Mother…what of it?)  And our last stop of the afternoon was the New York Public Library, where I nerdishly showed off that Brave New Play Rites (and thus my play) was available in the theatre capital of the world, and my father nerdishly trumped me by insisting we take pictures.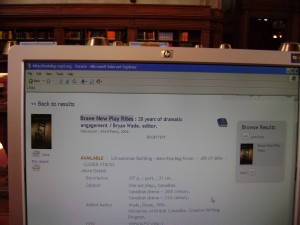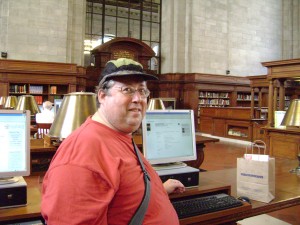 You can't really make it out, but there's a Gutenberg bible in the background.  Nothing wrong with our priorities!  And while I'm sharing stupid things I took a picture of out of some misguided sense of delusional pride: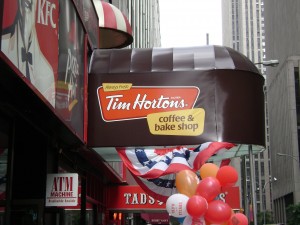 Then we went back to the hotel, Larry took off for his meeting, and I took a mini-nap with Joe Dirt playing in the background.  That was a low point.
When I got up, I had a small window of time before I was supposed to meet up with Dave again, so I stayed fairly local.  I wandered around Juilliard (and its bookstore), went to the Library for the Performing Arts (yes, they actually have such a thing) and poked around the exhibits, made a quick stop at Barnes and Noble for a cookie lunch, then returned to the hotel to make some phone calls (mostly trying to figure things out with Yael, and Becky (of UBC fame)).  These plans never came to fruition (we'll get to it), but it was nice just to have a reason to talk with these fine ladies once more.  Next time, next time…
At any rate, I met Dave at a bar, where he was in post-game revelry with his ball hockey team.  I talked a lot of hockey with his American friends (I think Canadians are assumed to be fellow travelers) and then we made our way to Brooklyn to meet up with his special lady friend Andrea at their favorite local Thai restaurant.  Very tasty!  Then some tearful goodbyes and I made my way back to the hotel.  One full day left!
August 5th:
I returned to the Paley Center for Media, and while an argument could definitely be made that going to a museum to watch TV while in the most famed city in North America is not the best use of one's time, it's also the capital of television, and I like TV.  The good stuff, at any rate.  So I went.  I caught a little of America's Teenagers: Growing Up On Television: A Museum of Television & Radio Special while waiting to watch a little of the actual Frost/Nixon interviews.  Which I saw, and much like the movie portrays, yowza!
Then to the private viewing rooms, where I wavered on ordering the Lily Tomlin special with Richard Pryor or an episode of the Smothers Brothers, before finally settling on Your Show of Shows (host: Jayne Meadows), NBC, 1954/01/02, 9 p.m. EST.  I mean, if you're going to draw from a treasure trove of archived TV, you've got to go classic, right?
It was pretty incredible to behold how much things have changed.  I mean, we all know about the old-timey ads that actually talk about the products.  But it was amazing to see what the host's job was.  I thought it would be equivalent to an SNL host, but not at all.  The host would literally introduce every sketch and tell you what it was you were about to see, and in this case, she did it in a gown and pearls.  And of course, the show itself.  By our standards, unsophisticated humor, but it actually held up quite well, and it's crazy to think that back in the day, sketch performers were expected to know things like pantomime and dance.  It almost looked like a skilled profession!  And of course, some things don't change: Carl Reiner, Imogene Coca, and Sid Caesar would all be stars today.  Plus the show ended with "There's Nothing Like A Dame", which, let's face it, every show should end with.
So, while I'm watching this, I get a text message from Yael, who has to cancel.  Drag.  However, already having slotted our plans into my schedule, and not having anything I particularly want to do more, I carry through with them on my own and make my way to the High Line.  The High Line is a fairly new destination in the New York firmament, a stretch of elevated train tracks abandoned and turned into a public park and garden. (http://www.thehighline.org/)  It's probably what Toronto should do with the Gardiner, though we'd no doubt manage to screw it up.
So on the way down, I pass Madison Square Garden, but more importantly, the Postal Museum.  Larry, who loves a good postal museum, is of course working, so I decide (whether as a good son or a son who enjoys doling out a good ribbing) to pop in and take some pictures, share with the old man what he missed.  Here's a few of them: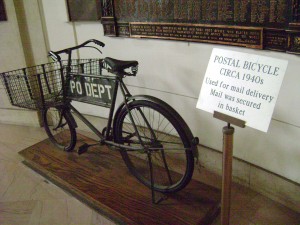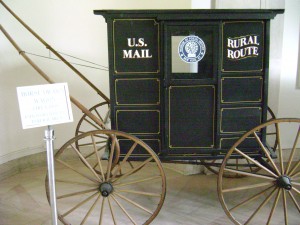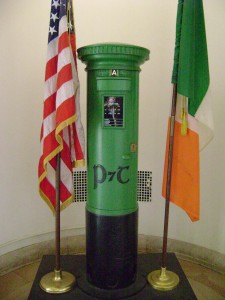 Alas, they had no t-shirts with the slogan "I Went Postal!"  Nor do they, to the best of my knowledge, exist.  Another note to self.
And here are some of my pictures from the High Line: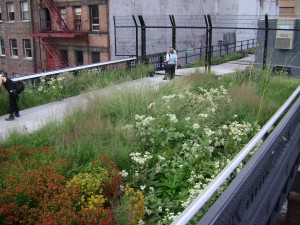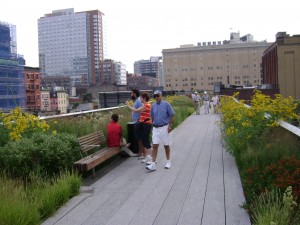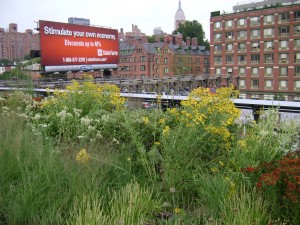 And it was while sitting here that my plans with Becky fell through.  She invited me to a Simon Rich reading (who I hadn't read at the time, but as avid readers of this blog would know, I subsequently did and quite enjoyed), but I figured I owed the old man my presence, since he'd paid my freight and all, so I regretfully declined.  But we had a nice chat, and here's hoping she makes her way here at some point soon.
Having been charged with the task of picking an activity for the evening, I opted to be a wonderful son and indulge my father by getting us tickets to see the Fabulous Thunderbirds at B.B. King's.   I was a little bummed out not to see a show on Broadway (I mean, I have before, but not this trip), but August: Osage County was on tour, God of Carnage was on hiatus, and Cody's injury had taken some of the shine off West Side Story.  So I did the right thing, and while I'm not nearly as into the blues as the old man, I must admit they put on a hell of a show.  It looked like this.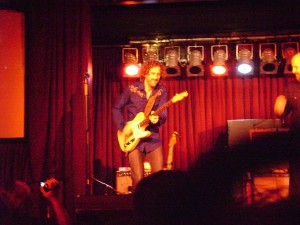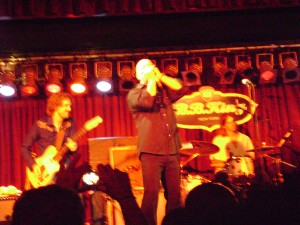 And Larry getting his CD autographed looked like this: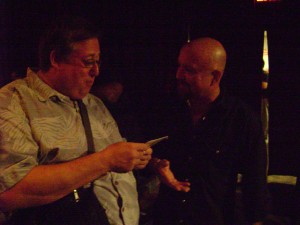 And that's how we spent our last night in New York.
August 6th:
Having only a few morning hours before our return flight, we decided to go to the fairly close Jewish Museum.  (Apparently, there are Jewish museums and not-Jewish museums…)  Of course, it was on the other side of Central Park, and cutting across proved slightly trickier to navigate than I thought it would be, so we lost some ground and some time.  But we got there, enjoyed some Jewish time in the Jewish Museum, and then made our Jew way back to the hotel.  The ride to the airport was fairly uneventful, except for the fact that the town car turned out to be a stretch limo, which felt kind of ridiculous, but I guess they don't get much use during the day, so why not?
And that was New York.
Wow, writing that post was as exhausting as riding a bike.  I've got to learn some brevity.  Rumor has it it's the soul of…oh, crap, what's that stuff called…it was a play about cancer…umm…oh yeah, wit!