It's pretty tempting not to do an entry for 2020. Especially since I do these posts after the fact, so they're usually me reviewing my calendar and social media to find "the big events"… and this year basically didn't have those. But I did live it, and SOME interesting things did happen. So I guess I'll do a bit of an overview, then my standard month-by-month breakdown. Though this year will have a heavier emphasis on posts I made, even if no one else liked 'em… because it was a year when even having a thought I liked seemed like a monumental accomplishment!
Socially, no duh, it was a pretty light year. But there were some routines that developed that were key to my mental survival. As someone living alone, I was allowed to bubble with another household, which naturally ended up being my parents (and Marty.) So every now and then, I would go and stay there for awhile. And we also talked daily, often after Jeopardy, so we could see which of us got Final Jeopardy right.
I also had two weekly standing 'watch' appointments. One was Bachelor/Bachelorette with Jenny and Lindsay (and occasionally Tom.) They were Messenger chats, but I'm pretty sure I could hear their voices… and of course, it was the only thing that made those shows tolerable. (And even then, just barely.) There was also a Thursday Night Movie Night with Robin, Ian, and Jason, which by the end had screens synced up (thanks, Robin!) and Google Meet for our running commentaries, which were, of course, the point.
Besides that, there were the random calls, which were in some ways harder because there was less to say. And basically monthly Google Meet meet-ups with my high school friends. I also got to know my housemates a little, which was nice (and silly not to have happened earlier); hopefully, more backyard hangouts in the After Times.
As for things I learned, well, I don't want to call this pandemic any kind of learning opportunity. But I did learn a few things. One of them was Python, and I got pretty good for a beginner… but then I completely got out of the habit of doing it. That said, I liked it, and expect if I try to learn it AGAIN, it'll go faster and further. As for food preparation, I wouldn't say I LEARNED to cook… but I kind of did. I certainly did a lot more of it, and now use the inside of the oven, not just the burners! Plus, I've got a tuna casserole that I would actually serve to other people (in a pinch), and thanks to my parents and Chef's Plate, I know that I can follow simple recipes.
And work… still work. Mind you, WFH has been great and actually a better process for all involved… so I'm certain it'll be ended as soon as safely possible, if not before. Given that I was almost forced to return several times in early- and mid-pandemic, this seems like a safe assumption. But that's 2021's problem…
ANYHOO… let's get to it, shall we?
January:
The first event in my calendar for the year seems to be a night at Mom's Basement (the bar, not my mom's basement.) That sounds right. It would have been with Ian, Jason, and Robin, I assume? It's a night out over a year ago, and those all seem very far away.



I have brunch with Jess at the 3 Speed. If memory serves, she was living right, so we didn't drink… and I ended up messing myself up thoroughly by having more coffee (not decaf) than I have in decades. Moral: stick to drinking.
Then near the end of the month, PK and Seiler have their going-away party, and I want to go but don't, because I'm not great with parties. Oh, if I knew then what I know now! Well, actually, I still might have felt the same, but I'd feel even worse for not sucking it up.
I get a raise at work. So I'm less underpaid.
February:

Pete and I have plans to see Parasite. But because of work, he had to stand me up. Since I already had the tickets, I went on my own. And it was pretty great… especially in retrospect, since I didn't pass up the chance to see a movie in a theater. Also, since it was at the Varsity, I used the opportunity to pool several of the Indigo gift cards I've accumulated over the years and pick up a nice bound version of The Hitch Hiker's Guide to the Galaxy "trilogy." So if I ever need to be sworn in for something, I've got that.




I go see 'Nour Hadidi and friends' at Comedy Bar (in the cabaret space.) One of those friends is Mark Little. They're funny… as were the other friends, of course. Should I have done standup in the Before Times? Hard to say… but really think I should in the After Times.
Speaking of Before Times, I go to the theater (!) with Mom. We see Caroline, or Change. Quite good… though it may have fallen short of expectations, as the last Tony Kushner I'd seen was Angels in America on Broadway. (Is that a brag?!)

With negotiations having started in January, my group of McGill friends decides that we'll have our twenty-year reunion on August 1st. Ha ha, suckers!
We make a trip to see Jen do standup at Tallboys. Good times, as she's clearly impressive… but this is also part of my ramping up to trying it again that of course didn't happen. Still, a room I'd want to return to.
I go see the Second City revue. I enjoyed it, and though my performing friends might be dwindling in number, the ones I have still plugging away are good. I don't realize it at the time, but it would be the last time I'd be in that theater, which has since been destroyed. While it wasn't my most important stage, I did have some memorable moments there (auditions especially), and it did always make me feel connected to something bigger when I strode upon it. (I can't remember any sets in particular… but I must have got SOME laughs up there!)
The high school gang gets together for a dinner at Patois. PROBABLY my last group excursion to a restaurant for the year?
The next day, I go skating for the first time in forever. I am bad, as muscles I used to have don't seem to exist anymore. Also, my skates are in desperate need of sharpening. I choose to believe I could get it back, with time.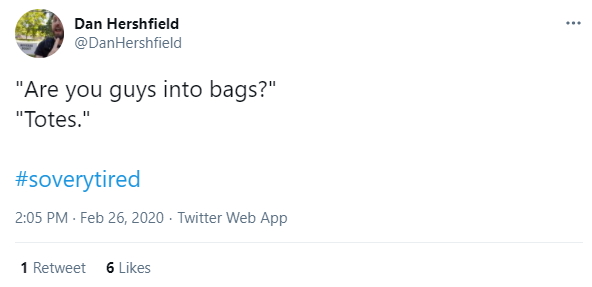 There's a jam with Boris Mortz. (That's me, Evan, Peter, Jamie, and this time, Ariel.) Always fun to jam!
And I go see Jason do standup at Hirut Hoot. Part of my 'building courage' tour. He's good, and I have Ethiopian food again for the first time in years. That's also good.
March:

I get an email from a high school teacher in Richmond Hill. Turns out there's going to be yet another production of Courting! Though of course it gets cancelled, so that's a way the pandemic cost me money?
I go with Larry to see Knives Out. It was great… and the last movie I would see in theaters for the year.
Sketchfest happens. Right around the time we all realize our world's going to be shutting down for awhile. But the festival basically makes it through intact (I think American troupes scheduled for the end didn't make it), and I saw some good stuff:
Mark & Andy
Lusty Mannequins
Whisky Kids / Beggar's Canyon
Anders Yates / Jon Blair
Erica Gellert / Girl Brain
Peter 'N Chris
Cam Wyllie / Jordan Armstrong
Not Oasis / Sex T-Rex
Flying Solo
Dead Parents Society
The Weight of It All (Gillian Bartolucci)
Food Trucks has a jam. We rock. Do YOU like Food Trucks?
…and now, we enter the panic times.


So at this point, not being able to travel or see people, but wanting to maintain some sense of normalcy, I walk to the beach.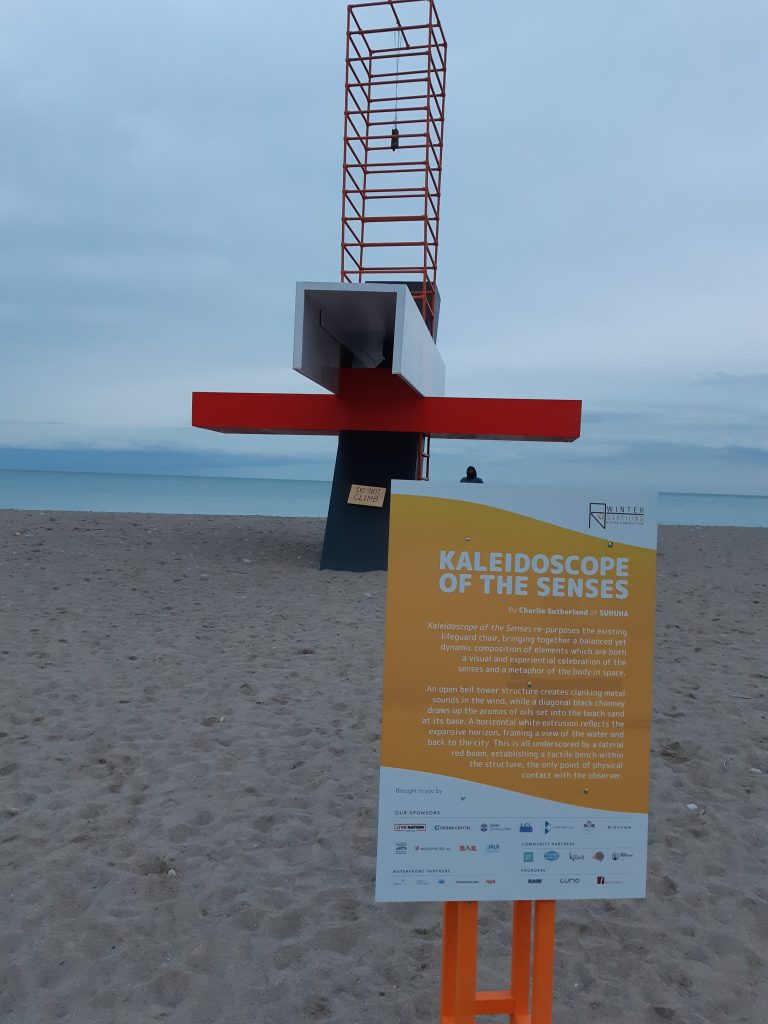 Art! Well, that's done… back to Twitter!



Okay, this isn't REALLY a digression from Twitter… but it's at least a fun Twitter thing that'll definitely be one of the few 2020 things I look back on fondly. Ian and Jen start the Quarantine Frasier account… and they let me contribute title cards! Here's my first… and then some more: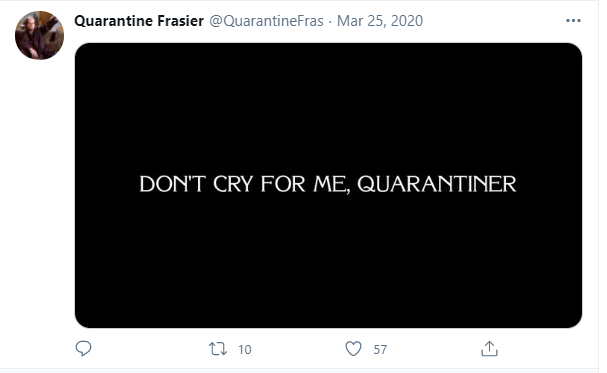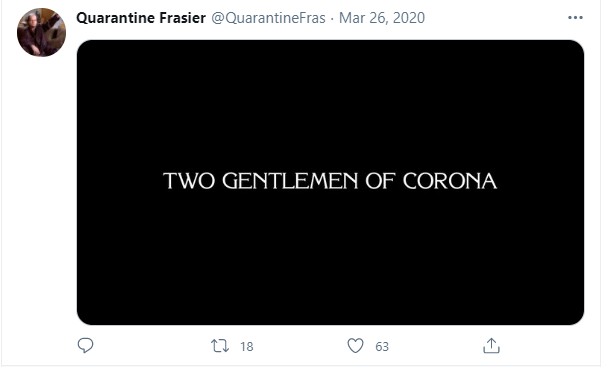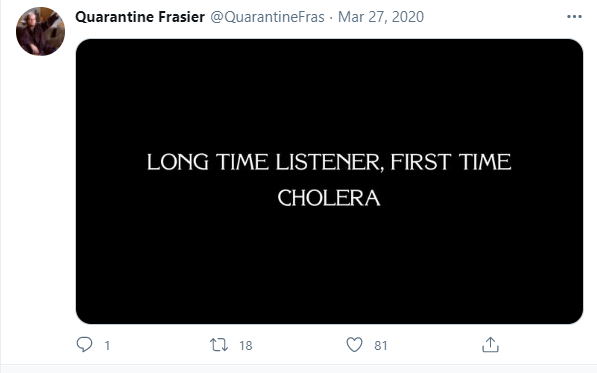 A safe place for my ridiculous voice. But that didn't stop me from posting silliness on my personal accounts.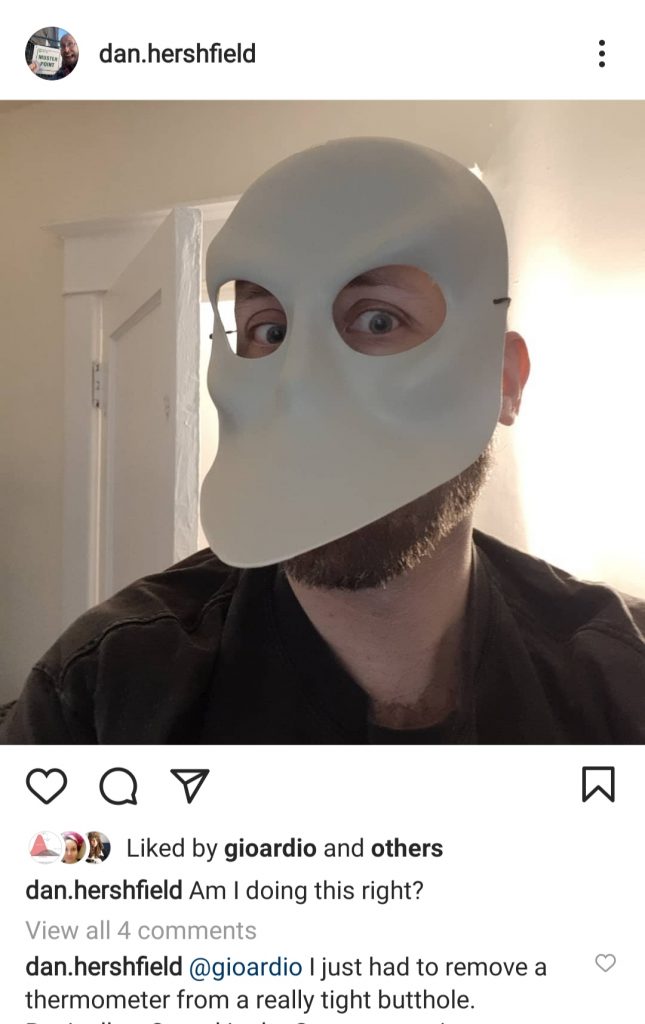 April:
There was a virtual seder in here… but just for shits and giggles, let's do this month entirely in social media.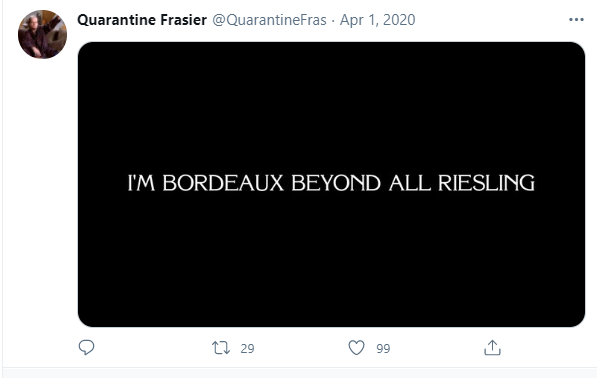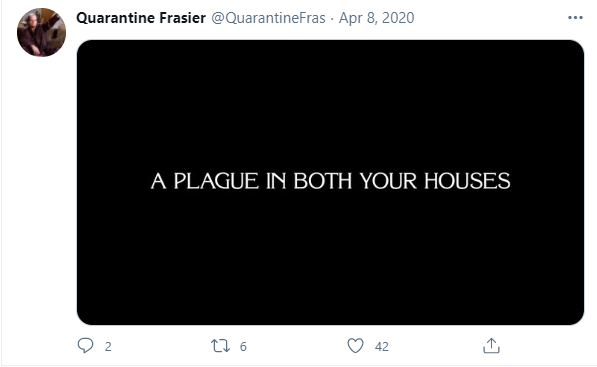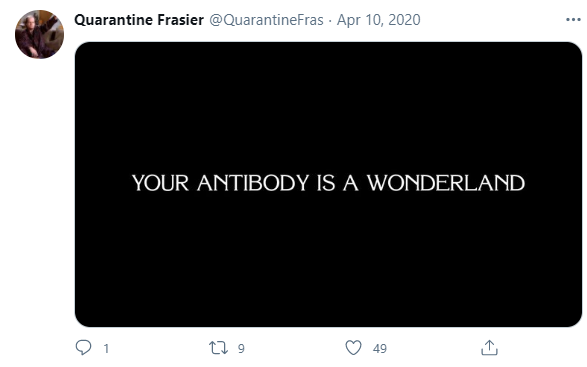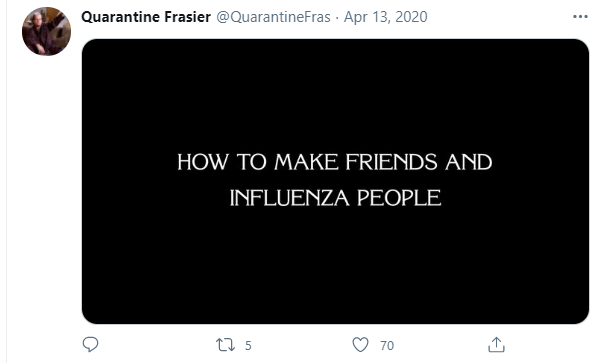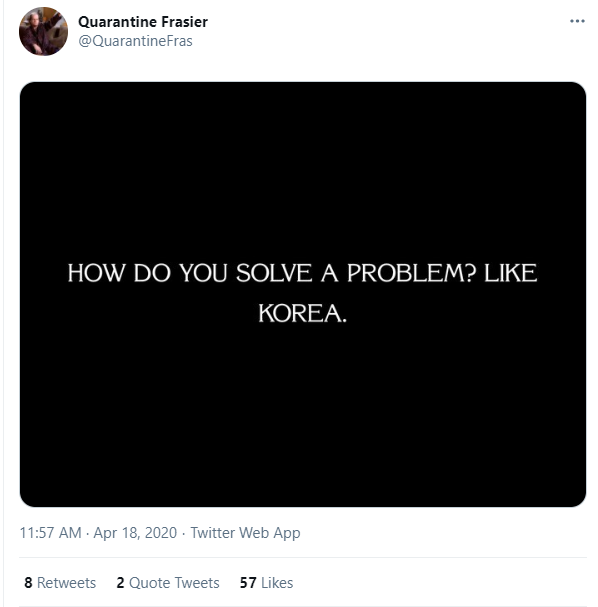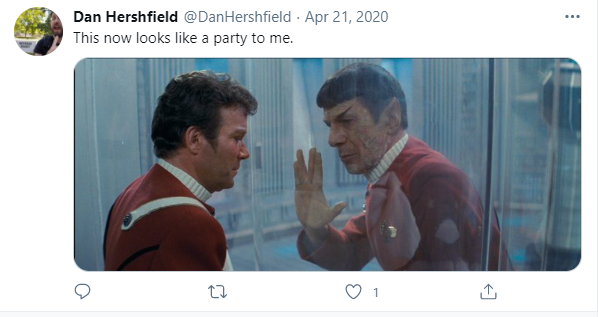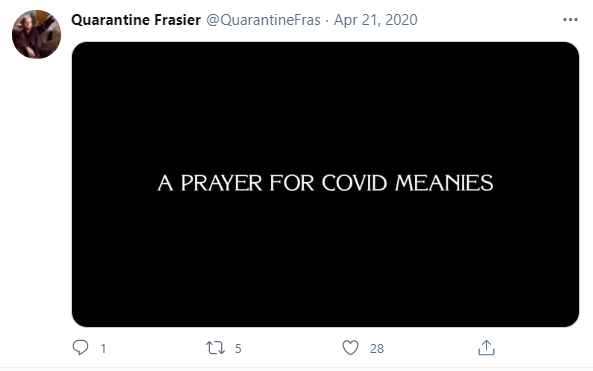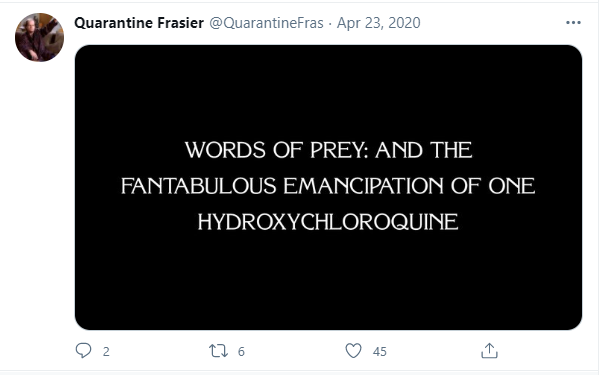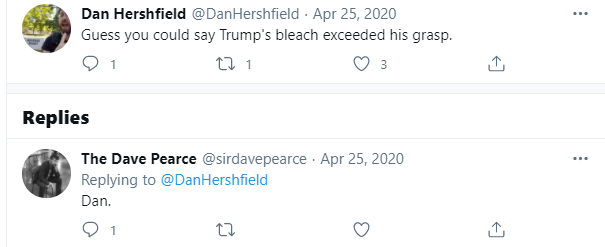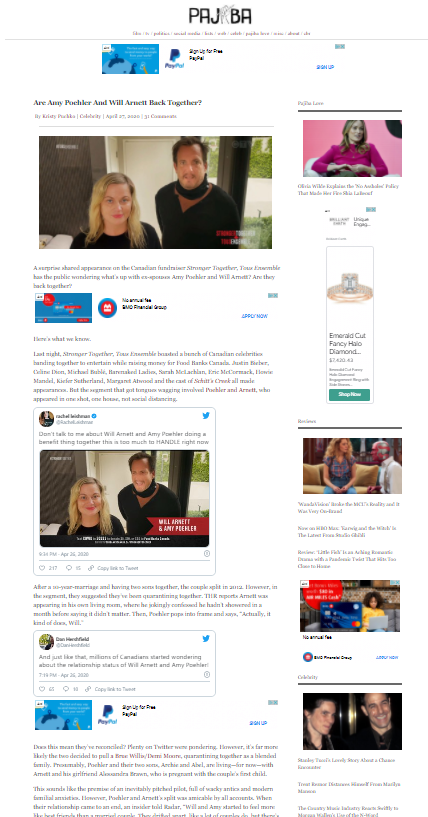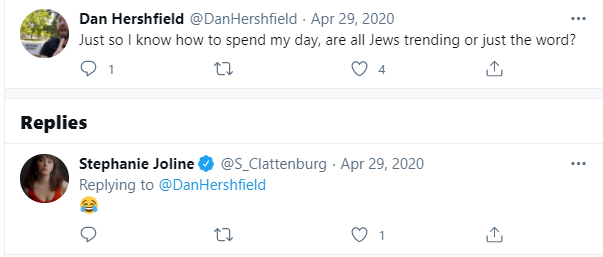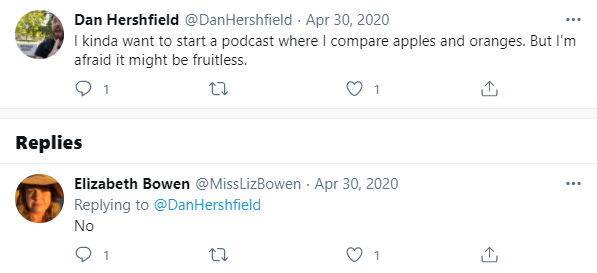 PHEW! That was exhausting!
May:
But let's run it back anyway!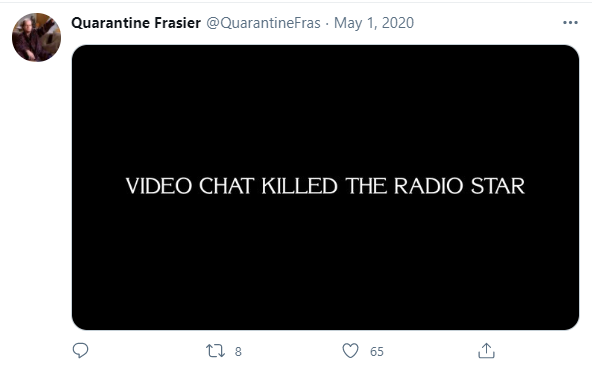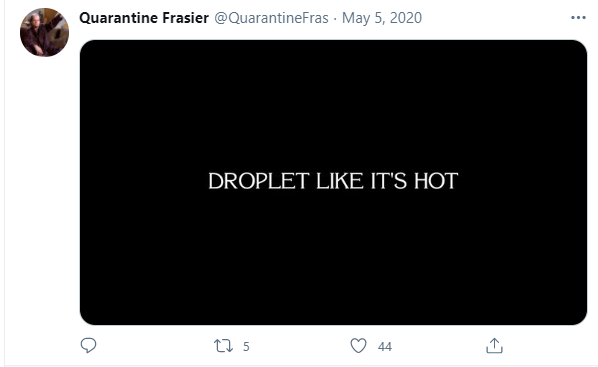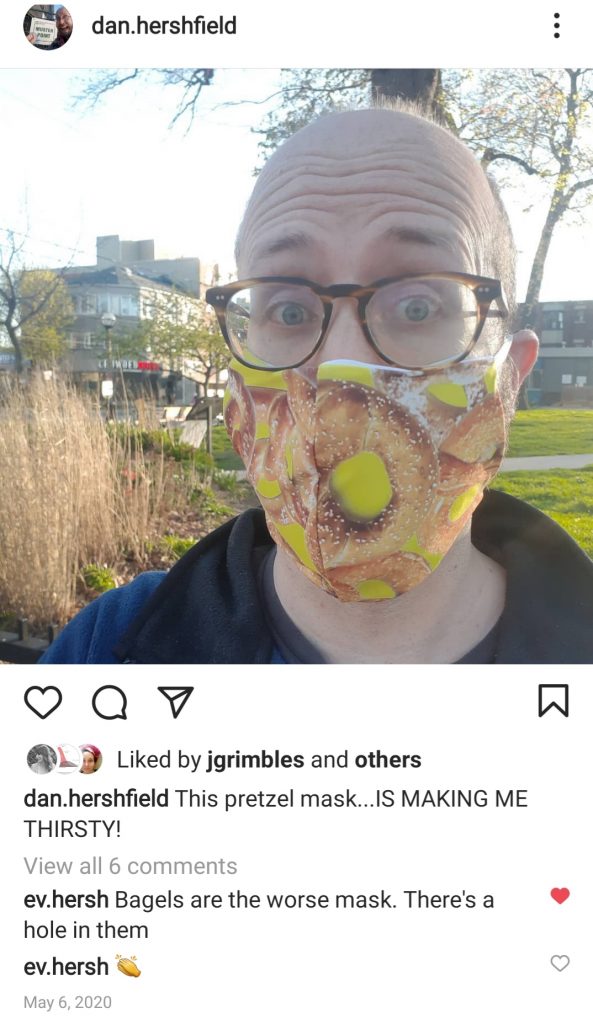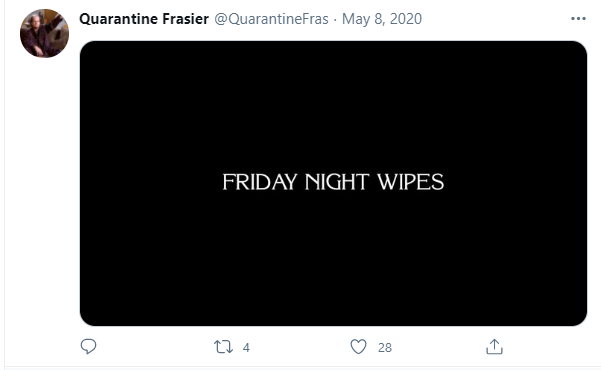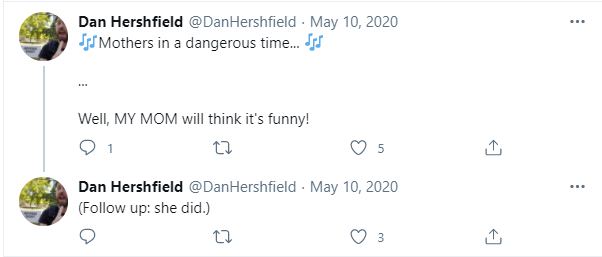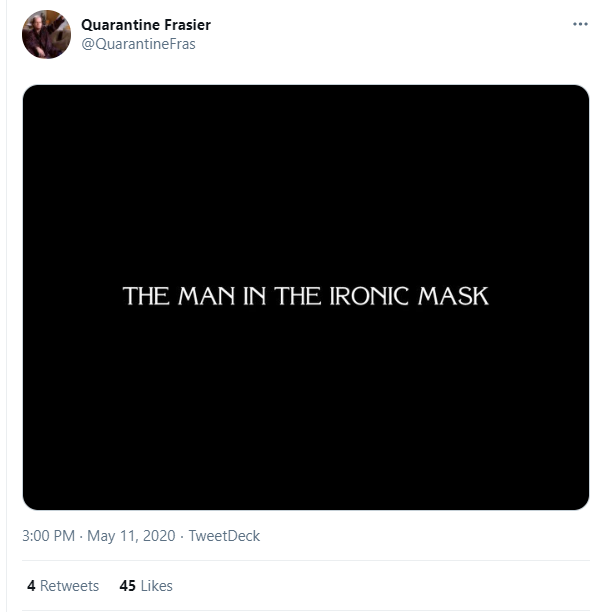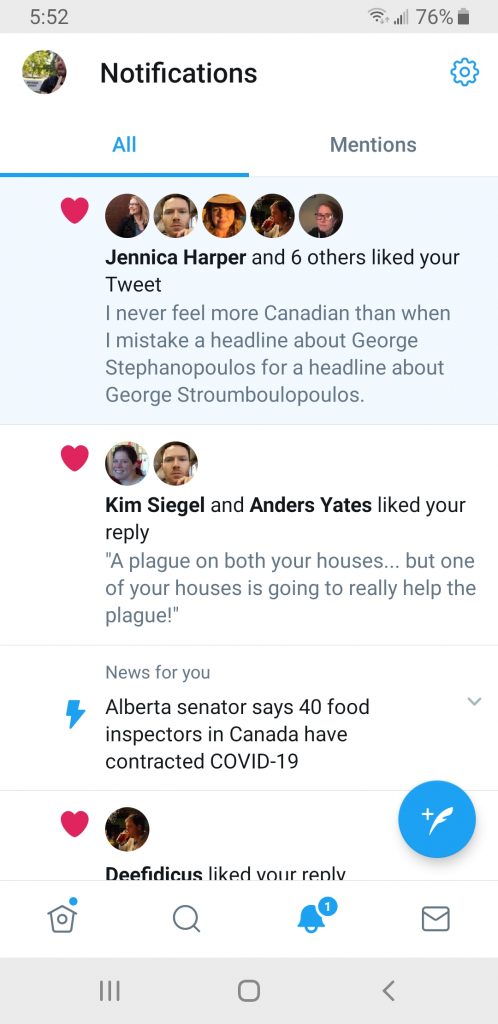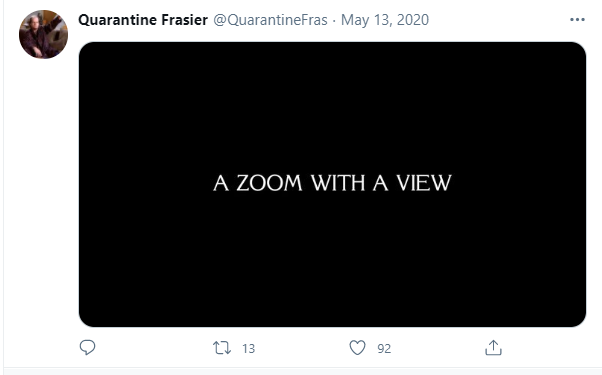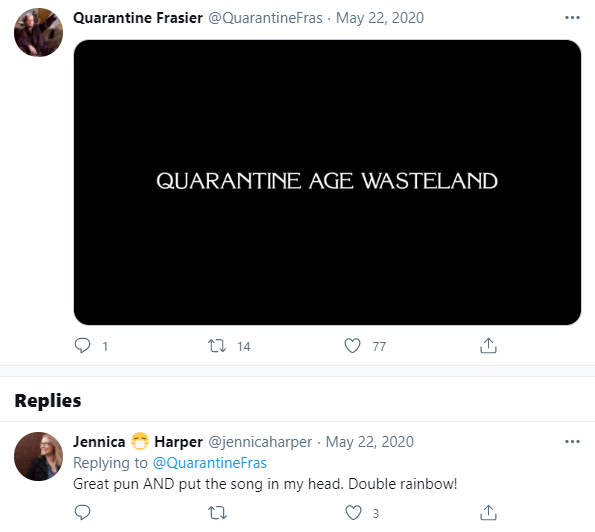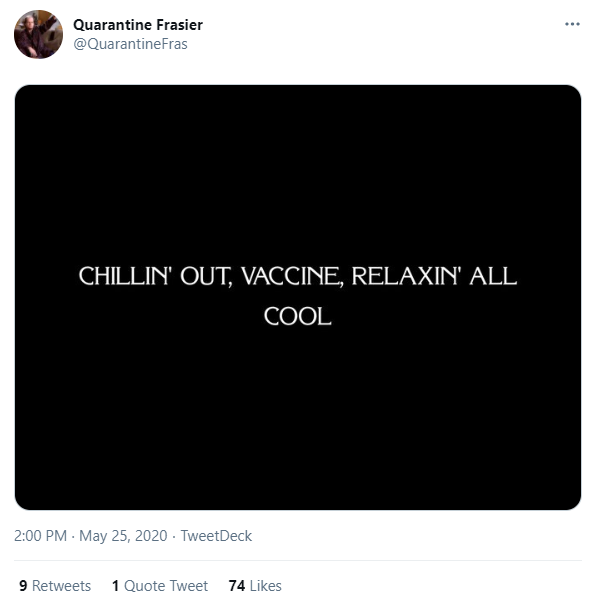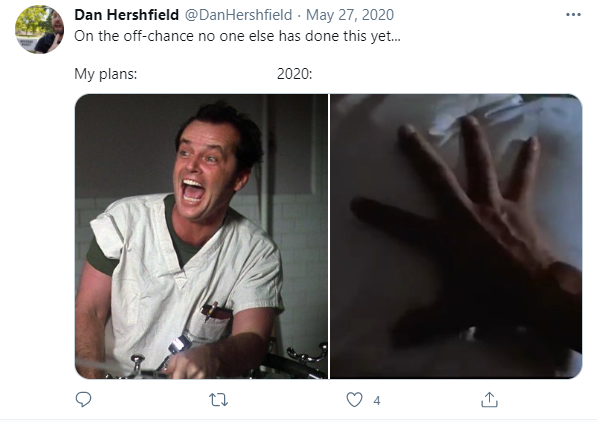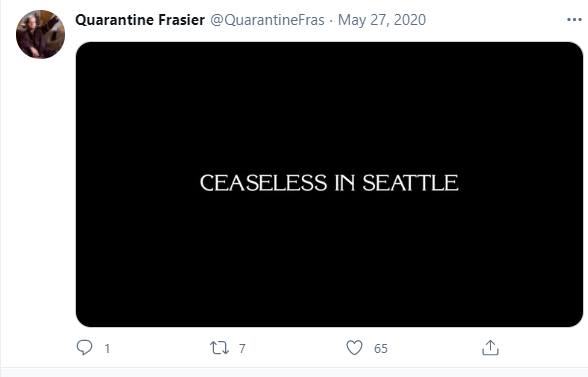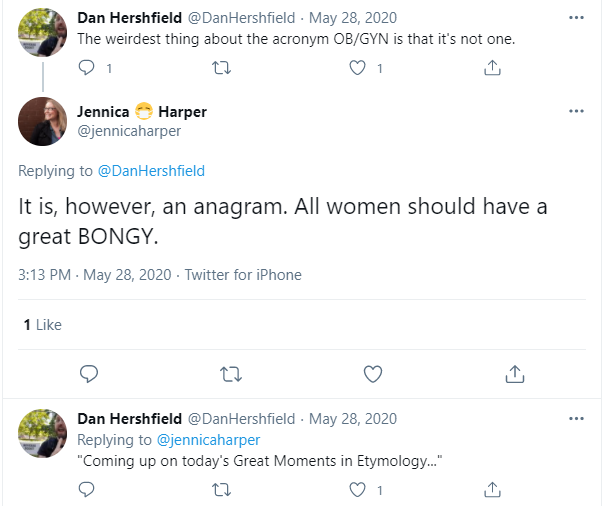 I get this is an odd way to do a blog. Blame 2020!
June:
Okay, I'll try to mix in some actual happenings now with this heavy blend of social media. But it's slim pickings. For instance, on the 7th, Jo officially pulls the plug on our McGill reunion. It's funny looking back to think we waited this long, but at the time, no one knew how long this pandemic was going to last. Also, in what's an interesting bit of trivia (that I'm taking Jo's word on), this was twenty years to the day from our actual graduation ceremony! Yikes!
Anyway, here's some more social media, reflecting the events of the time.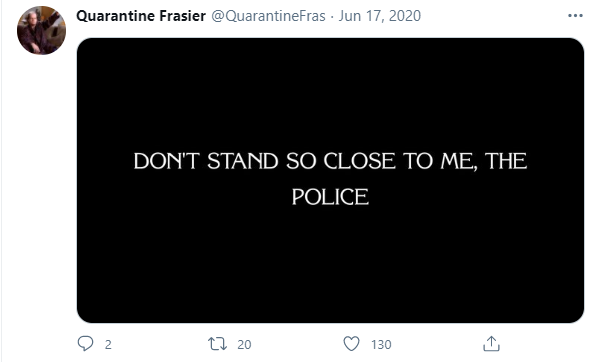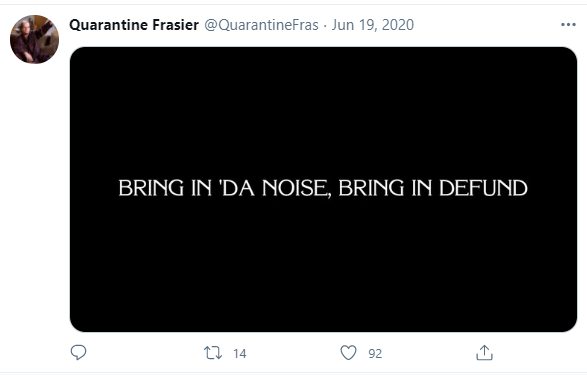 So not to make too hard a tonal switch, but June 23rd was an interesting day for me in two ways. First, Larry brought me what may have been my last Gandhi roti. It's still a little unclear if what's happening there is really no more than a name change… but I don't need an excuse to enjoy a chicken tikka masala roti!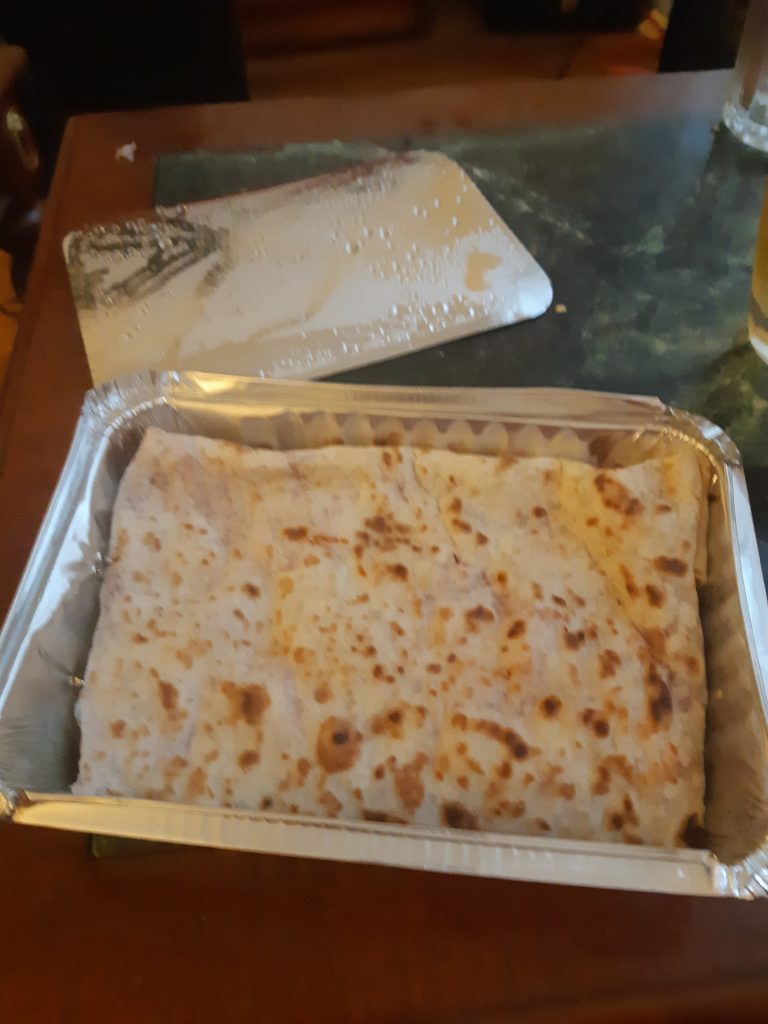 And the other thing? Well, I never miss the opportunity to share when a hero retweets me! And though this may not TECHNICALLY be a retweet of ME, I'm counting it!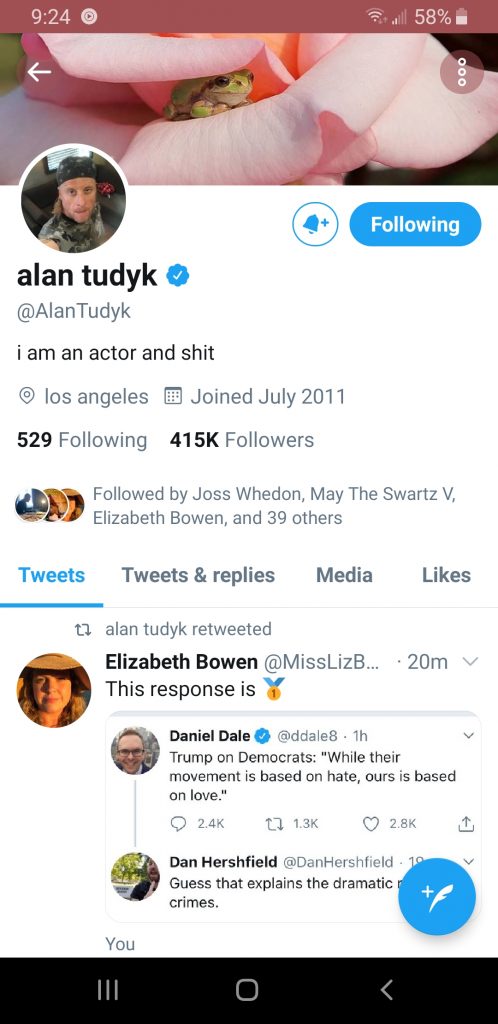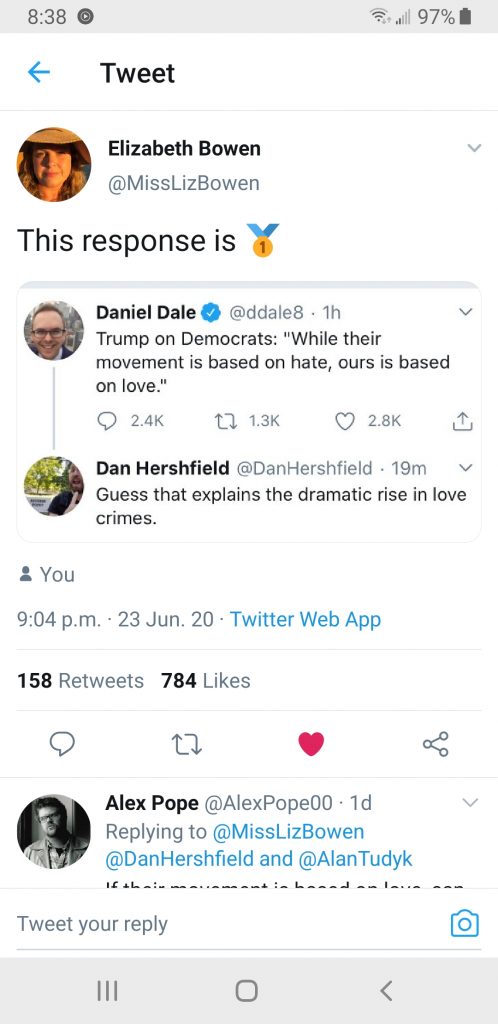 If I had a Firefly wallet (and I really should), I would print this up and carry it around with me always. Thank you, Liz!
Okay, quick return to politics…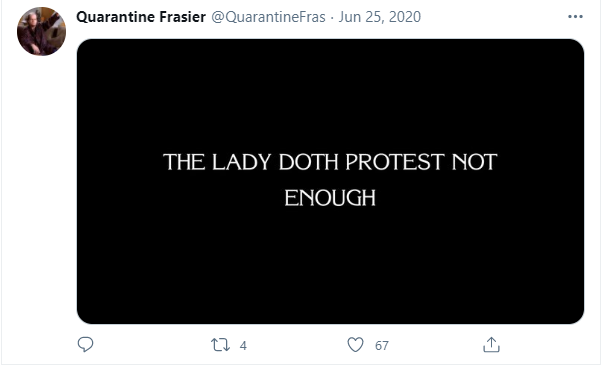 Then, on the 26th, the Hershfields do something that's been approved of but still makes me a little nervous: the socially distanced visit/picnic. I probably worry too much about handwashing.. and opt for playing with the dog over eating pizza, since it didn't seem like I could really do both. But it's nice to all be together again. (And they came to me, so I could do it as a lunch break!)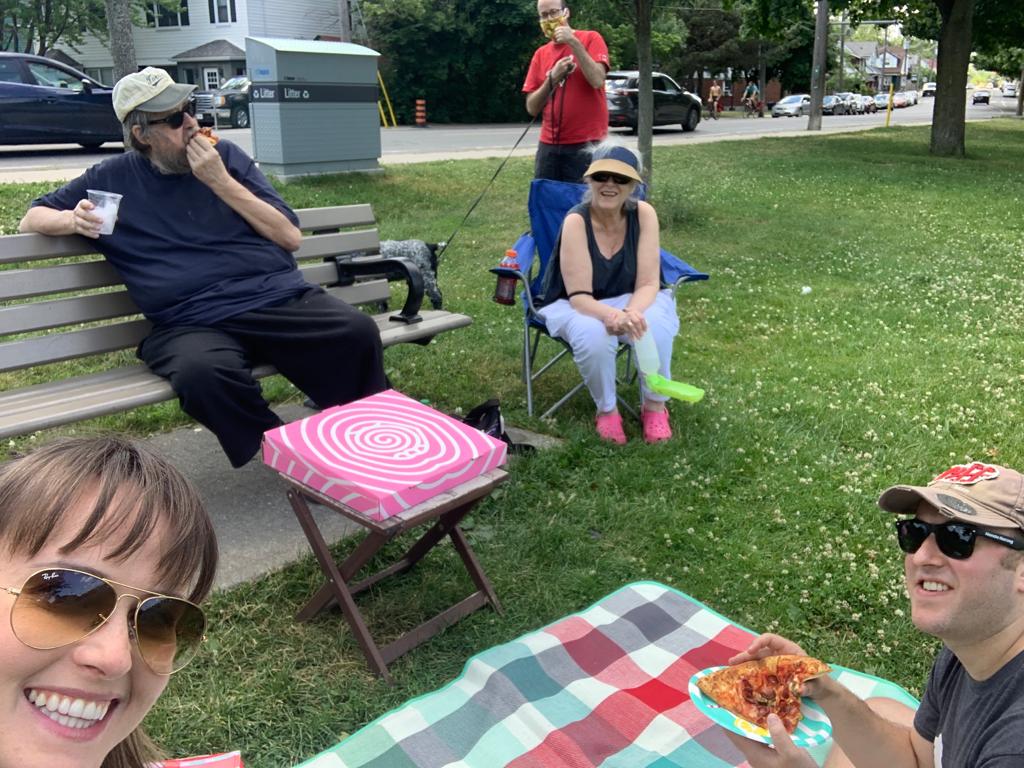 Then on the 29th, a dental appointment. Which I mostly mention because I refused to take a rideshare or the TTC… so I walked from Leslieville to Yonge and St. Clair for the appointment, and then from there to my folks' place. Proving that I can still walk long distances when I have to! (Not sure this is a "skill"… but it's a thing?)
July:
No longer able to explore Toronto in the social way, e.g. bars and restaurants, I look for the occasional nature excursion. One that I read about that sounded nice was Glen Stewart Park/Ravine, a nice little oasis from the urban jungle that also happens to be a reasonable distance from me. Though it would have been nice to share with someone (what are you going to do?), I enjoyed it fine. I also took a bunch of pictures, but I figure one will probably suffice.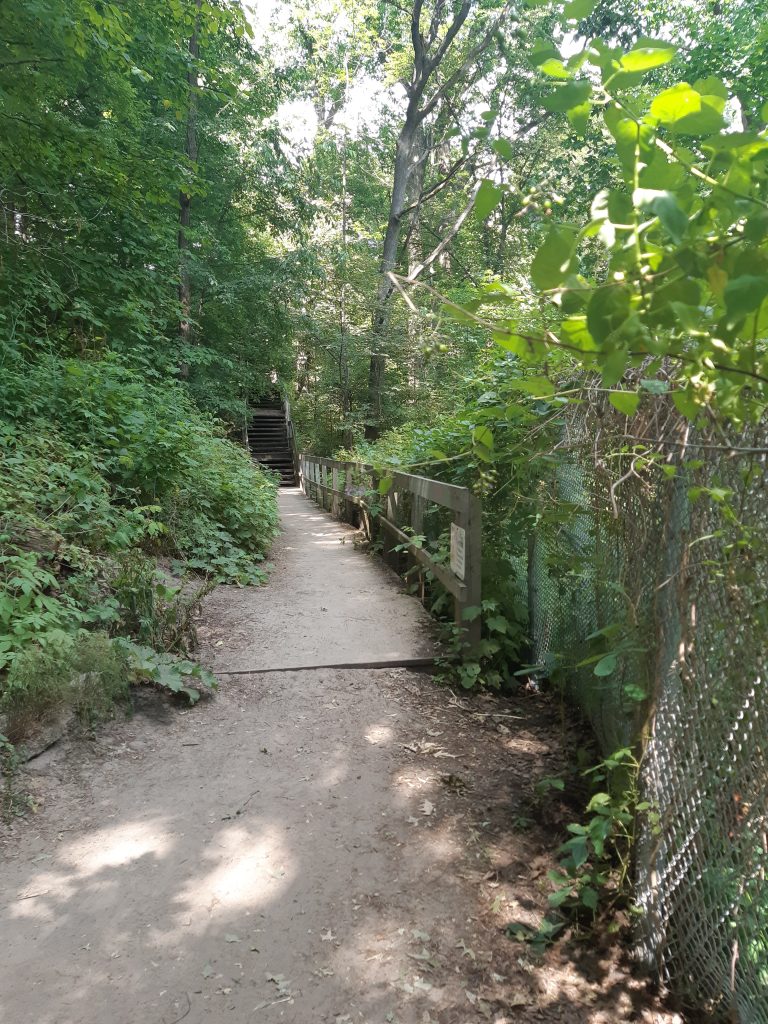 With the pandemic being at a seemingly low ebb, we do a few more family picnics, and I pick up a library book or two. Basically, my policy is not to go inside any buildings but my apartment. So the library's switch to curbside pickup for holds allows me to do that. (And as for groceries, I've been ordering them and having them brought to the parking lot since April.) But my policy of not having anyone into my apartment has to end because my bedroom ceiling develops a major leak.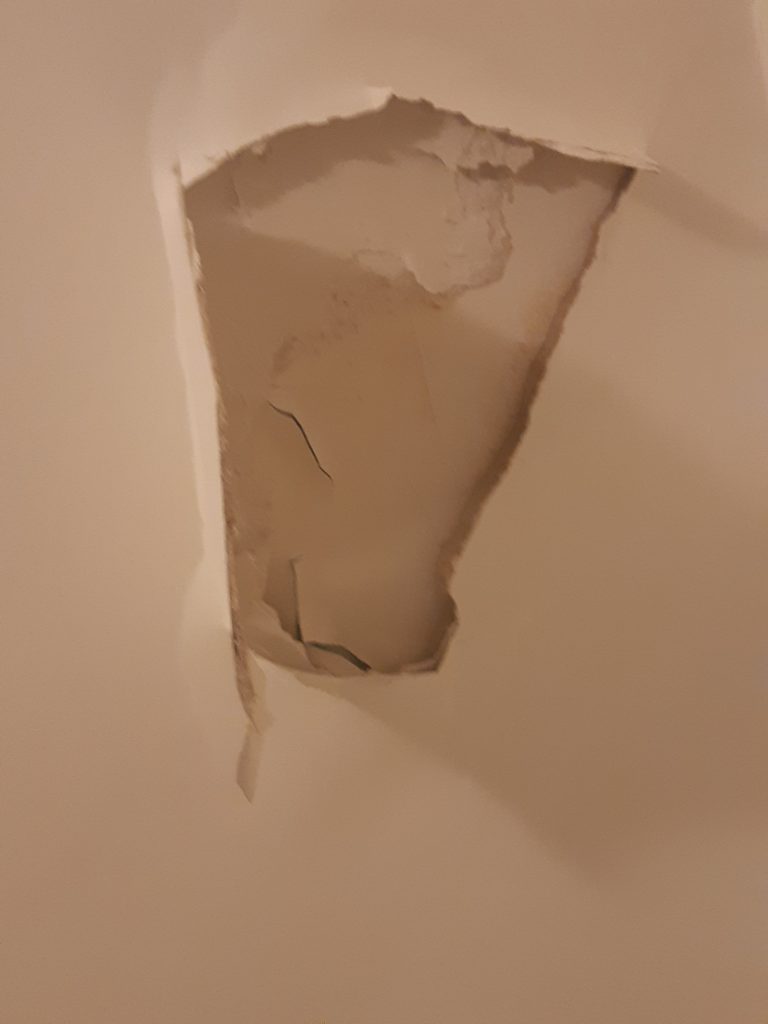 Thankfully, it wasn't over my bed. But it was in my closet, so it was a major pain waiting a few weeks for it to be fixed. But all's well that ends well? Anyway…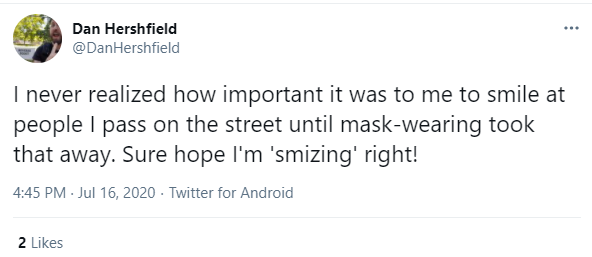 Though I don't really get into the whole Zoom show thing (they are barely a bandaid), I do catch a few decent ones. I see Rosebud Baker do standup (workshopping new material, but I enjoyed). And I watch the Happy Endings reunion, and once again miss that show. In anticipation of games to come, and bored, I order actual proper tennis shoes online (thanks, Merchant of Tennis!), and the month ends with a socially distanced BBQ at Robin's. It ALMOST feels normal!
August:
I, along with thousands of other Canadians, submit to the Netflix Virtual Pitch. I'll spare you the suspense: it goes nowhere (for me.) But good to be in the game?

I put in a big order at Rorshach Brewery, so we'll have fancy beers for the cottage. (They have a pickup window, so my 'not indoors' rule, which I otherwise only broke to pick up fancy cupcakes one time, is intact.) I decide to take a winding path… and "discover" Maple Leaf Forever Park, a hidden little treasure of the neighborhood.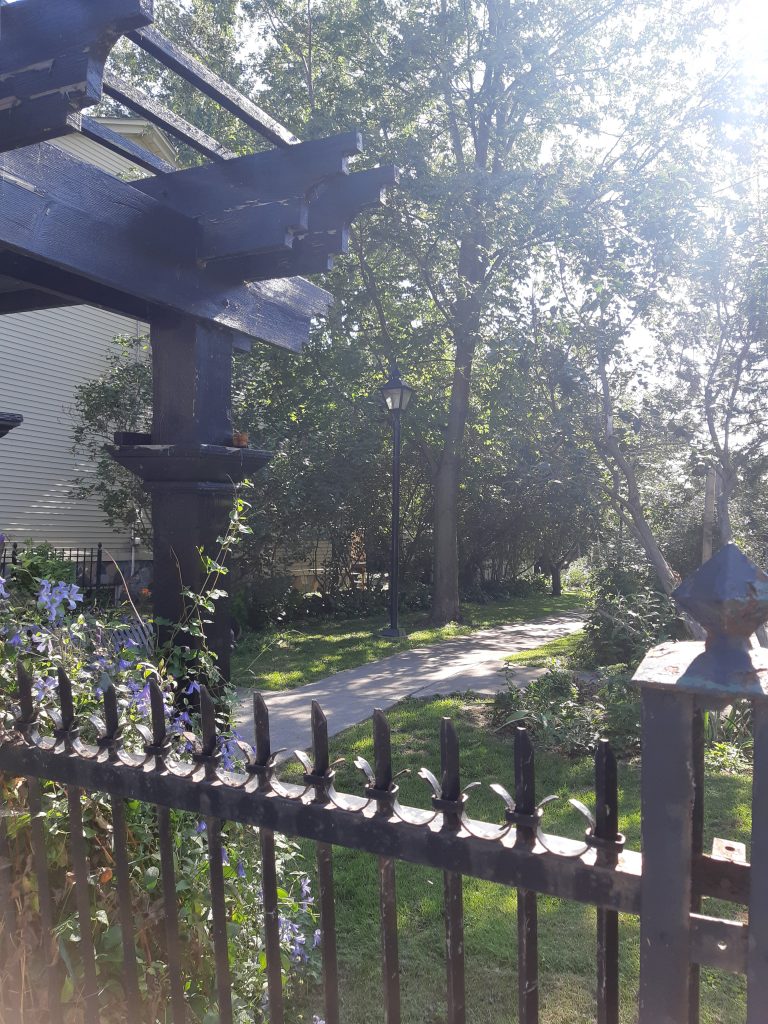 Then to my parents' and from there, to the cottage. Not to keep harping on it, but the first buildings I've been inside (other than the one I live in) since March. And with people I can hug, no less! Good times at the cottage, of course: meals, tennis, swimming, etc. Here's one tweet I made when Kamala Harris got her nomination… and one picture that I won't explain, because MAYBE it'll make sense somewhere down the line. (Though you might also figure out the visual pun all on your own…)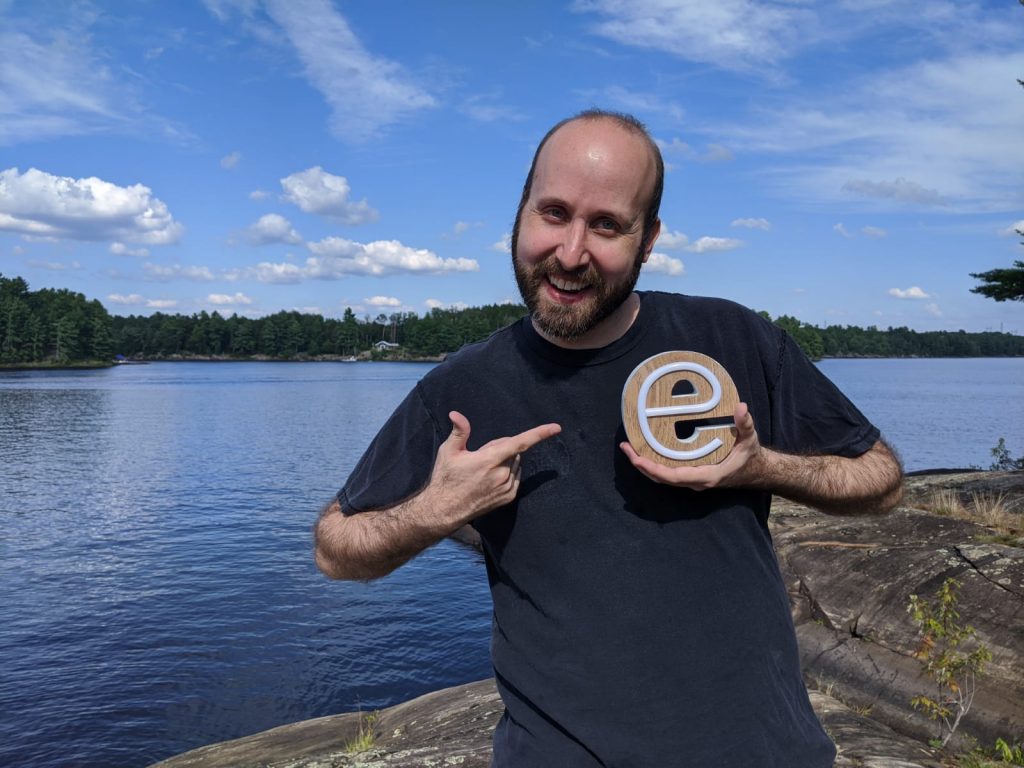 September:
I join the Green Party to support Dr. Courtney Howard's campaign. Though she didn't end up winning the nomination, IT'S NOT ALWAYS ABOUT THAT, AND I'M GLAD I DID IT, 'KAY??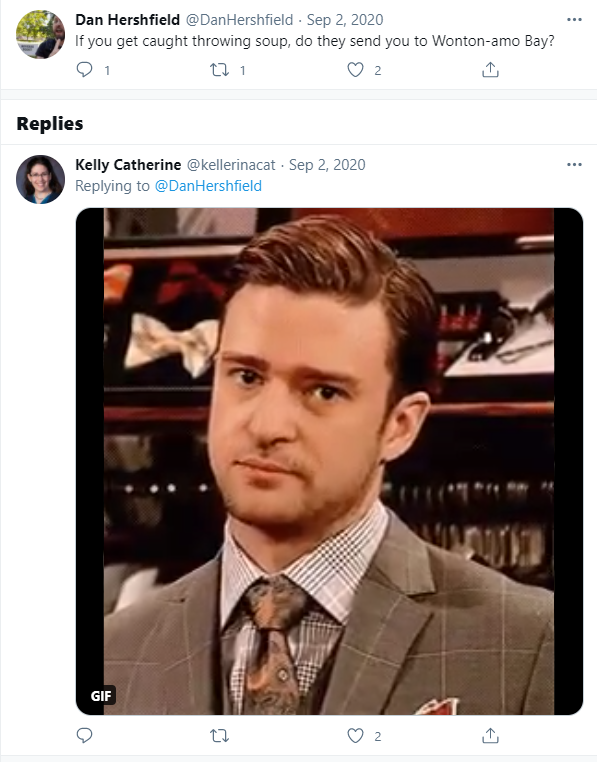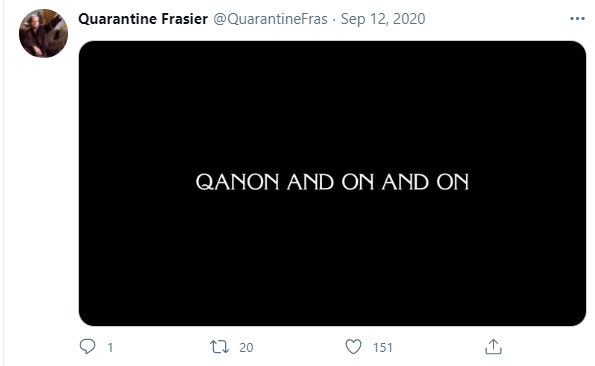 So I'm going to let a screencap of the announcement post do the heavy lifting here… but this will turn out to be, with any luck, a significant turning point in my writing career. So take note!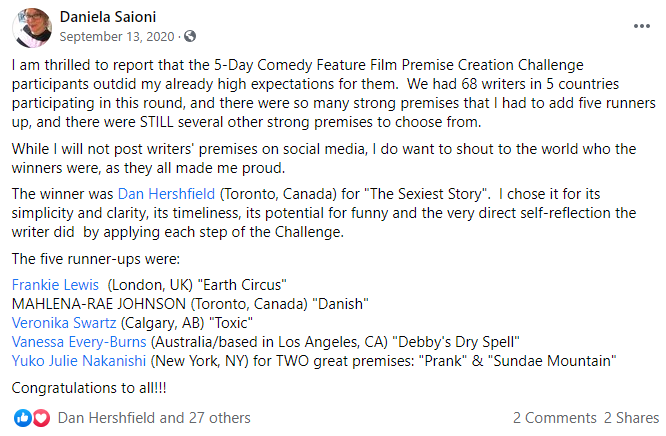 Spoiler alert for the 2021 post: I wrote it! That of course may end up being the end of the story… but as I write this, I have a completed first draft. So thanks, Daniela, and thanks, me!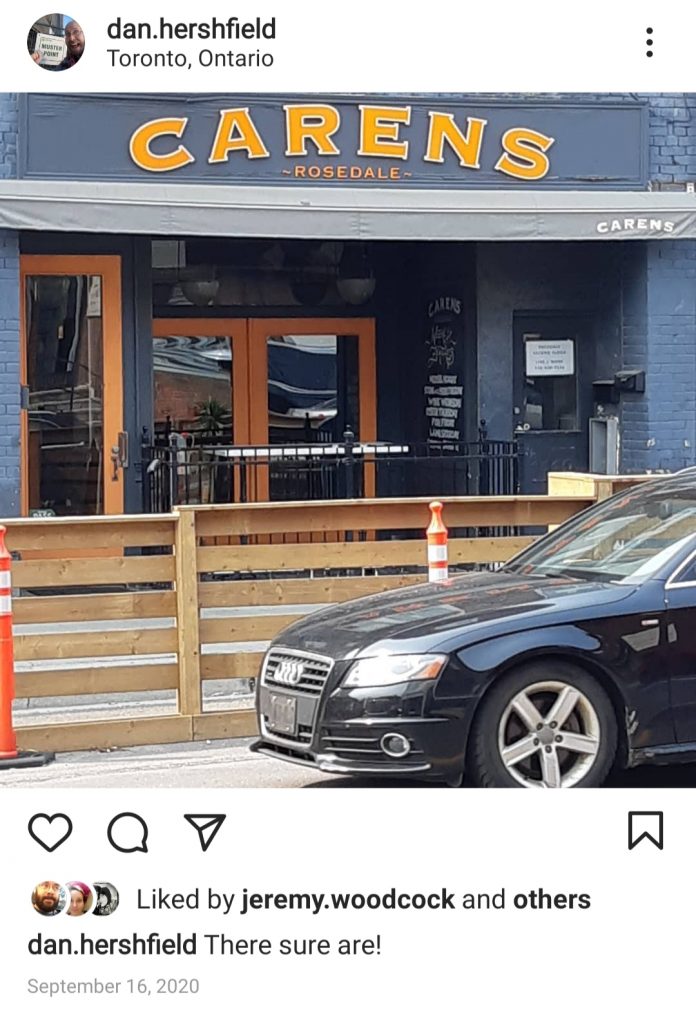 I use a BikeShare and make it to my parents. I am endlessly impressed with myself… but not really, because parts that shouldn't have nearly killed me. I choose to think it's pandemic atrophy. I also drop off the bike at around Bathurst and Davenport, because that giant hill wasn't happening. But it's a nice walk from there, through Wychwood Park!
And towards the end of the month, I play tennis with Mark Little for the first time, at Jimmie Simpson Park. I just want to rally, but he's inclined to play a game. So we do, and it definitely works out better for him. Then I watch him play some basketball with Matt and Erin (I'm a little more cautious and also exhausted), then we all have a socially distanced visit. Good times.
And last but not least, my baby bro turns 40! I help Larry make a little movie for him, and it's very sweet. Anyway, hopefully a family trip to celebrate in the After Times.
October:
I play tennis with Mark for a second time. And we agree to meet in Ramsden Park, as that's much closer to the halfway point between us. I'm a little worried the walk will wear me out before we even start… but as it turns out, we have a long wait. And whether it's that, or the cooler weather, I have a lot more energy, and it ends up being the most evenly matched game of tennis I've ever played. Mark took it 7-6 (5) in an ACTUAL TIEBREAKER… so that was fun. Sadly, the unseasonably warm weather dissipates and that's it for the year. But bodes well for the After Times!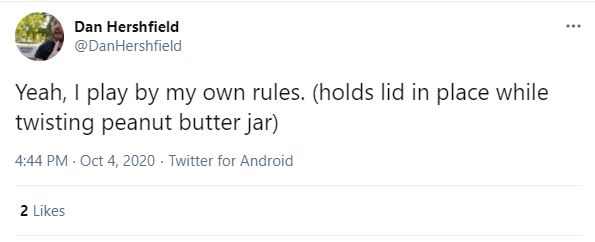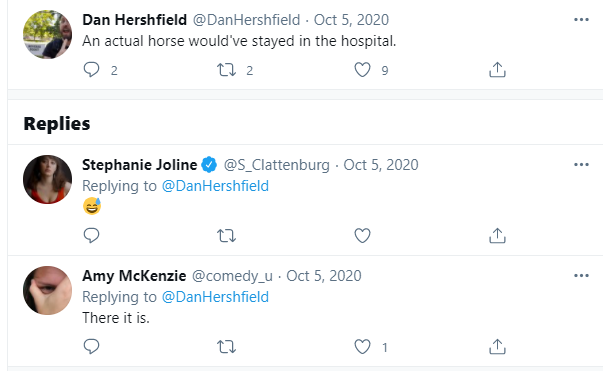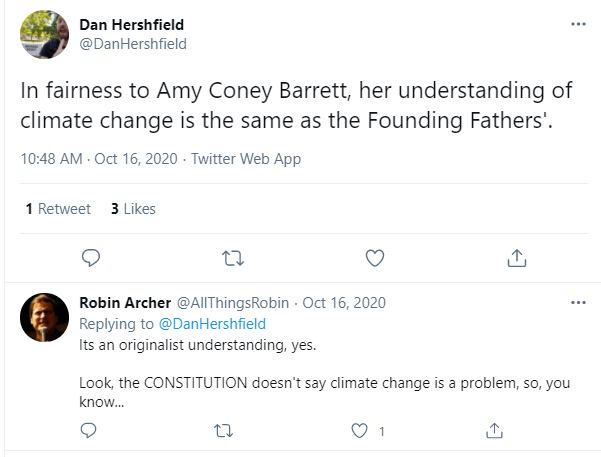 Okay, now I'm going to show you a picture of a flower. But it's only because it's one I saw during one of my visits to the Leslie Street Spit, and days before, the film group had watched Invasion of the Body Snatchers (the Donald Sutherland one)… and I'm pretty sure this was the same flower.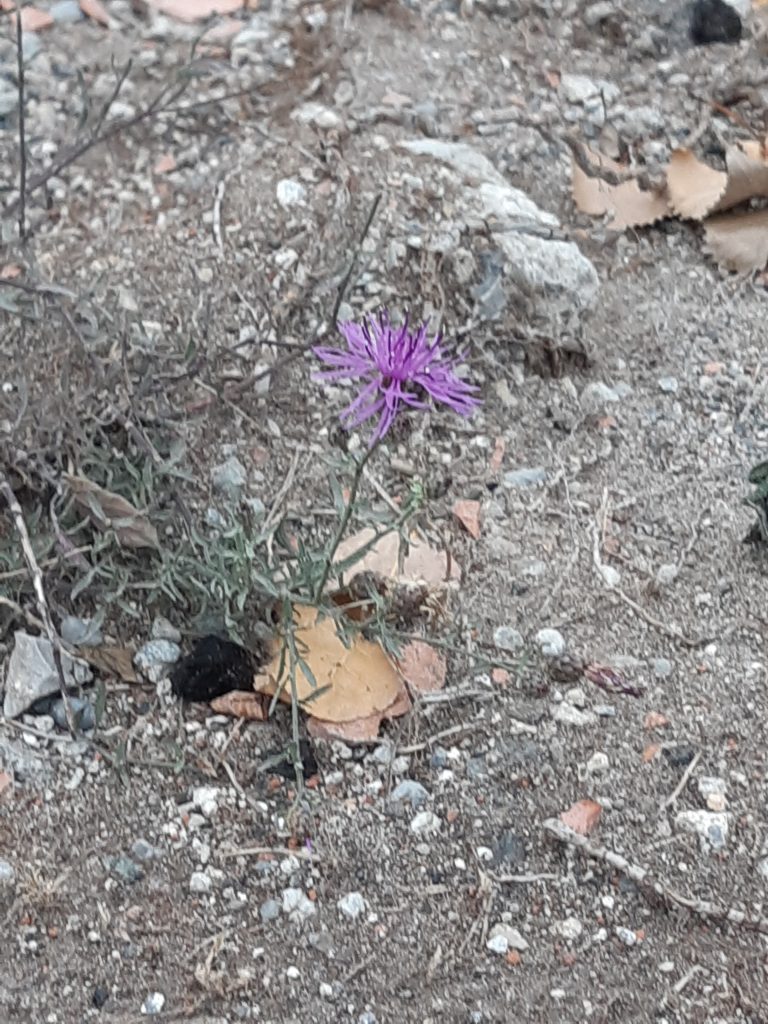 This next picture was sent to me; I wasn't there for it. But it's the cutest thing I've ever seen, and my current desktop wallpaper.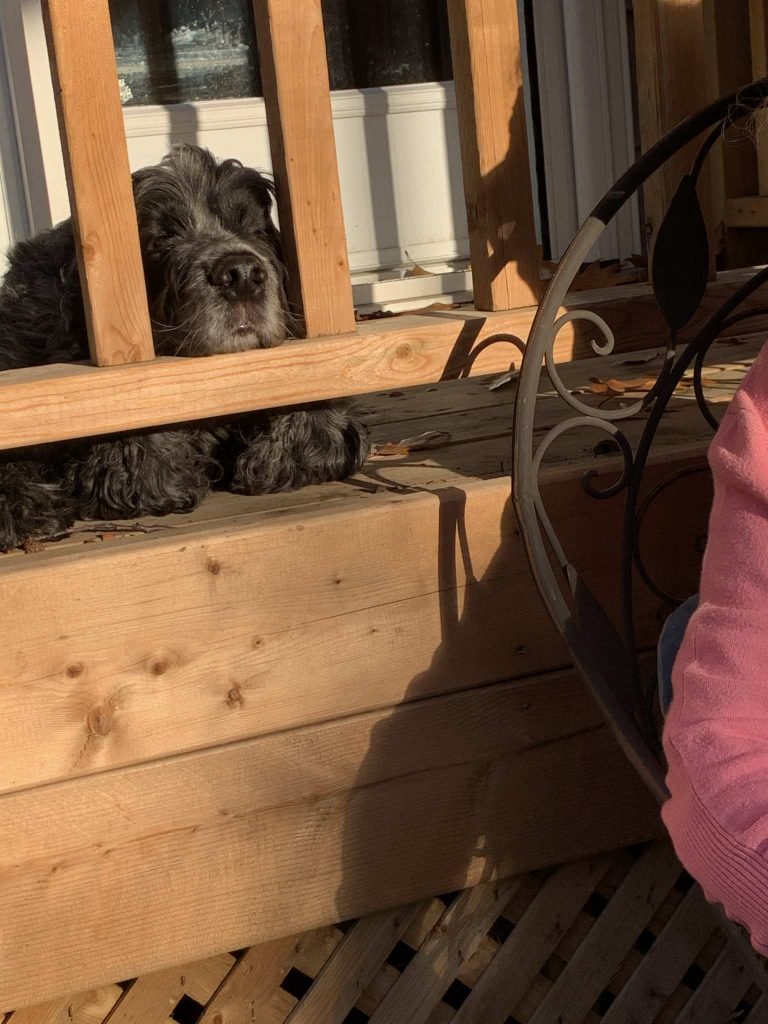 Food Trucks tries to do a long-distance jam (well, I'M distanced). It's a bit of a gong show. But hey, worth the effort, and the reunion will be all that much the sweeter.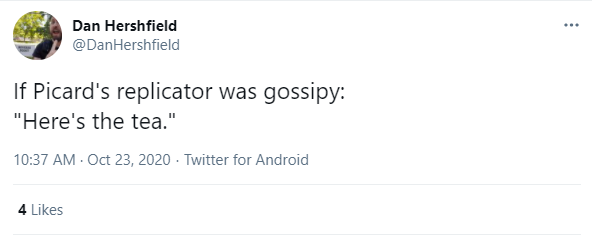 November:
So… a little history was happening… (and though I didn't talk about it here, obviously the plague that was Trump and Trumpism cast a heavy shadow over this year, and the ones before, and it's not entirely gone… but this week was good.)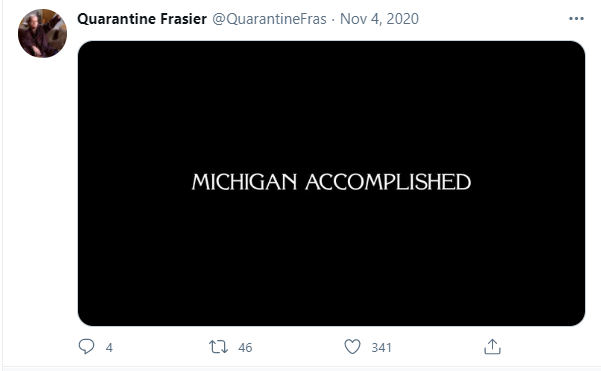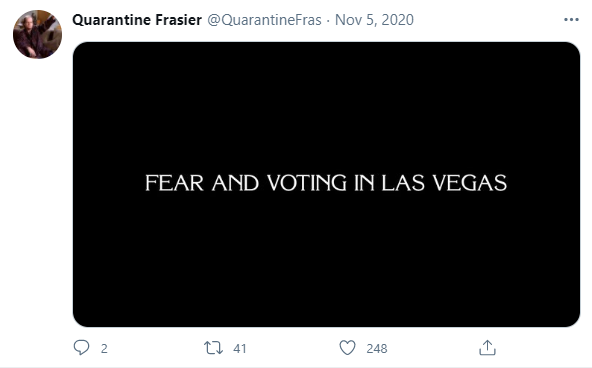 And I apparently was relieved enough to also post this on the 7th.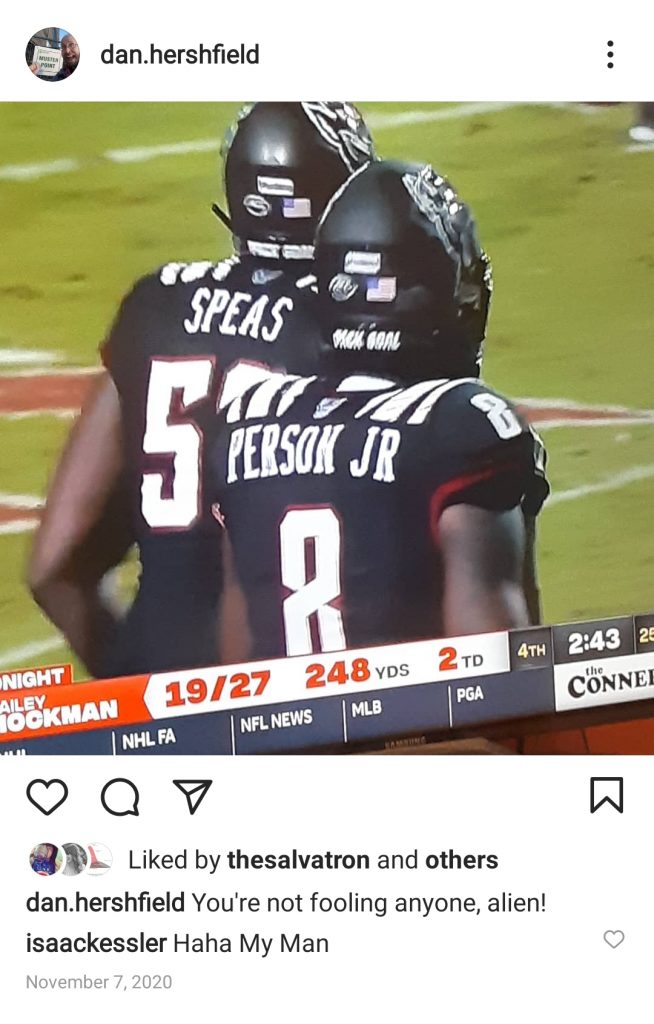 This may not seem worthy of mentioning… but it was a big thing for me. I order pickup for the first time in basically the whole year! It's from Billy's Burgers (which has a pickup window, so rule intact!), and it's delicious! Also, in addition to my burger, I get a poutine, and that's the life I'm supposed to be living, damn it!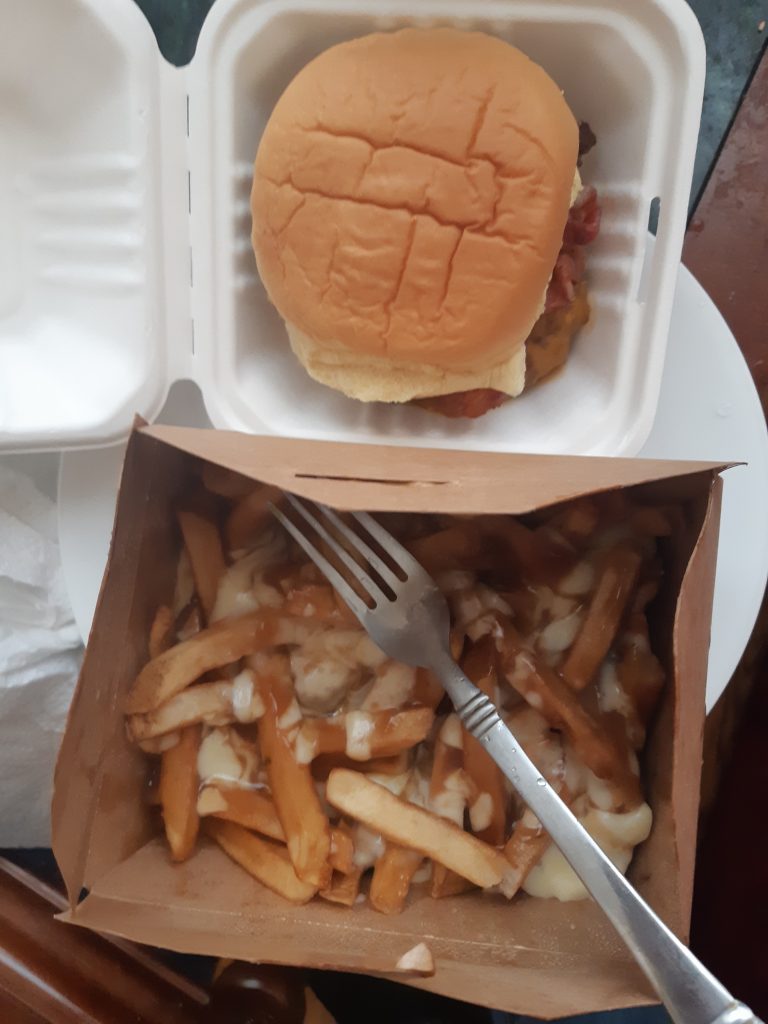 And other things that happened that month: I took in a Zoom talk by Raphael Bob-Waksberg (back in the twenty-teens, he was the writer of a very famous teeeeee-vee show), I did a reading for someone's screenplay (not sure how much I can say here?), and I saw this: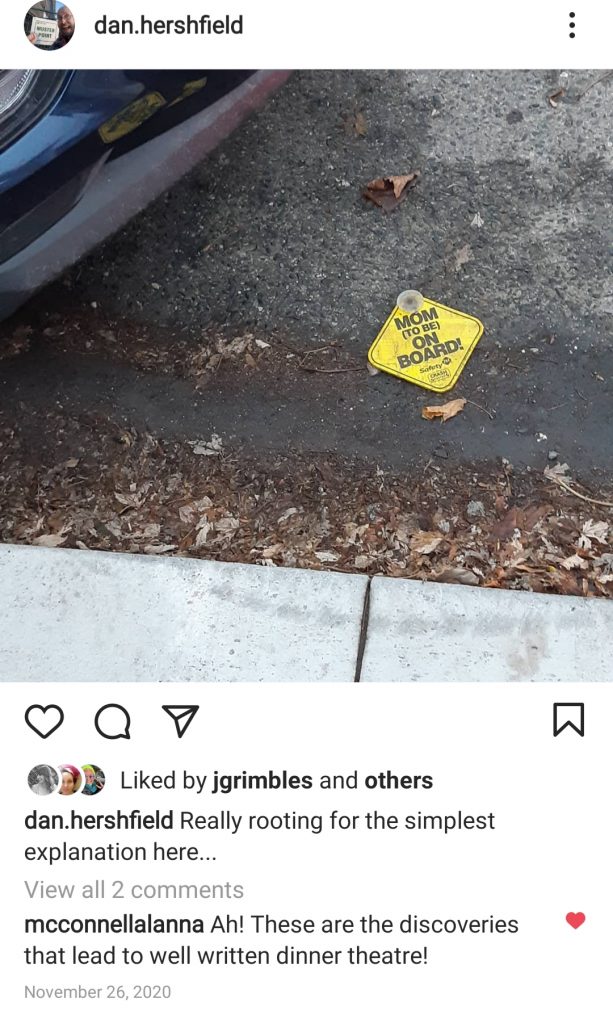 December:
So I know this is bad to admit… but for some reason, I never mentally associate Cherry Street with Cherry Beach. So the day I went for a long walk, hit Cherry Street, and half-thought "I guess I'll go south", it pretty much didn't occur to me that I was heading for Cherry Beach until I reached it. So that was lovely! And as a complete bonus, I checked my phone/map to look for an alternate route to get home… and discovered there's a walking trail that takes you right to the foot of Leslie! Something to look forward to in months/years to come.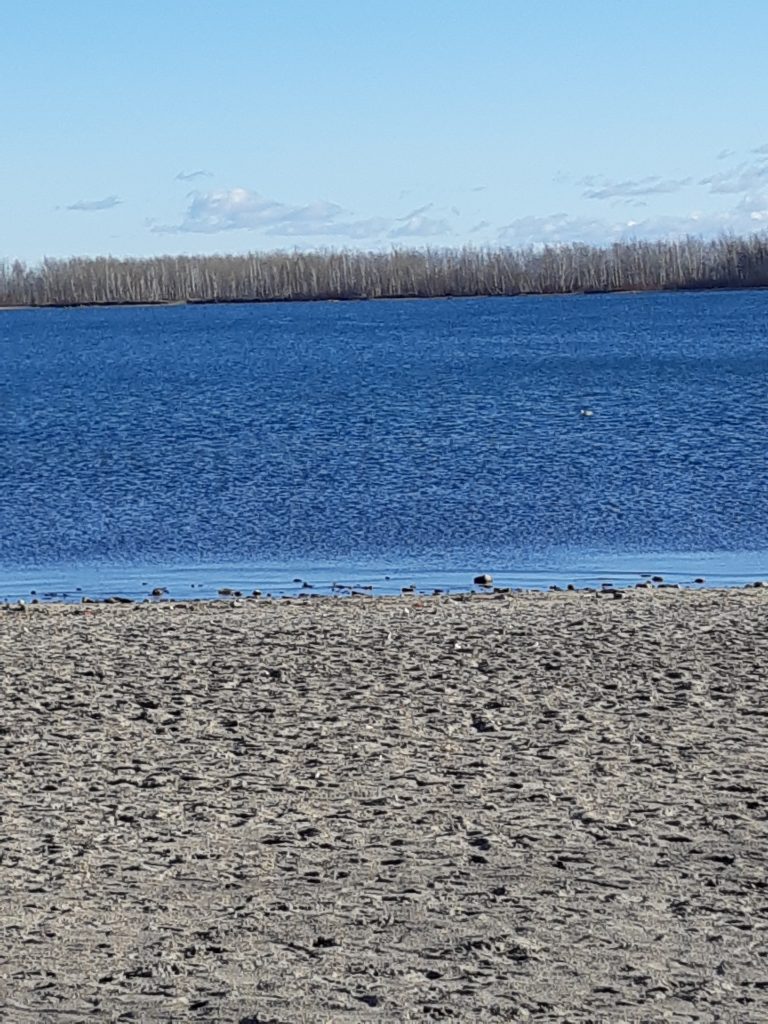 That was on a Sunday. And then the next day was Burrito Monday! And then the next day, more hope!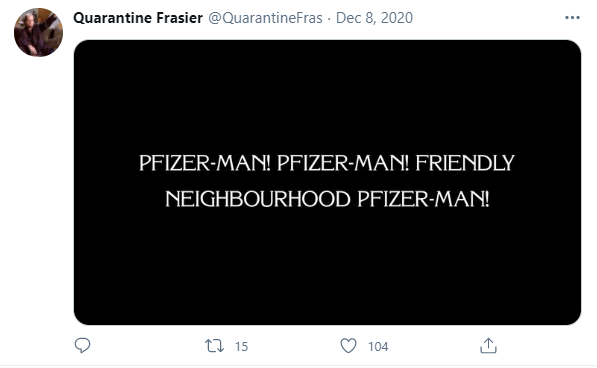 Then…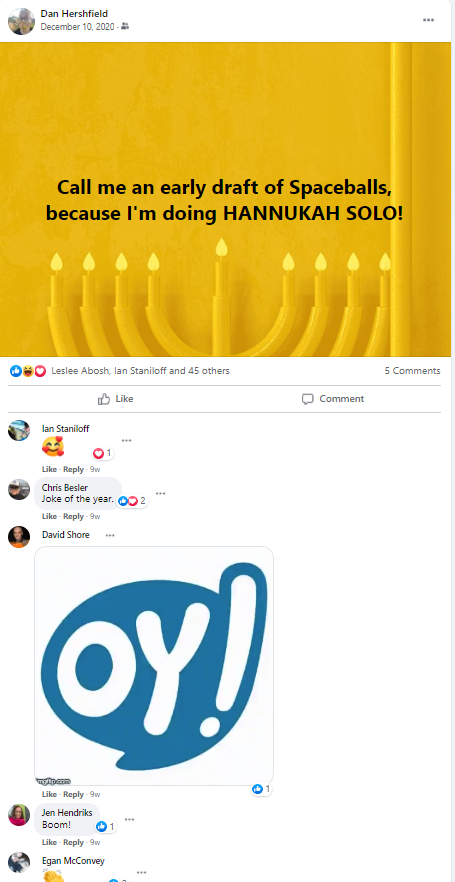 But that ends up not being the case. Someone at work gets the coronavirus (she's fine now), so we basically shut down operations for the year. And though I still have to work, with hours more flexible, I decide to move to my parents' for the very end of Hannukah, and am there until the end of the year.
Which, sadly, is why I'm not exactly there for this: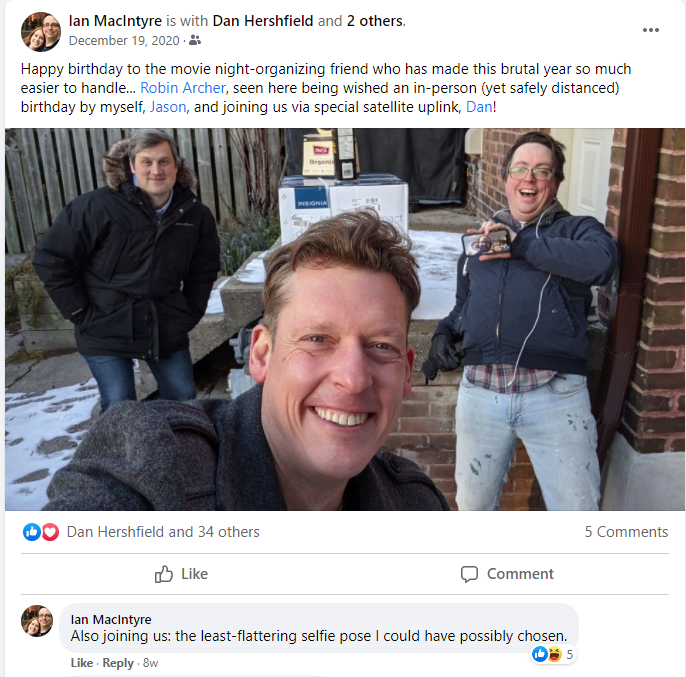 But there in spirit (and yes, in picture.) And funnily enough, the next day, I actually DO see a friend in person: I bump into Judy while walking Marty with Larry in High Park. No hug, because of the times… but so funny to have a bump-into in these times.
So… the holidays…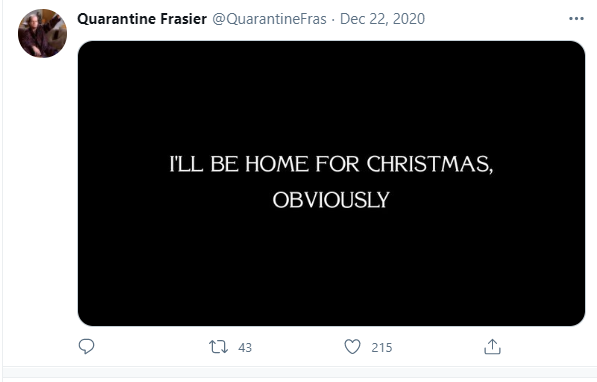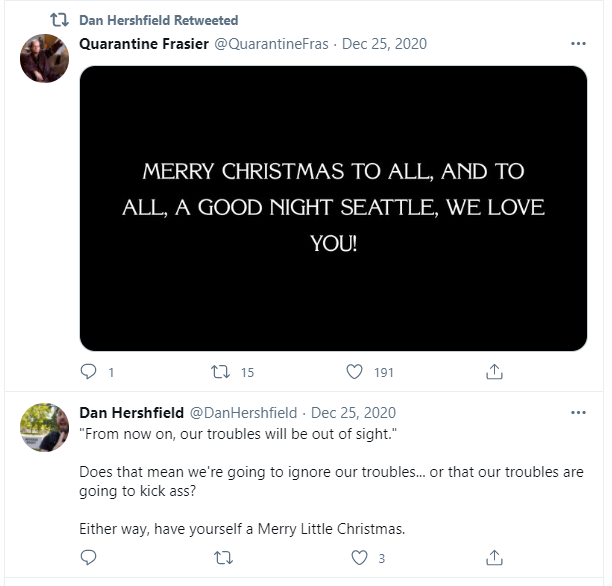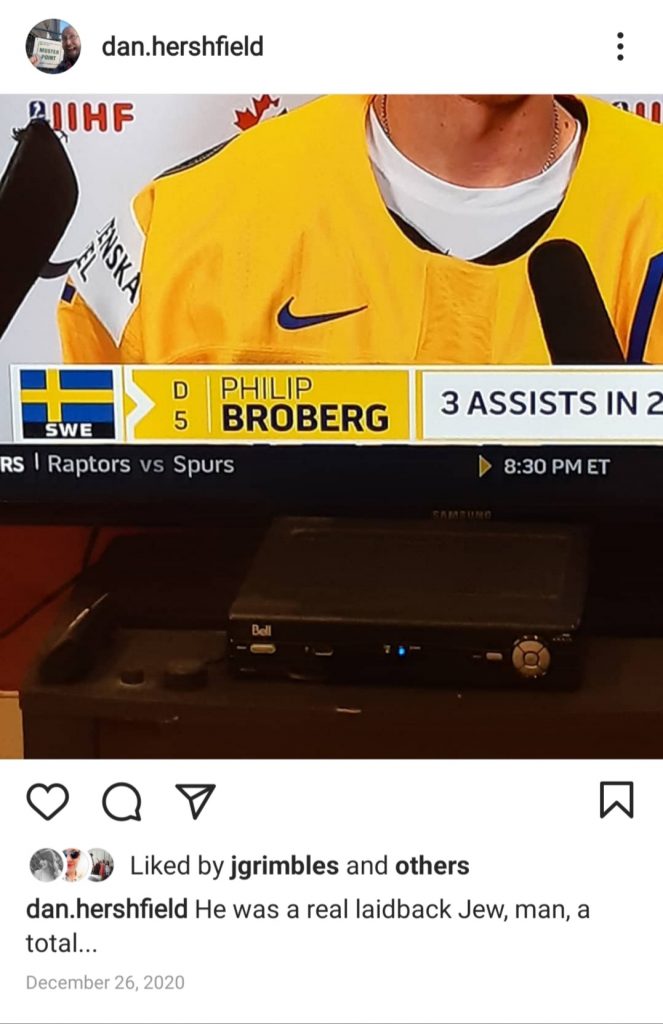 And as for New Year's Eve, the Hershfields ended up watching Dwayne Gretzky's livestream… for all FIVE HOURS, UNTIL 3 A.M. So don't say we didn't party in 2020!
Actually, you can.
Okay, one last picture of Marty for the road…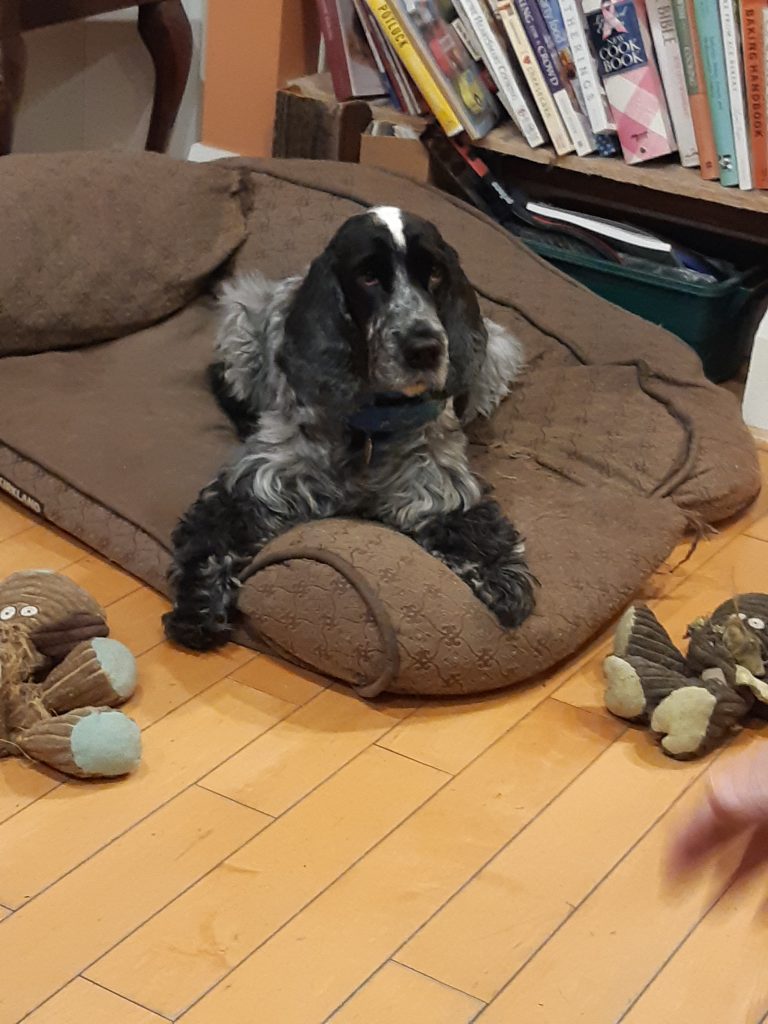 And the likely highlight of the year (that's also being put here because I can't entirely remember when it happened):

Year. Done.