This 'posting once a year' pattern I've fallen into is officially odd. I'm fairly certain there are big life events I'm missing, because I now get to the end of the year and try to cobble together what I did using social media and emails. Even though I'm quite certain the best moments in life leave no such trace. Nevertheless, since it is sometimes fun for me (and maybe you) to reread random moments from a year, here they are!
January:
I attend the Next Stage festival for what I think is the first time. Pretty embarrassing for a Fringer, especially given all the people I know who must have done it over the years. Well, consider yourself special, Jason, because Jonno is the one that finally got me out! (And proximity to Gandhi roti was barely a factor.)
Jess and I go for drinks at the Only Bar and Café. This is something we do fairly often (location varies), but this one felt particularly bondy. Or so I recall: it was a year ago, and there was drink involved. All I know is we went back there in October, and one of the times, we also ordered food from Big House Pizza, and it was very good and in my neighborhood, so I have no idea why I haven't had it since. Time flies?
My on-again, off-again, approach-avoid relationship with improv continues. Matt asks if I want to team up with Ron Sparks, and as we're all basketball buddies and I like to be asked, I agree. Then it turns out Ron can't make it and I end up doing the tournament with another wonderful soul, Cameron Wyllie. We quickly establish that we're going to be the team of two straight dudes who end their scenes by kissing but without making a big deal about it.
We advance to the second round. Naturally.
I see Reid Along with Browning for the first time in forever, and it makes me happy as always. I conquer my social anxiety nerves and go to BeslerMania. My social anxiety nerves win and Seiler and PK skip town without me managing a goodbye. (Though true to my form, I write them a nice note on Facebook.)
And for the first time ever that I can recall, I ask for a raise. I'm told to put it in writing.
February:
I am on the panel for this month's Comedy Album Book Club, discussing 2000 Years with Cark Reiner and Mel Brooks with Jason, Martha O'Neill, and Sean Browning. Good time had by all, always fun when comedy nerds get together and nerd out. It's a podcast, so depending on when you see this, you might be able to listen along?
I put my raise request in writing, with much help from my father and Kat Janicki. It takes several people to convince me to write nice things about myself.
The Super Bowl happens. This is where I should write things down. I'm sure I did SOMETHING for it…
Likewise, I know I went to Kama Sutra with my high school friends. Pretty sure it's an Indian restaurant… but in this case, it's probably more fun not to look it up.
Basketball night (Wednesday) falls on Valentine's Day. With a number of cancellations, including several from subs who apparently forgot what day it was when they agreed, those of us who are there end up playing the full two hours 4-on-4. By the usual standards of Valentine's Day, this one felt really good!
Along those lines, I shortly thereafter enjoyed a night out all by myself. (Well, mostly.) I went to watch Alaine coach at the U of T women's basketball game, had a brief visit afterwards, then went to watch Black Panther on my own. Noteworthy, because I'm often reticent about going out on my own, but sometimes, when you lean into it, it's lovely.
Jason and Helena have a party where we're supposed to bring a dish that means something to us. I decide I'll bring kasha… and then don't have the time and also remember that liking kasha is a weird thing. So I bring Descendant Pizza and Radical Road beer, because I like my cool neighborhood. Good enough!
And I guess I remembered about this blog at some point, because I jotted down "Food Trucks: up to thirteen songs." Don't look now… but that's a set!
March:
I have dinner with Laura Bailey, and she tells me about a one-person show she wants to do. It's of particular note, because she subsequently got into the Toronto Fringe and said show will be happening this summer. Timelines!
Sketchfest comes, and working stiff that I am, I don't see much. I see Cam Wyllie's show (how could I not?!?), I see the Lusty Mannequins with Mark & Andy & Dave (a bill that's pretty much a sure thing), and I go to the Inside The Ladies Writing Room panel (where I am one of about three men with over a hundred women, and I realize that might be as close as I get to experiencing what it's like to be a woman in a room surrounded by men… but probably better for me, because women are better and privilege generally… anyhooo… )
Around this time, I see the Raptors play the Rockets. It is easily the best game I've ever seen live, with James Harden putting on a performance that was practically inhuman, Lowry refusing to lose, and the Raptors earning the win with Harden FINALLY missing on a shot that would've sent it to OT. Check it out!
http://www.espn.com/nba/game?gameId=400975725
We have a Movie Night at Robin's, where we watch Jumanji. I can't remember if this is our first proper movie night… but it's become more of a regular thing, so when I'm someday trying to remember how long we've been doing it, we can know we started at least this long ago.
Seth's bar mitzvah. It's a lovely event, though I'll mostly remember it for losing a library book and then obsessively trying to find it. (It eventually turned up after I'd lost all hope. Ain't it always the way?!
I go to the WTTV for The Detail. It's possible I'm a hobbyist now… or that I'm doing the job, and just don't feel like I am because it's a bizarro version of it… but either way, I do enjoy these things on occasion.
Here are some posts I made that I liked… as did a handful of others: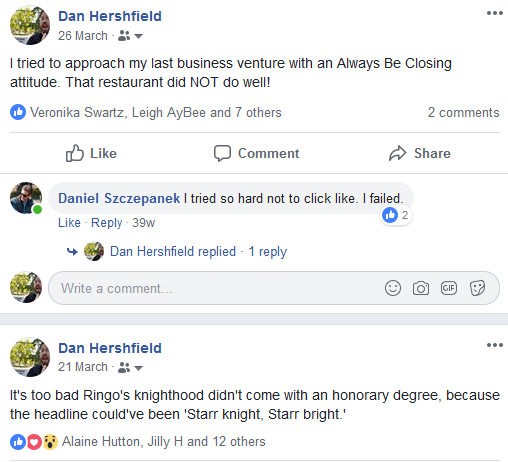 Round 2 of the World's Biggest Improv Tournament. Cameron and I again do our thing, again we advance. He's lovely, but my ambivalence about improv remains. I loved it so much for so long, but at this point, it feels like it's easy to be pretty good and impossible to be great, or at least rare enough that it hardly seems worth it. At the risk of bleakness, maybe it just reminds me of better times I once had? But to be clear, I wasn't nearly this overwrought at the time; it was just a pleasant night out, with people I enjoy.
So, for the first in a long string of unimportant birthdays, I play basketball (nice synchronicity), then dinner with folks, then out for a beer with Ian. I slept over at parents and had dinner the next day at La Paella. We had the/la paella.
The seder this year was at Sandra's. They do blend together, but this one was a little memorable for the  heat being out.
April:
A post that probably deserved better. But discerning people liked it, damn it!

March Madness was actual madness this year. Somehow, despite a very busted bracket, I only lose the office pool by one point… which may actually be worse? Either way, in my old Vancouver pool, Villanova's win pulls me ahead of Shaun and Allen and also, perhaps most importantly, the bracket picked entirely by coin tosses. Oy!
Round 3 and then Round 4 of the World's Biggest Improv Tournament. As previously noted, still pretty ambivalent, and doing shows two weeks in a row didn't help. (Once every couple of months at most for this guy!) Still kind of nice to make the Top 16, remind people who I am, etc.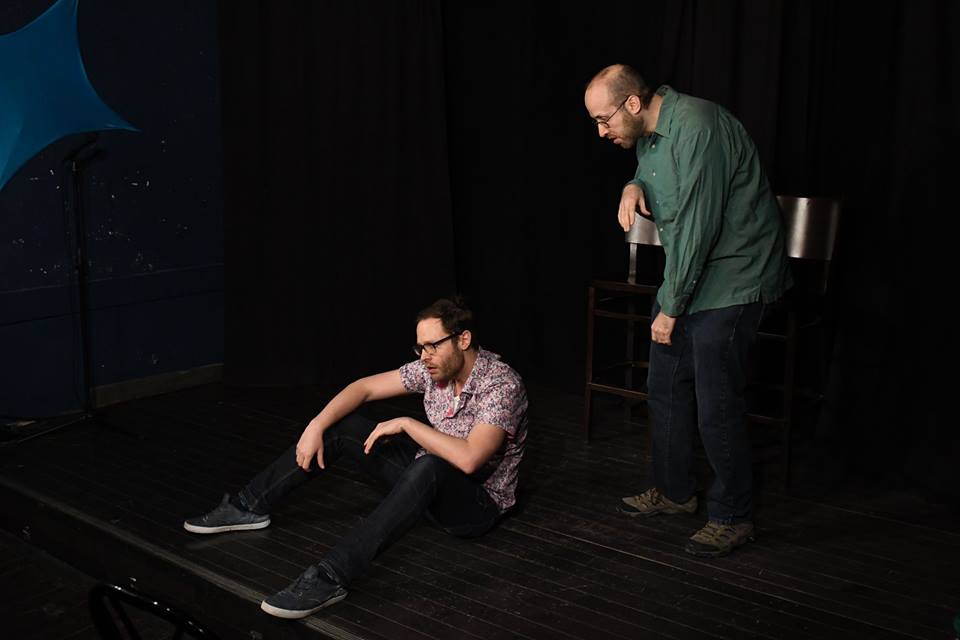 I make a 4/20 joke some fellow nerds like: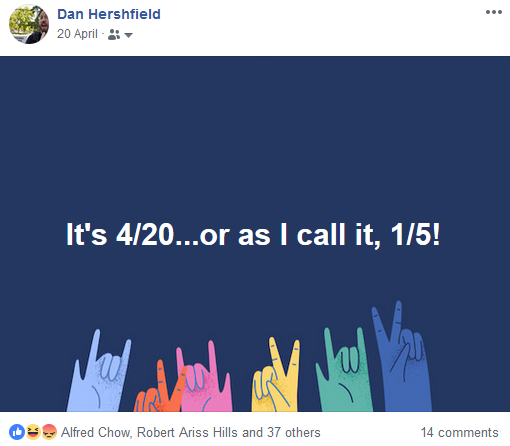 And I get a new cellphone. Which is noteworthy because it's my first smartphone. At the time, I'm pretty sure I won't get that into it. And while I'm still not a person who gets "excited" about phones or needs the latest, I admit there are some perks to joining everyone else in this century.
May:
Dave comes for a visit, and I use the opportunity to get the high school crew to come to Leslieville. Post-tennis, we go for donairs and drinks at The Thirsty Duck (feels very Canadian) and then for cocktails at Goods and Provisions. Sophistimicated!
Doors Open happens. Larry and I use the opportunity to check out a few of the movie studios in my neighborhood. Because, hey, the Doors were Open!
I make what may be the greatest joke the world has ever seen:

I go suit shopping for Evan's wedding. Which is especially notable because it was done in a hotel suite! Yes, I got a custom-made suit. We went, got measurements taken, picked from various swatches of fabric… it was very grown-up and a little Rat Pack.
June:
I have a very nerdy email exchange with my father. I sent him this article about why rich kids are good at the marshmallow test: http://www.theatlantic.com/family/archive/2018/06/marshmallow-test/561779/?utm_source=eb
Then I sent him a website that has a fun (to nerds) visual representation of the birthday paradox: https://pudding.cool/2018/04/birthday-paradox/
Then he sent me this in reply: https://www.nature.com/news/replication-studies-bad-copy-1.10634
I mention all this to establish there are smart (or at least intellectually curious) people in Ontario. This is worth noting, because days after this exchange, Doug Ford becomes Premier. Ontario is officially too stupid to be a province.
In recognition of the fact I'm probably privileged enough to survive this new administration (Doug wil likely never get around to building camps, since that would involve creating something rather than tearing something down), I get a new tennis racket for the first time in a decade. I like it.
Bike Share Toronto offers free rental s on Wednesdays in June. So for a couple of days, I'm a guy who rides a bike rides to work. Mind you, I got to boot down to the path that runs along and under the Gardiner, so I wasn't too much dealing with traffic. Still, close enough to the real thing to say I've done it!
I get something off my chest: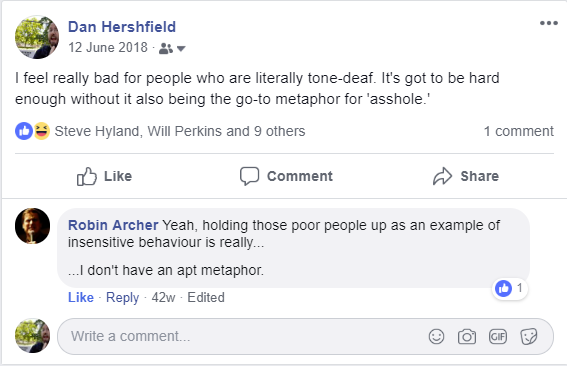 I make my first Instagram post. In retrospect, I don't know if more social media was called for, but it's fun to express myself visually. (Or more accurately, commenting on things that visually amuse me.) It's also the social media that doesn't seem to be a terrible hellscape. So there's that. For anyone so inclined: https://www.instagram.com/dan.hershfield/
I email Larry about this article about referential behavior in dogs. Well, he must have shown it to Marty, because suddenly, it seems to be all he can do!: https://link.springer.com/article/10.1007%2Fs10071-018-1181-3
Evan's bachelor party. Even if I never do another nice thing for him in his life, I'm still the best brother of all time. It's Archer-themed, and I even request a very special favor from a wonderful old friend to sell it. The idea is that Evan had to be Archer for the day, so we had a lesson and learned to play lacrosse…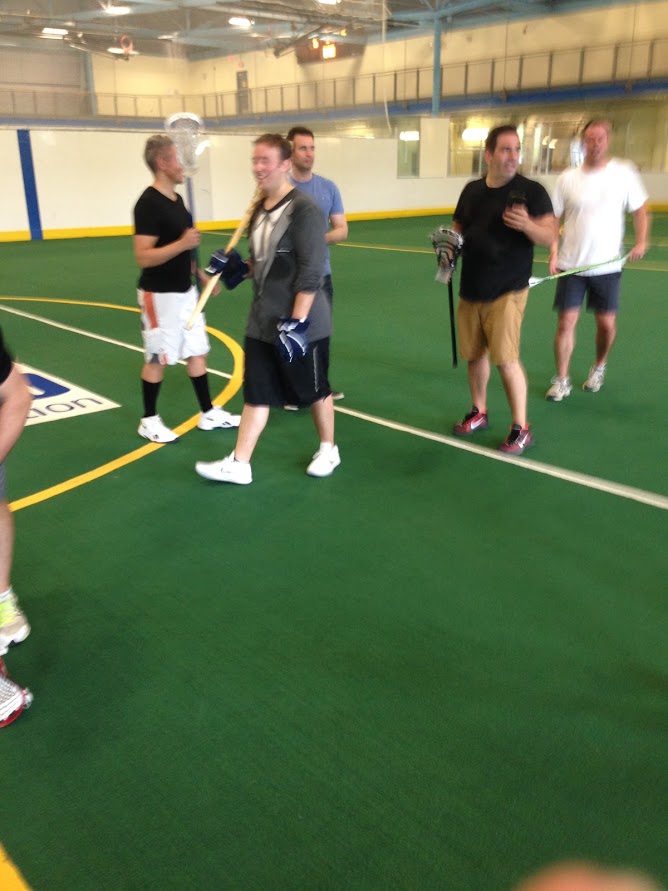 We got dressed up, me as Krieger, Larry as Bilbo…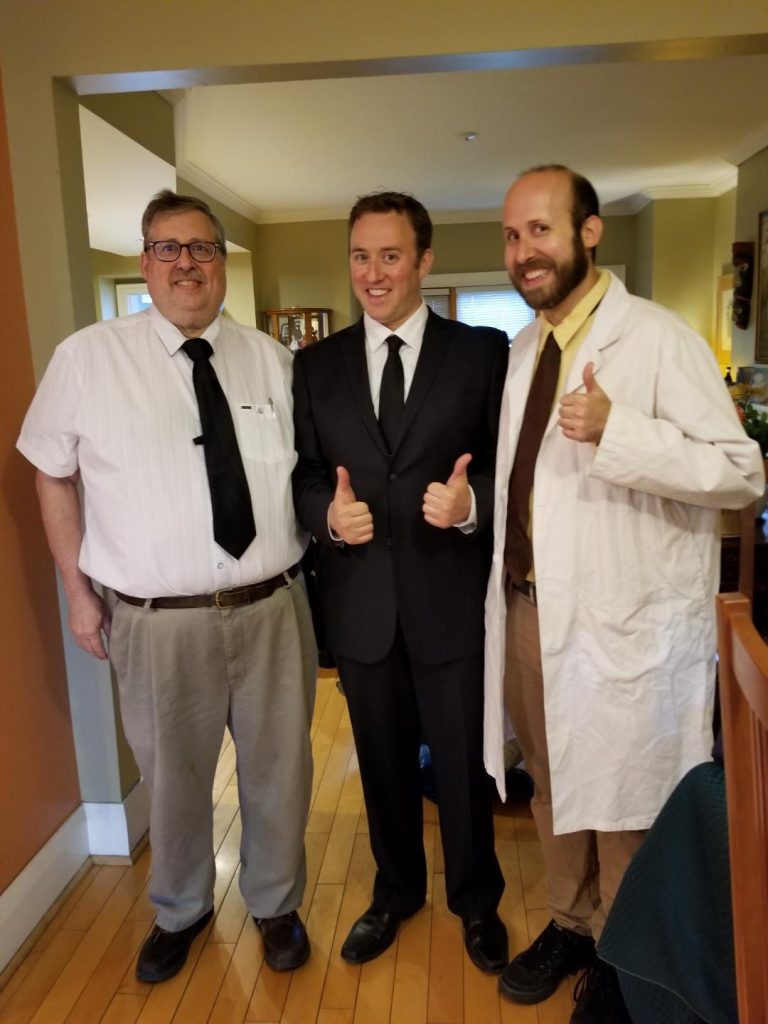 Then the gentlemen had a dinner in a private room at Pearl Diver (thanks, Peter!)…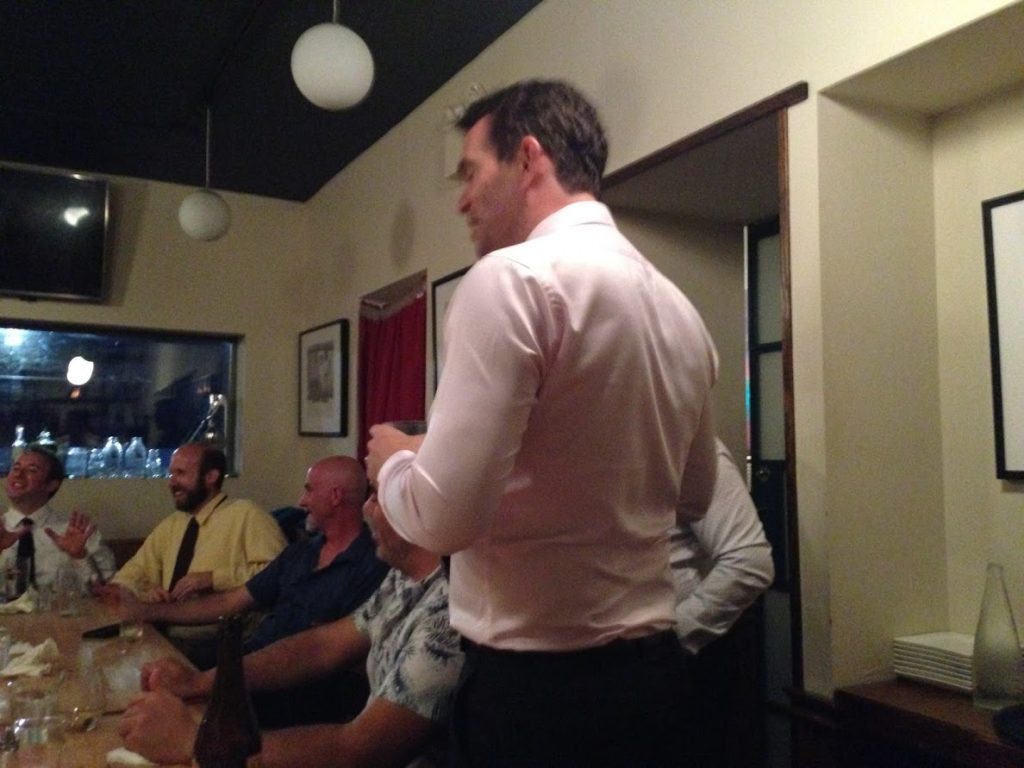 Then a karaoke party at the party room at Betty's!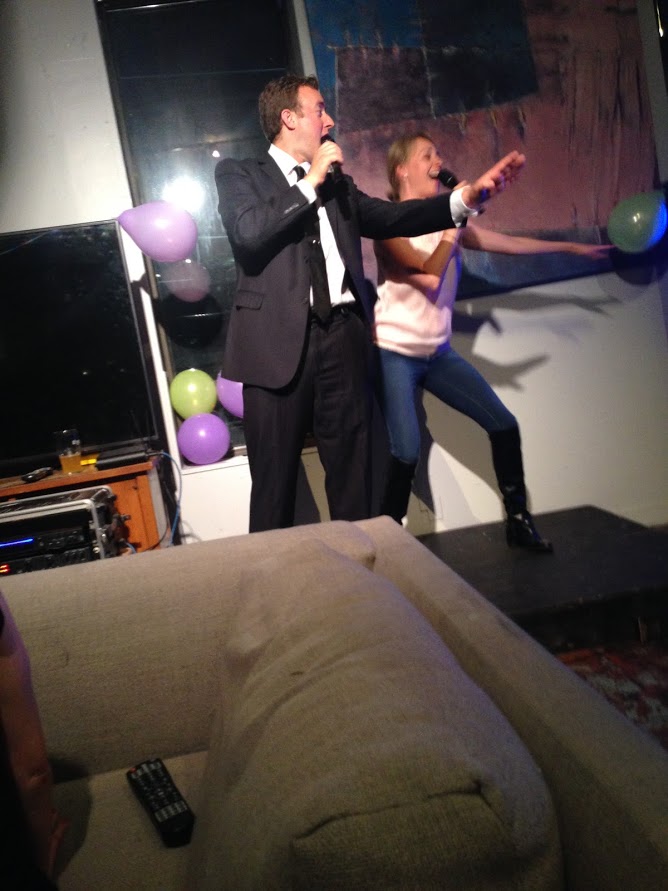 Okay, that last one took some work to fit thematically. But it got there. And then Evan foiled an assassination attempt by a Nova Scotian Separatist (thanks, Ian!) and was rewarded with a signed picture by Farty Dadams… an inside joke that only three people really understood! So yeah, I'm the best big brother ever.
Then life goes on. Realizing I dropped the ball on picture taking at the bachelor party, I take my best–ever selfie. Well, funniest. To me.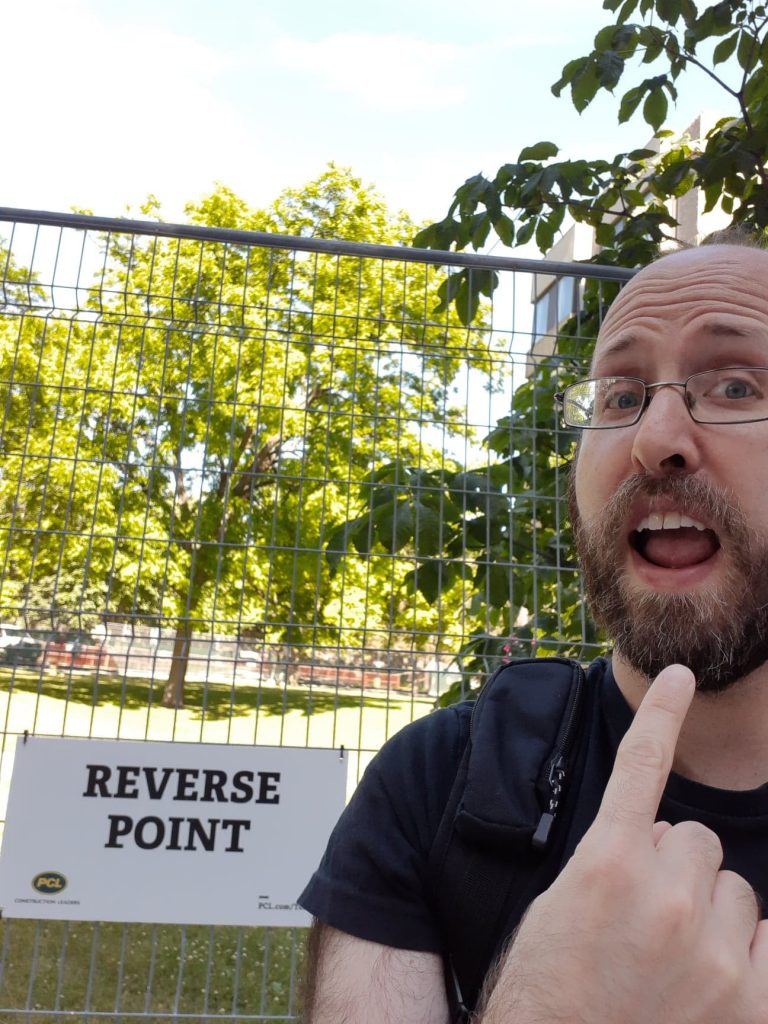 And I make another funny post where I invent an earworm: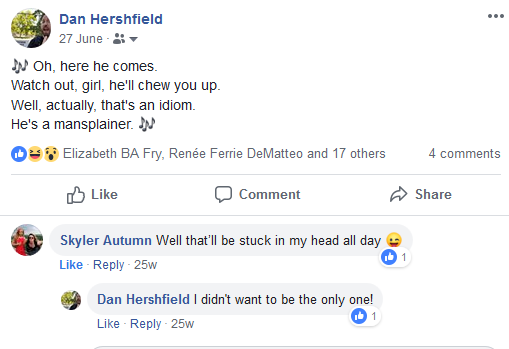 And then my last noteworthy event of June (apparently) was a WTTV for the series Wishfart.
July:
I make a post that's far too popular.

And Marty gets a summer do!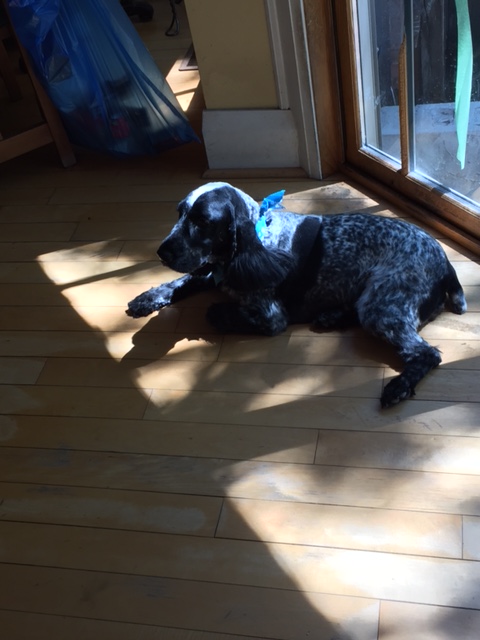 A pretty quiet Fringe year for me. I see: Al Lafrance: I Think I'm Dead; Morro and Jasp: Save the Date (with Stopher, in what is/was a lovely tradition); We'll Be Better Tomorrow; and Featherweight (starring incredible talents Kat and Amanda). So I didn't see much, but what I saw was good, so there's that.
I go to Matt and Erin's nuptials. After missing the arrival of my new suit by a matter of minutes, I go on a road trip with a brunch of improv types to this destination wedding, and a lovely time is had by all. A ceremony both touching and funny, a great honour to be counted among their friends, and a delightful weekend. (Even with me feeling I have to prove my comedy capabilities from time to time.)
Shortly thereafter, we go to the cottage. I don't remember much of what happened, but I do know this happened as we were packing up to leave, and it's the cutest thing ever: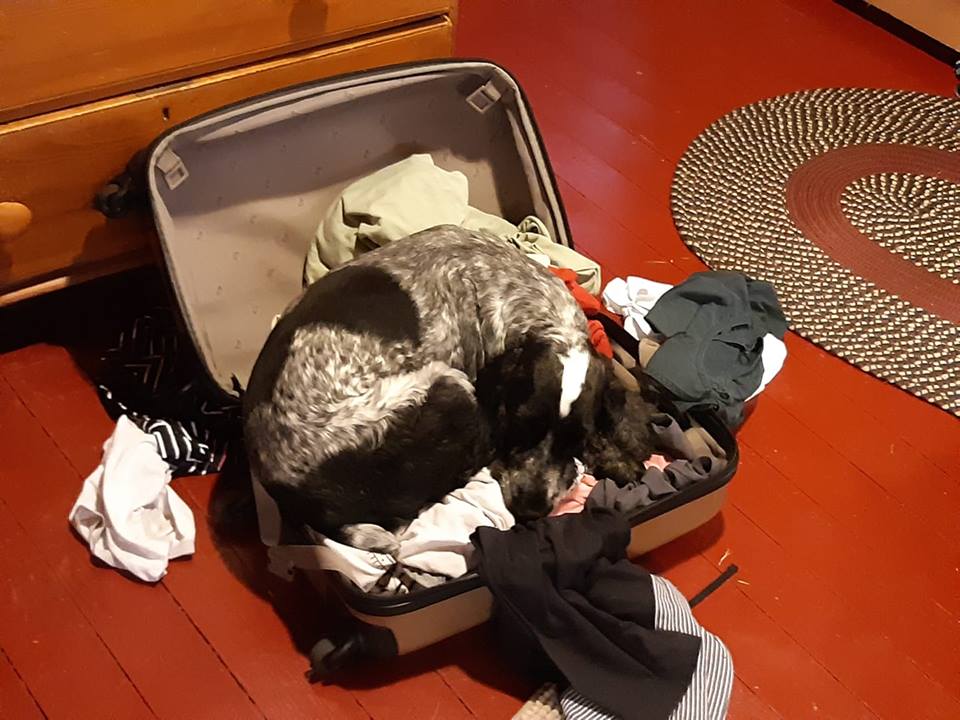 August:
Okay, to be clear, the world falling apart isn't good for comedy, and even if it was, it wouldn't be worth it. Even to comedians, because we're not psychopaths. That said, the "President" being a thoroughly shitty human being led to my most viewed tweet, due to me being retweeted by Edgar Wright! (And then others, including some of note.)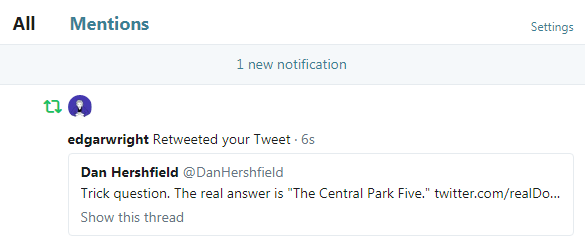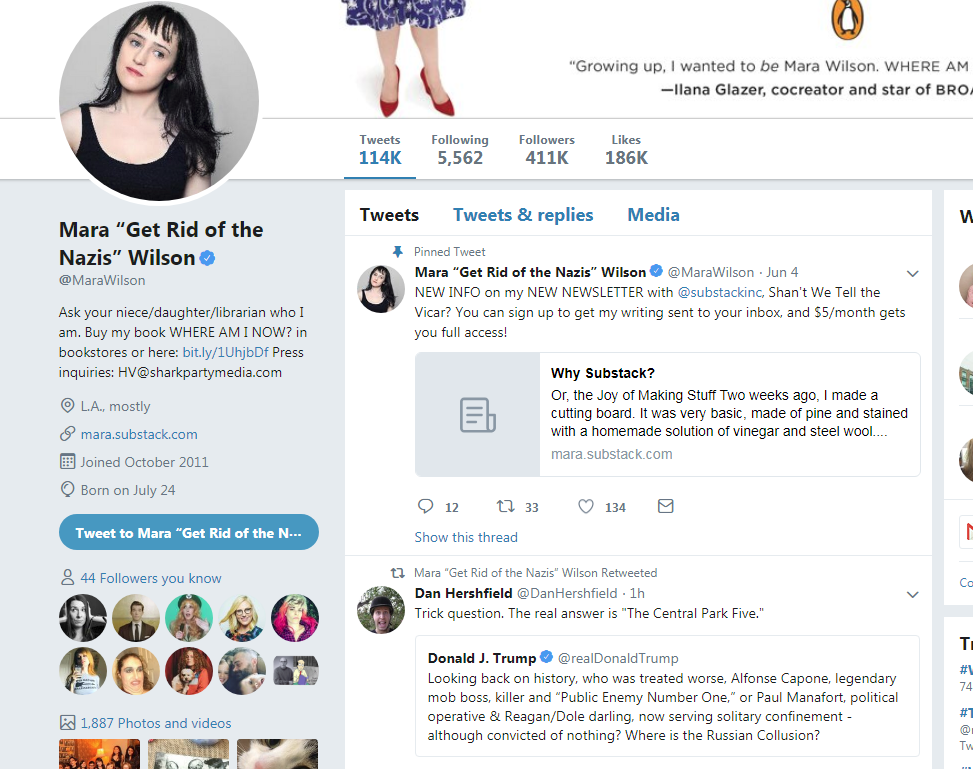 I go to Winnipeg with Larry, with Bobo and Zack visiting at the same time. Standard Winnipeg activities (not in a bad way), and I discover (better late than never) that the Shaftesbury is right next to Assiniboine Park and all its lovely hiking trails. Finally, something to do besides eating, sitting, and car rides! (It was VERY hot… but again, with all the eating, a little sweat was probably a good idea!)
I return, and Brad from work has his wedding. Or reception, I suppose. Either way, first time wearing my new suit out!
September:
I begin my quietest TIFF in years. Just two movies. The first was Greta. Not my favorite, but such is life.
I make a joke on Facebook that appeals to people who read closely and people who don't read so closely. I feel a little guilty about it… but damn it, it's funny!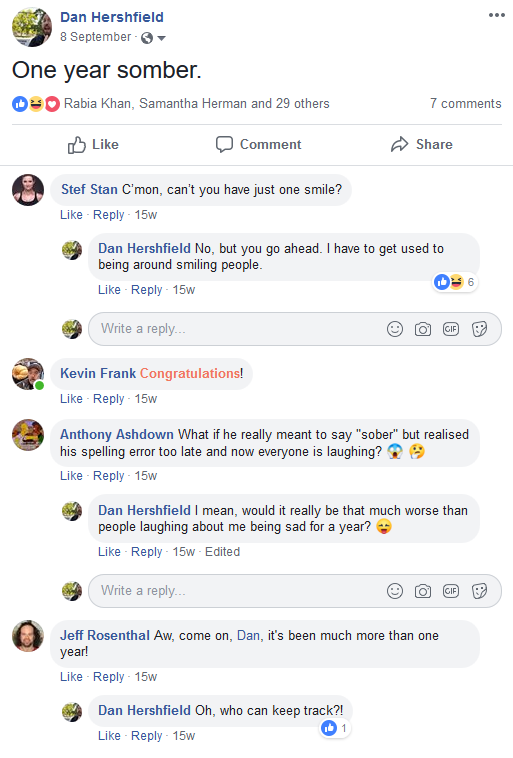 Luckily, it wasn't a purely arbitrary day, so I won't mind doing it every year. Which I guess I have to now!
The next day (the 9th), I see If Beale Street Could Talk. Definitely my favorite of the two, and about as good a Q&A as you could hope for. (It made the news!) I think I'm pretty much over TIFF, but it is a bit of a nice family ritual.
Speaking of which, Rosh Hashanah at Shelley and Cindy's this year. Good times had by all.
Shortly thereafter, I get a pink bass. It's mostly so I can have one for home and one for the office, where Food Trucks jam… but it's still very punk.
Pete takes a couple of us out for a spin on his boat. I get strangely close to motion sickness (as in I felt it but nothing came out of me) and then we had hot dogs at the RCYC. Queasiness notwithstanding, a lovely time that also feels like proper taking advantage of the city we live in.
I make a funny joke at work and then decide I want to share it with the world:

I go hardcore on JFL42. Largely with Evan and Jen. It turns out that its credit system basically encourages you to see countless shows, so between being cheap and inspired, I see a ton.
Fairly early on, I make this observation…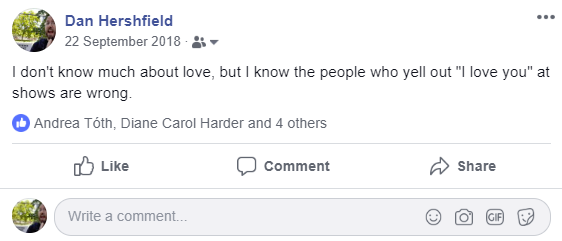 … but it's still a lot of laughs. (And admittedly, a lot of mental acknowledgment that things are funny without actually laughing.) Here's who I saw:
Theo Von
Rapp Battlez
Donnell Rawlings
Margaret Cho
Neal Brennan
Seth Meyers
Moses Storm & Jo Firestone
Talking with Canadian TV Comedy Writers: Monica Heisey w. Kevin White, Anita Kapila, Garry Campbell & Susan Coyne
Nathan Macintosh
Marc Evan Jackson & Paul F. Tompkins (improv)
Matt Braunger
Joe Mande
Adam Pally (Vino Diesel)
Tony Hinchcliffe
Ryan Hamilton
Lil Rel Howery
Chris Gethard
Todd Glass
A lot, right? But it's like homework for funny people… or so I tell myself. Anyway, here's the one picture we took with someone: the very funny, very friendly Ryan Hamilton.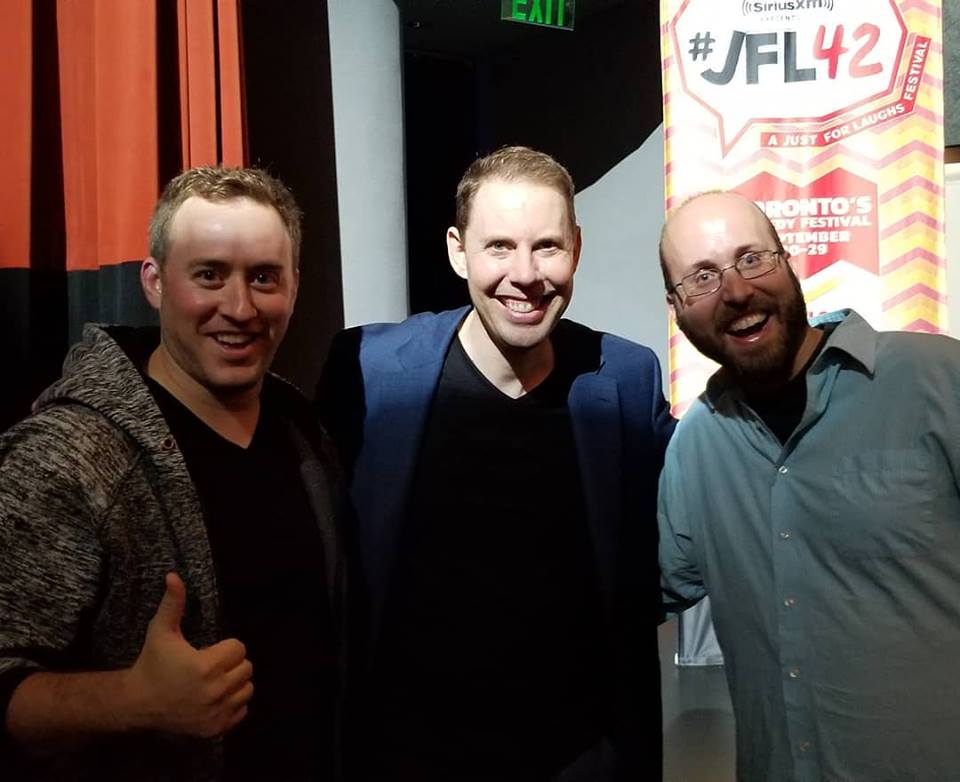 October:
Another earworm of my own invention!

I don't entirely remember my mood at the time, but on the 12th, I post this: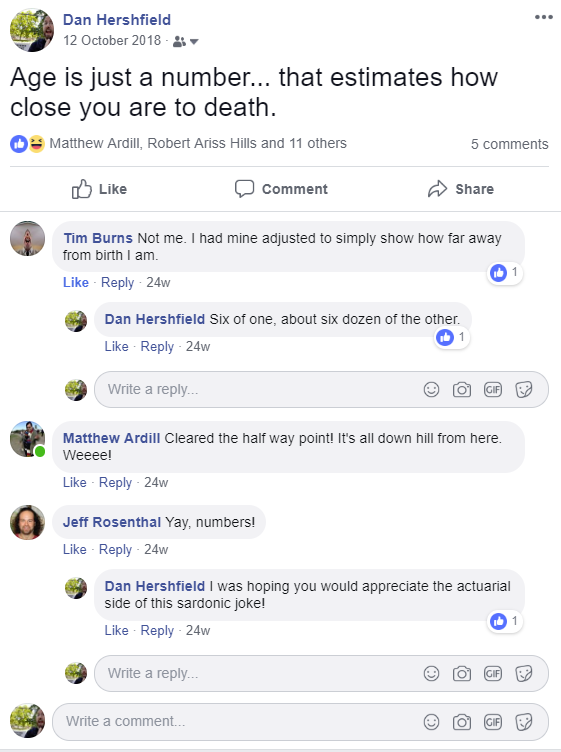 Perhaps not coincidentally, I begin volunteering around then at ReadUP. For awhile, at any rate.
A webseries I was an extra in goes live. Admittedly, I volunteered mostly to play basketball… but it was still a thing I did, and I'm in it. If you've ever wanted to see me play sports in slow motion (well, SLOWER motion):
Due to someone being too sick to go, I see Andy Zaltzman's show Right Questions, Wrong Answers. I get there late due to the stupid TTC, so I'm in a bad mood for awhile… but fun show.
John Tory stays the mayor, in the Ford-compromised municipal election. Toronto's spiral down the plumbing continues apace.
Anyway, here's a post that probably should've been appreciated more:

Our office moves to the Dufferin and Eglinton neighbourhood. Suddenly, I'm a commuter and everything seems harder. But at least I'm getting reading done during my commute…
The month ends with a Halloween party at Ian and Jen's. For the first time in years, I meet someone at a party and days later, successfully ask them out. Not much comes of it, alas… but good to know that's still a possibility for Old Dan.
November:
A big month for me online. I get the app Untappd (my beer drinking is nowhere near enough to make it impressive, but hey, it's fun). I get some Initiative Q cryptocurrency (current value: probably nothing, but it was free, so no harm done. And I get my first Twitter suspension!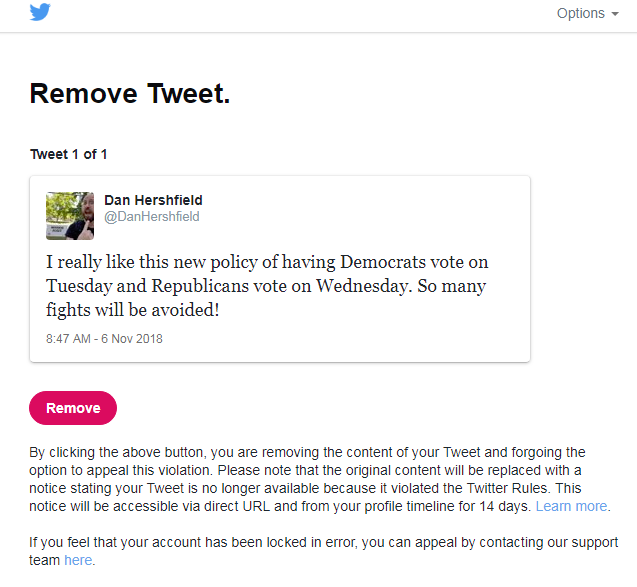 I hold out from deleting the tweet for a long time, hoping that I can actually get a letter from someone who works there saying that they think a person exists who's dumb enough to believe this is real. After about a week, I need my account for work, so I relent. But if you ever have any doubt that Twitter has chosen a side, and it's the side of the fascists… well, don't.
Evan and Jen's wedding and assorted adjacent events). I MC ("yeah, you know me!") and everyone does very well. I could go on and on, but I think I'll just remember it as best I can. Here are some pictures (with a focus on me, because if anyone's actually reading this, I have to assume I'm the one you're interested in!):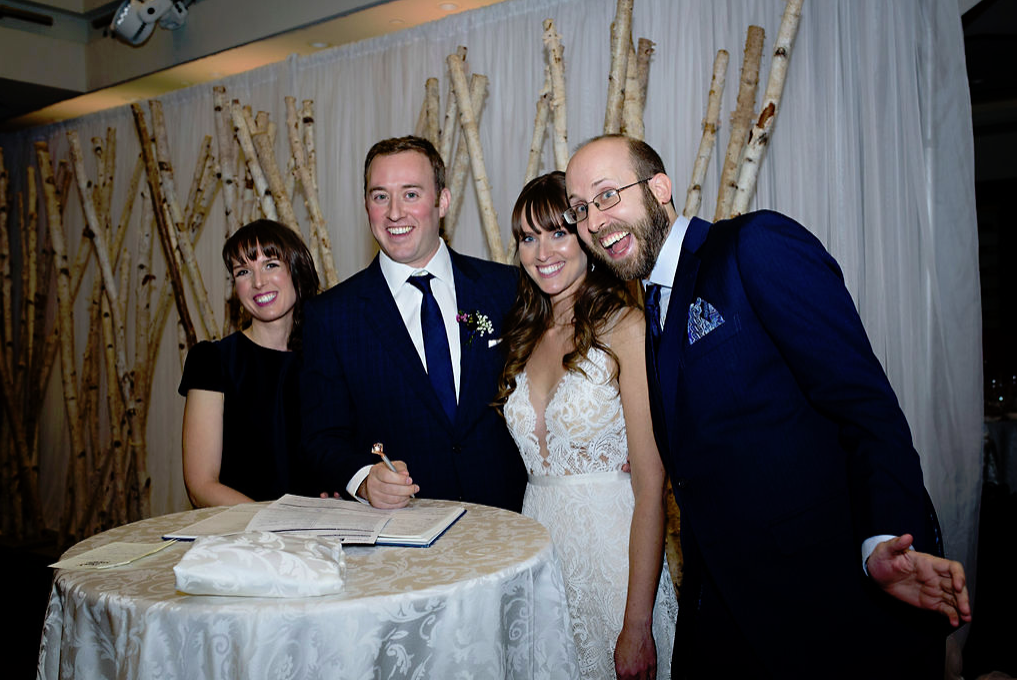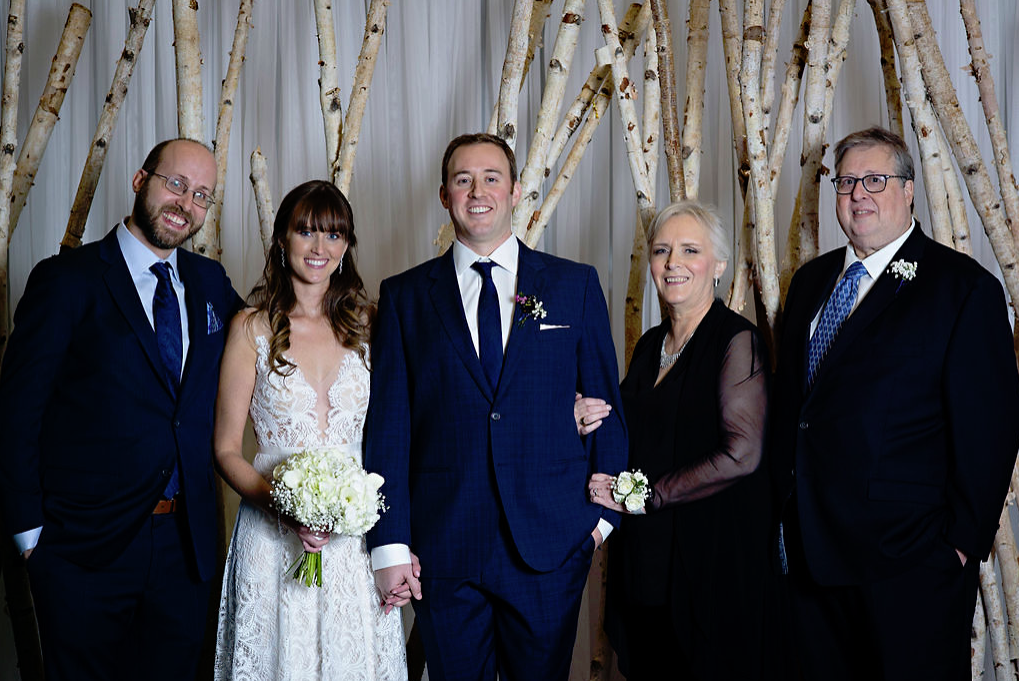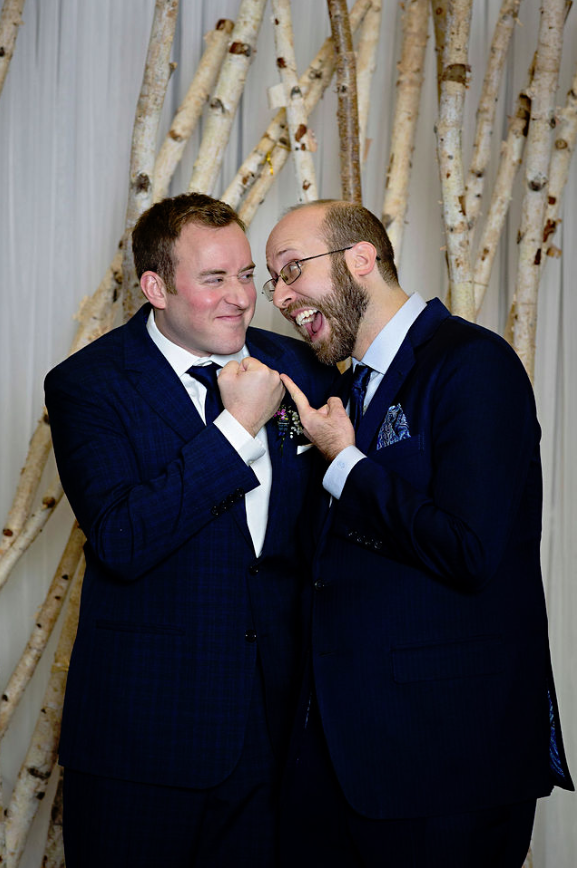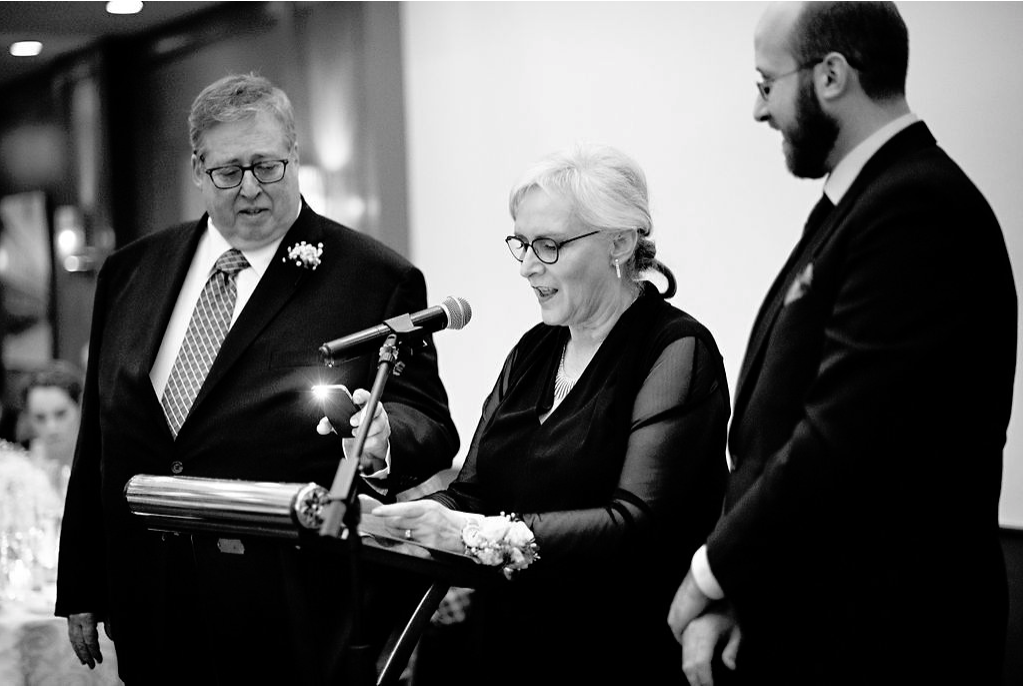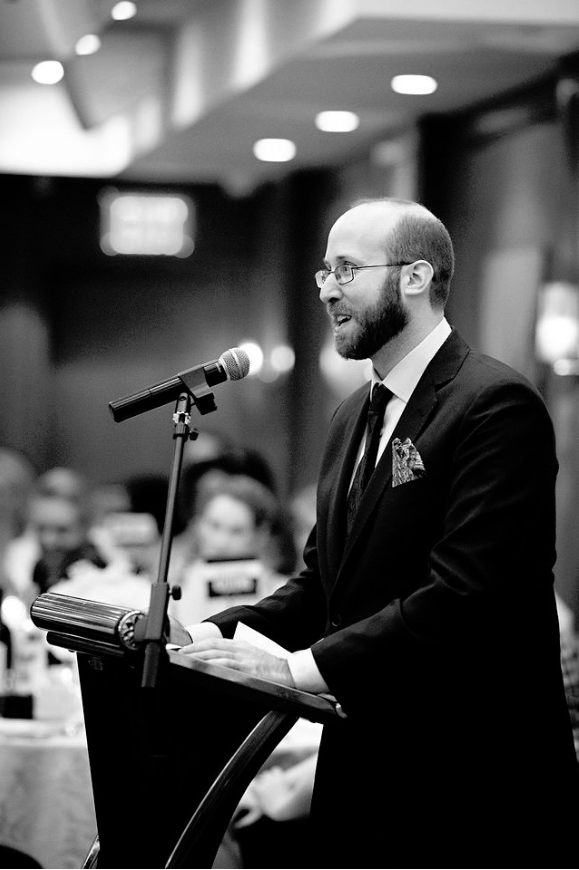 As usual, the Hershfields know how to party.
Moving on… I have an experience that's pretty well summed up by my post on the subject: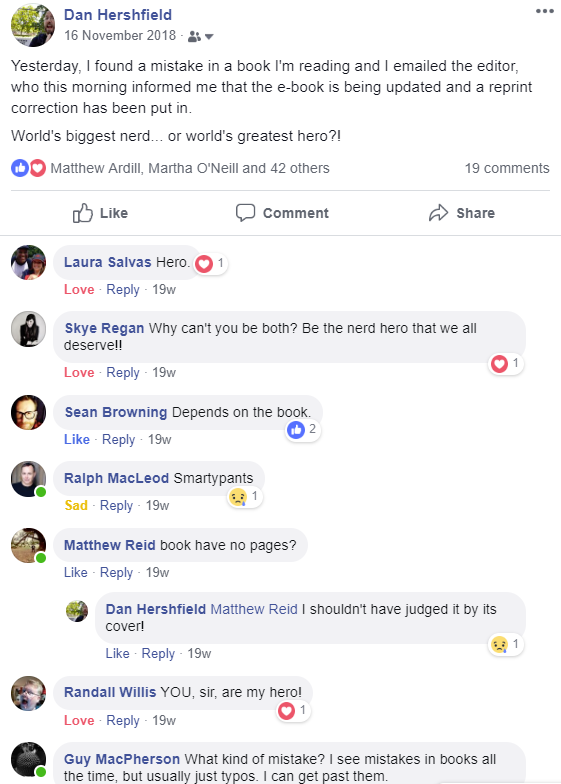 Speaking of nerds who read, shortly thereafter, I have a very Toronto experience. I go downtown to give blood, then have to go to the Reference Library to photocopy pages from a book not in circulation for Larry… and while there, I stumble upon a Susan Orlean lecture. Nifty! (And as you'll see from today's OTHER post, I did read her book!)
Around this time, I officially end my volunteering with ReadUP. My commuting time now means I have to go directly from work to it, and even doing that, I was hard-pressed to make it on time. Should really find something else good to do… note to self.
December:
I learn that Bathurst Bowlerama is closing down. The end of an era, etc.
Another year, another holiday party. Though with new owners, it's a real party. I get far too drunk off the open bar, and (separately) the highlight of the party is a contest where people have to drop toonies into shotglasses from their butt cheeks. All this will probably feel less normal some day.
I make my last really good post of the year (if I do say so myself):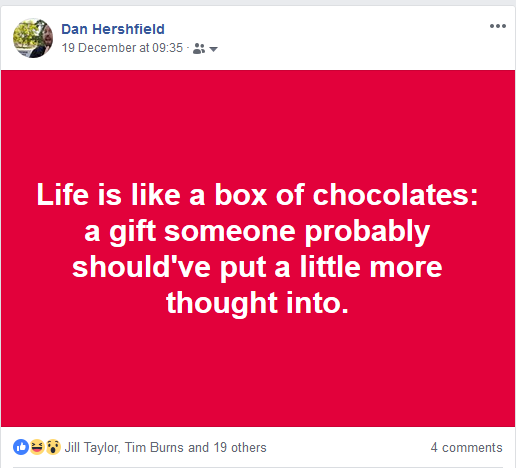 Okay, slightly overwritten, but that idea is solid!
Brad from work has big news. He's moving on to bigger and better things. The presumption is that I'll become head writer… and eventually that is the case. So… that's a thing that happened.
Then the holidays. I see Dave and other high school folks (we go for Indonesian), Lindsay and Tom, and other people I haven't seen in too long. I finally check out the Second City revue: a lot of good stuff, especially (if I may say) from my friend Chris Wilson. And then once again New Year's at Ian and Jen's.
And that's the year that was. More or less. (Okay, it's probably less… but after all this writing, it feels like more!) Thanks for reading this, Future Me!