I'd hate to think I'm the type of person who might choose to procreate just to make sure that someday, years from now, someone will look at these posts and be glad they're here. Especially since that assumes my kids would take the time, and with their transporters and whatnot, that could be a long-shot. On the other hand, with global warming continuing unabated, they might have to live their entire lives indoors and maybe they'll be desperate for reading material!
Therefore, proceeding with the knowledge that this half-assed recording of events might be interesting to no one but me but the hope that it might be riveting for some, here is some stuff that I did.
March 2013:
As you'll recall, I was still in school at Humber at the time, so not too much interesting in life to report, though the finish line was coming into view and we were starting to do Portfolio Nights and the like.  There was a dinner party at Coach's, a nice little McGill reunion where I fell into the 'special' brownie feedback loop, where they make you hungrier so you eat more which makes you hungrier ad nauseum.  (Literal nauseum!)  There was also Sketchfest, with a few panels I went too, including one featuring Kurt Smeaton where we acknowledged each other as beard brothers and stroked each other's beards.  I don't know why I remember that, but I'm not going to overanalyze it.
I think this actually came later, but since I don't have a picture for this month, here's what a Portfolio Night looks like, plus it's a picture of me with some buddies, so why not?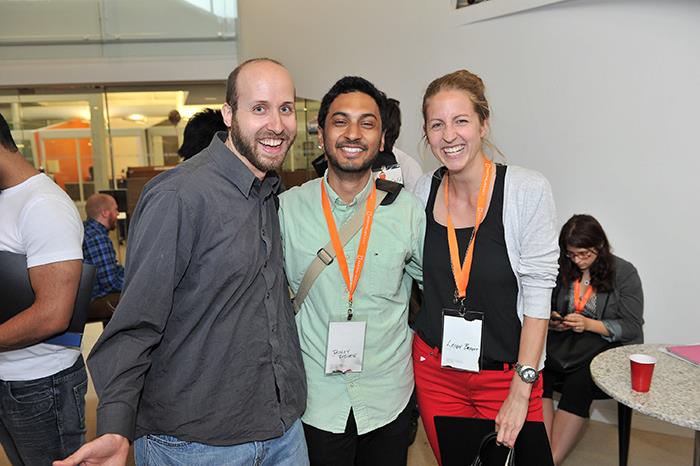 April 2013:
School's out for summer!  (Well, except for the internship, more on that later.)  The program ends, tears are shed, promises to keep in touch are made and are occasionally kept.  Nuff said.  Sadly, that is not what I'll most remember April 2013 for.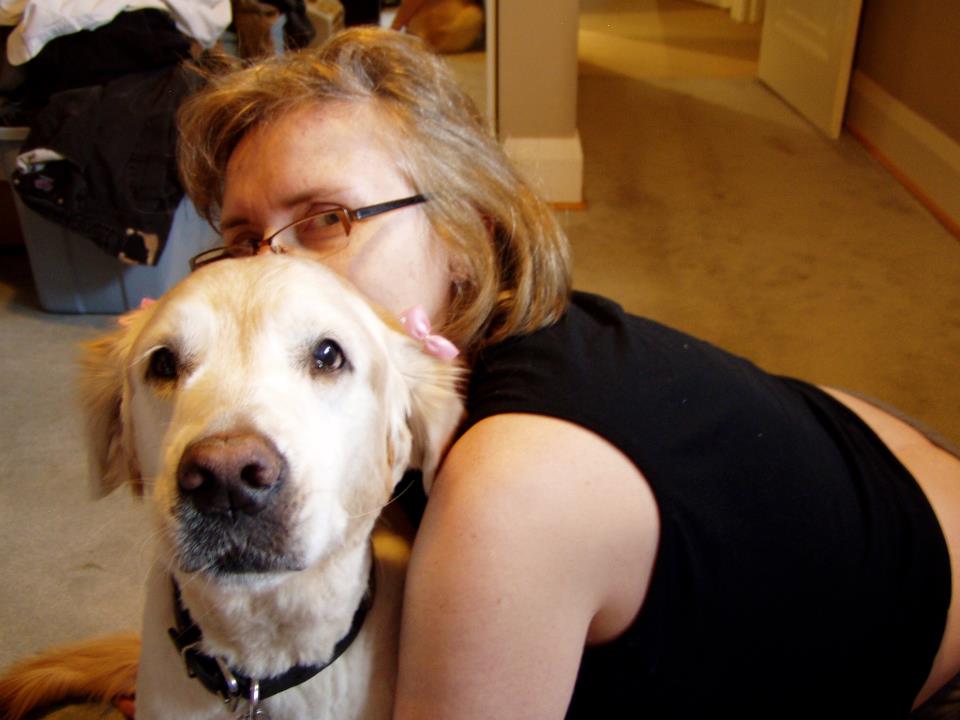 We had to put Claire to sleep.  She was a great dog and we still miss her.  I choose this picture of her because even though it's atypical (she had those bows exactly once), it still makes me laugh every time I see it.  What a doog!
May 2013:
One big beginning, one big ending.
First, the beginning: I start working at Manifest for Mark Sarner.  It was my internship which segued into a contract that kept me there until the end of the calendar year.  It was a great experience, I learned a lot, hopefully did some good, and some projects were started that will hopefully lead to exciting developments down the road.  (Don't want to jinx them, you'll hear them if they come to fruition!)  And I relearn what it's like to have a desk job, which is something I should know!
The ending: Comedy on the Danforth comes to an end.  The owner of the Timothy's where we performed sold it off, and the new management weren't interested in continuing it.  (Apparently, though it's a franchise, headquarters was never too thrilled about it.)  The end of an era, but glad to have been a part of it, and very grateful to the great Gord Oxley for entrusting it to me and the wonderful Amy Zuch for carrying it on after me.  Good times were had, and I will be bitter the rest of my life whenever I have to pay for cake.
June 2013:
It seems like I must have been adjusting to a day job, because not much seems to have happened in June, other than a few shows here and there.  Oh, and a trip to Winnipeg for cousin Jonathan's wedding…which I know there are pictures of but I don't seem to have any.  But a good time was had, sweaty dancing was done.
July 2013:
Let's see.  There was a surprise party for Lindsay at the Old Spaghetti Factory, and as you can see, every part of that sentence is fun.  I have an entry in my calendar that reads "Zoo 2 with Ian / Chicka Boom / Fringe tent?" and while I don't remember what 'Zoo 2' is, I know that all of that happened.  Perhaps it was this night…?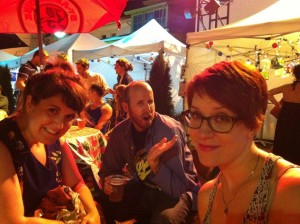 At some point, I have the very Jewish experience of running from a bris (Noah, son of Rob and Alisa) to a show I'm in (with Jordan Kennedy).  And Book Club gets its summer tryout, which produced these lovely pictures with this lovely cast:
August 2013:
We go to the cottage.  I don't remember much about it, but without a dog, I assume it was weird.  But probably enjoyable.  Still a cottage after all.
A bunch of us go to a costume party at Casa Loma for the launch of some drink (Somersby something-or-other).  A pretty fun night, but one that would probably go unmentioned except I feel that this is the kind of picture that belongs in a blog, so…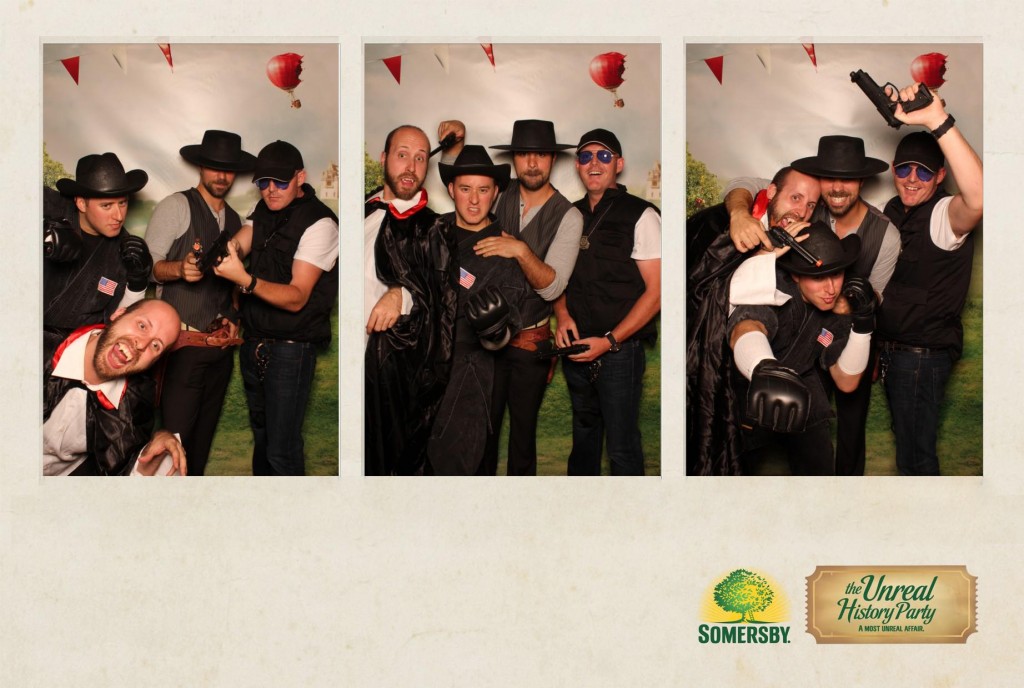 Speaking of photogenic evenings, I'm part of a Buffy trivia team called "The Funny Syphilis" and WE WIN!  Though, in fairness, the "we" was really Ian and Ron winning, with Jess and I providing some sporadic backup and Noreen and Jenny wondering what they'd done in life to end up with such hopeless nerds for friends.   But the important thing is good times were had, and we saved the world.  A lot.
And yes, I'm the one who thought it would be funny to be a vampire in the big group picture.  I stand by it.
And we end August with a few pics for the obscure fetish crowd: ankle injury!  It was sustained in a basketball game and my rebound kept the play alive and we won on the ensuing basket.  That was small compensation for the weeks I spent hobbled, but better than nothing, I suppose…
September 2013:
Like most Septembers, this one included a Rosh Hashanah and a TIFF.  I don't particularly remember either, but I'm sure they were both lovely.
My TIFF movies were:
Hateship Loveship

The Double
I Am Yours
The Invisible Woman
The Disappearance of Eleanor Rigby
Looking at that list, it seems like a pretty good year, because I seem to recall thinking Hateship Loveship, The Invisible Woman, and The Disappearance of Eleanor Rigby were all excellent.  (And as I write this, apparently The Disappearance of Eleanor Rigby has been ruined since.  Google it if you want, it sounds like a sad Hollywood tale…)
From the 'growing old ungracefully' pile, I impress my high school friends by leaving their party as it wraps up at midnight to go to a party at Unit 102.  I also score a big hit on Twitter with the following: "Looking for Love in Alderaan Places, by Princess Leia #StarWarsAutobiographies"  These are apparently the things I care about at this point in my life.
October 2013
I have my first meeting with Julie about Book Club.  The meeting goes well.  Spoiler alert: The show goes less well.  It was and is a great idea that for whatever reason (probably me) never quite found its crowd or came together.  But this meeting is a happy memory, because Julie is a great improv mind and her enthusiasm for the project is something I hold onto, and hopefully, I'll find a way to do something with it again.  Done.
Also in October, many of us old improv types (and some new ones) gather at Second City to watch the broadcast of the pilot of Super Fun Night, co-starring our very own Lauren Ash.  On a personal level, the experience reminds me how tribal I've become, all the more so as I drift away from a community I was once so immersed in.  There are a lot of these people where it would be stretch to say I'm friends with them, given how seldom we see each other or talk, but I guess I'll always be rooting for them and reveling in their success.  And that's a good thing.
And October wouldn't be complete without Halloween pictures!
Well, normally, it would be.  But this year, I went for it, had a lovely time, and got a picture I absolutely adore!  Plus I answered the question "Why not Zoidberg?!?"
CROSSOVER EPISODE!!
November 2013:
November seems to have been a strangely busy month, by my strange standards.
I open with what would be a non-event to many but was a big event to me: Jane Espenson retweeted me!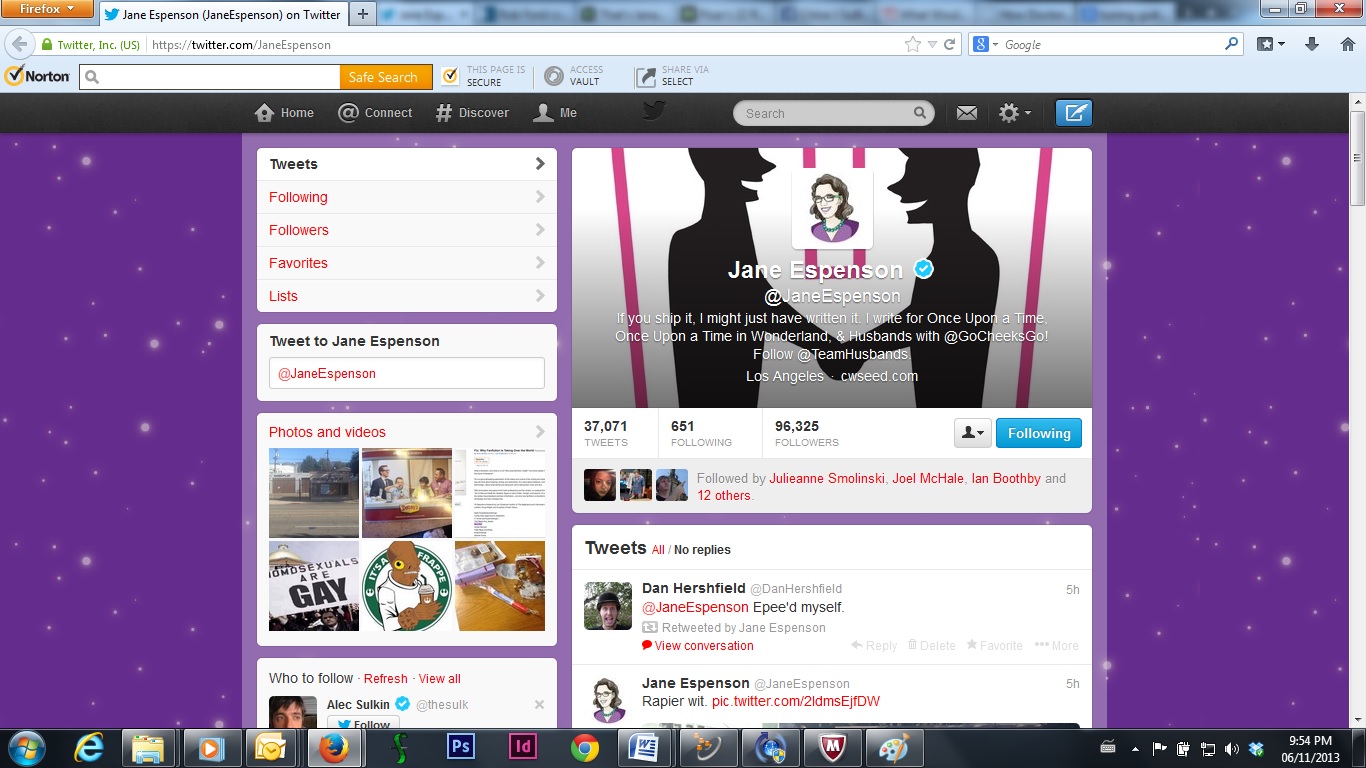 I shouldn't care, but it tickles me to know that for however many seconds, I amused one of my writing heroes.  With a terrible pun.  I will admit the screen capture might have been excessive…and I'd like to say it was the last time I used a screen capture to save a Twitter moment…
Around this time, I also organized a mini-UBC reunion around a production of A Room Of One's Own, directed by Sarah Rodgers and starring Naomi Wright.  (As an aside, you should never miss an opportunity to see anything directed by Sarah OR starring Naomi, but if you miss a show that's an AND, you're an idiot!)  It was lovely to see Niki and Andrea and Anastasia and Kelly again, so it turns out, in small doses, I am a reunion guy!  And as a bonus reunion, Kayla had a small part in the play, so after some initial awkwardness in the pre-show where I was tentative about pulling her out of character, I got to catch up with her too!
Then another career milestone: I appeared on the BBC!  Kind of.  My face.  Which counts.  They were there doing a story on Rob Ford and though their camera died before I got out some perfect soundbite zingers, it was still pretty neat.  (Sidenote: I haven't talked about all the Rob Ford ridiculousness, but when I look back on this period, if I'm being honest with myself, I was fairly obsessed with it and it took up a lot of my time.  An awful, awful man…and as I'm writing this, he's currently undergoing treatment for cancer.)
Here's the cast: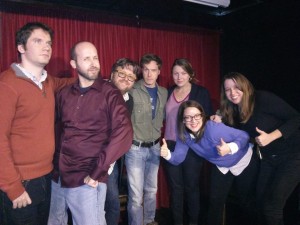 Here's the link to the BBC story: http://www.bbc.com/news/world-us-canada-24890797
And here's the video (which may go away, but it's here for now!):

Then there was the Canadian International Television Festival.  Which either not many people had heard of or not many people cared about.  But it was pretty great and I hope it comes back.  I saw a Q & A with Bob Martin, Don McKellar, and Kim Catrall, talking about their new project Sensitive Skin, a retrospective panel with Rick Mercer et al, and then a sneak preview of Spun Out.  Which eventually led to me hanging out at a bar with several actors I know from the TV, including Dave Foley.  You know…like people do…
And then towards the end of the month, a trip to NYC.  I stayed with my wonderful friend Becky Ferreira (and new friend Becky's husband Kyle), saw other old friends Kaitlin and Yael, and got to (in no particular order and leaving much out) the Guggenheim, Roosevelt Isalnd, DUMBO, the PIT, the Bell House (with Escort playing), the American Museum of Natural History (finally!), all through the Village, through much of Manhattan, a fair bit of Brooklyn, and for the first time, some Queens (including the now home to feral cats former site of the US Open!)  Oh, and I saw Sleep No More, which is the most incredible theatrical experience out there, that I don't want to spoil for anyone by talking about it but which I have been endorsing wholeheartedly to people ever since.  Here are some pictures that tell a fraction of the tale and which will probably only have meaning to me, but still, NYC!: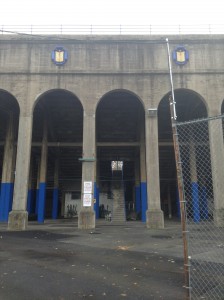 And that's just the stuff I thought to take pictures of!
And then the month ended with Pat's 24 Hours of standup (which I helped out with a little on the fundraising side, and hope to again, since he's a goddamn hero and I like to help heroes) and Julius Caesar at Unit 102 (which reminded me why I wanted to do something with that play, and still do, plus I saw the first scene I directed at UBC done again, which was nostalgic.)
Okay, I feel I haven't made clear how much time I spent in these months making fun of Rob Ford, so here's a picture I saved that made me laugh.  What a boob!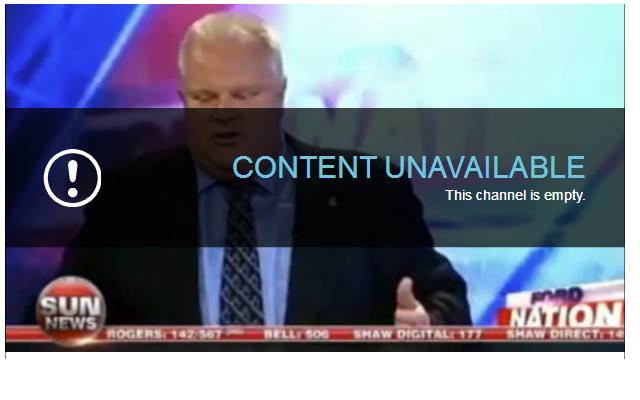 December 2013:
Another life goal achieved!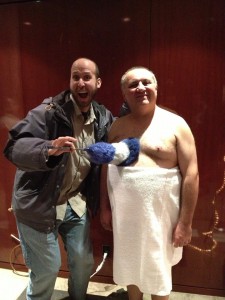 And there was a Kids in the Hall show too!  This was just on the way in!  What a night!!
In other show business news, I took part in the Impulse Fest 55 Hour Improvised Soap Marathon!  (At the time, it was a record, though I believe everyone just keeps tacking on an hour, so it's probably been bumped up several times since.)  It was pretty crazy.  Some people tried to do the whole thing, and man, were they looking crazy!  I went the slightly less crazy route, though it meant improvising from 5 to 11 a.m. on a Saturday to an audience of largely unconscious improvisers.  It was two shifts, both of which were supposed to carry on the main story, but for the second shift, which was supposed to facilitate the move from Comedy Bar to the Distillery District, the people who were supposed to take over at the Distillery District couldn't get into the theatre!  So those of us left behind ended up telling this weird diversion story about the other group and how they were being haunted by the ghost of the world's greatest improviser…okay, it's all a little foggy…but it was AWESOME!
Sadly, I have no pictures of the show (though it was webcast, so in theory, someone might), but I do have this picture, which could be my best chance to someday possibly sneak into a book about improv: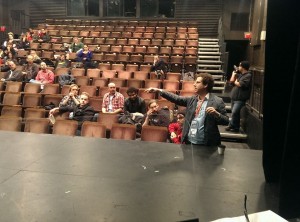 And later that day, completely exhausted, I dragged my tired butt to Amy's Christmas cookie party.  Which was lovely and cookieriffic.
Continuing the holiday theme, I was supposed to go to Sing-Along Sound of Music with Jess, but it was sold out.  But then, a (near) Christmas (near) miracle!  Sean and Steph were also there sans tickets and offered to host an impromptu home version.  Which was even better!  God bless us, everyone!
Then proper Christmas bought an ice storm.  Oh well.  But we still had Christmas dinner and I got this cool picture.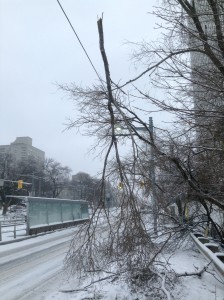 Somehow, this branch fell off a tree, landed on a power line…and managed to stay upright!  I have no idea how this happened, but it feels like it shouldn't.  Winter wonderland indeed!
And I guess I'll put New Years in December, since it starts there.  Spent at Ian and Jen's, also with Tom and Lindsay and Josh and Laura.  My mixed fate in life: to be a singleton forever in the company of wonderful couples.  Could be worse, I suppose…
January 2014:
Okay, well, this is the month Book Club actually launched.  Not much to say beyond what's said before, but this is when it became real, and I'm glad it did.
I also play ball hockey on a team for the first time in about a decade, with Leigh and several of her camp friends.  It takes me awhile to figure it out again, but once I do…I'm still on the weak side.  But I have fun, damnit!
I declare war on Subway.  There is a deal on six-inch roast chicken subs.  I, not wanting to insult the sandwich artist, order a foot-long, rather than saying 'two six-inches.'  Then he charges me the amount for a foot-long, so I am forced to point out that I want the price for two six-inches.  He says he's been instructed not to do that.  I argue for a long time, but am tired and hungry, so I take it.  And never go back again.  (To that location, at any rate, but they're franchises, so that's the only one I really need to boycott.)  I still have not gone back, even though the franchise is under new ownership.  I used to go about once a week, so that $1.50 they bilked me out of ended up costing them about $400.  I'm unreasonably proud of this.
Speaking of pride, the opposite of this is what joining Tinder makes you feel.  But that happened.
Also this month, I watch my first Royal Rumble in several decades at Matt McCready's.  This makes me feel both pride and its opposite.
And I start a TSSC basketball team made up almost entirely of comedy folks.  I still don't entirely know what I'm doing, but I love playing anyway.  I am starting to worry a little that basketball is not a good old person sport, though.  I guess tennis is okay, though I will need to develop some fundamentals at some point…
February 2014:
So this is actually something that happened about four years earlier, but this was the month when Ashley stumbled upon and emailed us all the link to the trailer for The Palace, a green-screen web series I (and many other notables) had acted in.  And I made the cut.
Here's a screen capture: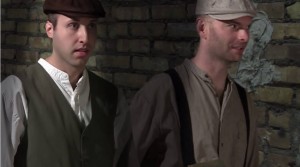 And here's the video, which hopefully won't go away!
The Palace – Trailer from Lucas Gindin on Vimeo.
Also in February, I become an organ donor.  And if I ever run for office, I pledge here that one of the many things I will push for is a reverse onus on organ donation, i.e. you should have to opt out rather than opt in.  This is literally costing thousands of people their lives.  Ridiculous.
And speaking of public policy and how ridiculous it can be, I start my participation in the Residents' Reference Panel on Safe Injection Sites.  Our task was to (more or less) determine what would constitute reasonable and effective public consultation.  I tried very hard to stay open-minded and think I succeeded. but the evidence was so overwhelmingly on the harm reduction side, it was hard not to scream out at every NIMBYist there.  But overall an interesting experience, and certainly a rare opportunity to interact with Torontonians of all ages and backgrounds, in groupings that tend not to occur naturally.  It was like an episode of Lost!  (And hopefully we did some good, though I remain worried that 'public consultation' often creates the perception that experts need to kowtow to public ignorance.  Scarborough subway, anyone?)
March 2014:
I go with my mother to see a Canada Reads taping.  It makes me briefly proud to be a Canadian.
David Koechner favorites one of my tweets.  It makes me briefly proud to be me.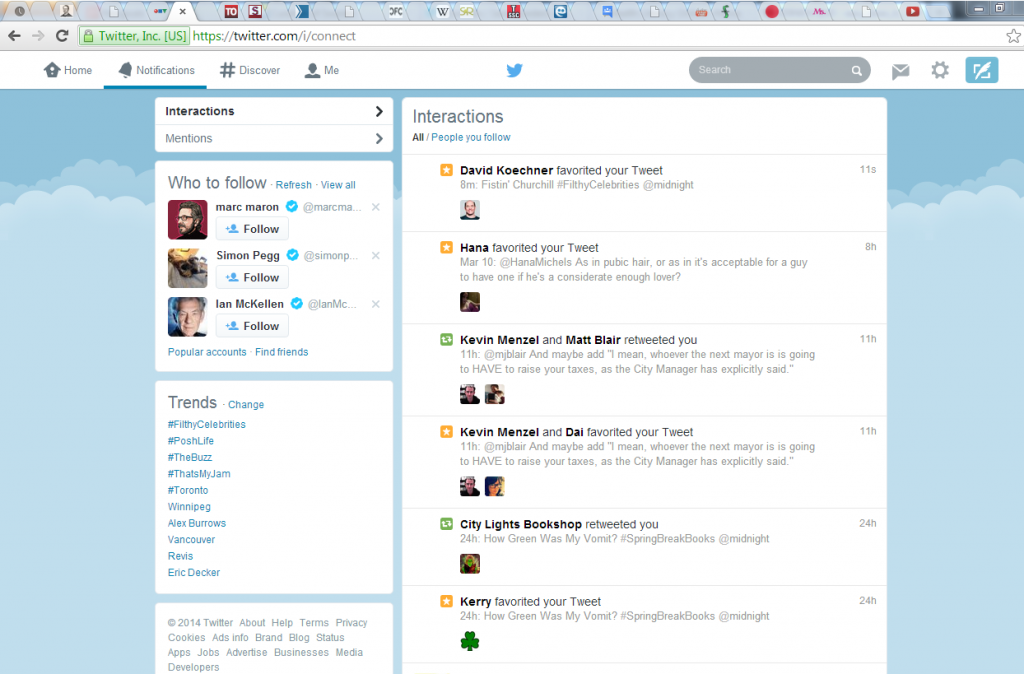 I do some work for Russell Oliver, also known as The Cashman.  I am now part of Canadian history.
There's a Slings and Arrows panel.  I miss it.  Because I'm an idiot.
There's a LIVE READING OF 'BRAIN CANDY'!  I go with Tory, but also unofficially with half of Toronto comedy.  The alternate ending is revealed.  Dark!
Josh and Laura have me over for a Purim potluck dinner.  I make kasha.  It's how the Hershfields roll.
And it was my birthday.  Presumably we did something.
April 2014:
There's a live taping of Antoine Feval.  Chris Gibbs is a freaking genius, and I'm frankly amazed I ever get him to do things I ask him to do.  Admiration.
I go to the Blue Jays' home opener with Evan.  (I believe it was my birthday present.)  It begins a season of the Jays' toying with the city's emotions (that is ending as I write this.)
There was a trip to Winnipeg.  I don't entirely remember why, beyond that it's a nice thing to do.  (I'm starting to run out of steam.  This is a super-long post!)
Passover happens.  Let's pass over that.  Ha ha.  But seriously, I don't remember much about it, but I'm sure it was great.
Chris Wilson has a birthday party.  It makes me feel older than my own birthday party did.
May 2014:
I hangout with Mike Fly, which I mention because he's one of those guys where I constantly ask myself "Wow, how long has it been since I've seen (name)?!?"  Now I'll be able to look it up.
I get this article, Tories introduce 'Three Riddles' voting system, into The Beaverton.  People seem to like it.
I do a panel for Veronika Swartz's podcast with Ian and Jason.  It is as much fun as you can have finding fault with a god (hubris?) with two people far better at it than you are.  If that sounds like I didn't have fun, it's because I'm not as good a writer as Joss Whedon.  Or, you know, Joss Whedon in a coma.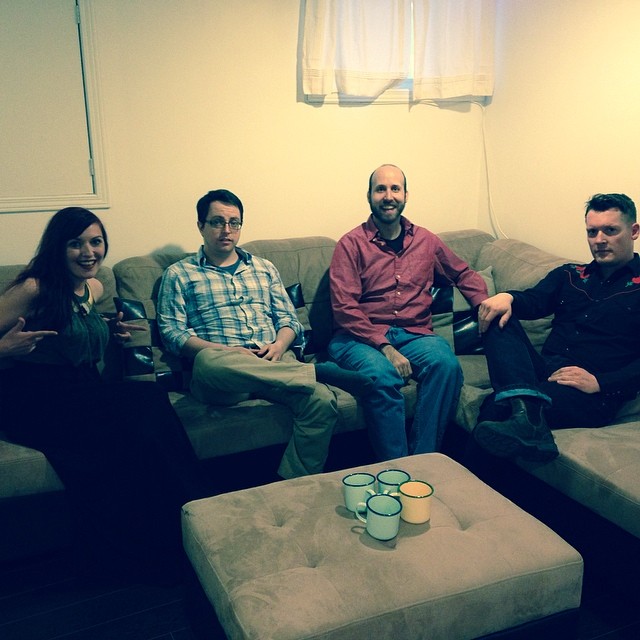 I go to the symphony with Cam.  It is lovely and sophistimicated.
I get coffee with Diana Frances.  As it often does, it leads to me ending up on CBC radio and someone calls my parents about it.
There's a reading for the latest Reid Along With Browning opus.  They're great.
We go to Lou Dawgs for my father's birthday.  He ends up staying out later than anyone, because that's who he is.  Can't keep an old man down.
I hurt my finger playing basketball.  Which seems frivolous to mention, but it was bad enough that it may have been broken and still looks like it was broken, so if I ever need to trace my deformity, this is where it started.
June 2014:
Introducing Marty!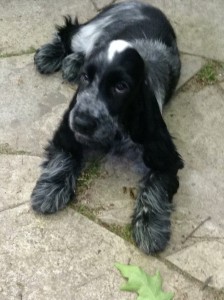 Yes, my parents got another dog.  This was Mom's pick.  The rest of us wanted another golden retriever.  She said we were free to get one.  Despite his being a shrimp, he is growing on us.  He's a world-class player (as in he plays well, though as of now, he also still has his balls) and gives very nice kisses.  And my parents certainly haven't tired of picking him up yet.
June also saw 100 in 1 Day Toronto, a day where people hosted interventions around the city with the aim of somehow making things better.  I had an idea that people went fairly gaga for (though not so much that many volunteered): riding the streetcars and encouraging people with music and treats to move to the back.  Though the music was really only appreciated by those at the back anyway, our system of bribing people with cookies worked well at times.  (Maybe too well: we were strangers giving out cookies!)  It was definitely an experience, mostly fun, and most fun when my buddy Faisal was with me.  Strength in numbers!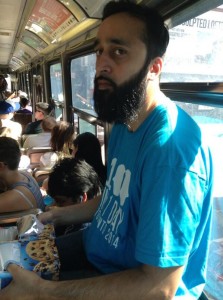 Doesn't he look like he's having fun?  (Well, he was!  He told me so!!)
And now, the last (for this post) of my Twitter highlights.  @midnight retweeted me!  It's kind of a big deal… (also, kind of not…)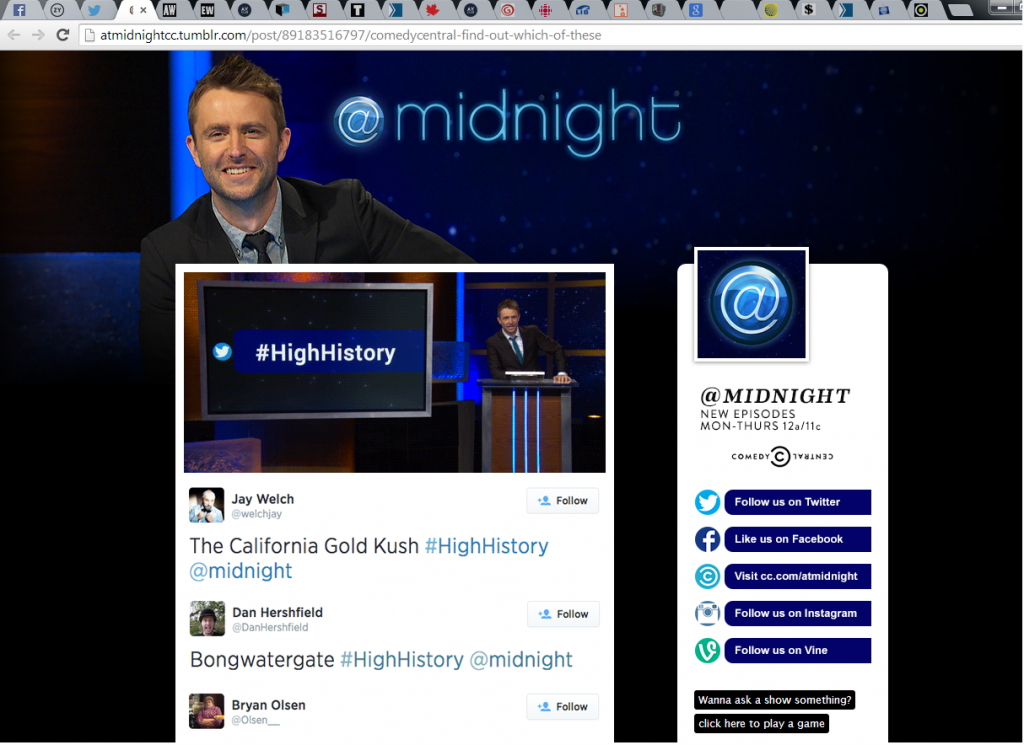 June ends with me dog-sitting Marty while the rest of the family has their own New York adventure.  At this point, Marty is excruciating (he's gotten better), but I think we bonded, which is nice.
July 2014:
I'm sure things happened in July, I just don't remember them well.  I believe I saw the latest Second City revue (much obliged, Connor!) and definitely saw quite a bit of Fringe, much of it good.  (I also showed Lauren Martin around, which was a lot of fun.)  It also caps off a string of seeing Tim Walker perform again, which is certainly a treat.  I missed that guy.
I'm sure there's more, but this post is so close to being over…!
August 2014:
I'm a playwright in Operation 24, a mini-festival where plays are conceived, written, rehearsed, teched, and mounted, all within a 24 hour period.  The playwrights had from 8 p.m. until 8 a.m. to write…and we had to do it onsite!  It was kind of crazy, but a whole lot of fun!  My cast and director were great, and all things considered, I didn't do too badly myself.  Quite the experience.
I am on the panel for Teh Internets again.  Mostly, it will be remembered as the show where I did THIS (see below) to Marty as part of my "homework" for the show:
We go to the cottage.  Marty is a bit of a problem, as puppies are wont to be.  Not quite housebroken, can't sleep through the night, a crier, and not entirely willing to swim.  I list all these issues now so we'll be amazed by how good he is next year, kenahora, knock on wood.
And lastly, on the last day of the month, I give my notice.  After years and years, I'm moving.  Into the apartment my brother's giving up to move in with his girlfriend.  Changes!
September 2014 (thus far):
I guess the highlight is TIFF.  My movies include:
Welcome to Me

The Dark Horse
Do I Sound Gay?
Felix and Meira
Whiplash
The Tribe
Leviathan
Shelter
Not my best festival ever, but some good ones and no real train wrecks.  And in terms of star sightings (because why not?), I saw Joel McHale and Nick Kroll "in nature", and up close at shows Kristen Wiig, Will Ferrell, Paul Bettany and Jennifer Connelly, and from a distance at a show, J.K. Simmons.  And then funnily enough, a couple days after the fest, I was riding with the folks and who should be crossing the street, waiting for us to pass?  Nicolas Cage!  (Crazy!)  I miss the opportunity to convince Larry that this is yet another one of his 'thinks he recognizes a famous person' moments.  I guess maybe I'm a good son?
Other than that, I watched Roots for the first time (I think it holds up pretty well, but what do I know?) and I have a years overdue breakfast with Ryan Beil.  He's coming to town more often now, so hopefully there are more in the future, but my oh my, do I enjoy that lad's company.  HE'S VERY CHARMING!
And with that, I think I'm done!  What a post!
(And I'll leave you with a two-word teaser for the next one: DENTAL CRISIS!  Now you've GOT TO come back!)