I'll admit that sometimes, I do wonder why I keep this blog going. It made sense when it started. I was working on a cruise ship, which meant I was far from home and people were interested in my day-to-day activities. But I've been home for nearly a decade. My routine is pretty routine, and anyone who wanted the details could just ask. Which is why I now post basically annually.
2017 has made even this seem questionable. Life goes on, of course, but the ascendancy to high office of the internet's most infamous troll has made the idea of sharing one's frivolous life online seem small and possibly insulting. And of course, if the forces of darkness succeed in repealing net neutrality, I imagine this site and many like it will end up in the digital dustbin of history.
Plus this site got hacked, and more than once dealing with tech support, I was very close to just scrapping it altogether. As I write this, the site is once again experiencing difficulties that I hope will be resolved.
So why am I bothering? I like having a record of my life (in broad strokes) that I can look at. And now, it feels in a very small way like standing up to a bully. More important fights need to be fought, of course, but in the meantime, I'm happy to overcome the Merchant of Despair in this small way. Plus, my life still matters to me, and I like writing about it. And maybe, just maybe, somebody's reading it. Long live the written word!
January
It seems only appropriate, given that intro, that I should start my recounting of the year with a tweet I liked that barely anyone noticed:
It's still sad, but how much could that family have really loved that dog if they named him Old Yeller?!?

— Dan Hershfield (@DanHershfield) January 5, 2017
Right?
Later came Second City's Festivus party. I should probably stop going to these, since I'm pretty sure they're only inviting me by mistake. Maybe the decision will soon be taken out of my hands. But I thought it would be a nice chance to catch up with people. And it was! Plus, free food and swag, which I don't need as much for survival anymore…but will always take! More on this later…intrigue!!
According to my admittedly spotty records, my first party of the year was at Chris and Laura's. I'm sure I was terribly awkward but had a lovely time.
I attend a lecture called 'Hacks, Leaks and Breaches' at the McLuhan Salon in the Toronto Reference Library. I quite enjoyed it, though I'm not sure it was worth (presumably) being placed on a CSIS watchlist. Ah well…
Trump gets inaugurated. Just so I don't have to keep dealing with him, I'll just reference that great speech in Office Space. The one where Ron Livingston explains that since every day is worse than the one before, every day is the worst day of his life. That's the Trump era.
But to prove my invincibility, a tweet from a few days later:
I tried counting sheep to fall asleep, but it just gave me night sweaters.

— Dan Hershfield (@DanHershfield) January 24, 2017
February
I know it's a short month…but I must have done more than the one thing I remember! But that one thing was a Japandroids concert, and I bumped into a (relatively) young(er) person (Leigh), so I got to feel cool and "with it." It was also a pretty good show!
March (before the trip)
I saw Logan. Which I only mention because Evan got me into an advance screening. Thanks, Honda!
I visit with Andy. Which probably isn't worth mentioning, because he subsequently moved back to Toronto. But I do like to mention my time with out-of-town guests…
This tweet sets Facebook aflame, with much subsequent debate:
One day, I'd like to quit social media, but I'd probably be back in a GIF.

— Dan Hershfield (@DanHershfield) March 13, 2017
The CBS website is all fucked up, and I can't enter my old March Madness pool with all my old Vancouver friends. In retrospect, based on my bracket, that website did me a huge favor.
March-April (The trip to Ireland!)
I didn't know quite what to do with my fortieth birthday. It was too big to ignore, but I absolutely did not want a party. Luckily, I have an indulgent and very loving family, so we sidestepped the issue with a trip I've always wanted to take. We went to Ireland! And assuming it might be the last big trip I take for awhile, I couldn't have picked a better place!
Saturday (the 25th):
The first day was objectively not a bad day, but it was a bit of a worrisome start. Because the trip was my idea, I felt like I was responsible for the itinerary…but I didn't want to dictate everything. Mom and Dad had gone early, travelling with a guide, as Mom's vision meant she would have to enjoy the more urban settings while we were mostly planning to visit the pastoral. So they (in consultation with me) had booked hotels in our jumping-off cities, and also gleaned some on-the-ground wisdom, so many of the macro-decisions were made. And I of course wanted Evan and Jen's input, though I am more skeptical of advice than they seemed to be, my skepticism coming from experience giving travel advice and taking it. When people come to Toronto and ask where they should go, I always blank, and unless they give me particulars, you just end up recommending the most touristy of crap!
Which is my roundabout way of saying our first big stop was one I suspected I wouldn't like, but Evan was excited about it, so I conceded. Thinking that the second big stop would be for me.
We started our day in Dublin (after an early arrival and check-in) with a hop-on, hop-off bus ride. Not normally the kind of thing I like, and the cheesy jokes did grate (ugh!), but I will admit it's a good way to see a lot in a hurry and figure out where everything is. We boarded at the St. Stephen's Green pickup – right near a statue of Oscar Wilde. Ireland!
First stop, the one I wasn't looking forward to: The Guinness Storehouse. Now, to be clear, I like Guinness, and by the time we got home, I loved it. I drank it every night I was there. But everything I'd read led me to believe the Guinness Storehouse was the Disneyland of Guinness. And that's exactly what it was. (In fairness to Evan, he probably knew that was exactly it was.) Big crowds, lot of unnecessary noise. Which probably would've been okay, but it was also really dark in the museum part, so Mom struggled to get through it. And eventually had to give up, all upset. She insisted I park her somewhere and go through myself, which I did, but not fully enjoying it, given the circumstance. Her worst fears realized, and my guilty conscience activated.
But then we all met up for lunch, and it was pretty good. And as far as an unwanted trip went, it could have been a lot worse.
That said, I was very excited for my next stop: Kilmainham Jail!
Except we couldn't get in. The last tour was already full. Clearly, I'd needed to do more homework and booked ahead. My goal of a flexible consensus itinerary, biting me in the ass. Thankfully, the very nice people at the front gave the last two tickets for a tour the next day. And we checked out the museum. But overall, first day, kind of a bust.
The night, however, was great. We went to O'Donoghue's, and heard some fantastic traditional Irish music with wall-to-wall people. Admittedly, the walls weren't far apart, but still, we were packed tight! Fatigue became a bit of a factor, but it did make it feel, in a way the Guinness Storehouse hadn't, that we were in another land.
Sunday (the 26th):
After a bit of morning tension among the group over getting moving and then where to go for breakfast, we arrived at Trinity College. Very impressive, with a tour led by a current student that reminded me why we assume people with posh accents are smarter than we are. We continued our tour with a visit to the Book of Kells, where I made a concerted effort to learn history before admitting my limitations and just basking in it. Once I got there, it was pretty overwhelming.
Then Larry and I made it to Kilmainham Jail for our much anticipated tour. And it was worth the wait! I'm not a big picture taker, and I won't try to recreate the feeling too much, but you could feel the history dripping off the walls. And again, a great tour guide with a passion for his heritage that I relished. Overall, I'm fine with Canadian humility, but hearing a recounting of history with no minced words, and an unabashed take on who the good guys and the bad guys were, was powerful stuff. I heartily recommend it…and yes, book in advance!
For our evening's entertainment, we started at Mulligan's, famed for having the best tasting pints in Dublin. Hard to disagree, and I enjoyed the old school feel. But as I was out with Evan and Jen, and we still had our energy, we went looking for a party! It took us a little while to get there, due to some confusion: Jen and Evan were looking for the specific Temple Bar, whereas I thought we were just heading to the area of the same name. So we started our second leg in a fake Temple Bar..but thankfully, we ran into some girls from Sheffield. After introducing Jen to the lady option of putting blackcurrant in your Guinness (not a hit, but good to know), they took us over to the REAL Temple Bar with its packed-to-the-rafters people and rocking band! Good time achieved, and a nice tipsy walk home!
Monday (the 27th):
It's time for Mom to return to Canada and her beloved dog. I bid a fond (admittedly short-term) farewell to the woman who birthed me almost exactly forty years ago, as I see her and Larry on to the bus to the airport. (Larry, or "Dad", will meet up us with later that day, in case you were wondering why he didn't merit a goodbye.)
Evan, Jen and I do a quick walking tour of Dublin in the time that remains before we have to meet Larry at the train station to head to Cork. Highlights include Dublin Castle and Christchurch Cathedral. Then, a hiccup. We can't figure out the commuter train that's supposed to take us to the big train station. This causes some panic, but we end up grabbing a taxi, and panic subsides as we realize it's not actually that far away.
After a train ride that was a combination of scenery staring and nodding off, we arrive in Cork. We don't have too much of an itinerary, but we do check out St. Fin Barre Cathedral, which is astonishing. Then, in accordance with vacation tradition, the Hershfield men have Chinese food, while Jen, suffering her own forms of withdrawal, goes shopping and hits up McDonald's.
A little music at the Oliver Plunkett in the evening, but we made it a pretty early night, appropriate to the amount of traveling we'd done and my impending age shift.
Tuesday (the 28th):
I slip quietly into a new age bracket and am no longer part of a valued demographic. Oh well!
We begin the driving portion of our trip, and Evan quickly proves a godsend. His competence has always been something of a genetic miracle, and though it's always appreciated, here it was an absolute necessity. I can't imagine doing this trip by tour bus, and it was not easy driving, so once again, very lucky to have gotten a baby brother rather than the puppy I wanted at the time. (And, as I often point out, that puppy would be long dead.)
In early appreciation of Evan's contribution, we make the other stop he/they insisted on that I wasn't keen on: Blarney Castle. According to my reading, there were better castles to be seen, and this one would attract a lot of traffic. But of course, I wasn't (and still am not) so inured to the experience that I would get blasé over the QUALITY of a castle, and we were slightly off-season so it wasn't too over-run. And yes, when given the opportunity, I kissed the Blarney Stone.
As far as I can determine, my charm level was unaffected. But I suppose that's really for others to say.
The rest of the day was mostly, as I recall, about reaching our destination in anticipation of a big tomorrow. But we stopped at Glengariff (where I indulged in some Robin Hood fantasizing while running through trees in the rain) and Kenmare (very charming), then arrived in Killarney. I can't remember where we drank that first night in Killarney, but we drank and heard live music every night, so it was somewhere.
Wednesday (the 29th):
The part of the trip I was most looking forward to. The part where I cross-referenced tour books and knew that I wanted to see it all. This was the day we tackled The Ring of Kerry.
First stop: Killorglin, a very pretty town that also had a nice little reminder of my Irish theatre past. There was a Roche's Bar, which reminded me that many moons earlier, I had served as an assistant to Dennis Garnhum as he directed Rat in the Skull at the Berkshire Theatre Festival. One of the main characters, played in our production by (future) television's Phil Burke, was named Roche. Kismet!
Then to the Bog Village at Glenbeigh. (Which we almost missed, but thankfully, there was a helpful man at the side of the road peddling wares). It was a little more museum-y than the living history and nature I was seeking, but no real complaints.
Then the incredible Cahersiveen, with its Cahergal and Leacanabuaile Stone Ring Forts. This blew my mind. Centuries-old forts…and there's no price for admission, no hoopla…they're just there! You just have to make a small hike and then you're free to explore them however you see fit! The honor system at work, and it brought out the kid in me, just running around IN AN ACTUAL FORT!
It was hard to follow that…but Portmagee did boast what years earlier had been declared Ireland's best urinal! While there, we also enjoyed a quick lunch, then went on a bit of a wild goose chase in search of fossils that smartly (I choose to believe) we quickly averted.
Next, we went to something that wasn't on my itinerary, but we were suckers for marketing and couldn't resist the signs advertising "Best Cliffs of Kerry." That said, we would've been suckers not to have been suckers, because they lived up to the hype! Quite breathtaking, and though we may have worn out Larry with our running around, the views and the heights were exhilarating.
We then switched back from nature to history with the Staigue Stone Fort. I feel like we may have all had a bit of a funny "Hmmm…we already saw forts" moment at first, but still, a fort's a fort!
By then, it was getting dark, and it was hard driving, so we just made for home. That said, we saw Molls Gap and Ladies View a bit on the drive back, so other than stopping to have seen them, we checked off all my must-sees and were all very overwhelmed. Not so overwhelmed we didn't go drinking later, but a great day all around.
Thursday (the 30th):
I think this day was bound to be a bit of a come-down, as it was following such a highlight and it was somewhat the "remainder of things to do around Killarney" day. But it was still pretty great.
We started with Ross Castle. Between a good tour guide, a good display before entry, and furnishings, I think it was the castle where I got the clearest (still foggy) sense of what living there would have been like.Of all the times I could have been born, the time I was probably worked out pretty well for me.
Then Muckross Abbey, which I loved, as decrepit holy sites always appeal to the romantic in me. Followed by a healthy walk which took us to Muckross House. Not my favorite site, as a manor house is less the history which I was there to see. But interesting nonetheless.
We made a quick stop at Torc Waterfall on the way back. I resisted the urge to sing TLC or compare it to Niagara Falls. It was pretty, but our stop was brief.
As was our stop at Aghadoe Church and Round Tower, and its small cemetery.
The big salvation for this day came at night, as we discovered O'Conner's, our best bar in Killarney. The band was playing traditional-sounding songs with aplomb (Larry and Evan bought CDs), and I made my version of flirting with locals. Which is pretty much just talking to locals. But at least I did that. Keep hope alive!
Friday (the 31st):
A day that made me believe in the power of marketing. I don't think anyone would argue that Ring of Kerry sounds more impressive than Dingle Peninsula. Kerry sounds cooler than Dingle (tee hee!), and Ring sounds cooler than Peninsula (Thanks, Tolkien!) But it is definitely must-see!
Highlights of the Dingle Peninsula, i.e. places we went, include Inch (Evan and I ran along the beach!), Dunbeg Fort, Slea Head (with a great view of the Blasket Islands), and the Gallarus Oratory. We ended up in Dingle for lunch, and while the fish place that came most recommended was only open for dinner, we still had some very tasty and fresh Hake and Chips!
It was a late lunch, so our next stop, the Cliffs of Moher, we reached just before dusk. And stayed at well into the night. And also got soaked with more rain than I thought the skies could hold. Sorry, Vancouver, Ireland's got you beat! Oh, and it was of course spectacularly beautiful.
We got into Galway late, and I'm surprised to find in what's a party town, we can't find food! We end up grabbing slices of pizza. Then I have my one moment of party pooping. Larry and I have an early morning tour of the Aran Islands, and Evan and Jen are carrying on to Edinburgh, so we say a quick goodbye. They go off in search of adventure, we go off in search of sleep.
Saturday (April 1st):
As you've probably gathered, I tend to be quite picky about tours. So when I heartily endorse the tour Inishmore we got from Michael Faherty, hopefully you'll take it seriously. He was great AND a local, even pointing out his parents' farm as we drove by! Very personable, you could tell he loved his home, and for further proof of my sincerity, a link…
http://fahertytours.com/aran-islands.php
Our tour started with the Dun Aengus fort and cliffs. I still don't like taking selfies, or even really taking pictures…but I thought this one might be worth it. I stand by it. Also, I make my way up rocky paths faster than Larry, so I had some time.
I bought myself an Aran Islands sweater…not the brand, but a sweater from there that I liked more and was cheaper AND had the maker's e-mail address on it, which I thought was a nice touch! It's very green, and I quite like it. I would no longer allow any friend to call me Kosher Cosby (it was a simpler time), but I still like a good sweater!
Further stops include Seven Churches and its burial ground, some seal watching, and a stroll along Kilmurvey Beach.
Fun bit of trivia for Vancouver theatre types: there is a Canadian on my tour who I think I recognize but can't place. Later, as I was making a TripAdvisor entry, I see that it's Kaitlin Williams. Who I'm STILL not sure I actually know, but I must've seen her in something…Anyway, small world!
Then after a ferry ride and bus ride, we're back in Galway. It's not really our town, as it's something of a drunken party town for youths, but there are cool buskers which makes for good wandering. Larry throws me for a bit of a loop, as I thought we'd agreed to 'skip dinner' in favor of snacks, when he suddenly throws me a "Where are we going for dinner?" at around 10. In retrospect, I should have guessed. Luckily, we are directed to McSwiggans, which is actually really tasty and open late. Reality starts to dawn. The trip is nearly over.
Sunday (the 2nd):
A travel day. We take the bus from Galway to Dublin, and though it's not the most scenic route, I still stare out the window, trying to take everything with me. We spend a long time in the airport, though most of it is at leisure, as we breeze through security.
On the flight home, I watch Manchester by the Sea for the first time, and then make a donation to Unicef (keep it classy, Aer Lingus!)
I get home and spend several weeks walking around with Euros in my wallet.
April (continued)
It's an odd thing getting through a month when you suspect that its best day will be its first day. But April turned out to be a pretty interesting month.
I write what may be the world's greatest tweet.
Why did Adele cross the road?
To sing 'Hello' from the other side.

— Dan Hershfield (@DanHershfield) April 5, 2017
Passover happens. I don't remember anything of note happening, but it's Passover.
I have the most magical reunion of my life.
At some point, for work, I write the phrase "a lady to the manner porn."
And I redeem my Second City Festivus prize: an Elmline pedicure! In fact, I get there early and do a little spa-ing beforehand. Absolutely something I would never get myself, and would be hard-pressed to get for me and another…but life experience achieved! I've had hot wax on my feet, and it wasn't a sex thing!
May
During my weekly basketball game, I make a trash-talking reference to Icarus. What can I say? Someone jumped when they should've stayed on the ground!
We do a Mother's Day brunch. We're good boys.
I go for drinks with Laura, Ian, Jamie, and Jason. I feel it bears mentioning because it's an unusual grouping, and I experience an almost unheard of at this point mid-week drunkenness.
Ian from work has a barbecue. It's not that warm, but I go in a T-shirt because I live around the corner from him and reason that I can always run home for a sweater. The sun sets, it gets cold, but I don't go get a sweater, because I figure once I leave, I'll never come back. I share all this so I remember a specific way I'm an idiot.
And there's a dinner with my high school friends. Which is rarer than it used to be, but always fun.
June
A quick reminder/notification that I'm remembering what events transpired by looking through old social media and Outlook appointments. What I'm saying is I'm sure I did all sorts of fun stuff in June that I didn't write down and thus can't remember. I'm almost sure there was tennis. But anyway, here are some tweets:
Even though they haven't been a big part of my life, I would still like my funeral to be an escape room.

— Dan Hershfield (@DanHershfield) June 5, 2017
? I want to know what Trump is. ?
? I want you to Comey! ?

— Dan Hershfield (@DanHershfield) June 9, 2017
Topical!
Something I do remember that involved leaving my apartment was going with Jess to see 'The Adventures of Tom Shadow.' If you ever get the chance, see it. I don't think a cast has ever been as talented as performers and as wonderful as people. It's almost sickening.
Faisal has a surprise party. He seems suitably surprised, and we have a very nice catch-up.
July
Ian's bachelor party! My kind of bachelor party: archery tag (I'm not as good as I imagined I would be, but I last a long time in one showdown), some time-killing, a steak dinner, and speeches so loving that made the groom-to-be sick with embarrassment.
Relevant to this blog, the Second City and Norwegian Cruise Lines contract comes to a close. The ability of this semi-retired improviser to impress up-and-comers gets severely compromised.
Fringe starts. Still feels like I should be performing, but I settle for attending. My first two shows: Caitlin and Eric Are Broken Up and Murder in the Cottonwoods…
Then, in the middle of Fringe, Ian and Jen's wedding! I am an usher and perform many undoubtedly invaluable usher duties. It is a lovely affair (weird word to describe a wedding?) and they are wonderful and I am delighted for them. I continue to be delighted for them.
Back to Fringe! I see 32 Short Sketches About Bees, Operation SUNshine, Shakespeare's Ghostbusters, The Seat Next to the King, Peter N' Christmas Carol, Life Records 2, About Time (by Templeton Philharmonic), and Weaksauce. I wish I did better on the quantity, but no complaints about the quality.
Shortly thereafter, I have the best week of my life.
Shortly after that, I have an It's a Wonderful Life moment with basketball shorts. Basically, I send out an email saying I've forgotten my shorts, and three people bring me spares. I truly am the richest man in town.
My last social engagement of July is a trip to Stratford with the family. Sam and Dan throw a lovely party, where we bask in their loveliness…followed by a lovely brunch the next day, which we follow by going to Twelfth Night. A very nice time…but I still had to make fun of the hotel's slogan.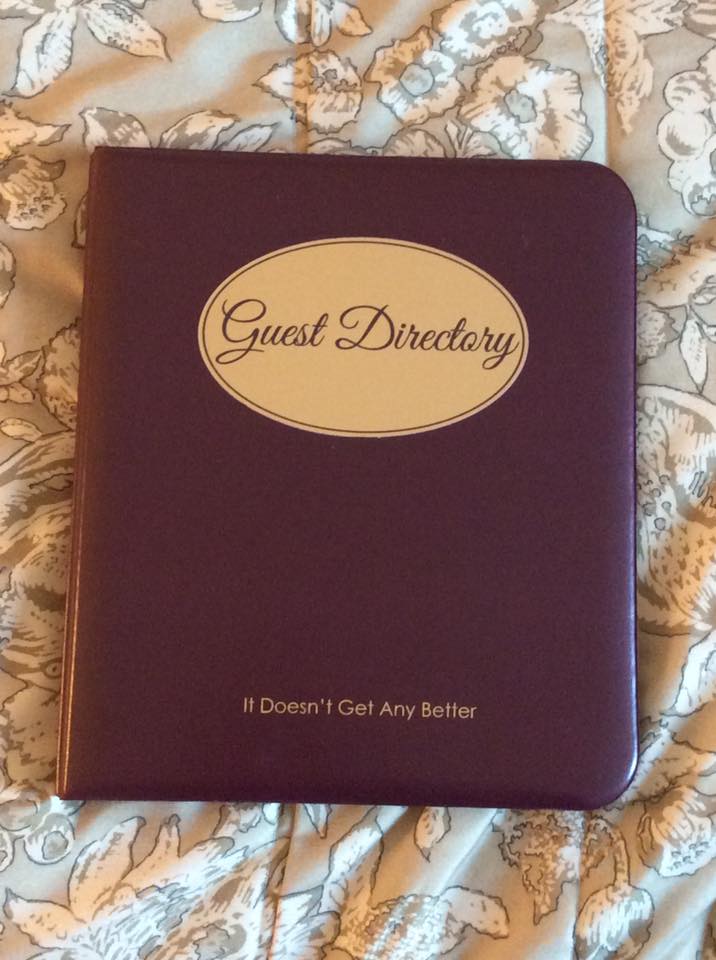 August
I hurt my thumb playing basketball. It's a serious bummer.
But I apparently recover enough to buy an acoustic bass guitar! So there's that…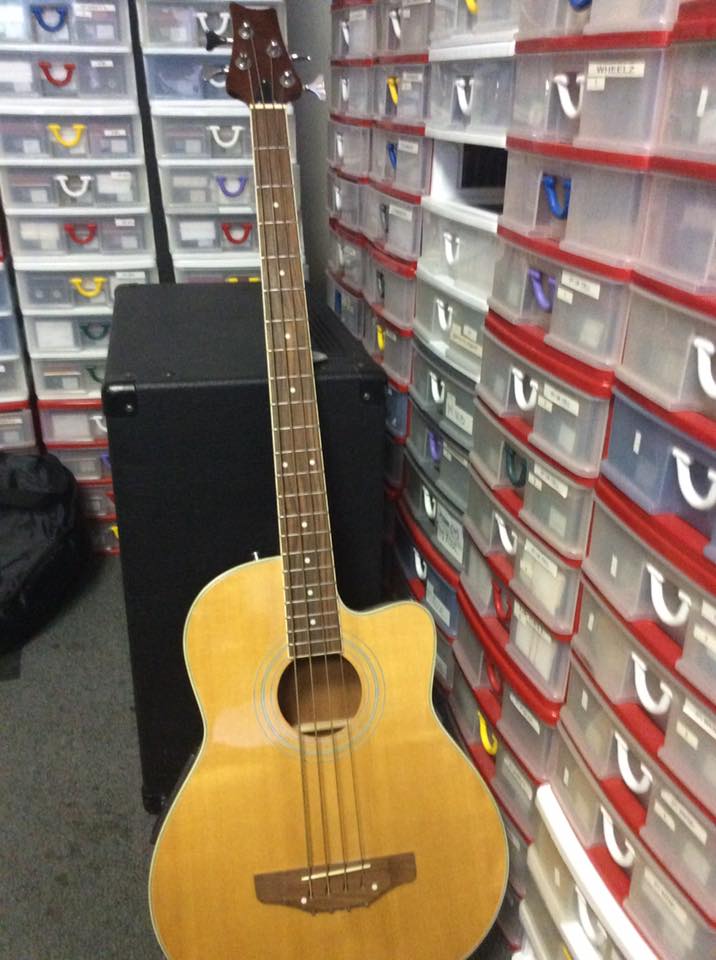 At a bit of a low ebb emotionally, I have a much needed night out with Ian, Jen, and Jocelyn. There's grown-up conversation. And some catching up: despite Jocelyn being on my Preferred People list, we don't actually see each other that much. But mostly, I'll remember it as a night of riffing and just being funny, which turned out to be exactly what I needed. I don't know that this will mean anything without context, but when we were riff-mocking Goop, I sad "The human body is 90% holes!" And I felt funny, and that meant, however briefly, that I was going to be okay.  So thanks, gang!
I go see Kat Letwin in VideoCabaret's Confederation & Riel at Soulpepper. Theater! It's great, she's great…we grab drinks after and talk like artists. Again, much needed.
And another nice memory with another nice Kat, this time Janicki. A bunch of us end up on her rooftop drinking wine. A double dose of nice, because she's a new friend and I'm always amazed when I have those…plus downtown rooftop drinking is the kind of thing us remarkable wits should always be doing!
As summer starts to fade, it's time to enjoy beer. For Helena's birthday, several of us end up at Birreira Volo and I try sour beer for the first time. Good to know if I ever find myself in conversation with a hipster. And just because the idea appeals to me, I track down butter tart beers (there were a lot of phone calls, and some serious travelling involved) and share them with friends. Good times.
I swear I wasn't designing my social calendar alphabetically…but I move on from the Kats to the Kellys. First, a coffee with Kelly Richardson, who I had the pleasure of working with many moons ago. I'm the king of the reunion…and I maintain that royal status with a very nice and overdue brunch with Kelly Zemnickis. Yes, we walked by the scene of a homicide after, but still, a nice brunch. City living!
I attend my first Wolfpack game. We got tickets from work, and while I'm not sure I've become enamored enough of rugby that I would go when I was paying for it, I will definitely keep going if it's free. Very entertaining and a nice time outside.
Speaking of nice times outside: solar eclipse!
Then a trip to the cottage. After much grumbling, the Hershfields finally rented a new cottage. And while it had many things going for it, not a great fit for us. And by us, I mean Marty. But always nice to get in a lake and be together…not necessarily in that order.
September
I go camping for the first time in forever. I might want to do it again at some point, but either not in September or in a new sleeping bag, because I was FREEZING! Also, it rained like crazy and the tent leaked and was subsequently thrown out. But someday…maybe…maybe… Either way, always nice to be with friends around a campfire.
My mostly-retirement from improv is interrupted once again by Bad Dog's alumni week. This time, I do an Improvatron 3000, and though I felt rusty and off-kilter, I still like the people and the role improv has played in my life. Glad to be an alumnus.
I have my quietest TIFF in years. Just three films: The Current War; Professor Marston and the Wonder Women; Downsizing. Nothing that blew my mind, but no duds. C'est la vie!
In one of those weird synchronicities, I do another improv show this month. This time, it's Matt McCready's $12 Beer Beer Comedy Show. It was supposed to be a team of people from basketball, which seemed like kind of a fun hook. Of course, by show time, everyone who was supposed to play had dropped out, and it was me and a bunch of very talented randoms. I didn't do great, and the lights went down while I was waiting with a good blowline, but it was a ton of fun. And watching the second half, for the first time in a long time, I remembered what I loved about improv. Compliment intended.
The crew from work returns to take in a Wolfpack game. Hopefully, it's something we'll keep doing in the upcoming season.
I pick up a hookah from Jan. I have yet to use it, but I mention it now so that I'll remember to have a hookah party at some point soon.
Rosh Hashanah! This year, we do it in a party room. An embarrassing admission, but I finally realize that I should be chipping in. I know, I know…but you get into a habit where you've been doing something for your whole life, and because it's your parents and their generation who host, you still think of yourself as one of the kids. Especially since you know you'll never have a house and therefore will never host. But all the more reason to chip in, I figure…Oy. Adulthood.
To cancel that out, I play D & D for the first time. I get a little frustrated doing new things, and I made my character a little too broody…but it's got potential for fun, and it's a good group. Likely to be continued.
I'm supposed to meet someone at the Broadview Hotel bar. And when she has to cancel…I decide to go anyway. I bring a notebook so I could do some writing while taking in the view, and I also strike up a conversation with the people at the next table. I don't know that it's a turning point for me socially, that I'm now at peace going to places alone that are meant to be gone to as couples or groups… but it didn't kill me. And that's something.
And to end the month, I see the Pixies at Massey Hall. It was supposed to be a birthday present for Evan, but he had a wedding out of town. So I go with Sam, which works out nicely, because we don't get to hang out as much as we used to, and he was one of my earliest concert-going friends. Nice to know there are things you don't outgrow.
October
I go for drinks with Chris Gibbs. Always feels noteworthy to me. I wouldn't call him my guru, but I do always feel smarter after being with him even though I should by all rights feel stupider. I don't know if he's aware he has that gift, but it's remarkable.
I haveThai food with my family the day before Thanksgiving, and then have a traditional Thanksgiving dinner with Faisal and Lucy. So I'm able to be thankful for my two types of family.
I go with Ian to a Writers Talking TV event for Kim's Convenience. In my conversation with Ian after, I am hit with an idea that I still haven't developed, but I do like pinpointing moments of inspiration.
I have a Second City writing program meeting where one of the other attendees is Paul Bellini. Real me is cool about it, but high school me is slightly giddy.
Helena throws an Enchantment Under The Sea birthday party for Jason.  I would elaborate, but that's a pretty solid sentence in its own right.
I do another Fireside Tales. For this one, I opened and Scott Thompson closed. Of course, it was a story I was telling for the first time that wasn't remotely funny AND Rhiannon wasn't there, so I felt odd about the whole thing. But the detail that I opened and Scott Thompson closed is something I imagine I'll be dropping into conversations for the rest of my life.
And I have one of my State of the Union coffees with Jess. I imagine these may happen more often, but there's something very enjoyable about having A LOT to catch up on.
November
I make my first ever attempt at NaNoWriMo. National Novel-Writing Month, for the uninitiated. I make it to a little under thirty thousand words, well below the standard benchmark of fifty thousand…but not bad considering I spend my day WRITING OTHER THINGS! And I'm still plugging away on the project, so maybe it'll be something yet!
I go to my first Pizza Night at the gym. I just love that that's a thing.
I attend a book reading by Matthew Weiner with Andy. My favorite part is the hanging out with Andy. Though credit to Weiner: there's something fascinating about seeing someone so thoroughly convinced of his own genius. Plus his sexual harassment allegations had JUST come out (I learned about them from Keri near literally on our way into the theater), so that put some excitement in the air.
Danielle visits Toronto, which is celebrated in traditional Hershfield fashion with a trip for Chinese food. Ali also joins us and it is a lovely night all around. When the hell did we all grow up?!
I go to see an A.J. Jacobs talk with Larry. I still haven't read the book, and I almost feel like I don't have to now…but I still will, no doubt. Ah, the Hershfields…so sophisticated…
I go for drinks with Humber people. It's fun, and for the first time in awhile, it doesn't feel like all shop talk. I mean, some, but nothing I can't keep up with. Anyway, good folks…which is pretty much what I have to show for that year!
And then a trip to Winnipeg to celebrate Vera's 95th birthday! There's a Rae and Jerry's dinner, there's a Chinese food dinner, there's plenty of Jeanne's cakes, and much more eating. Including dim sum…and den some! I have no idea what a day-to-day life in Winnipeg would feel like…and I'm not TOO sorrowful not to know…but there is some part of it that will always feel a bit like home. A home where I do nothing but eat.
December
I enjoy another Cape Breton Christmas. The Spock socks I brought were much in demand during the sock swap, and the people are great. That said, there's something about me that always suspects the people who LEAVE Cape Breton are the ones who would like me and the ones who stay decidedly would not! I guess it all worked out for the best!
I go to see the Last Jedi with Ian, Jason, and Pete Hill. We all like it and, last I checked, continue to like it. The idea of being angry about it either way mystifies me.
We have our Naked News Christmas party. Like most office parties, I assume, except management contributed nothing and you aren't remotely surprised when people expose themselves. We don't always go out, but when we do, good times are had.
Tom and Lindsay have me and Jamie (separately) over for nogs and ciders, and then a few days later, following a basketball game, I meet up with them and Ian and Jen at Dave's (the bar, not the place of a person named Dave.) It wasn't my most social of holidays, but I saw these people AND my high school friends (including an actual person named Dave), so many important boxes checked.
I wasn't too motivated to go out on New Year's this year. I'm not a big party guy at the best of times, and this year, I was missing someone specific rather than missing someone generally. And that's tougher. So I decided to spend my New Year's with a small act of charity that was really mostly for me: I hung out with my parents' dog Marty while they were out celebrating. I feel like Marty didn't appreciate the significance of this gesture and was somewhat confused when I kissed him at midnight. (No tongue.) And that was the end of 2017.
Quite the year. Next year in Jerusalem, next year may it not be treated by America as the capital of Israel because the asshole president who suggested it is in jail.
As you can see, despite everything, I'm still capable of optimism.