Okay, realistically, the odds of Donald Trump starting the nuclear holocaust that wipes out all life in North America within the next year are probably no worse than 50-50. And while I'm confident that if he manages to stay in power, he will eventually  invade Canada and will also round up all the Jews to placate his horrible mob for the cratering of the economy, that's probably at least a few years away. Nevertheless, the timing seemed right to update this chronicling of my life, lest it come to an abrupt end and future historians take an interest. So here are some of the things I've been up to since my last post in….DEAR GOD, 2014!!
The Rest of September 2014:
So the big highlight of September 2014 was I started my weekly basketball run at Leo Baeck! It's still going strong, and it's one of my favorite things! I love the sport and I love the people, and as I've phased myself out of the improv world, it's been a great way to keep many people I might have lost touch with otherwise in my life!
Another highlight for the month was saying goodbye to Brad and Lydia as they moved east…"highlight" in the sense of 'big,' not 'happy.' They are missed…though homebody that I am, I feel I almost see people more when they move because then I REALLY make a point to see them when they're back to visit! But I'm sure some kickass videos that could have been made weren't, though Brad has continued making kickass videos without me, the talented bastard!
Oh, and Cameron Wylie takes me to see Pete Holmes! This may not be noteworthy enough to have made the cut later in the post, but I took the time to do the homework, so I'm including it, damn it! Plus any hangout with Cam is cause for celebration!
October 2014:
I see Harmontown, both the movie and the live show. It's a double bill. Did I mention all the homework I did to remember what I did over two years ago??
I'm once again retweeted by @midnight. I don't know if this is bragworthy, but it's leading up to something that may be!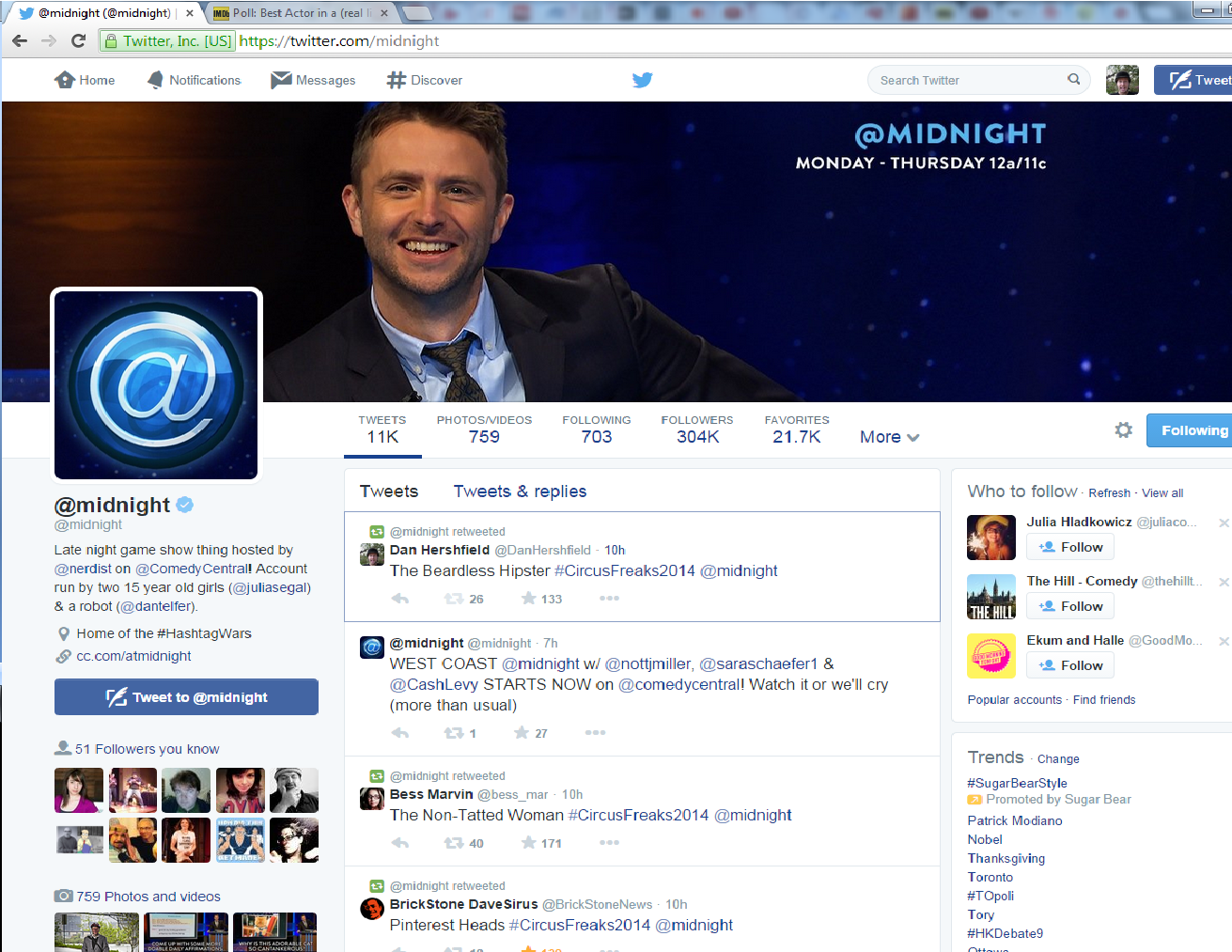 I do a Catch 23 with my dear friend Matt McCready. At this point, my improv career is pretty much winding down, mostly by my choice. I had a great run and I'll always love it, but I stopped enjoying the performing of it and even watching it. Basically, it got to the point where something would have to be really great for me to like it, and even then, I'd appreciate it more than I'd really get taken away with it. But this was a very fun show with a hot crowd, and Matt and I did a Vietnam scene (always a classic) with him as the insane commander and me as the high-strung soldier that was very satisfying, and a nice memory.
I also went with Tory to see Bruce McCulloch's 'Young Drunk Punk' (his solo show), and we had the municipal election that rid us of the Fords (at least for now) from the mayoral seat. We got John Tory, so it wasn't exactly a full-throated vindication of the electoral process, but it definitely felt like a weight was lifted.
November 2014:
I move apartments. That's a big life event, right? You'd be right to think so, but I do it twice in this post! For this move, I take over my brother's old apartment at the corner of Raglan and Claxton, and it's a definite upgrade! Well, okay, it was a basement and it was absolutely FREEZING in the winters (the windows may as well have been Saran wrap!), but it was dirt cheap, huge, and in a great neighborhood which was walking distance from both the subway and my parents' place (where Martino lives!) It was a shame to have to give that place up (more on that later), but it was fun while it lasted!
With discount tickets from Stephanie Belding, I go to see Book of Mormon. (Thanks, Steph!) Worth mentioning because that's what I started using "Turn it off…like a light switch!" in conversation!
I start taking Chris Gibbs' one-person show workshop. It's something I've wanted to do for awhile, and he's one of the best at it, and someone I absolutely revere! The timing is fortuitous, because this is also the month of the Toronto Fringe lottery, and against all odds (literally), I get in! Suddenly, my vague idea for a show has to become a reality! And this blog and the stories recounted in its early days prove pivotally important!
I also have a wisdom tooth removed. Far later than it should have been, both because I didn't have dental insurance and I'm kind of an idiot. Basically, I saw a dentist because I was in pain, and it turned out that only was my wisdom tooth kind of infected, the infection was growing and eating away at my jaw. Left untreated, at some point, my jaw would have just broken. Luckily, OHIP took care of most of the procedures and tests, but it still cost me a small fortune. Not bitter, just pointing that out for political purposes! Anyway, I'm feeling much better now!
And I participate in the first of Matt McCready's 24 Hour Sketch Festivals, and it's an incredible experience! On the one hand, I rock a very self-indulgent monologue, which was actually good training for doing a one-person show! In case that sounds facetious, it was actually kind of the idea. I wanted to see if I could do something that I knew would be funnier than to me than it would be to others and power through it. My monologue from a foreman assigning a temp the 12 Labors of Hercules seemed to fit the bill! I also came up with the original germ of an idea for a sketch that Lisa Gilroy and I built into something and the whole cast worked on, and it's probably the greatest sketch I've ever been involved in putting together. After much debate, I've decided not to write out what it was here (it would lose so much), but it was called 'Blondes', and I will describe it for you in great detail if asked!
December 2014:
I think my big highlight for the month was finding out that my Short Play Writing course at Second City was going ahead. It's something I was really excited to do, because it's something I have a lot of thoughts about and I'm excited for the opportunity to help people do something that's given me such joy! And, of course, I'm also a credits whore who was happy that I'd be able to say I'd performed AND taught for Second City!
I'm sure other important stuff happened, but who can remember? I did spend my New Year's at Mitch and Claire's, so that's a thing I remember! (I think.)
January 2015:
So my course starts, and it's everything I hoped for and more! I'm blessed with a very talented group that's very good about giving and taking notes, and I feel that I really have something to contribute! Short plays are an often-ignored genre, but I'm hopeful I gave everyone tools that they are still using. And many told me it was the best Second City course they'd ever taken, which cynical me wanted to dismiss as something probably said to every instructor, but on good days, I choose to believe it!
The other big highlight for January was a trip to Vancouver, an old hometown I hadn't visited in years! I went with my dad for my Uncle Bobo's 70th birthday, but I of course saw many old friends as well! These include Vanessa, Jason and Helena, Eric and Shaun (in both Gentlemen Hecklers and 'dudes at a bar' modes), Ken, Morgan, Jens Neale and Wagner, Erin Macdonald, and my (pretend) baby sister Olivia! Oh, if only this country was smaller! The family stuff was also very nice, with Uncle Oz (he goes by both names, and many more besides, including on rare occasions his actual name) feted properly at Szechuan Chong Qing! (Again, if only this country was smaller….) Evan and I made this video for the occasion, which garnered enough praise for me to share it here…
February 2015:
Not much seems to have happened, but it's a short month, right? I had drinks with my old buddy and sometime comedy partner Greg Komorowski before he skips town, and it is lovely, because he's lovely. And I somewhat live-tweet the Oscars, so I can now say I've (somewhat) live-tweeted something!
March 2015:
I do another Operation 24, which you may recall is the show where a bunch of short plays are put together in a day, with the writing happening over night. This time around, the objects we're provided for inspiration lead me to write a play based both on a theatre reference and a pun. And that's why the world got 'L is Other People.'
I go to Sketchfest and am once again blown away by all the incredible talent in Toronto! But I think if there's one really indelible memory, it's when I went to see Kate McKinnon's solo show and saw opener (and buddy) Mark Little ABSOLUTELY DESTROY the theatre! How he isn't on SNL yet, I'll never know, but their loss is my basketball game's gain!
And while I know I have a birthday in this month, I can't remember doing anything for it. (I tend to play them pretty low-key in my old age.) But I do know I went to an escape room some time around then, and we escaped! So there's that…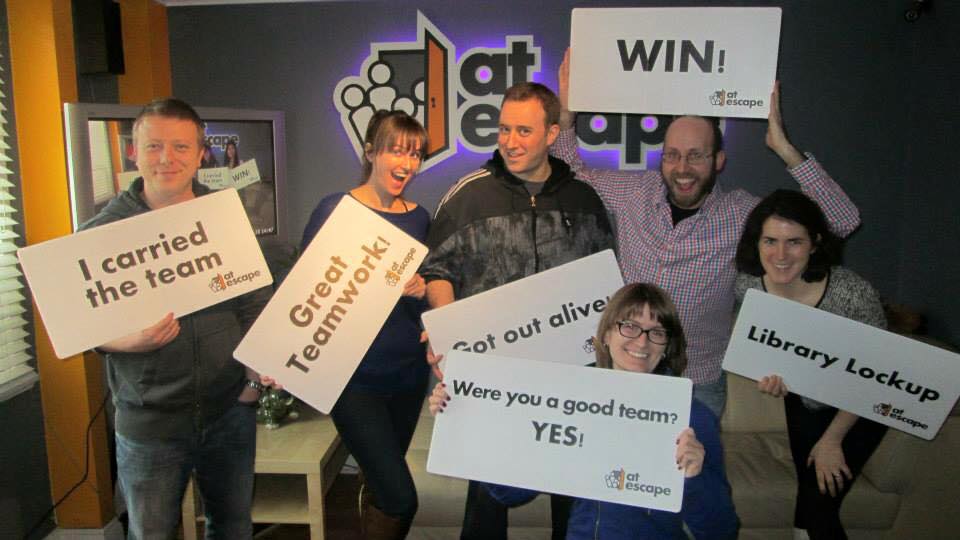 April 2015:
I take part in another 24 Hour Sketch Challenge. Much of the details escape me, but I did write a sketch with Natalie Metcalfe where she was Annie to my dying father, and she's one of the most delightful people ever, so that's a highlight for sure!
And the next day, I go with Evan to see the Kids in the Hall live. I don't know how many times I've seen them live (it's a fair number), but it never gets old! Even though they and we do!
May 2015:
Okay, I should probably be embarrassed that I have two highlights for this month and they're both tweets! But one is a really good tweet and the other is praise (for a different tweet) from a personal hero who wrote for Buffy and Battlestar Galactica among other shows, so shut up!
Good name for a feminist rapper: Cervix-A-Lot

— Dan Hershfield (@DanHershfield) May 3, 2015
@DanHershfield okay. That's brilliant.

— Jane Espenson (@JaneEspenson) May 12, 2015
June 2015:
Okay, much of this month was devoted to getting ready for the Fringe. I haven't mentioned this work yet, because it's not necessarily interesting to read about, but it was certainly occupying much of my time and mental energy for this half-year! But I did manage to do a few other things.
I attended the Mac and Cheese Festival. Which wasn't nearly as heavenly as it should have been, but still a thing I've done.
I had my first Pimms Cup. (Alas, not in a Pimp's Cup!)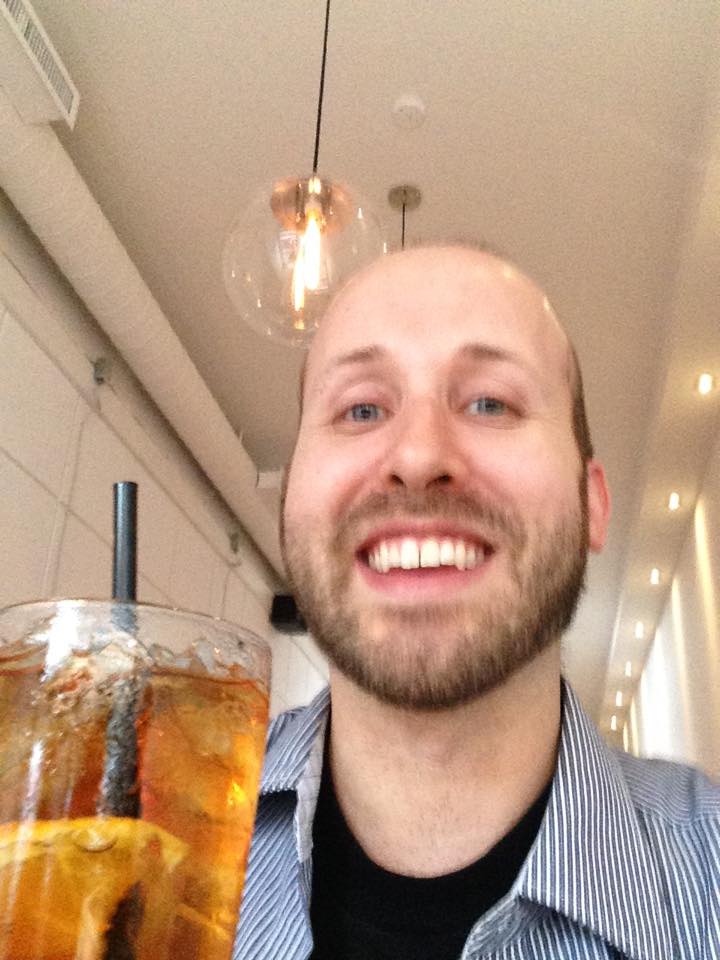 And we go to see Once as a family. Which I think proves that Evan and I must be (at least occasionally) good sons.
And that brings us to…
July 2015:
My one-man show Sloanliness debuts at the Toronto Fringe! It's an incredibly rewarding experience every way but financially! And this blog was integral! Those of you who may remember reading about how hard I geeked out on Chris Murphy of Sloan when he came aboard the ship for Ships 'n Dip and thought that would make a good one-man show, you were right! And those of you who thought it was amusing but didn't imagine it could be talked about for an hour, nuts to you!
In all seriousness, it's something I'm very proud of. I'm proud of it as a piece of work, but I'm even more proud of myself for doing it. To stand on a stage by myself just talking for an hour is something I wasn't sure I'd be capable of, but I did it, and a lot of people seemed to like it, and I was of course incredibly touched by the people who came out to see it! (Including my old McGill roommate and dear friend Jon Dewolfe, who I think traveled the furthest to see it (Ottawa!))
Most of my real gushing happened on Facebook, but here are a few pictures I thought worth sharing: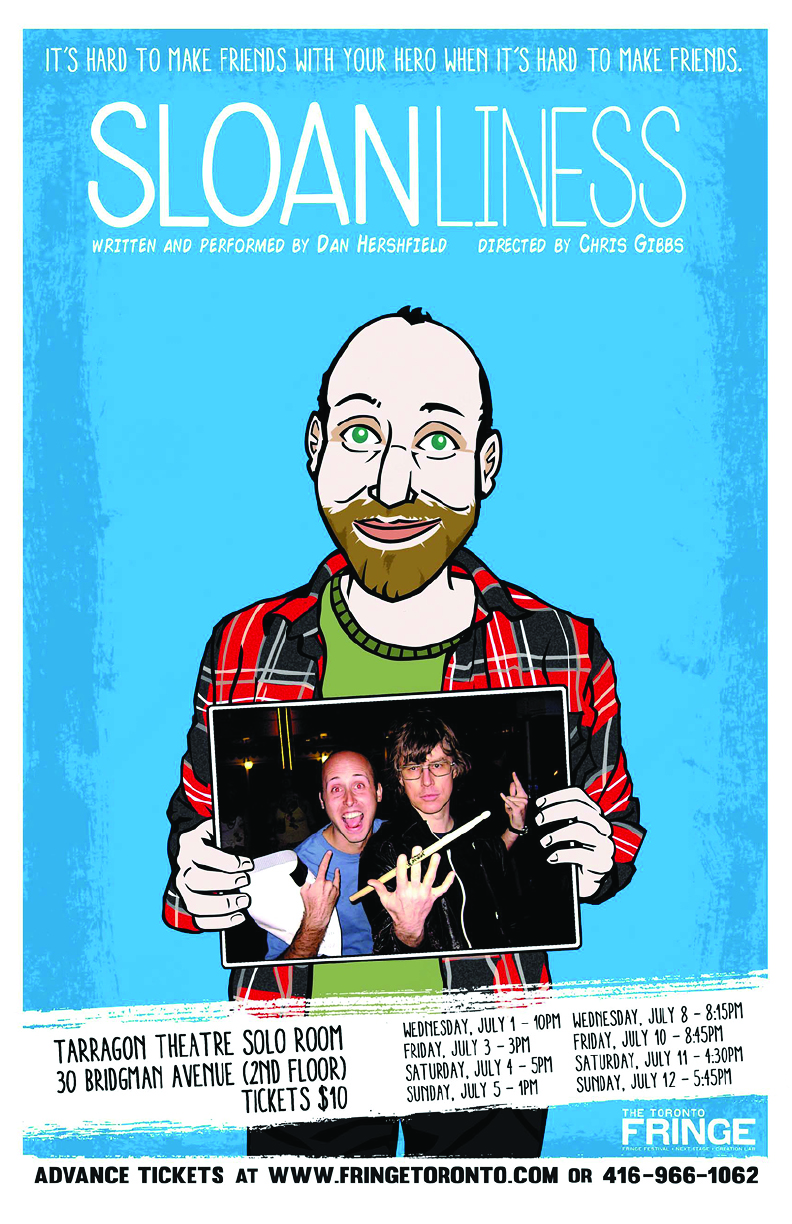 This is my poster, designed by the incredible Jon Blair! I take it as a sign of my burgeoning confidence that I have one of Canada's funniest people design my poster, despite my suspicions that it might just make people think "Man, I'd much rather see JON's one-man show!" And they wouldn't be wrong! But I figured I already ran that risk putting Chris Gibbs' name on the poster, so what the hell!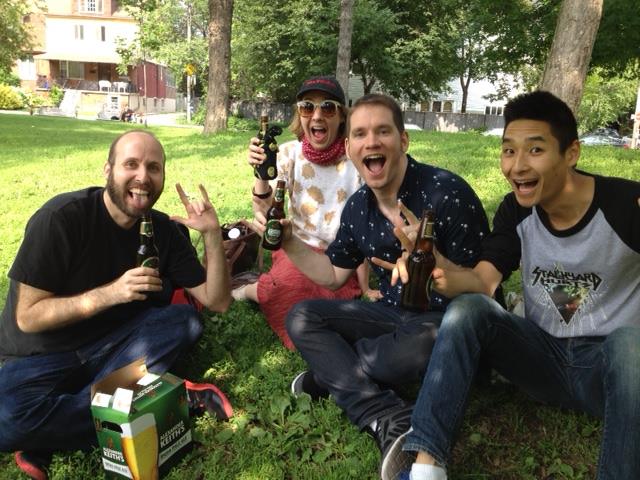 Knowing that my weekday matinee would be poorly attended, I put out on Facebook that I would take anyone who showed up to the park for beers. And a few people took me up on it! So I mentioned it wasn't a financial success, but I'm going to slip in the brag that attendance kept growing over the course of the run, including a sold-out final performance!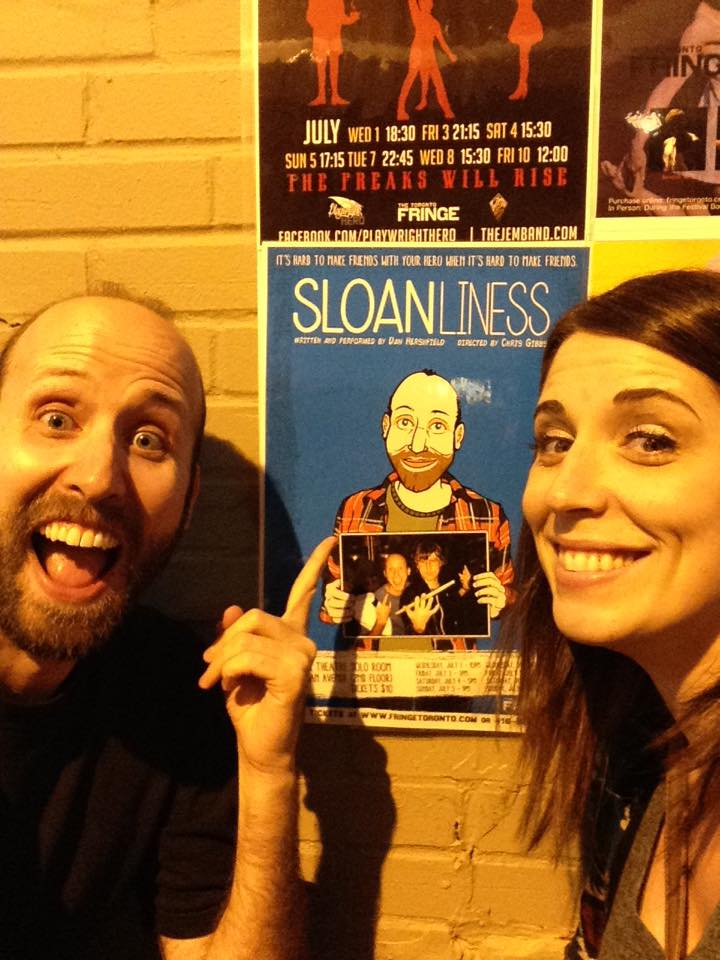 So in addition to all the rewards of actually doing the show, I had a great time with the Fringe community! As someone who often feels the need for credentials to participate in things, I've got to say there's nothing that makes you feel more that you're a part of the Fringe than writing and performing in a one-person show! So besides hanging out with a bunch of old friends, I also made some new ones, key among them fellow solo performer Rhiannon Archer. I kept referring to her online as my Fringe sister, and I certainly got the better end of the deal!
And then the Fringe is over, and I have to move on with my life.
Taking my newfound experience with the form, I perform an improvised story as part of Mullet's Night Show. It was very well-received and I had a great time doing it. Naturally, I never find occasion to do it again. But I really should. At some point.
Then it's off to Winnipeg with Larry. Alas, not for the Fringe, just for a visit, but I was due. I showed a video of Sloanliness to some extended family, where there was a request to "fast-forward to the good parts." I checked out the Human Rights Museum for the first time. And I had what turned out to be my last visit with my Grandma Rae. We'd heard she was having good days and bad days, but she gave us a command performance, and I'm very grateful that gets to be my last memory of her.
So due to dumbness on my part, I scheduled the trip to Winnipeg completely forgetting that I would be missing a Toronto production of Courting! (My brain was very much in Sloanliness mode, to the point where I forgot I might possibly have anything else scheduled!) It was part of the Social Capital Short Short Play Festival, was directed by dear friend Carmine Lucarelli, and starred Lynne Griffin, Jilly Hanson, Jamie Johnson, Sean Sullivan, and Kevin Vidal. I only got to see a video, but they did an excellent job and made some really fun choices I hadn't seen before, and the feedback I got and reviews I read were excellent! Also as a bonus, one of my students also got a play into the festival, so there's another feather in my cap! Here's a picture of the cast in rehearsal (I didn't take the picture, though I did thankfully make it to a rehearsal.)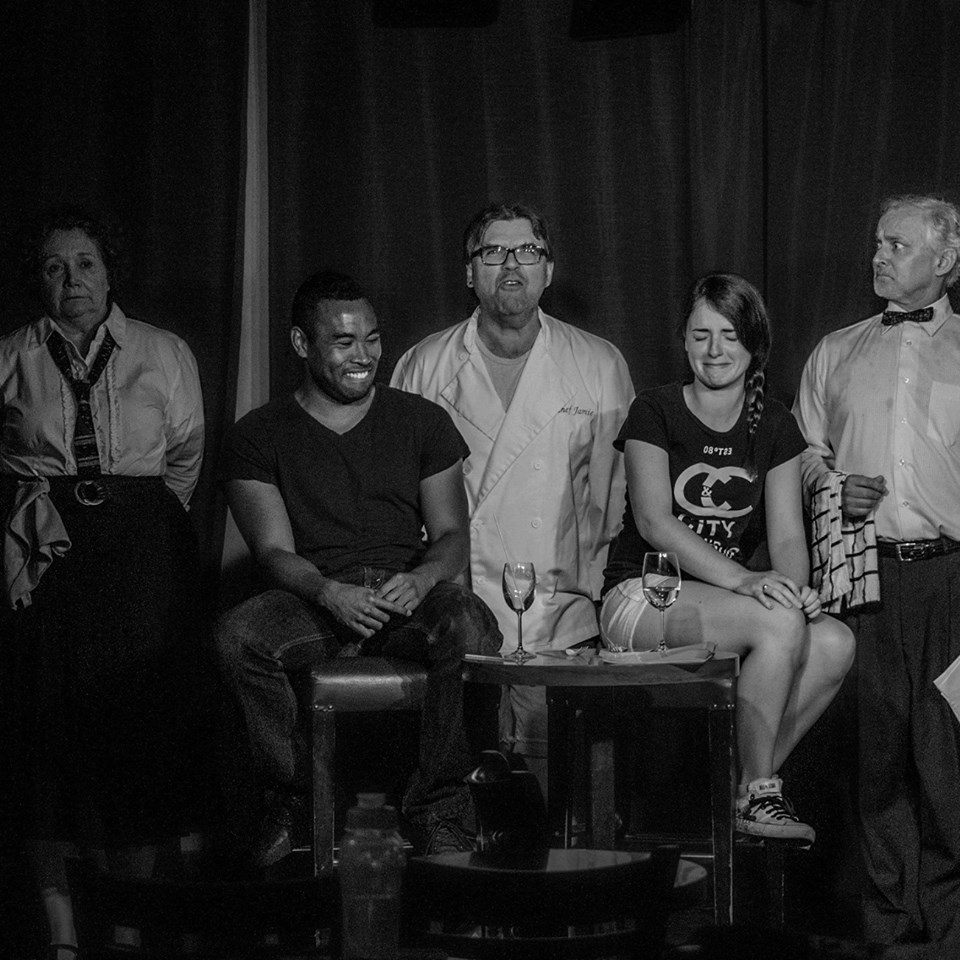 Courting and Wayne's World: now one degree of separation apart!
August 2015:
So this is where I have to apologize to little Marty. It turns out he was such a pain in the ass his first time at the cottage because he was sick with a urinary tract infection! Well, I mean, maybe it's that he needed some time with the Hershfields to become fun, but that's certainly the best explanation for why he was pissing all over the place and wouldn't sleep through the night! But this year, he was a lot of fun, diving into the water like a good boy and adorably chasing and then stealing our tennis balls as we played!
Alas, we were at the cottage when Grandma Rae passed, so our time at the cottage ended prematurely, and we were off to Winnipeg. It's all something of a blur, but I do remember writing and delivering the eulogy. It's a weird thing to feel good at, but I guess it's nice to be able to take a task off people's plates. And thus ended the summer.
September 2015:
September was a very showbizzy month for me! With my Fringe experience behind me, I decide to try my hand at storytelling. I haven't really kept it up, but it was a lot of fun and something I hope to get back to someday! (If nothing else, I've checked another performance medium off the list!) It started with a Fireside Tales, which is Rhiannon's show. I do two that month, at one telling the story of the time in Israel where I thought I'd inadvertently killed someone, and at the other telling the story of the English teacher who tried to fail me for using the word 'whore' in a short story. I also told the first story again at the Dare! Storytelling show, and it was better the second time, which is probably a good indication that it could be worth returning to. Either way, good times!
I go to an NDP rally to see Tom Mulcair speak. At the time, he was the odds-on favorite to become the next Prime Minister. I don't know if what I experienced was the reason he didn't win, but I will say that I've come to think I'm not a "rally person" even if I agree with the cause. Maybe it's having performing experience, but the idea that a crowd is supposed to be applauding rapturously at everything that's said and constantly chanting is gut-wrenching to me. Can't we come up with a system that encourages and celebrates thinking?
Anyhoo…I also give my improv career a last hoorah! At this point, I'm really not looking to do shows, but I do them when they're offered. And very nicely and unexpectedly, I'm asked to participate in Bad Dog Homecoming Week. I do their Micetro show…and win, for whatever that's worth! Well, technically, it was worth five bucks! But seriously, I'll admit that for the sake of my ego, it's nice to show some people that I (once) knew what I was doing! I also do the Late Late Horror Show, which was a bit of a trainwreck, but a fun one, which is also a part of the improv experience I'll miss. And lastly, I do a duos set with Lisa Gilroy, which I'll also admit didn't go great, but I was very happy to add her to the list of people I've played with. That may have actually been the motivation, because she's definitely someone going somewhere, so I'm glad I'll be able to say more officially that I knew her when!
It's September, so that of course means another TIFF. A pretty good year for me, as I see:
The Lobster
Dheepan
The Fear
Brooklyn
Spotlight
Anomalisa
Men & Chicken
I also make the very showbiz decision to join a celebrity church. In this case, John Oliver's Our Lady of Perpetual Exemption Church!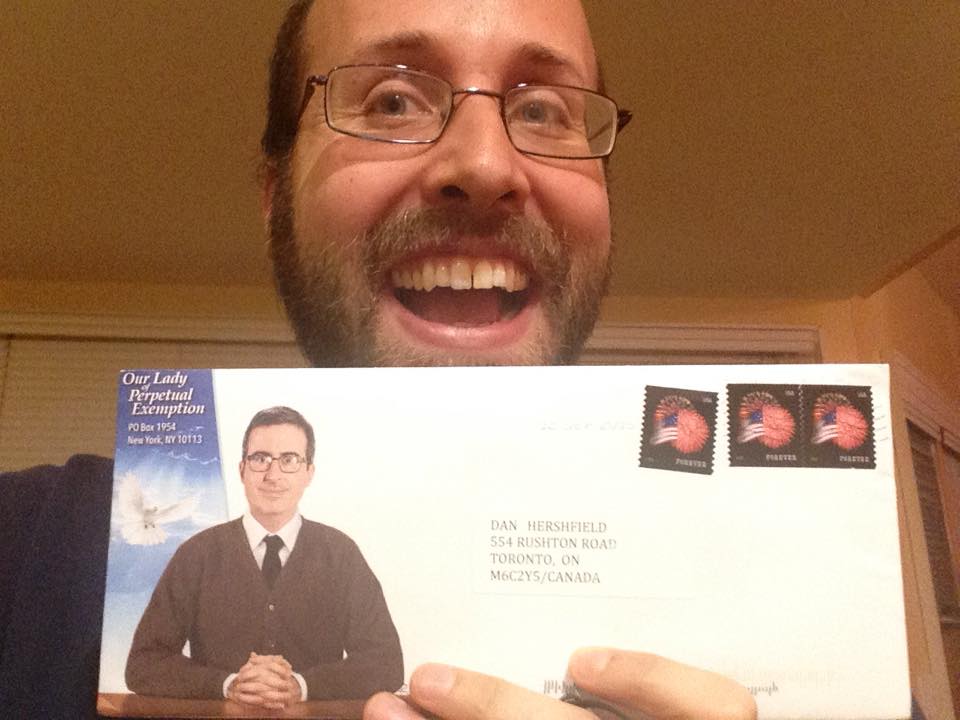 It's sadly been shut down since, but I'm sure my fortune is still coming any day now!
I also meet (briefly) Bruce McCulloch at a Writers Talking TV screening, so now I just need a Mark McKinney interaction to complete my KITH set! One of these days, one of these days…
And I do yet another 24 Hour Sketch Challenge! I believe my big laugh line was "Hi, I'm Steven Keele, and I'm here to tell you not to live life too fast OR too slow." I'll understand if you feel you had to be there.
October 2015:
History will remember this as the month Canada rid itself of Stephen Harper as PM. We'll see when/if we can recover from the damage his reign of terror inflicted, but at least it feels like a pall has been lifted. However momentarily.
On a personal note, I take a big trip…that I can't quite afford, but I take it anyway! And some parts of it are free!
So my pilot script for The Shrink had made it to the second round in the Austin Film Festival's competition, which is supposed to be the equivalent of a quarterfinals for most scriptwriting competitions or roughly the top 10%. Whether that was a high enough placing to justify going is pretty questionable, but I was curious, sufficiently flattered, and hungry for adventure! Well, that, and I found out very-generous-soul Randall Willis had a spare pass he'd earned as a judge! So I decided to go!
But a funny thing happened as I was preparing for the trip. My buddy Tory called and asked if I'd be interested in a free trip to L.A.! He had two cats that needed to make the trip, and it turns out the easiest way to transport them is as carry-on, with a limit of one cat per customer! And he would put me up in L.A. and it would be a chance for us to hang out again as roomies! So even though I couldn't afford EITHER of the trips, they were so heavily subsidized and promised to be such fun, how could I refuse??
L.A. was definitely an adventure. I of course took meticulous notes of what I got up to…and then misplaced them in the move (not to get ahead of myself!) I do remember quite a few of the things I got up to, but mostly I remember the feeling of being in an industry town. Though I of course did SOME of the touristy things (quite a few), I also allowed myself to imagine what life would be like there. And I sort of lived both realities: through Tory and Alyssa, I felt like I got a glimpse of the performer side of life (albeit with more success than I'd expect to achieve), and because I wanted to polish up some portfolio pieces before getting to Austin (just in case), I also lived a bit of the writer's life. I even went to a cafe to write!
Because it's L.A., I honestly think most of my time was spent driving around with Tory. It is actually a ton of fun, though I don't think I could stand it if I was driving. We spend much of the week seeing how long it can take us to find Hotline Bling on the radio, and it's usually about every ten minutes or so! Sites we hit (besides the familiar places that are ABSOLUTELY EVERYWHERE!) include Venice Beach, the Getty, The Grove, and I believe a cafe that Kristen Bell either used to work at or frequent. (At this brunch, with some more of Tory's friends, I convince myself that MAYBE I could be one of those funny people beautiful people keep around. This is the kind of thing I found myself thinking about in L.A.) I also see a show at Largo at the Coronet with Isaac, and find myself in a conversation circle with Damon Lindelof and Amy Brenneman afterwards. (They were performing, I didn't talk to them, but I could have. L.A.!) I also have separate reunions with my boat castmates Mike and Nate (blog comes full circle!), which were both very fun! (I was admittedly pretty wiped out when I saw Nate, but still…) Great guys, and I'm rooting for both of them in this show biz grind! I also try to make plans with director Matt which don't come together, but it was lovely chatting with him again. And I try to make plans with Lauren, who was unfortunately (for me) in the middle of shooting Superstore…which would have been a good excuse regardless of the quality of the show, but has become an even better excuse now that I know how awesome it is!
One of these days, I'm going to return, screenplay in hand! (And I really hope it's when self-driving cars are everywhere and easily rentable, because that would make a huge difference.)
Then it was on to Austin!
Again, meticulous notes missing! And while the conference itself left me with kind of mixed feelings, as all those writer conferences and seminars and podcasts tend to do (there's obviously a lot to learn, but there's only so much you can be taught through group lecture and without doing), it was a lot of fun! I met some very nice people (shout out to Paul and Leah!), and it's also nice to feel like you're part of a community of artists…even if it's daunting to be reminded of how many people want to do the same thing as me!
Austin is also pretty great! In another life where I have time to revisit cities, I'd love to see more of it! I was staying with fellow Torontonian Andrea, and we did some especially nice exploring on my penultimate day there. Which come to think of it was actually in November…
November 2015:
…Austin continued! So we did a substantial walk that included a lot of UT Austin, which was very satisfying for me as a lover of Friday Night Lights. (Texas forever!) And we went to the LBJ Presidential Library, which was my very first Presidential Library! It was very impressive in scope, he's a pretty fascinating character, and it was strangely awing to stand in the recreated Oval Office! (Of course, the whole institution has now been completely tarnished, probably beyond repair, but at the time, Trump was still an admittedly worrisome joke.) I probably should have been taking more pictures but didn't want to detract from the experience. But I took this one!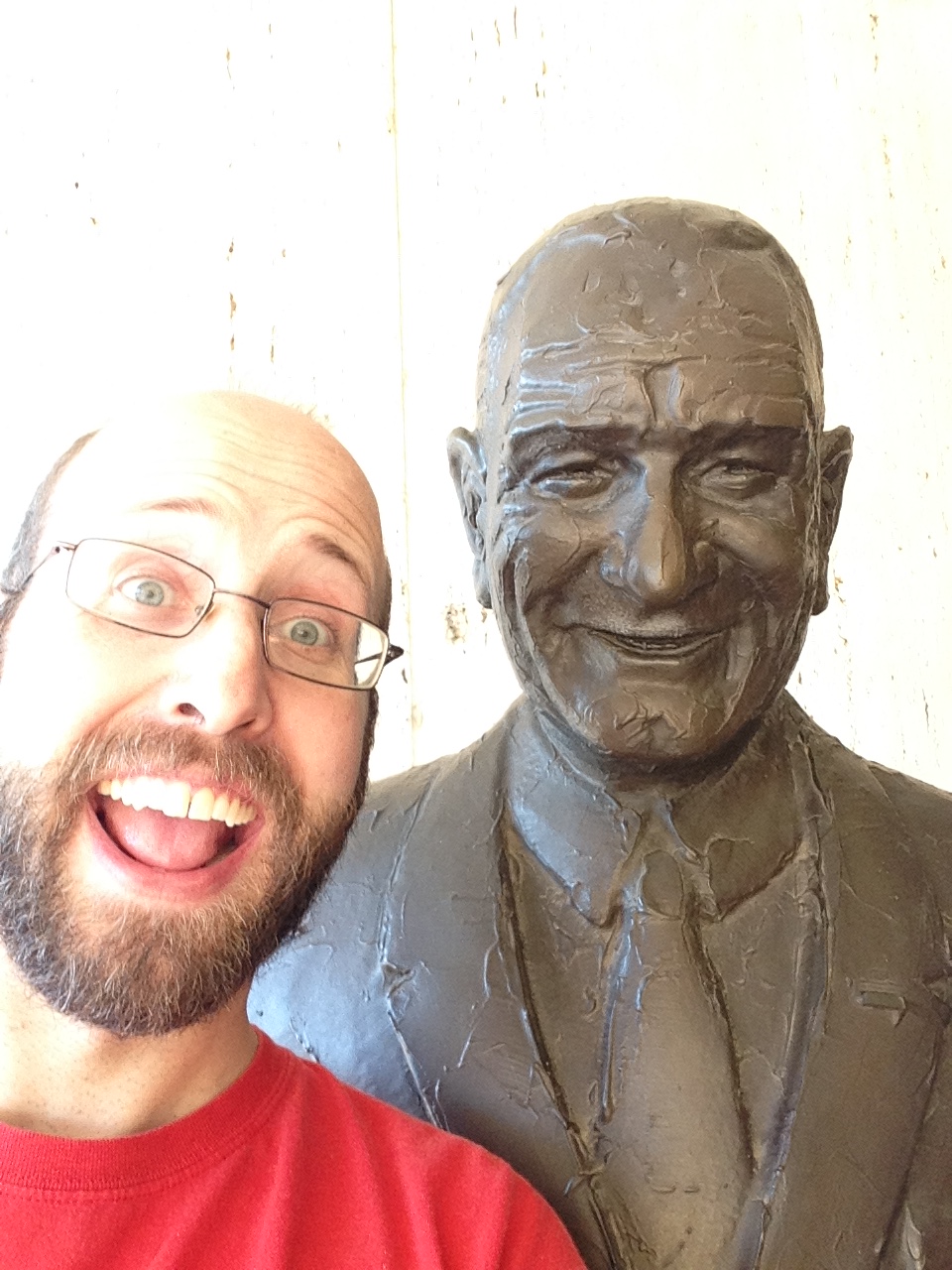 Then on to the nearby Texas State Legislature, which is very impressive, portraits of Dubya and Rick Perry notwithstanding! And a little more walking through UT, then Indian food for dinner! A very nice night!
For my last day, I grab some great Texas barbecue, then head down to the very Bohemian South Congress Avenue. It's great and supports the theory that Austin is a bit of an outlier for Texas. I check out Allen's Boots, where a man with a smaller or greater sense of irony might have gone full cowboy! I'm confronted on the street by a seemingly friendly guy with a camera crew who asked me "Do you think there should be free psychiatric care for people who are depressed about how bad a president Obama is?" I politely answered "I think there should be free psychiatric care for EVERYONE." Which I thought was a reasonably good answer until about thirty seconds later, when I realized what I should have said was "Yes, because anyone who thinks Obama is doing a bad job as president needs all the psychiatric care they can get!" And I check out some really great eclectic stores including Uncommon Objects, where I buy a thermometer for my parents, a longstanding vacation tradition. This one looks like a stump with a gun and bullets resting on top of it. And with that, I head home!
Shortly thereafter, something kind of crazy happens:
Yes, after many attempts, a tweet of mine actually makes it onto @midnight! And I have to accept the possibility that more people saw that tweet than saw me perform live in over a decade as an improviser!
And as if to hammer that point home, I was then off to do Sloanliness in Collingwood as part of their new Fresh from the Fringe Festival. Pretty small houses, but pretty decent shows and very nice billets. It also feels like an accomplishment to be asked to perform somewhere, so there's also that!
And to end off the month, I go with Ian to see Cameron Esposito perform standup at Comedy Bar. Don't know if that's blogworthy, but it was in the Cabaret Space, and that seems like the smallest room you're likely to ever see her in, so why not mention it?
December 2015:
This is either the start of a dull couple of months, or I just did a poor job recording what I was up to. Anyway, here goes!
I perform in O Dat Dumb's show, O Dat Show. I do a reading of 'Casey on the App', my version of Casey on the Bat except with a dating app (pretty much Tinder.) Comedy gold, I'm telling you! For the holidays, I have my first Cape Breton Christmas at Brian and Sihan's, I spend Christmas proper with my family (I presume), and I believe I do New Year's at Sean and Kim's, where I believe I'm the only non-parent in the mix, but it was lovely!
January 2016:
Woo hoo, (when I started writing this) this year! (I mean, I'm obviously not cheering the notoriously awful year. I'm just ready for this post to be over! But please, anyone who's still reading, enjoy!)
So I count three parties in January: Festivus at Second City (always a fun party where I feel I SOMEWHAT belong), the Royal Rumble Party at Matt's (where I feel very welcome, if somewhat out of my element vis-a-vis wrestling (my references are decades old))…and Medieval Times with Mike Fly and company!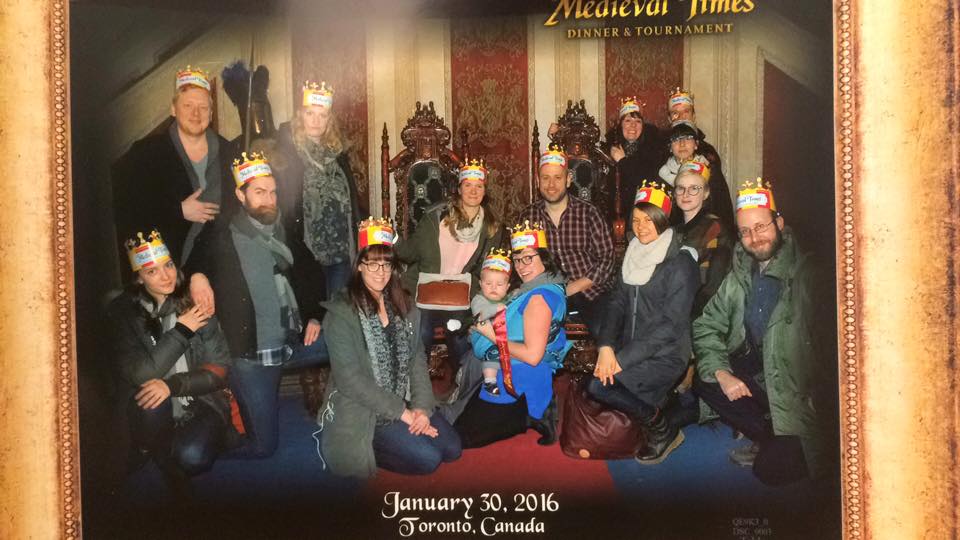 I am now thoroughly prepared for my Connecticut Yankee in King Arthur's Court moment, if it ever happens.
February 2016:
I see Air Dat Dum, which I mention mostly because it was hysterical and also because I don't want to have an entire month (even a short one) with just one event in it. I also participate in a charity bowlathon. I'm not sure if I hit more pins or made more Big Lebowski references, but it has to be close!
March 2016:
I host Fridurday Sketch Live! (It's a sketch show.) I was just supposed to be guesting, but I end up hosting. Though conversations with several castmates I'm friends with reveals that everyone is feeling pretty burnt out, it's still a very good time…for me, at any rate!  I write and perform a song parody called Comma Police (pretty self-explanatory, I would think) and a sketch called Penis Portrait which was far cleverer than it sounds (probably.) Good times had!
I also write this tweet which I was quite proud of, so please enjoy the fine craftsmanship:
The waiter asked if I had any allergies. I said "Bee stings." Though the truth is I just don't like them.

— Dan Hershfield (@DanHershfield) March 4, 2016
Then a real adventure. The Hershfields do what Jews do and escape to Florida! Uncle Ian rents a house and the three families congregate for a nice little vacation. Of course, from my vantage point, Florida may be the most repugnant place in the world, but it's hot and we're together. And of course, some fun times were had! When I could suppress my natural urge to be disgusted at the crass capitalism of it all, good times were had at Universal Studios…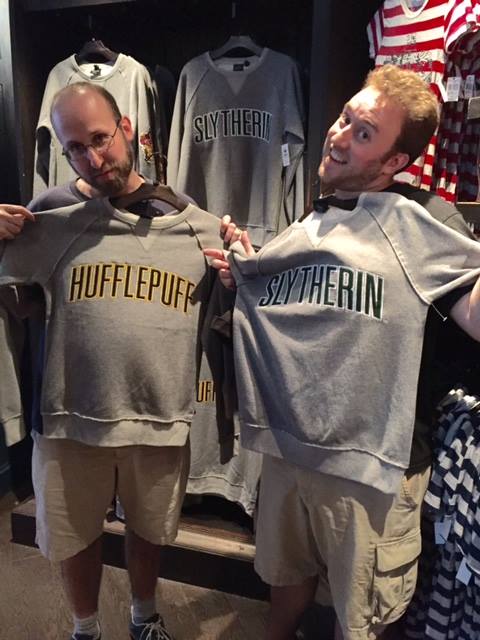 The irony of the picture is that while these are our personas, I am obviously a Ravenclaw and Evan is obviously a Hufflepuff…but sometimes sacrifices have to be made for comedy! I'd say the other big Florida highlights are heading down to Dunedin for some Blue Jays spring training and the Kennedy Space Center, which, despite two jackasses constantly doing their 'JFK from Clone High' impressions (it was Evan and I), was pretty remarkable!
We also had a very nice road trip back, with stops in Savannah (or as I call it, Shavannah), Knoxville, and Cleveland. And yes, we got to the Rock and Roll Hall of Fame, and yes, this is Robbie Robertson's double guitar from The Last Waltz!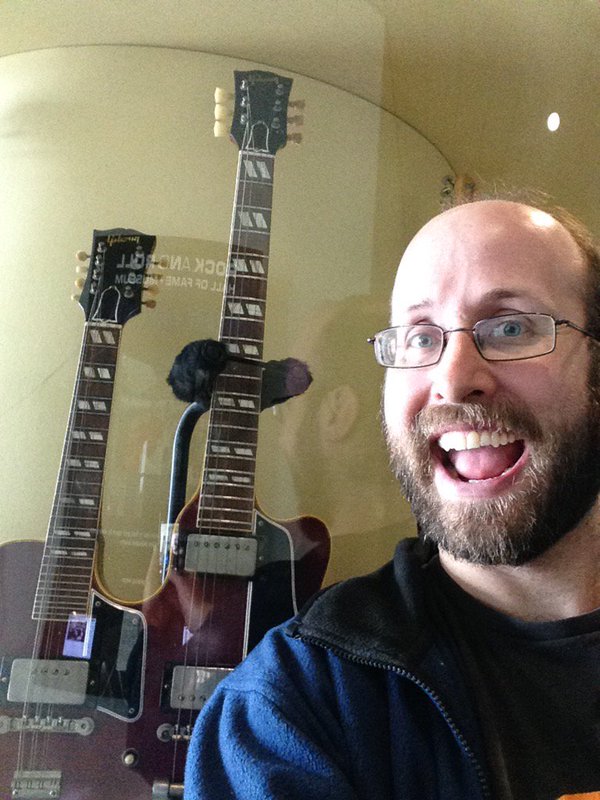 Somewhere around here would have been my birthday…so I'll just say it was here!
April 2016:
Sloanliness goes to Montreal for the Solos Festival! Sixteen years after my first ever play was put on at the McGill Drama Festival, I make my triumphant return. The circle is closed. It was a wonderful time all around. Mitch and Claire were nice enough to put me up and we got in some fun hangouts, including the mandatory Montreal poutine and bagel runs. I meet the Chief for lunch at Amelio's, which is nearly nostalgia overload, and I top it off with a long walk around campus. So many memories! And while the show once again drew a pretty small crowd, I think it may have been my best performance of the show ever!
But this is amazingly not the highlight of my April. The highlight is applying for, interviewing for, getting, and starting my job at NN! (Acronym not for shame purposes, but rather to keep me out of unsavory Google searches.) I won't pretend it's not an odd job…though it's probably not as interesting as everyone imagines it is! But it's definitely a privilege to get to write every day and get paid to do it, and the people there are great! And it's very nice to have steady work and, I believe they're called…benefits?
And the month ends with the Toronto Screenwriting Conference! I'd volunteered to work this before I knew I'd be employed, so my first weekend was actually spent STILL getting up at the crack of dawn, but it was quite a good conference! It was generally pitched at a higher level than Austin, which even though I'm not entirely a professional TV writer (though an argument could slightly be made now), I appreciated. And because I got my first choice of assignment, I was volunteering as an usher in the main room, so I got to see all the big lectures. Even if I turn out to be a hobbyist, it's still a world I really love, so good times!
May 2016:
Day 2 of the Toronto Screenwriting Conference. See above.
Evan and I take Mom to see James Taylor for Mothers' Day. Good sons that we are! Okay, I admit, he puts on a pretty good show…
And I do this tweet, noteworthy only because when it appeared as a Facebook post, it was liked by members of some of the finest sketch groups in Canadian comedy. And that tickles me!
I have an idea for a sketch called "Abraham LinkedIn", and I think it might go…a little something…like that.

— Dan Hershfield (@DanHershfield) May 17, 2016
June 2016:
I do yet another 24 Hour Sketch Challenge, the best show not on dirt! I'm running out of steam here AND someone actually took pictures of this show, and since a picture is worth a thousand words anyway, in lieu of more description…
So that's me with the kids. Back in the world of the grownups, my high school buddy Mark gets married! I am more and more the outlier as a lifelong bachelor (though not in the euphemism sense)! But hey, that's why I have time for things like blogging every couple years, right? Right? (Tumbleweed blows through my mostly empty apartment.)
July 2016:
The Fringe happens again. It's a little odd not having a show, but I've still got a lot of shows to see. And I get to hang out with many people I don't hang out with enough, including my old Vancouver pal Ryan Beil! Worth noting because our plans almost always fall through!
I'm also noting a decline in interesting life events, but I believe that's one of the definitions of having a day job! That's when I'm chalking it up to anyway! Although July was also largely occupied with plans for…
August 2016:
I move! So a few months back, my landlord Mike told me that he was going to have to be moving to a retirement home and thus they were going to be selling the house. That's a very hard thing to begrudge…though I knew it was going to be a pain. As expected, without my stroke of luck, apartment hunting in Toronto is a miserable experience. Luckily, I found a nice place in Leslieville, which I quite enjoy and it's way closer to work! But oy, the rent! (It's standard, maybe even a little better than standard, for Toronto, but not the insane bargain my previous place had been) And just like that, the job that I thought was going to make me flush instead gives me just enough to live off of! But just imagine how screwed I would have been if I didn't have it!
And we make another trip to the cottage. Because that's what the Hershfields do in August. Though as a working stiff, I both got less time there and needed it more. Don't remember many specifics (besides listening to the last Tragically Hip concert on the radio), but good times were had.
September 2016:
Again, being a working stiff meant I saw far fewer TIFF movies than I normally would. Nothing too exceptional this time around, but nothing bad. I saw:
India in a Day
American Pastoral
The Journey
The Exception
Some celebrity sighting, but the most fun was seeing my old buddy Phil Burke, who I assistant-directed (assistant to the directed?) in Rat in the Skull at the Berkshire Theatre Festival back in 2005! We met working on a very Irish project, so seeing him after The Journey (a very Irish movie) when he was standing with his very Irish 'Hell on Wheels' co-star Colm Meaney was possibly the most Irish moment of my life. And maybe that's why I'm (spoiler!) going to Ireland with the family for my birthday! But since that hasn't happened yet…
I make the following topical tweet about Ted Cruz deciding to endorse Donald Trump…
Oh, Ted Cruz. If you're going to join the Human Centipede, you really shouldn't wait 'til the end.

— Dan Hershfield (@DanHershfield) September 23, 2016
…which, yes, I'd probably be sharing anyway just because it's funny to me. But there's also a story! So as the tweet got passed around, Wynonna Earp showrunner Emily Andras happened to see it and happened to comment…
@DanHershfield #1 tweet.

— Emily Andras (@emtothea) September 23, 2016
Which, very cool in and of itself! But I also met her at a Writers' Talking TV event a few days later and used my authorship of that tweet as a means of introduction! We then had a lovely conversation (she's INCREDIBLY nice, and not just to me, as I observed while working up my nerve) and she said she'd look at a writing sample of mine! So I sent her The Shrink and will follow up when her season wraps up! I'm not expecting anything more out of it than perhaps the opportunity to buy her coffee and glean some wisdom…but I admit, I love the possibility that my big break story might start with a tweet about Ted Cruz eating shit!
October 2016:
There's a party for Fiona, who becomes a Canadian citizen! Arguably just under the wire, as it turns out!
I also have my first band practice! Yes, probably two decades or so after it would have impressed girls, I'm in something of a band! I forget how it came about exactly, but head writer Brad is a guitar virtuoso and editor Nate is a drummer, and at some point, we joked about making a band, and how I could be the bass player. And then we found someone selling a bass for $50 on Kijiji, and things pretty much went from there. Oh, and I'm also the lead singer! So far, we just rehearse and do mostly '90s covers (Foo Fighters, Nirvana, Better than Ezra, etc.). Maybe someday we'll do a show, but even if we don't, it feels pretty cool…if somewhat Weekend Warrior!
And my friend Vanessa comes for a visit. It's all too brief, but brevity is the soul of wit, so good times were had!
November 2016:
Western democracy comes to an end. It had a pretty good run. Very little good comes out of it. All I can think of is that Ian took me to see Josh Gondelman at Comedy Bar, and he was able to wring some comedy out of it. (Mind you, it seems like there's a lot of comedy being made, but it all leaves you sad.) And I have a mini-Twitter conversation with David Simon, which I have to admit is awesome, circumstances notwithstanding…
If this transition is at all indicative, this next century will not be an American one. https://t.co/tCEq8YnM3j

— David Simon (@AoDespair) November 26, 2016
@DanHershfield True enough, and maybe for the best if we managed some high ground. But this is going to get a lot uglier than needed.

— David Simon (@AoDespair) November 27, 2016
United by bleak outlooks. Very 'The Wire'!
December 2016:
Much of this month is spent in a Trump-induced fog and depression. (Of course, he's since proved as bad as could possibly be imagined, which was already beyond terrible.) But it's also a time for parties…specifically holiday parties!
I take it upon myself to organize the office party. Seems like a good task for the new guy, and I'd say it was a success! It was essentially a dorm party format, with a karaoke kicker! Smelling the freedom of the impending holiday, I drank way too much. I believe I was on pace to have just drank too much when Eila brought out the Jello shots! But I was rocking the karaoke thoroughly and body shots were exchanged before I passed out with head over garbage can (strictly precautionary). Still got it!
New Year's was spent at Matt and Erin's. Which would have been perfectly lovely regardless, but they also got engaged! The closest I've physically been to a couple getting exchanged, and they're an incredible couple, so it was a very nice start to the year!
And I realize that it's now February, so by all rights, I should be writing up January, but I'm going to succumb to unit bias and say it makes sense to end at the end of a year! (Also I'm tired.) If anybody's still reading this, thank you for being way too interested in me! And be sure to come back soon for my ongoing list of every book I've read since this blog started! (And I think I'll throw in some favorites from my pre-blog life…curation and all…)
Stay gold, Ponyboys.