To answer the title of this post, I missed it because it was a non-event. But a few things have happened to me since last I posted.
June 2012:
Okay, not too much happened in June that I can remember. I do seem to recall playing lots of tennis. Oh, and it was the end of Humewood volleyball. Which is sad, the end of an era, and all that… Hopefully, some semblance of something will be revived at some point, but based on the vagaries of that statement, and considering that the three most likely suspects to organize have or are about to have babies (something in the gym air, I suppose), it could be awhile.
July 2012:
Evan and I (and Brad) take Father Dearest to the Ottawa Bluesfest. Good times are had, good music is heard, the War Museum is a right solid museum, and I have a nice reunion with Gentil Jon Dewolfe. July was also a big month in terms of making a push to get an agent, which alas ends with a lot of positive feedback and pretty much that. Still, positive feedback!
August 2012:
Camp Hershfield again. A lot of fun and no health problems this time! At least for me… poor little Claire is alas starting to show her age, taking some very nasty spills and scaring the hell out of us. But the fact that she refuses to let her enthusiasm diminish is very inspiring (or, you know, a sign she's a dog, but I choose to be inspired.)
September 2012:
I officially hand off the producing duties of Comedy on the Danforth to Amy Zuch. I know I won't have the time or energy to do the job right, and that she'll do a fine job with it, and so far, I have to say I was right on both counts. It's also determined sometime around now that instead of the rotating cast around me I'd been employing, I'd team up with Lindsay Grant and Tom MacKay as a regular house team. Also a fine, fine decision, though I do sometimes feel silly that we're still called "Dan's Mix '95."
September also means another TIFF. Because I was back at school, I didn't get to see as much as I normally would, but I was generally happy with what I saw:
Frances Ha
A Liar's Autobiography
Much Ado About Nothing
Hannah Arendt
Fill the Void
I will mostly remember it as the TIFF where I stood a foot away from Joss Whedon, already reaching out to tap him on the shoulder and break into tears before I wussed out.  But I did talk to and shake hands with Reed Diamond, which was pretty satisfying, because he's probably the only actor in the world who exists in the Whedonverse AND the David Simon universe, so top that!  Oh, and I also got this picture, which I felt guilty about later, because the rest of the cast was leaving and he was panicking about being left behind, but whatever, it happened, and it's this: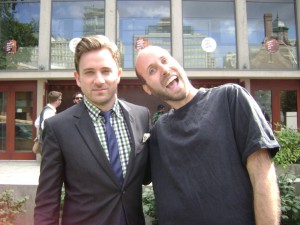 Oh, and I also have this, and it proves I got close (Geez, starting to feel creepy!  But I'm not like this for most things… I think…) :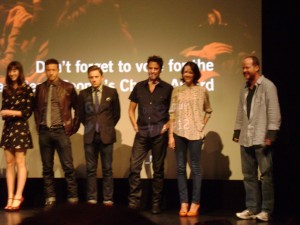 And of course, the other big news for September is that I'm back to school, not unlike Rodney Dangerfield.  I'm not going to say too much about it, because despite that being the usual purpose of a blog, I'm still processing the experience and don't want to try to sum up something that's very much in flux.  But suffice it to say, it's an experience.
October 2012:
The biggest part of October is the 40th anniversary party Evan and I throw for our parents.  It was a surprise party, and we totally pulled it off.  (They thought they were coming to see us do an improv show, the suckers!)  As did their friends, which was something of a miracle!  (They did great!)  It was a project long in the making, not just the party itself, but wonderful sons that we are (once every forty years or so), we made them this anniversary video, with stories from their friends and every picture and video of the two of them we could lay our hands on.  And (with apologies for some copyright infringement) it turned out pretty great, if I do say so myself.  I include it here (it's broken into two parts), as well as a video Evan made (shot by Brad) of the event itself.
Also of note in October was Thanksgiving at Tom and Lindsay's, which was lovely.  Oh, and I start a Twitter account, @danhershfield, for those who might be interested.  (And since I've already admitted a creepy attachment to all things Whedon, a highlight of my tweeting is that I have reason to believe Jane Espenson read a reply of mine to a tweet of hers.  Winning!)
November 2012:
Okay, around here, life that doesn't have to do with school sort of disappears, and I become boring.  But I do recall meeting with a KITH writer, which is always neat, going to a last Second City show for a bunch of people, also interesting, and that I didn't get into the Toronto Fringe (but it's lotteried, so no need to take it personally, fans of mine!)
December 2012:
Holidays and school.  (Told you.)
January 2013:
Well, I took the Jeopardy test.  I did not do well.  (Though I partially blame a large-scale blackout, which forced me to take the test late at night after a crazy long day, but still, it's possible I just suck.)  Oh, and I didn't get into Globehead. The end of an era, though it would have felt odd not doing it with Dave anyway (though Ian and I would have kicked some ass).
But there was also some good news.  I found out there was going to be another production of Courting, this time in Regina, which means I can add Saskatchewan to the list of provinces where I've been produced, which is pretty nifty.  Also, a great TV writer who has worked on some of the greatest TV comedies ever (I'm leaving him anonymous, so I feel free to gush) agreed to read my pilot and had nothing but good things to say about it.  I choose to take this feedback at face value and enjoy warm cuddlies.
February 2013:
School, school, school, and school.  Though I do get my skate on for the first time in ages, and do play a little ball, but still, I wish I had something more exciting to go out on.  Oh well, hopefully the exciting stuff is ahead!
And now we're caught up.  Doesn't mean you can't call once in awhile…