Every year I do this, I think it's going to be the last. I'm almost certain the only person who ever looks at this is me, and I suspect most anyone else who might be looking would be doing it for nefarious purposes. Perhaps data-mining, perhaps to catch me in a lie of some sort, perhaps to laugh at my existence? It's also a surprising amount of work, and I spend a lot of time thinking that if I'm going to spend this much time on a piece of writing, it should be a DIFFERENT piece of writing! A script, perhaps?!
But for three reasons I can think of, I keep coming back to it.
The existential: I'm here, damn it! I exist! And the world should know!
The practical: I'm paying for this website. And I'm not prepared to let it just disappear. And if it's going to be here anyway, it should probably be up-to-date.
The romantic: I refer more to the romance of an artist's life than the italicized romance… but in both cases, it's nice to believe there's someone out there reading this that I don't know is reading it. Maybe just one person who it means something to. Even if that person won't be reading it for years. In which case, I suppose, that person might even be me, Krapp's Last Tape-style!
Sigh. Okay, guess I'm doing this. Here goes…
January: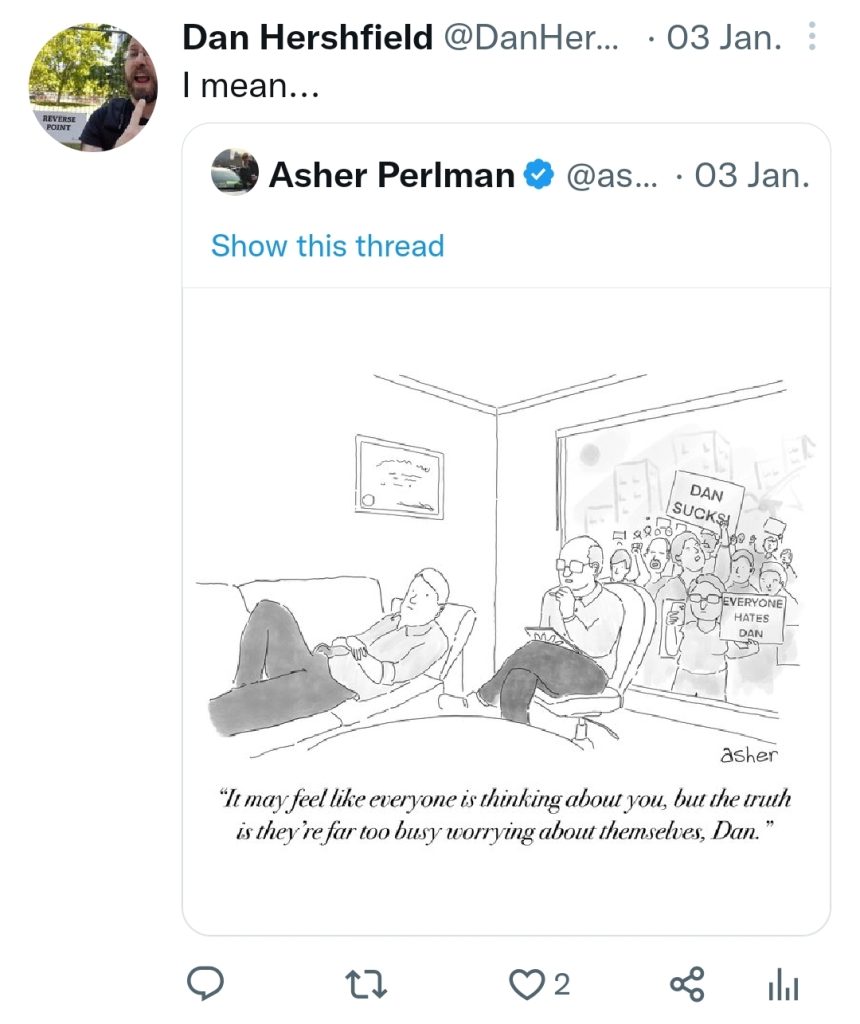 Yes, I was still tweeting. It was the style at the time. But that wasn't all I was doing. At some point, I realized that I was entitled to more visual coverage through my health plan, so I got new contact lenses. Productive member of society here!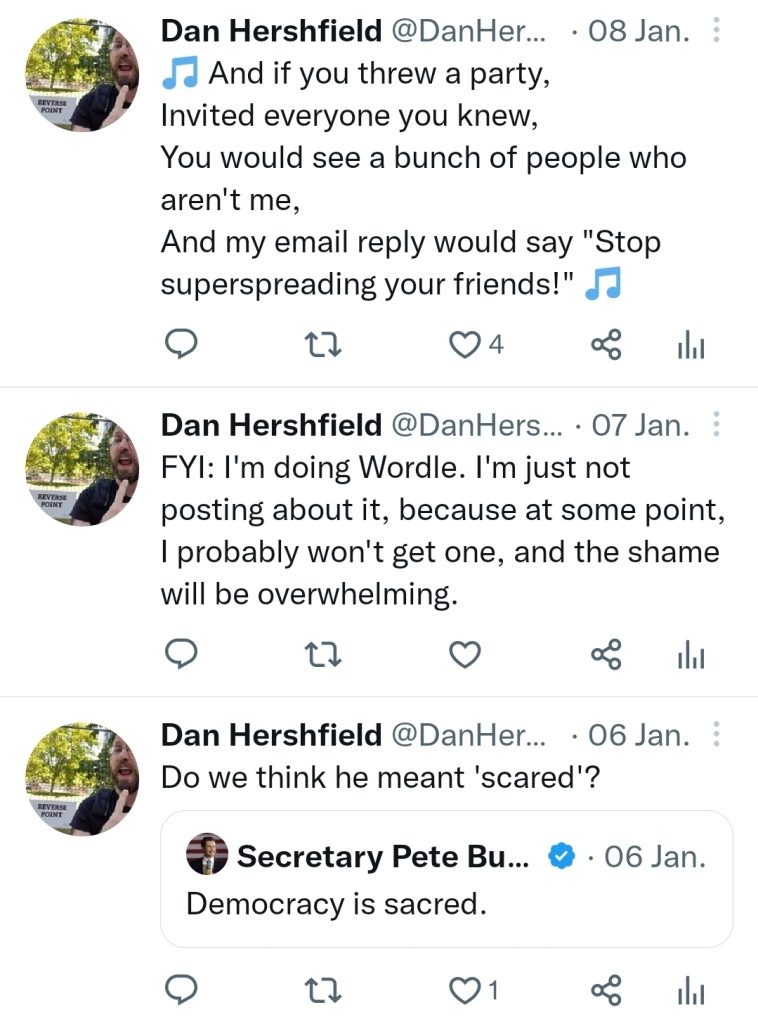 Our movie group gets together. I think. It's in my calendar, at any rate.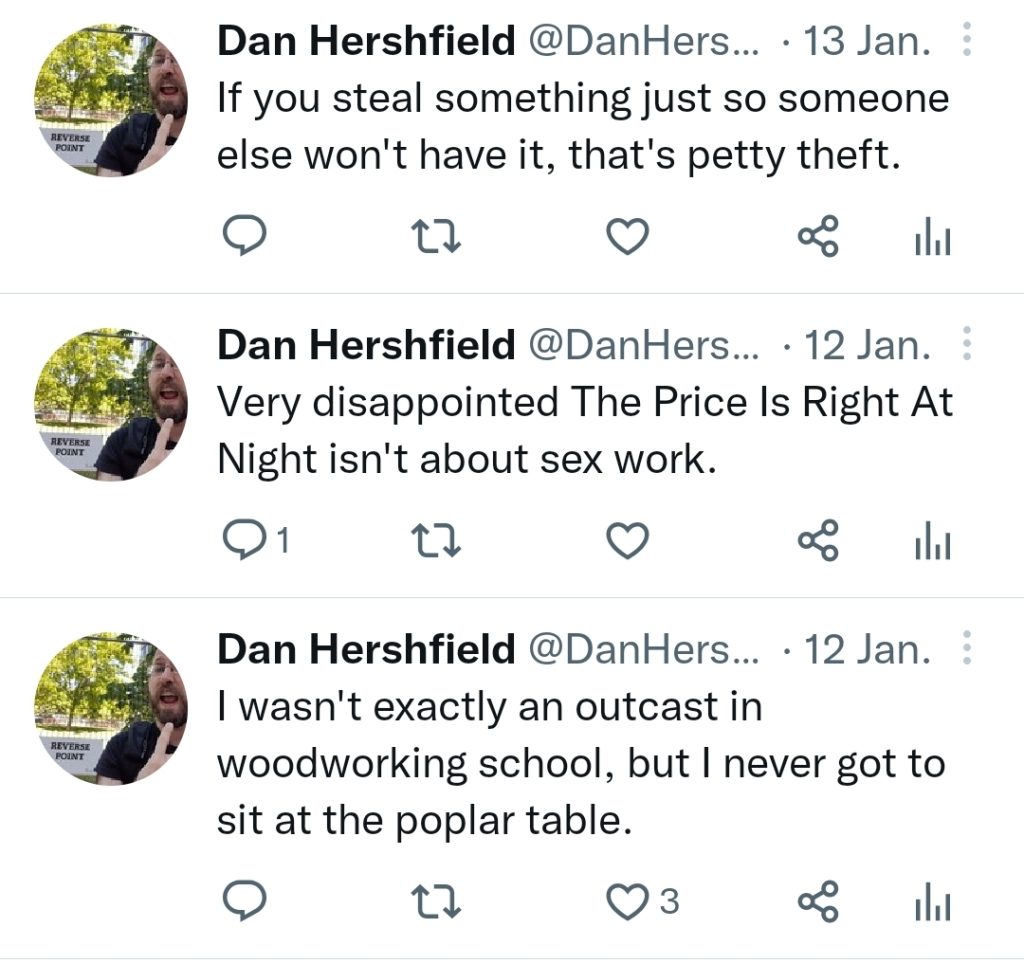 In a sign of where we were as a society at this point, I'm able to successfully order a bunch of N95 masks and it feels like a real accomplishment. Speaking of "real accomplishments", Wordle doesn't really qualify, but like everyone else, I got into it.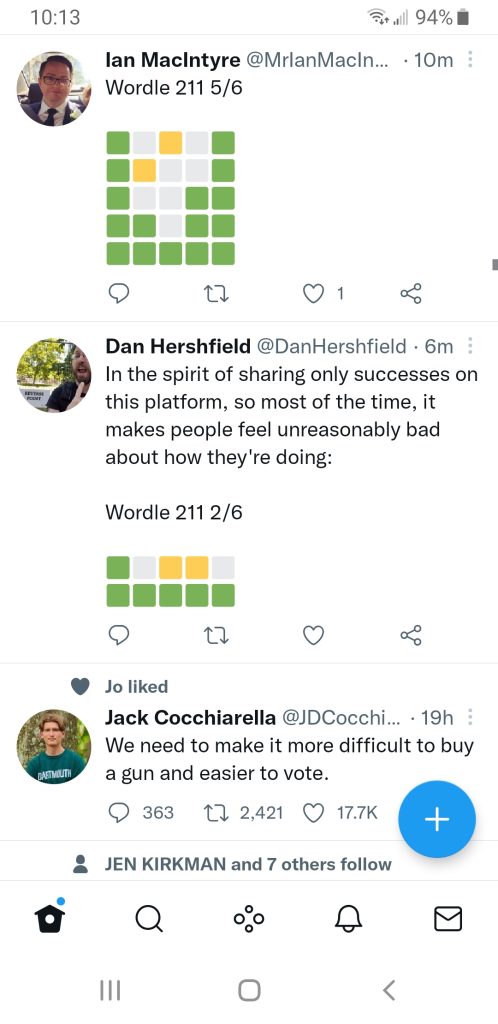 Comedy Bar puts out a call for screenplays. I submit mine and never hear anything. Such is life… but if nothing else, I'm reminding myself here, just in case someone ever mentions having read it. Now, I won't say "What? HOW?!"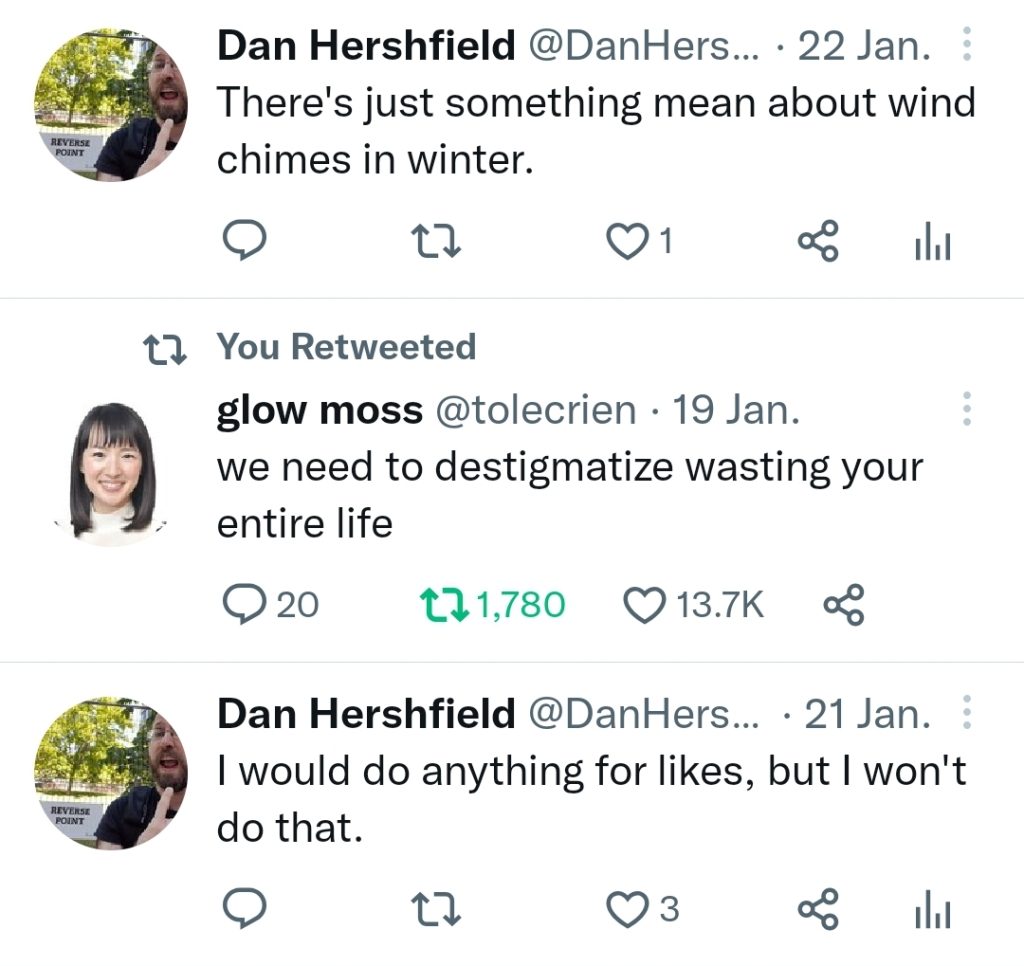 In case you didn't piece it together based on what you know about my sardonic wit, that last tweet was about Meatloaf dying. And since I'm in the world of pop culture, here's my NBA All-Star ballot. (Time capsule!)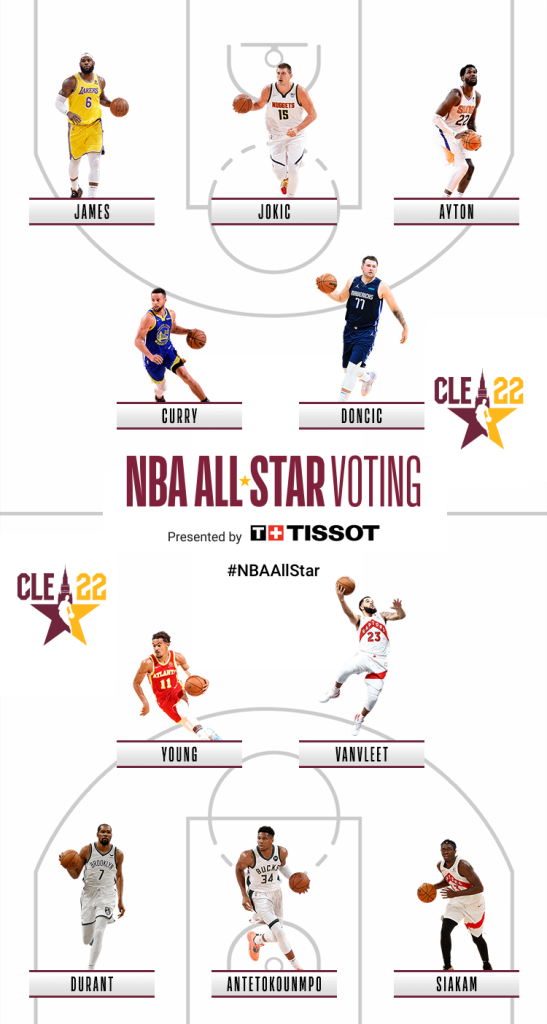 I watch an online chat with the creators of Yellowjackets, Ashley Lyle and Bart Nickerson. Thanks, VIFF! (Even though my writing dreams are getting pretty faded, I'm still a fan of writers and the process. Like a nerd.)
I have a dental appointment. Mostly mentioned because, if memory serves, this was at a point the pandemic was peaking once again, making every trip an adventure.
Okay, we've reached the first noteworthy event in what may be my most noteworthy achievement of 2022: my continued development as a cook. I'm still not great, don't really have a feel for it, and certainly can't improvise much. BUT I can follow a recipe, I know how to do basic 'mise en place', and the results are consistently edible-plus. Perhaps most importantly, it's an activity I do with my mom, and frankly, it's nice to see her engaged.
Our first major attempt of 2022 is chili, based on the Binging with Babisch recipe for Kevin's chili from The Office. We make some substitutions, and it feels like it could've been better, but still, quite tasty!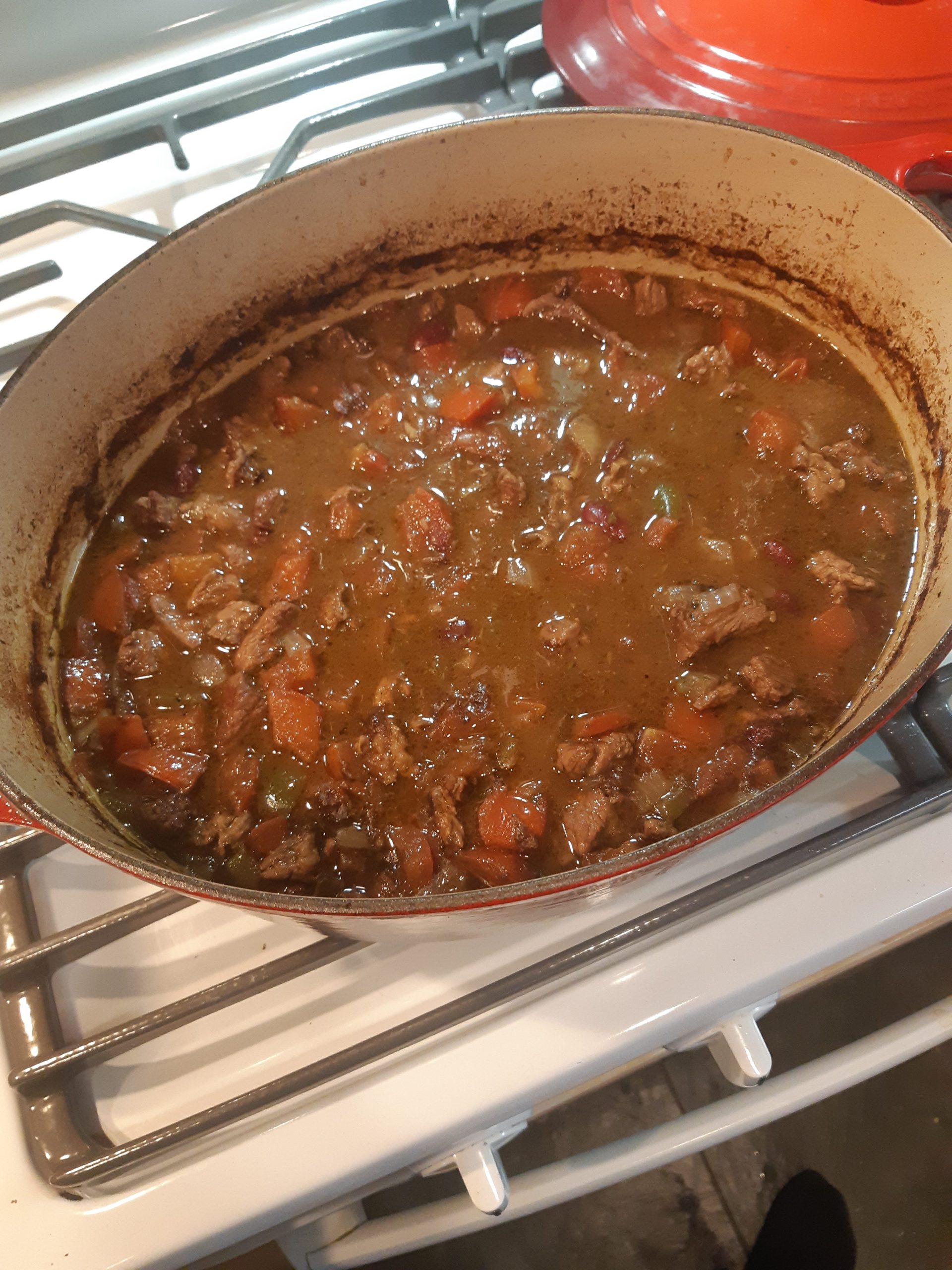 February:
I meet and go for a fairly lengthy walk with Clare, where we discuss possible projects we might pursue. Which is admittedly a little odd to do with someone you're technically meeting for the first time, but such is a world with social media. (I was a big admirer of hers, and I guess she was at least vaguely familiar with me.) I note it here mostly because we came up with the germ of an idea that I think has potential, but we never really did anything with it. So, if it ever revives itself, I'll want to know when that happened! (Later that month, I do make a Google doc where I flesh out my thinking on it a bit. So that much progress has been made.)
The Toronto Hershfields get our inheritance from Gabe, mostly of the keepsake variety, though mine is slightly practical. In addition to us all getting glasswork, I got a fretless bass, an effects board, and an amp with some muscle. The amp came with a note from Gabe taped on top asking people not to put their drinks on it (from a gig, I presume), and while it's not necessarily the most profound message to remember someone by, I've of course left it in place. Using all three also feels like a nice tribute to his memory, in that I'm doing a thing that he did, and substantially worse than he did it.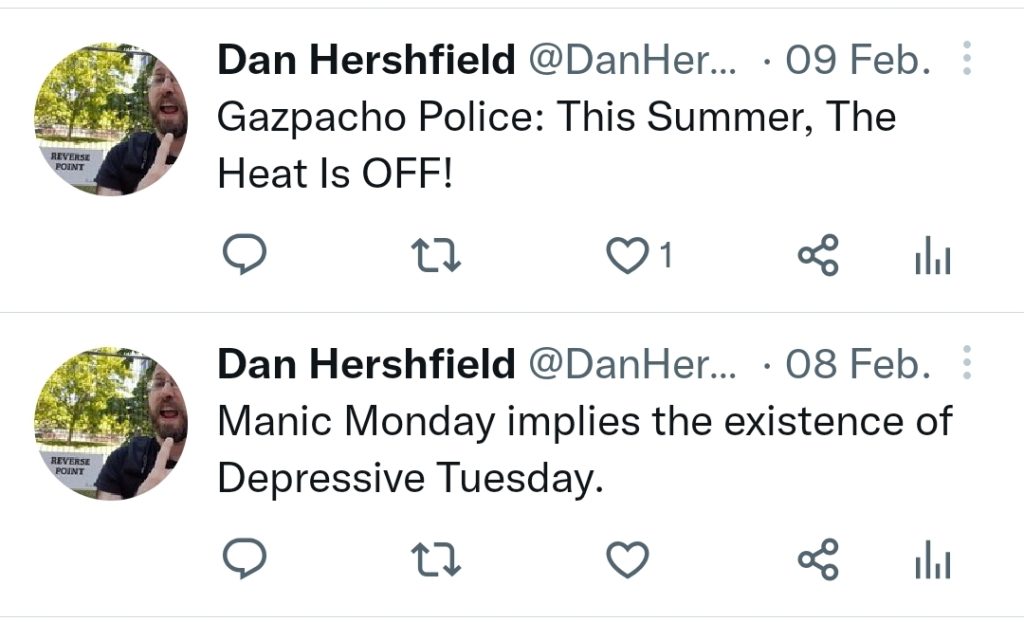 I share my script with Jeremy L. It doesn't grab him, but I'm very appreciative he took the time, and I feel cool for putting it further into the world. Though it does also start to feel like it might be time to move on to the NEXT screenplay…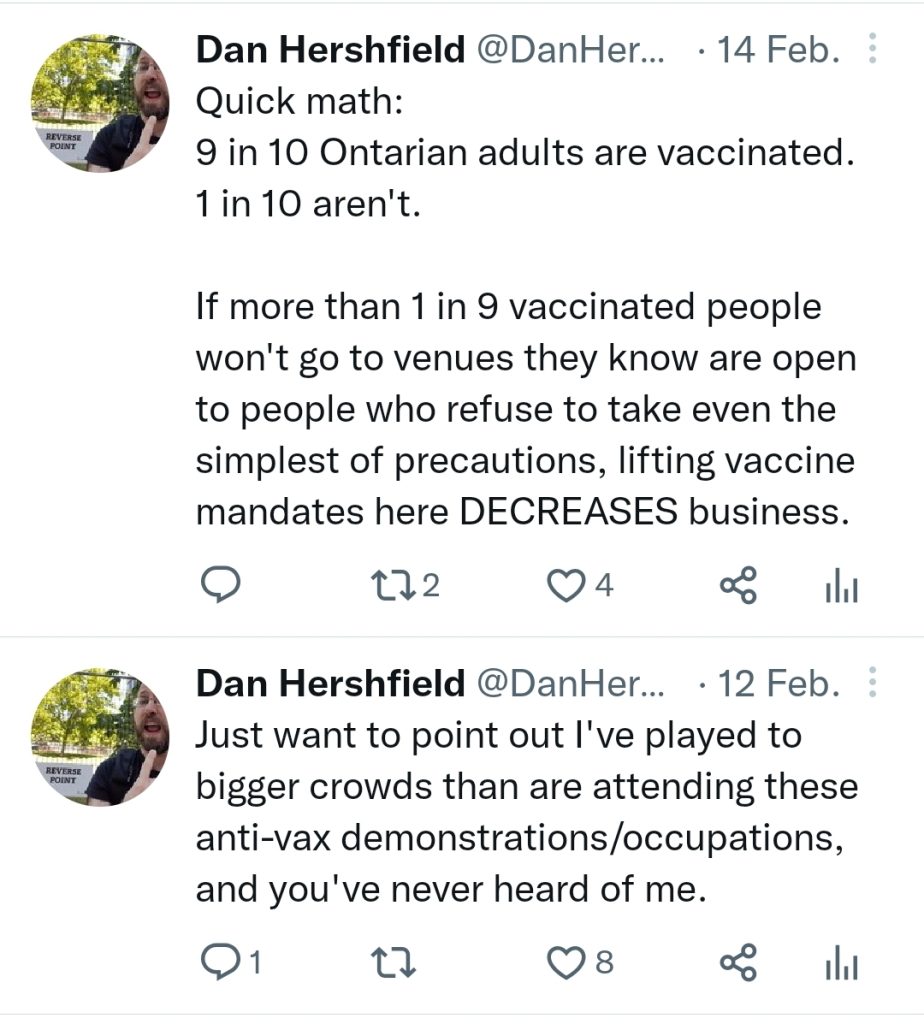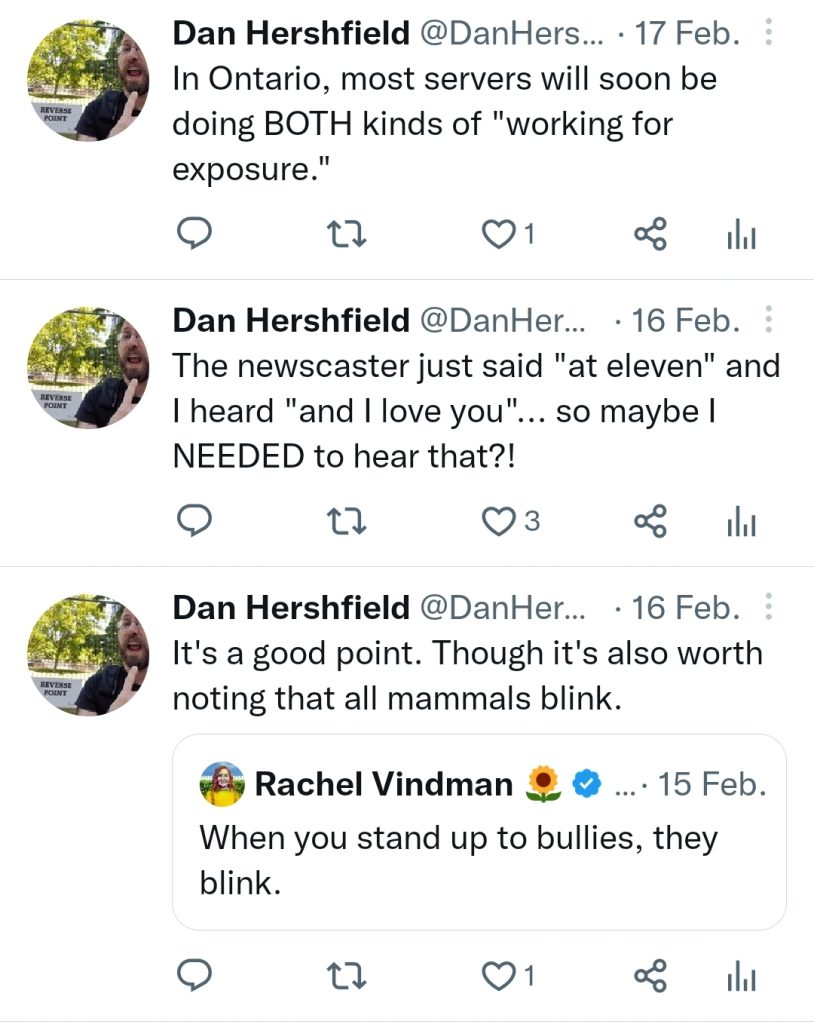 I renew my membership at the tennis club. Clearly, the pandemic's still happening at this point, but I'm willing to travel to get my game on. I want to live, damn it!
But not too much, clearly, because I was also doing Quordle daily.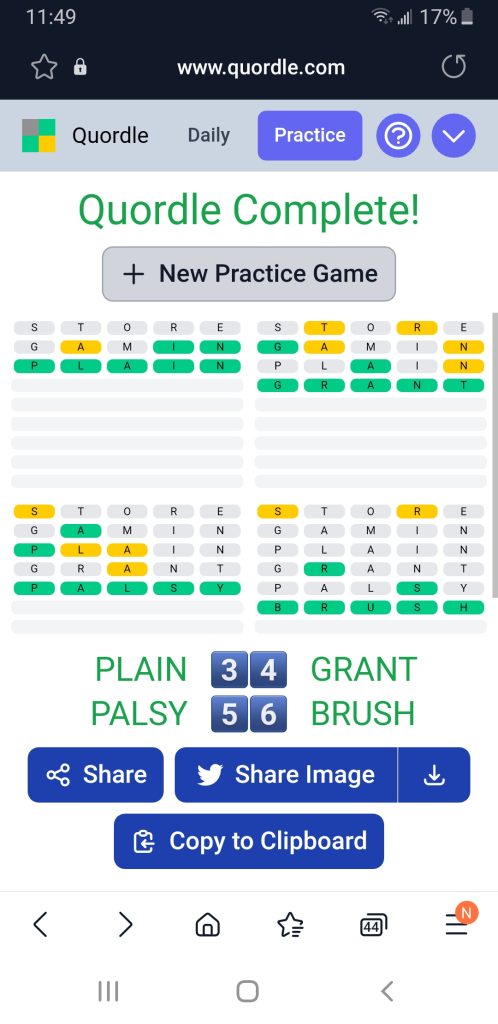 And at the end of the month, another Food Trucks jam! I don't know if they're all noteworthy, but I mention this one because I finally thought to take a picture. Mind you, it's a selfie done badly because I already had my bass on, and I also had to do it while we were warming up, because how the hell do you expect me to do it when we're playing?! Still, photographic evidence!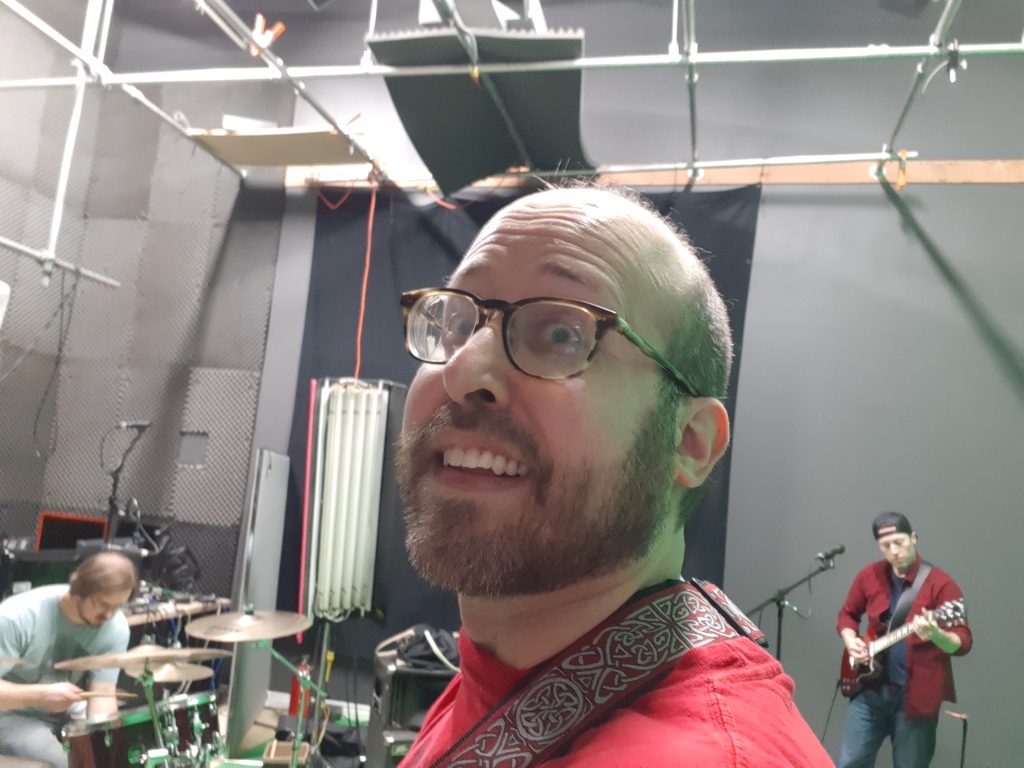 March:
Let the culinary adventures continue! We made what Mr. Burns would call (and thus, what I would call) a "meated loaf." This one's turkey-based. I also make my biggest culinary fuckup, and part of the paper from the ground turkey ends up in it. I mention this because hopefully it's my low point… and also because it was still quite good! (Nice when the failures in life are partial!)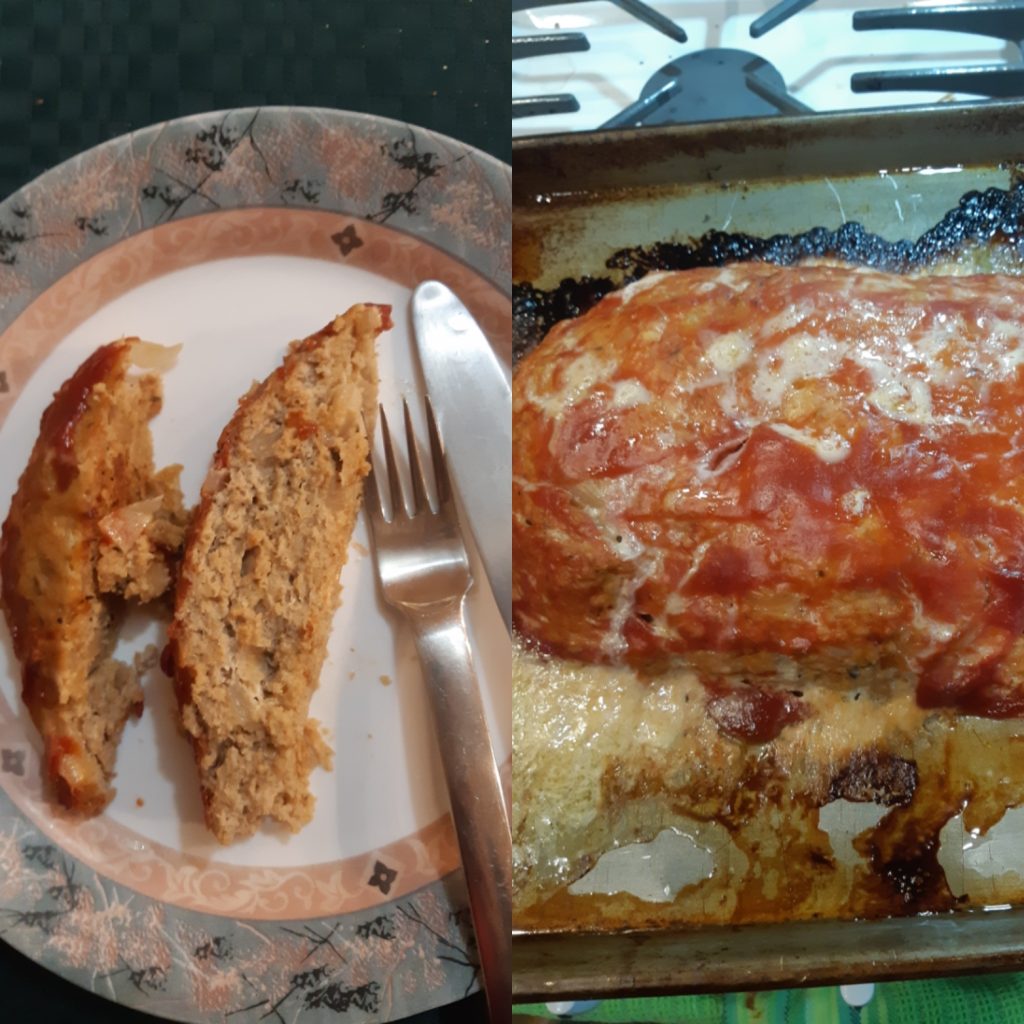 I have a Zoom hangout with the Northern folks. This is late in the Zoom hangout era, and though I can't say I miss them terribly (Zoom hangouts, that is), in a pinch, they'll do.
Good news and bad news, and I'm going to give them in that order because while it's worse narratively, it's better emotionally. The good news is there's a (relatively) good kind of leukemia. The bad news is my mom has it. My understanding is that you can live with it forever (well, not FOREVER, but… you know…), but it does have to be treated. And the medications take a long time to figure out, at least in terms of avoiding nausea. So yeah, fairly rough times. But we endure…
A movie night at Ian and Jen's. Which, if memory serves, was fairly pandemic-bold for me. But even bolder: with my run still on the shelf, Matt starts a basketball run of his own at Eastminster United Church. And I get to go just as a player! And the relatively low ceiling makes it feel like a prison game… but very white collar, given our temperaments.


I get accepted into the GAP. (Not the store. A different thing.) I end up doing absolutely nothing with it, but I guess there's something to be said for flirting with options. Beats my normal modus operandi of waiting for death… which I guess is basically what I'm doing now, but hey, I'm maybe thinking about things, back off! (And see next year, 'cause you never know!)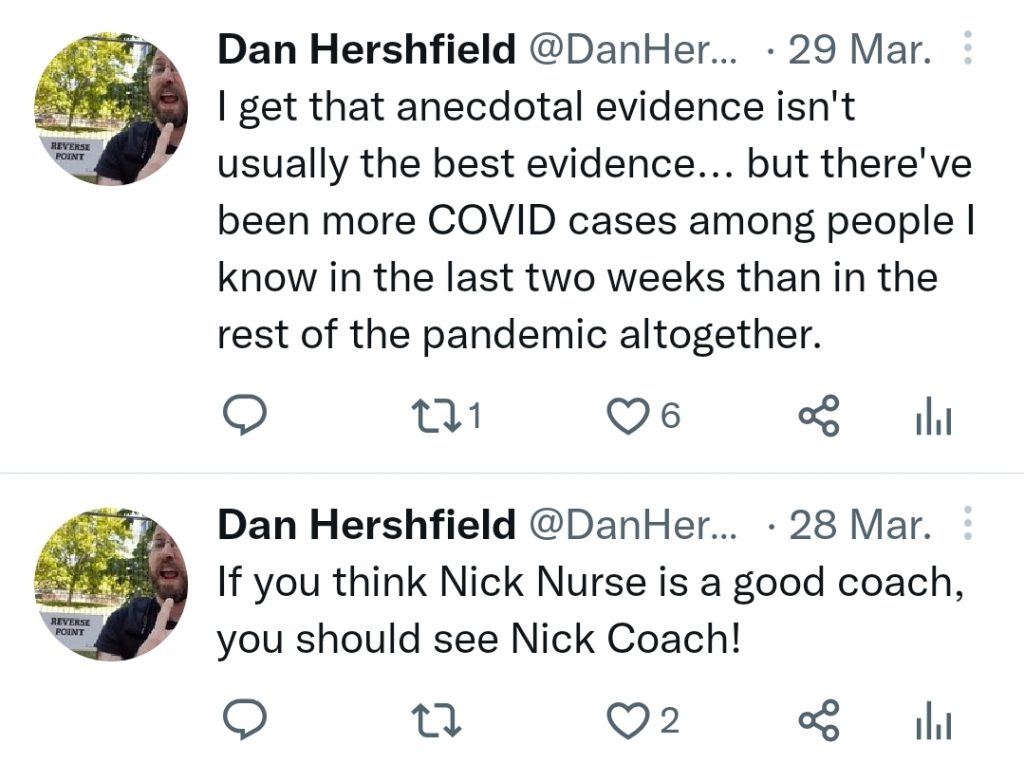 Kind of odd that's what I tweeted on the 29th, because on the 30th, I go to Second City for the first time in forever. Albeit with a mask on, despite clearly being one of the few to bother. But it was Natalie's last show, and I wanted to pay tribute. Also pretty curious about the venue that now exists as Comedy Bar East or Comedy Bar Danforth, depending on who you ask. As it turns out, it seems pretty likely that Evan and Jen got COVID that night… but from the sub place they stopped at before!
April: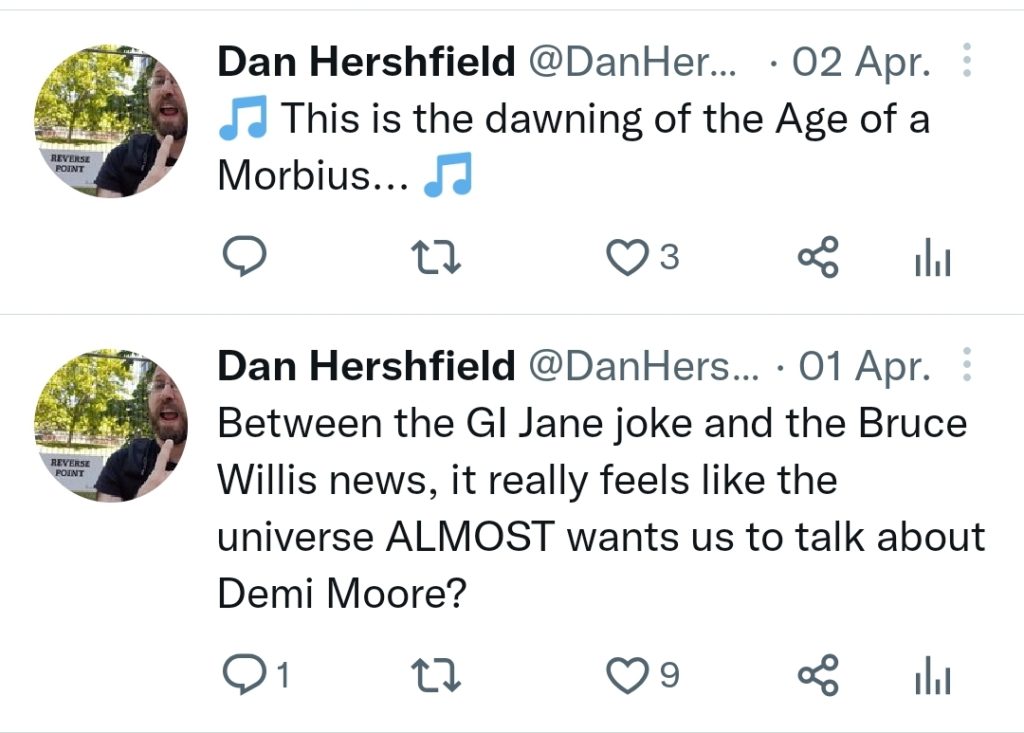 I do one of my standard walks. But I decide to go THE OTHER WAY along the boardwalk. And that has made all the difference, etc.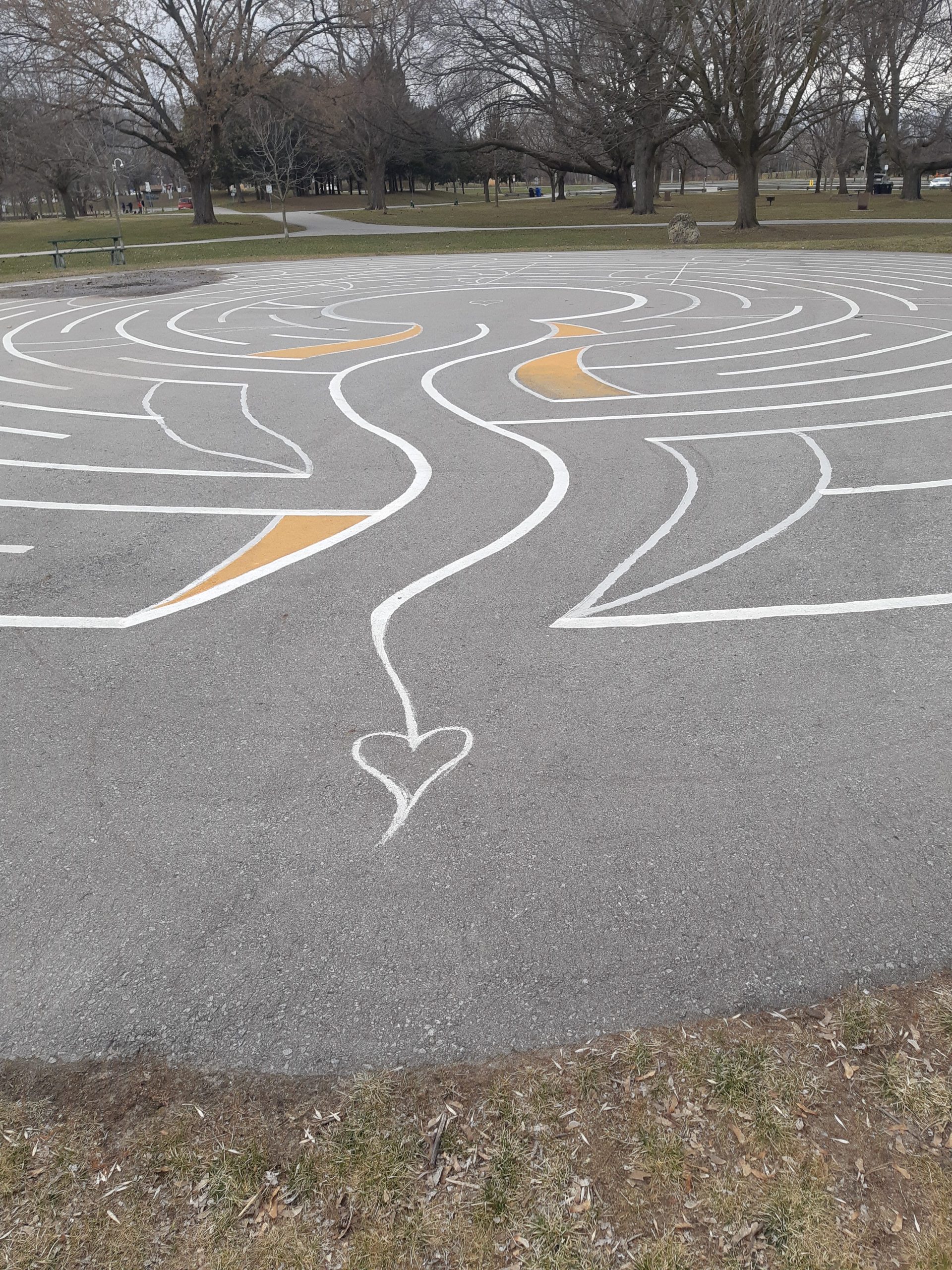 I'm officially NOT a quarterfinalist in the TSL Free Screenplay Contest. I will say, screenplay rejection feels better when you're not relying on it to live. Though maybe I take it TOO easily?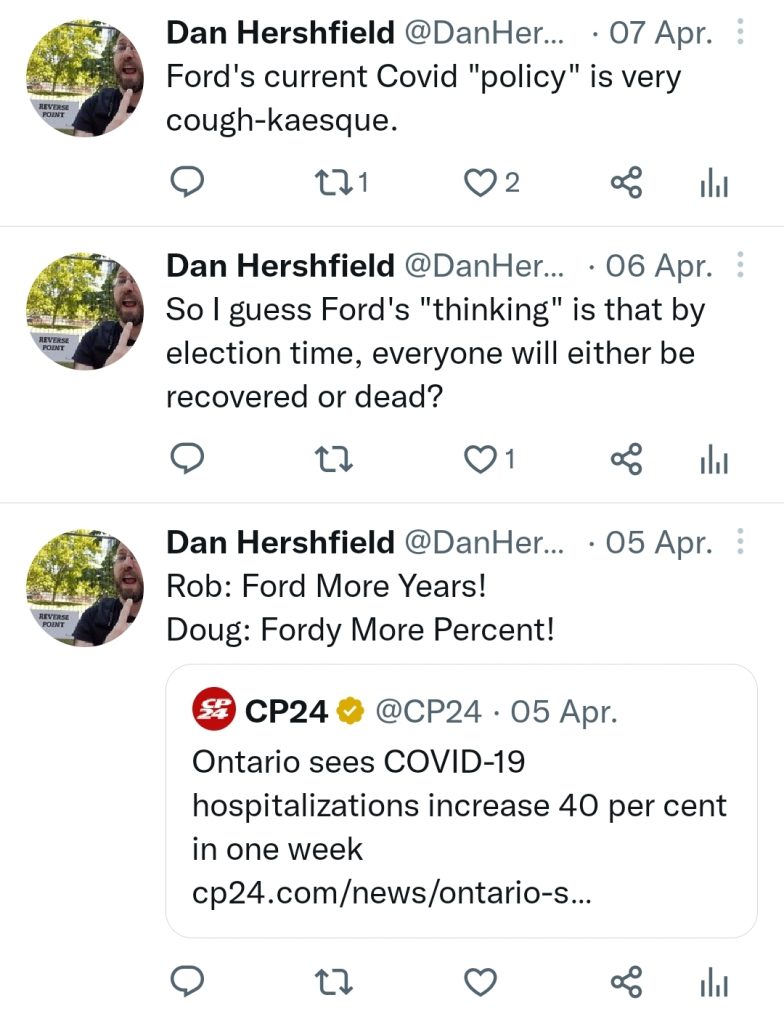 The Winston Churchill season opens. My tennis odyssey (re-)commences!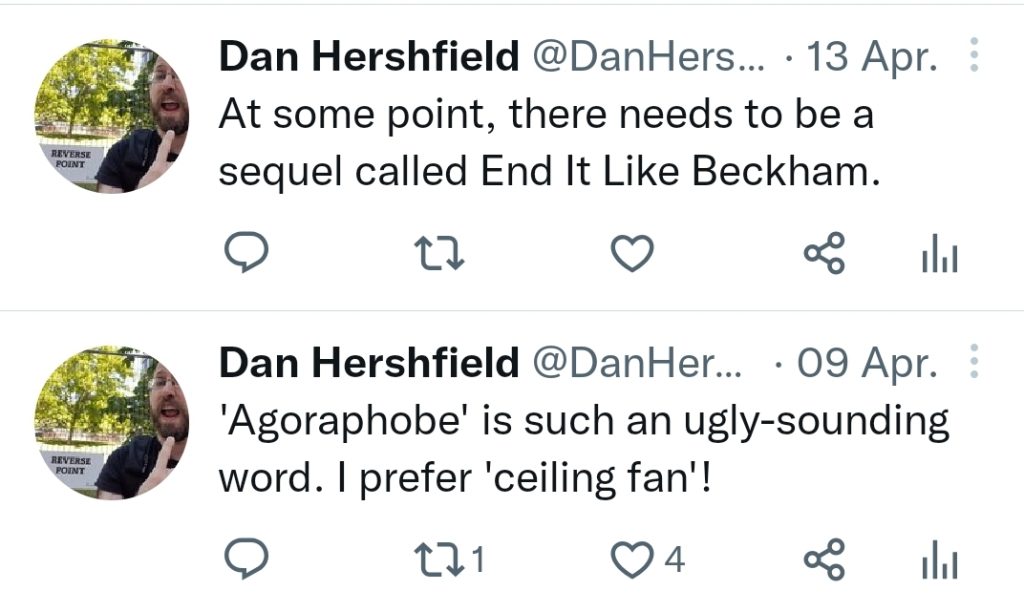 We don't PASSOVER the opportunity to cook! Mom makes a matzo ball soup, and we make a sweet potato kugel. As I write this, I really wish I had both those things right now!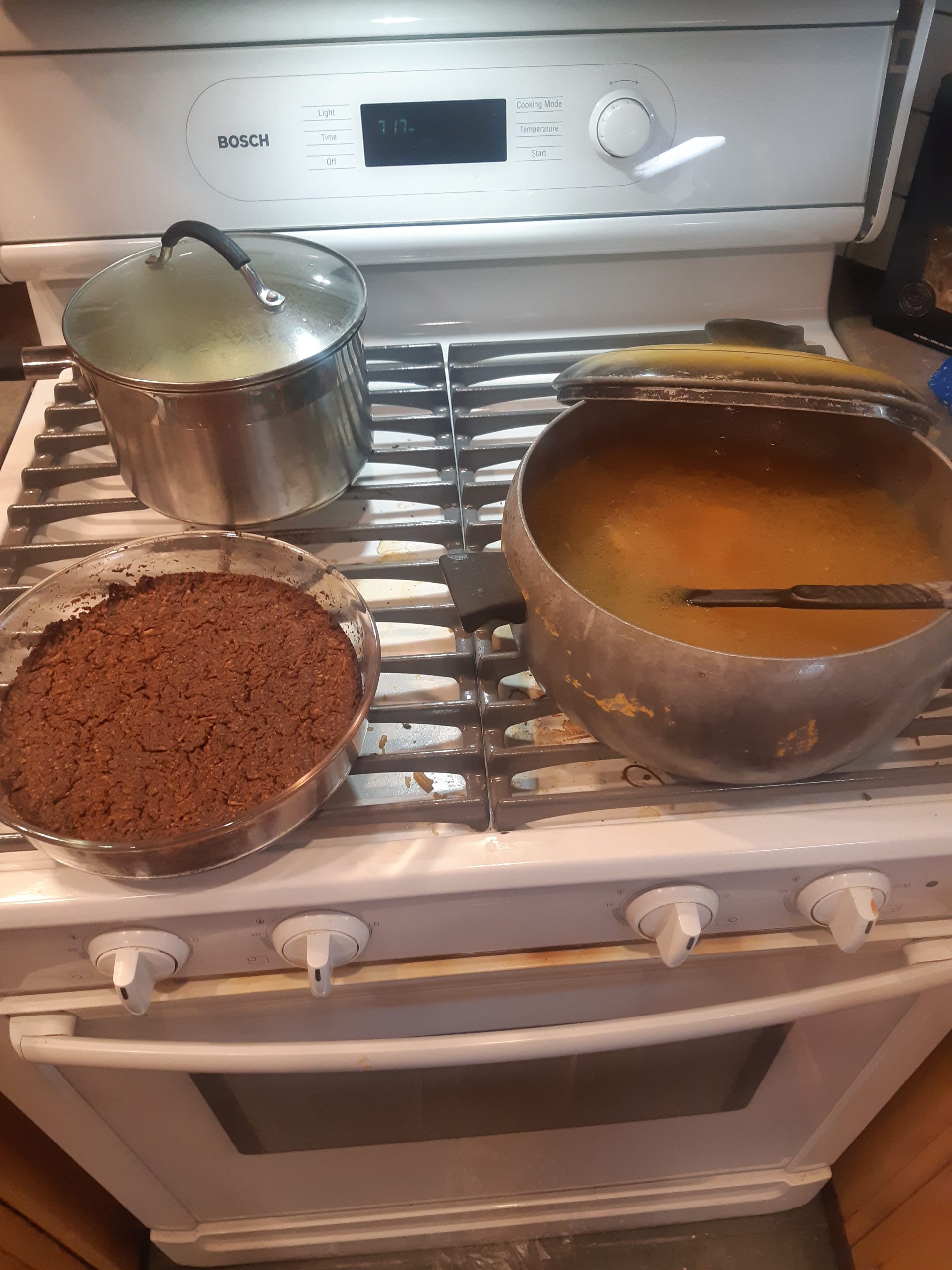 I have what I believe is my first tennis game of the season with Larry. (I'm working off my calendar eight or nine months later, folks!) I really don't remember how it went, but I assume it was fun.
Jen has a couple of us who gave notes on our screenplay write a release. It feels very grown-up, and gives me hope that I might get a big-screen Special Thanks credit one day. Which I'd mostly be okay with… although I would think people who stumble upon my IMDb page now probably just think I left the business, so it might be odd if suddenly credits start appearing again. But them's (admittedly hypothetical) good problems!
May:
I take some Excel courses, and they are Excel-lent! Well, actually, I retained relatively little, but I'm pretty sure a lot of it would come back to me, and I still have the syllabi and cheat sheets and whatnot, so time well spent.
Dave comes to town and we hangout in Greenstein's backyard with Mark also in attendance. It's a hang that's memorable to me because it's one of the only times I've been in the bottom half for COVID-caution. (And Dave lives in America, so he was obviously going to be the most cavalier!)
Google makes me sad…

And I resist the urge to make a VERY dark joke about the following tweet. (See if you can guess what it was going to be. For what it's worth, it was strictly about the logic!)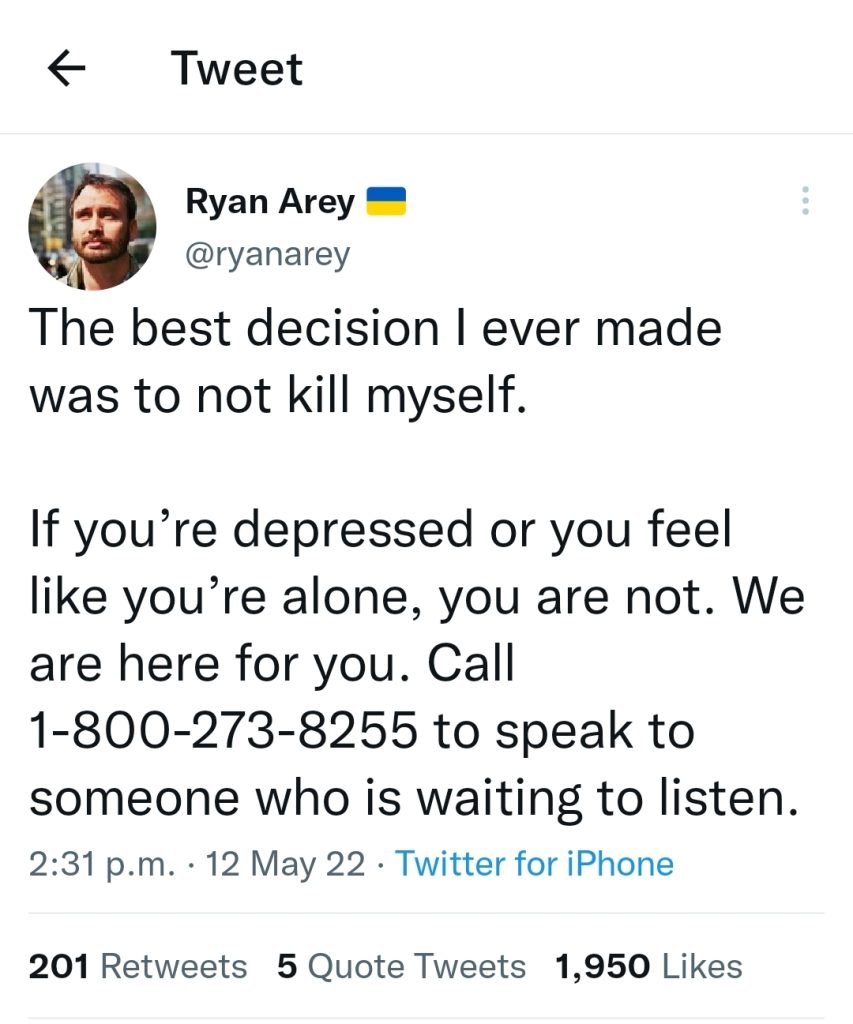 And speaking of tweets…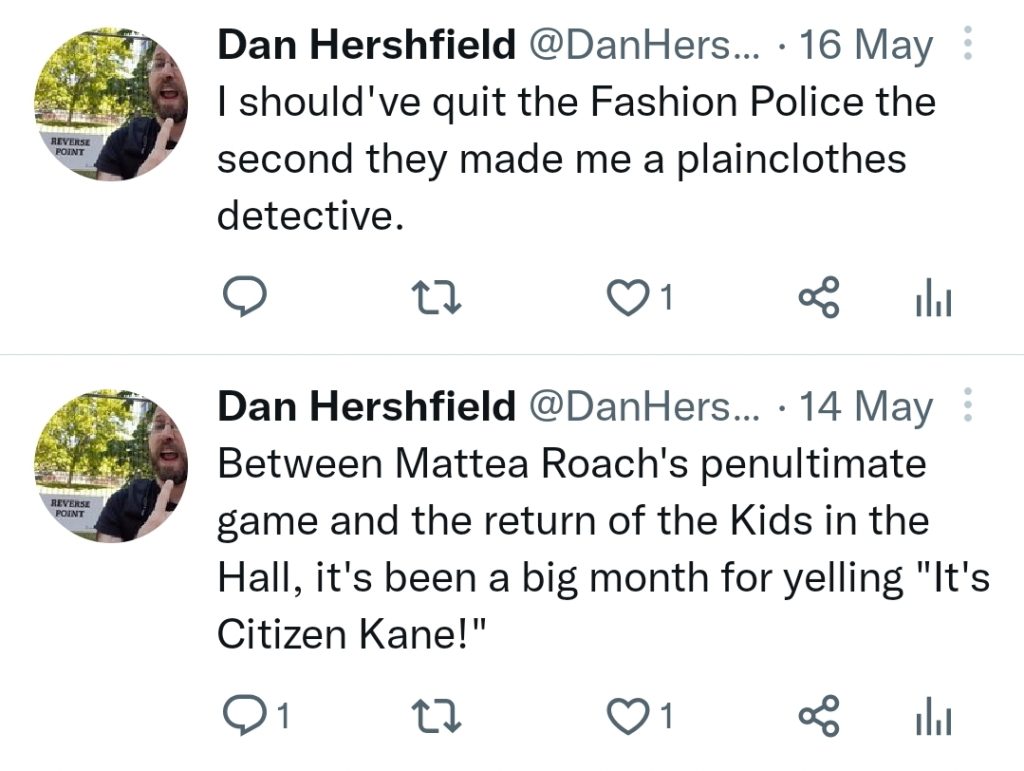 We do brunch at Tom and Lindsay's. Why don't we do this every day? Well, I guess that's impractical…for now…

Someone about to quit shares a text of the boss drunkenly shitting on me. Well, drunkenly shitting on a choice I made, at any rate. Happy to report my reaction was almost exclusively amusement!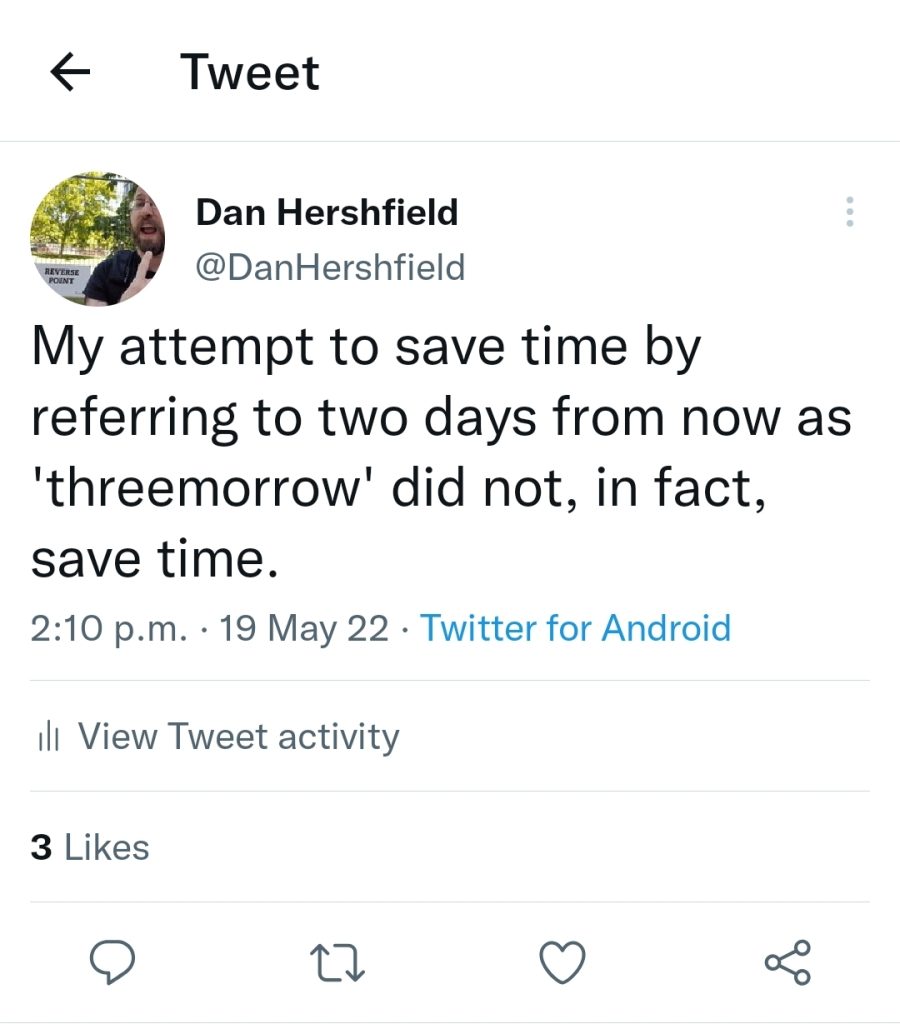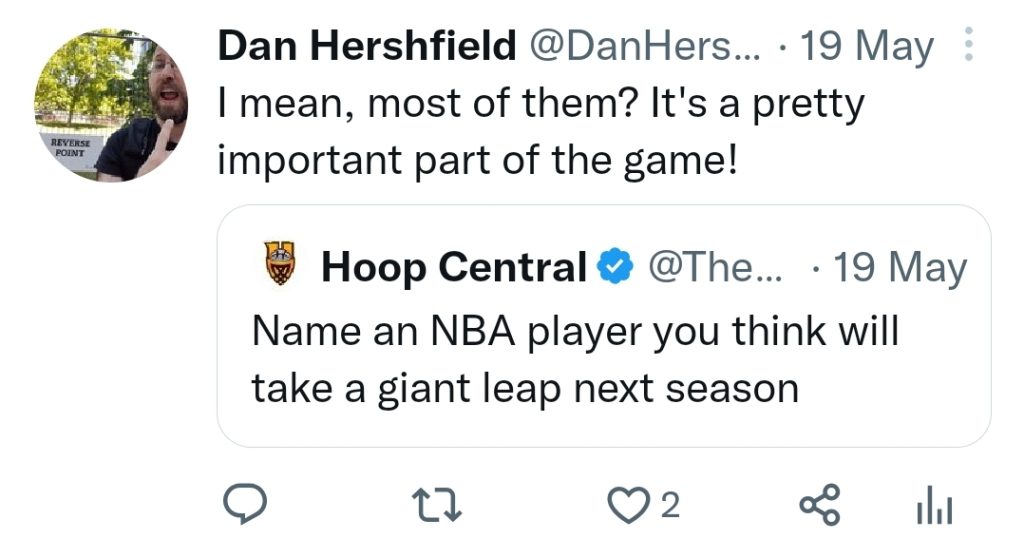 More Marty at Cherry Beach!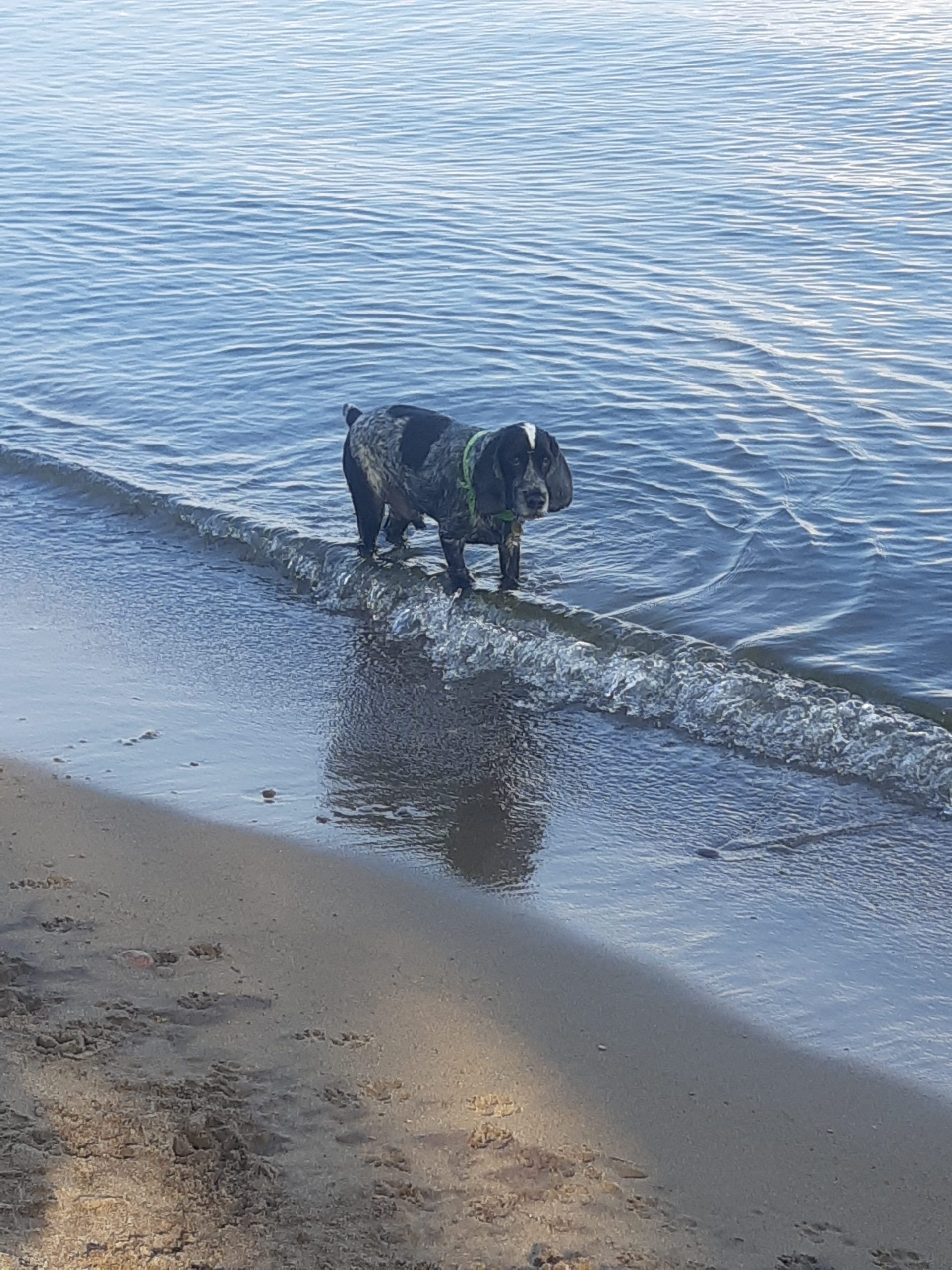 Then another Food Trucks jam….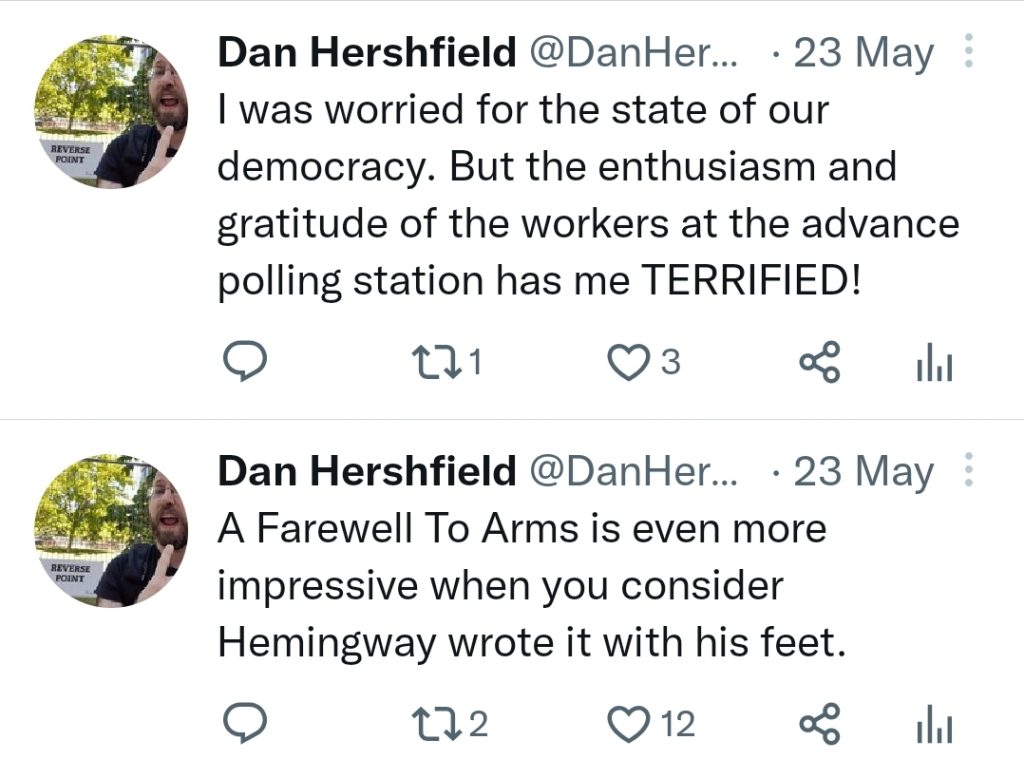 And then Ian's annual BBQ! Always a good time, but this one means a little more because I'm seeing everyone so seldom these days!
I find a nice spot at Tommy Thompson Park. Especially if you don't mind geese!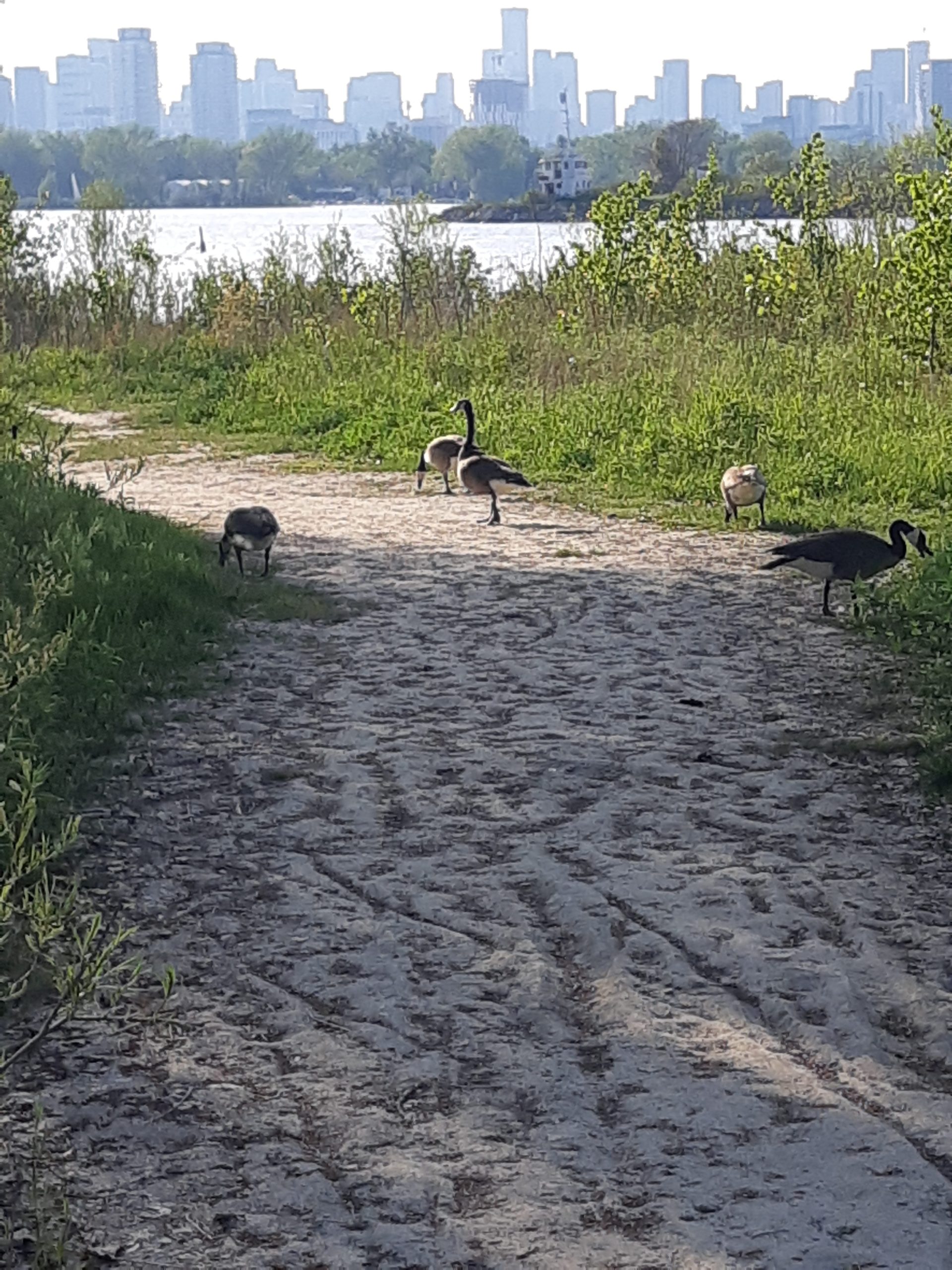 A big development for me at the end of this month: I start taking TENNIS LESSONS! Guess you're never too old! (Or possibly you can be too old, but I'm not… or I am and don't know it. Either way, it happens!) They're group lessons, and it's called "Attack Drills and the Art of Volleying" Finally, after all these years, I start going to the net. Not all the time, but a lot more, and when I do, I slightly know what I'm doing!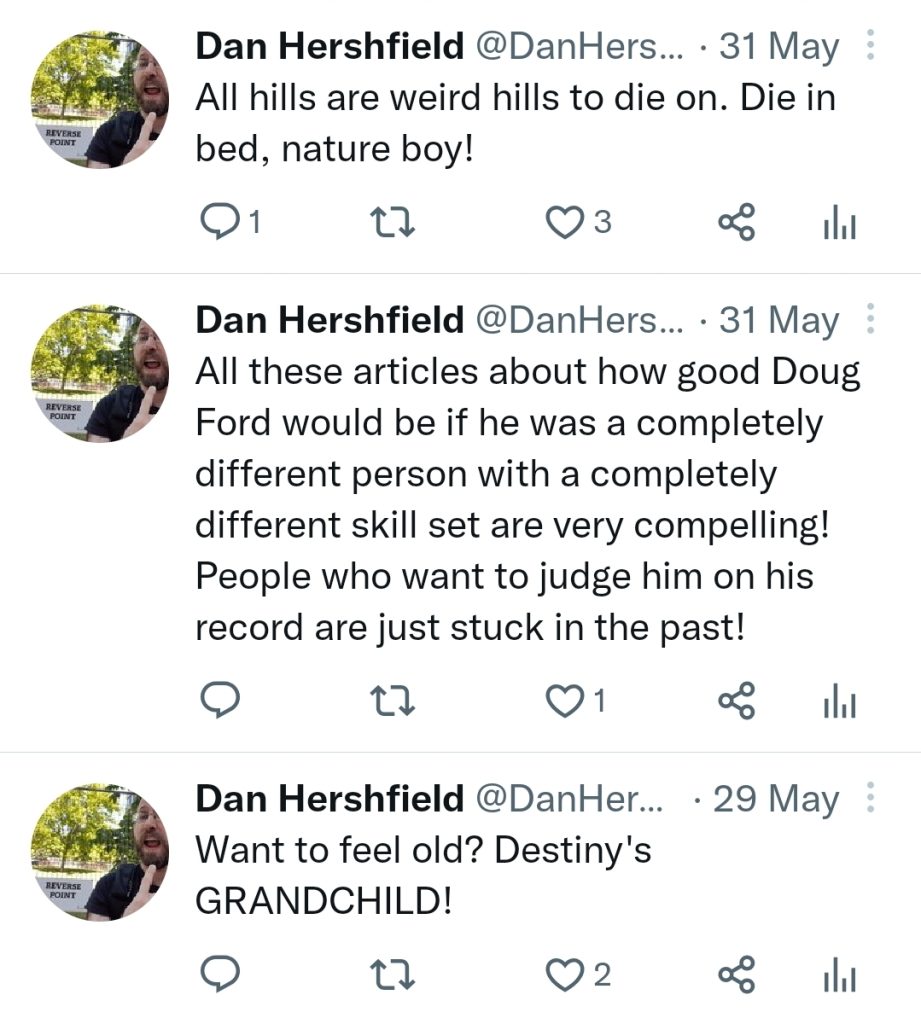 And to close out May, I have a fun text exchange with my downstairs neighbor Amanda. Because of the dark humor involved, I'm not going to share it. But suffice it to say, she's Dutch, I'm Jewish, and I essentially live in her attic.
June:
The Ontario election with the lowest voter turnout in history. Not only is the province becoming a shithole, there's little or no hope it can be salvaged. But I digress…

More Excel learning! As Clay Davis would say, "Sheeeeeeeets!"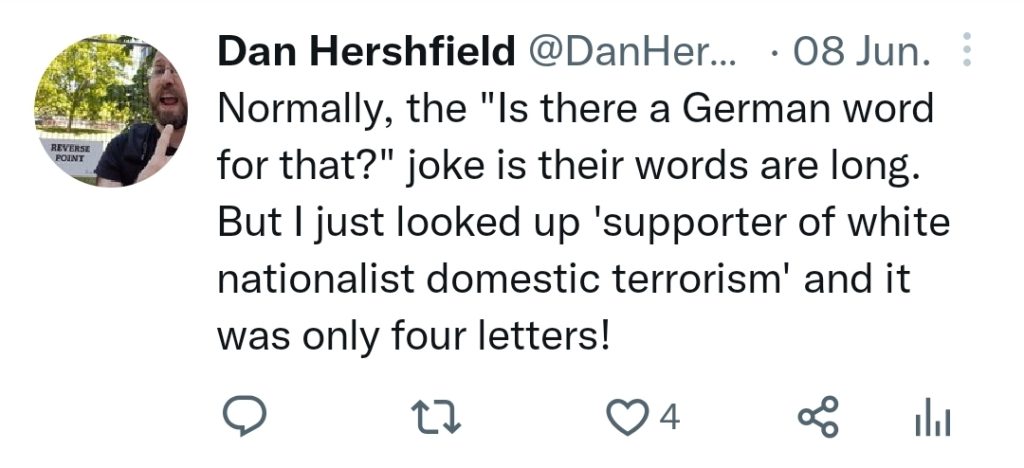 I play tennis with Andrew I. (That's an initial, he's not Andrew the First.) It's especially noteworthy because unlike most years, we don't just talk about playing more than once, we actually do it! Also, I think he's the only one I kept score with (as of now, tennis is mostly for rallies), and I won… albeit with some generosity on my serve. (We counted "close enoughs", which benefited me much more than it did him.)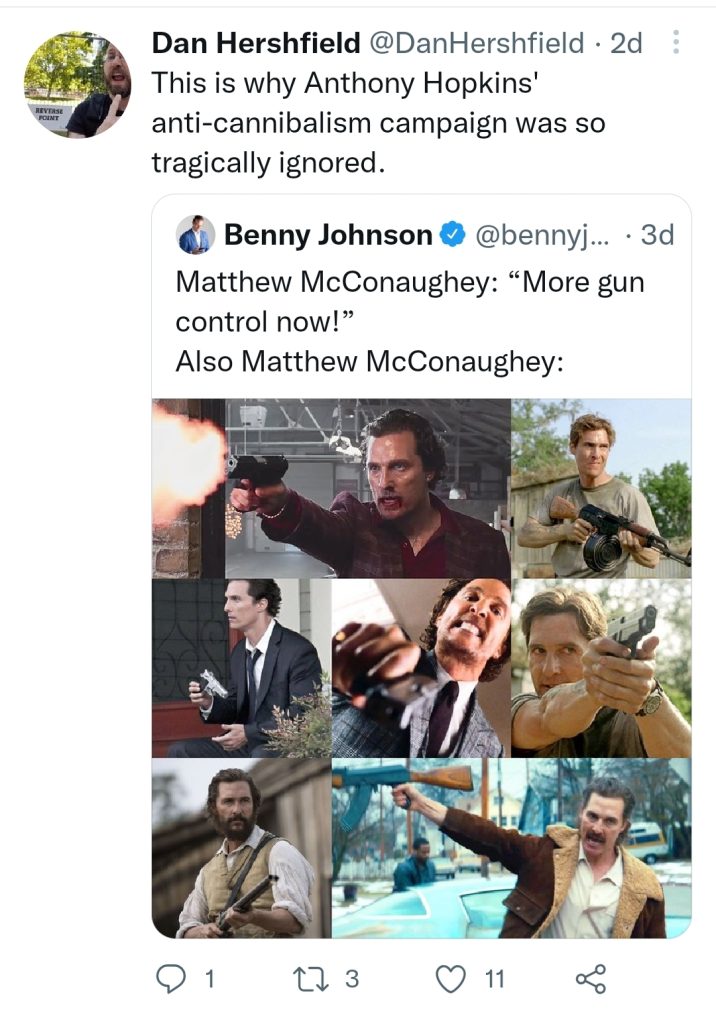 Beware the Ides of June! I believe I had Churrasco for lunch, ordered JFL tickets, and enjoyed a movie night at Ian and Jen's. (In my mind, All of Me holds up… but a few parts haven't aged too well! Yikes!)

Food Trucks rehearsal, more tennis (including a veritable tennis tour with Isaac)… let's hear it for summer!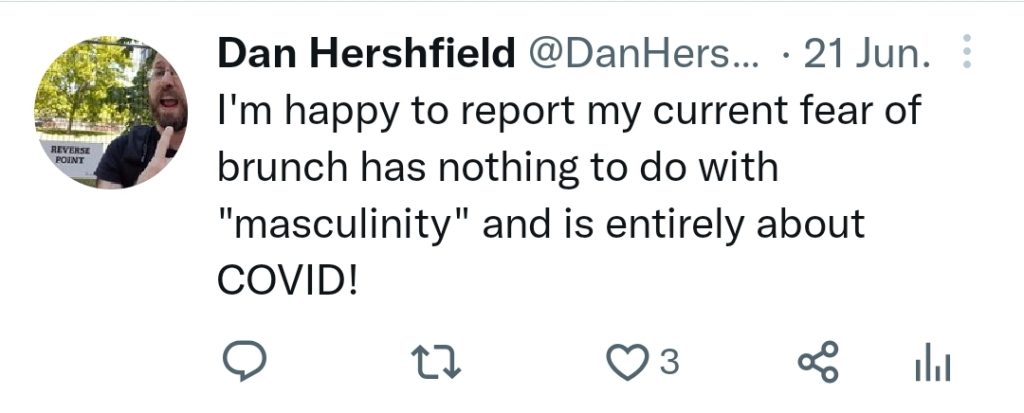 Okay, time for another sad one. Guess I'm at that point of life. I attend (virtually) the memorial for Bryan Wade. I learned a lot from him, he boosted me well, and he's the reason I'm a published playwright with productions from people I've never met. Nuff said, I suppose…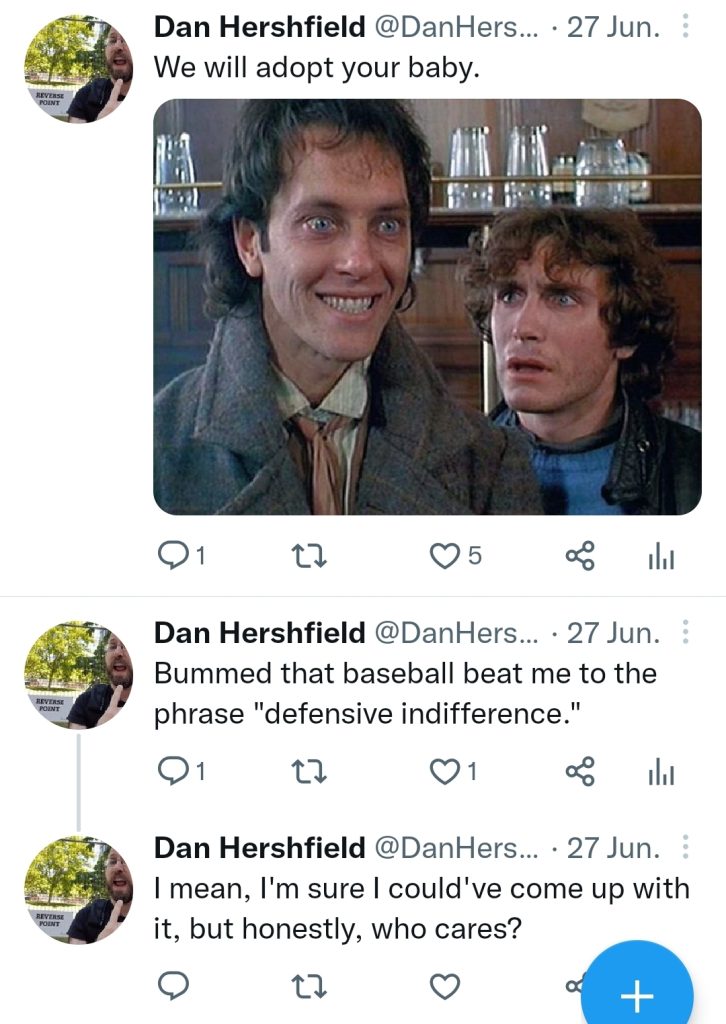 I reach a major milestone for the pandemic: I get back on the TTC for the first time. So go, me? It was also to get to my last tennis clinic session, which I followed with singles with Larry. So a couple hours of tennis, which I guess is the organic version of a COVID test?
July:
July starts with a two-dog weekend! I get picked up by Larry (and Marty) and spend a little time at the house… then we go to a BBQ at Evan and Jen's where we meet Kelly Kapawski!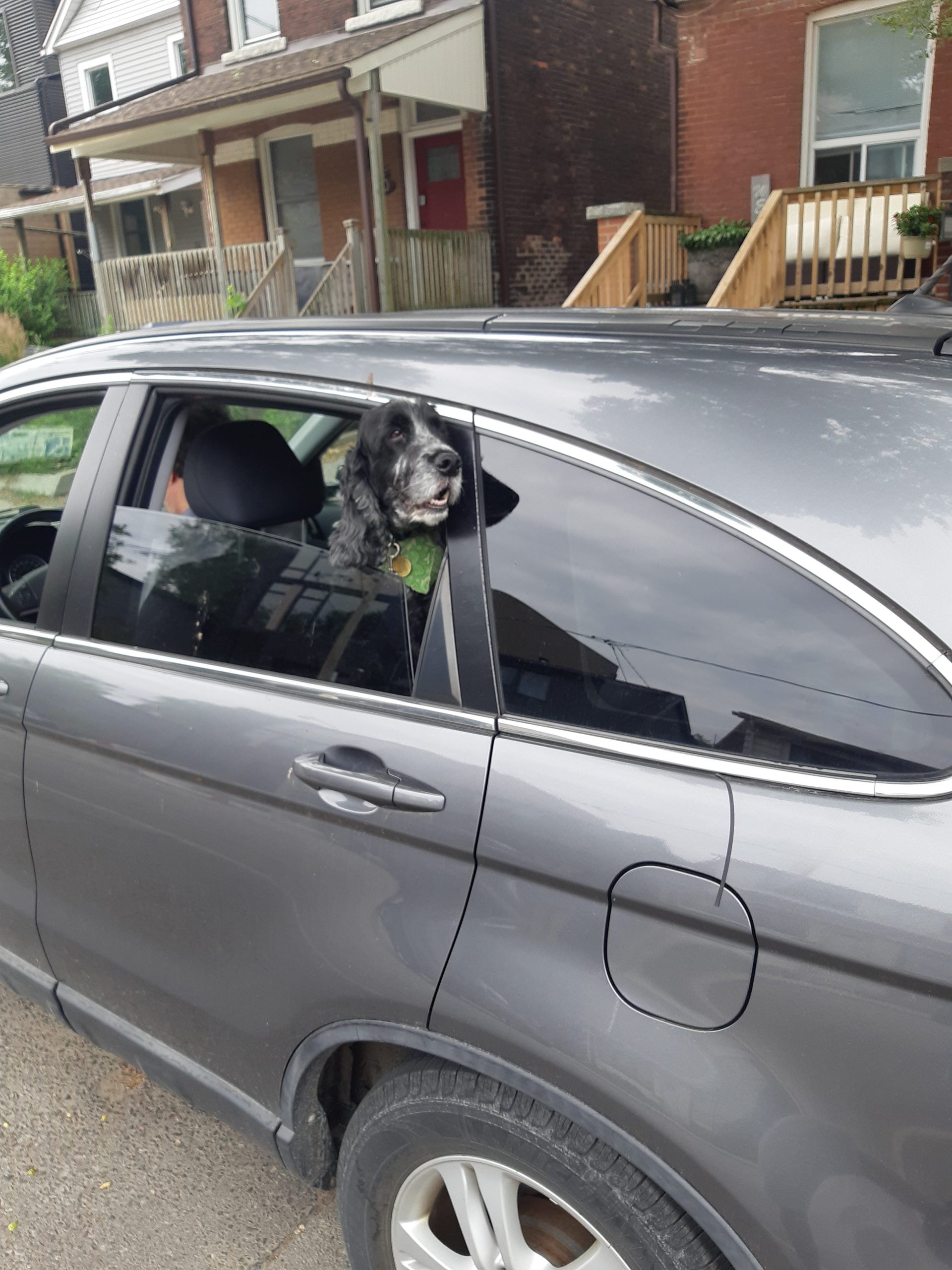 Very cute, I'll admit… but I'm staying loyal to Marty! HE'S A LITTLE ANGEL SENT FROM HEAVEN!
Anyway, this was also part of a hardcore tennis week, maybe my most thus far? Anyhoo, tennis with Larry on 1st, Rob on the 3rd, and Ian McD on the 7th!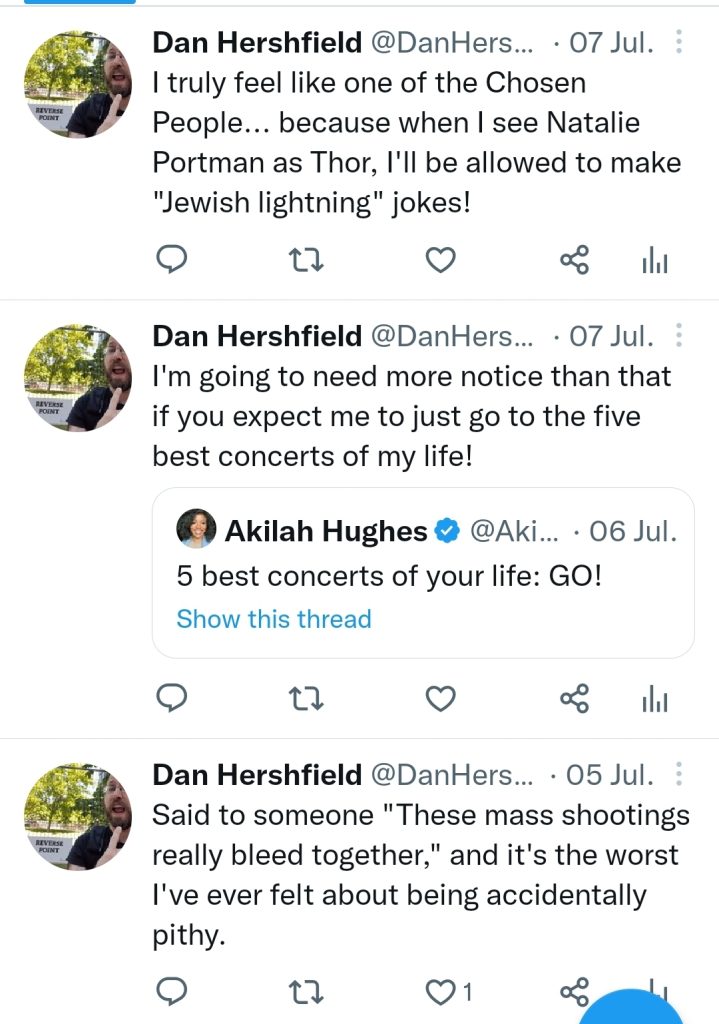 I go to Jimmie Simpson Park for an Alanis Morrissette tribute band. Just thought you oughta know!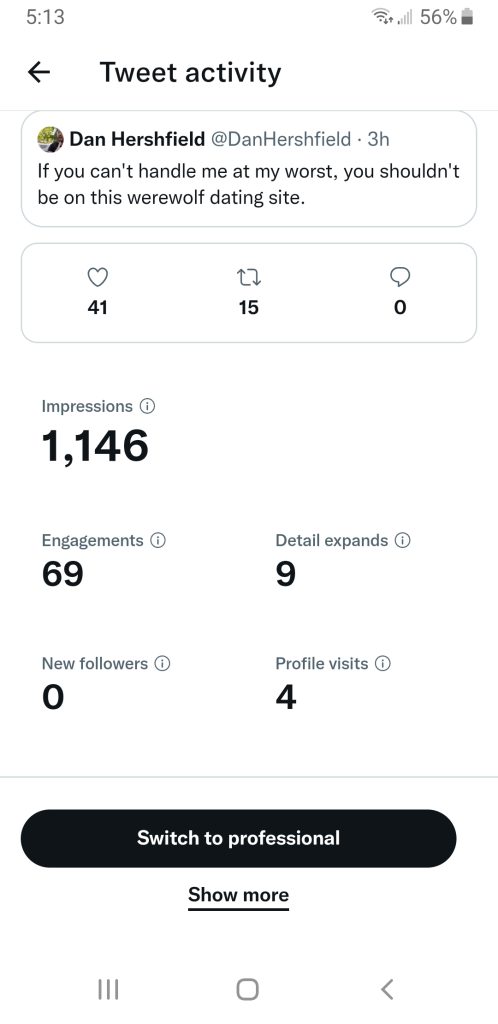 Another year, another Fringe! I didn't see much, and what I did see, I wore masks to. But I supported the right people, starting with Isaac's 1-Man No-Show (9th), Sketch T-Rex (followed by a roti and a walk to Jenny's for the Bachelorette), and back to back (on the 14th) Jon Blair's Clip Show & Devon and Connor's Flight of the Ballooncaster. Efficient!
And having survived all that, I get a booster a few days later. Then we take Marty to Cherry Beach, where he's both cute and petite!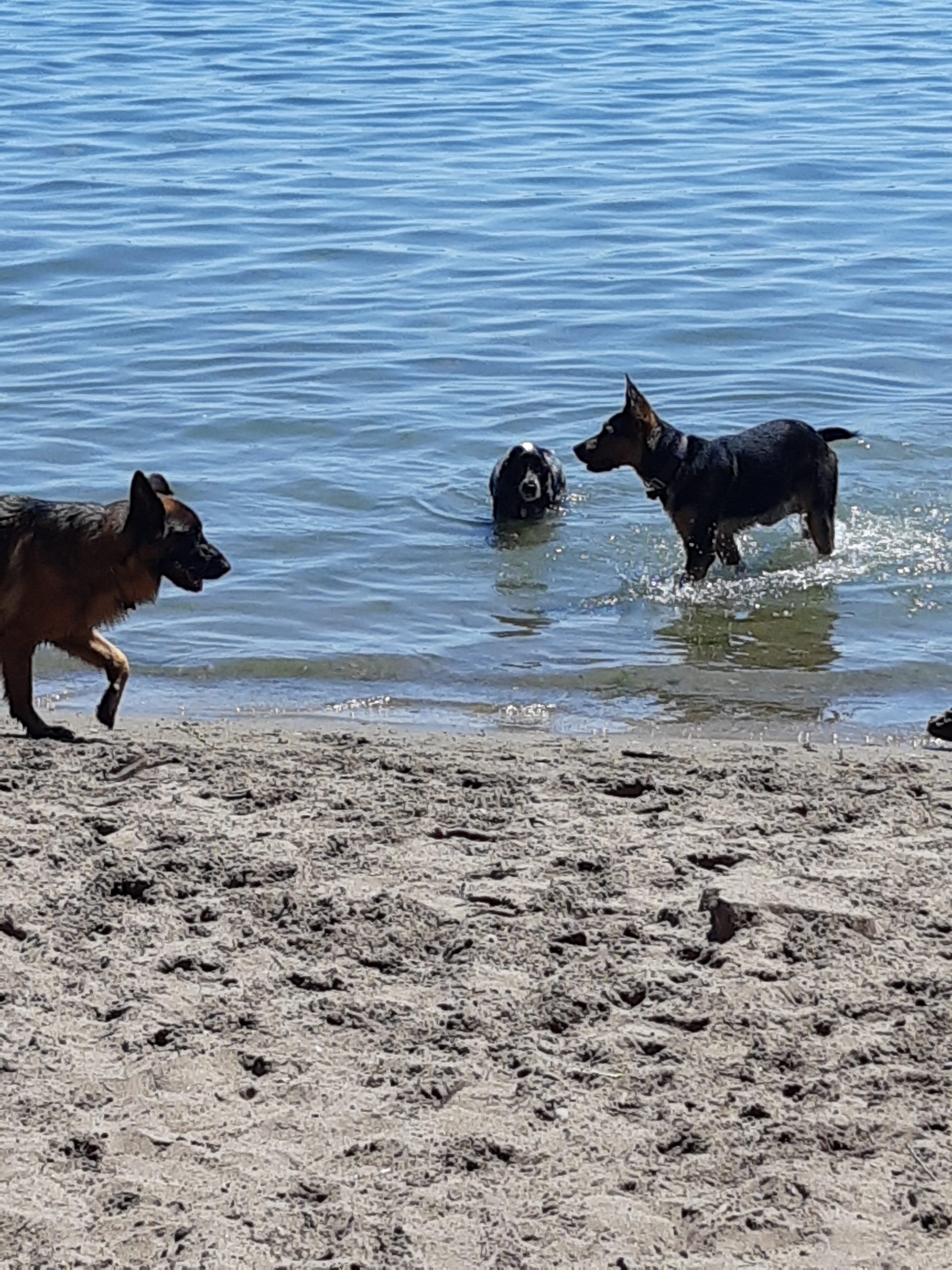 And that night, I wrap up my Fringe with Aliya's "Where You From, From?" As she was at one point a playwriting student of mine, I choose to give myself a very undeserved modicum of credit for her success!
Then the next night, a movie night at Ian and Jen's (EEAAO, maybe?). And the next night, tennis with Greenstein. Who is this social fella?!
I return to homebody status, albeit not at my own home. I stay at the house with Janet and Marty while Evan and Larry are in Vancouver for Gabe's Celebration of Life.
Towards the end of the month, tennis with Judy. Suffice it to say, in the years since we last played, she has improved substantially more than I have. But she plays down nicely enough to give us some long points, and it's a hell of a workout. She also recommends a pro to me for lessons… which I mention because, hopefully, in 2023…
And keeping up the 'friends from high school' run, the boys gather at Sam's on the 30th.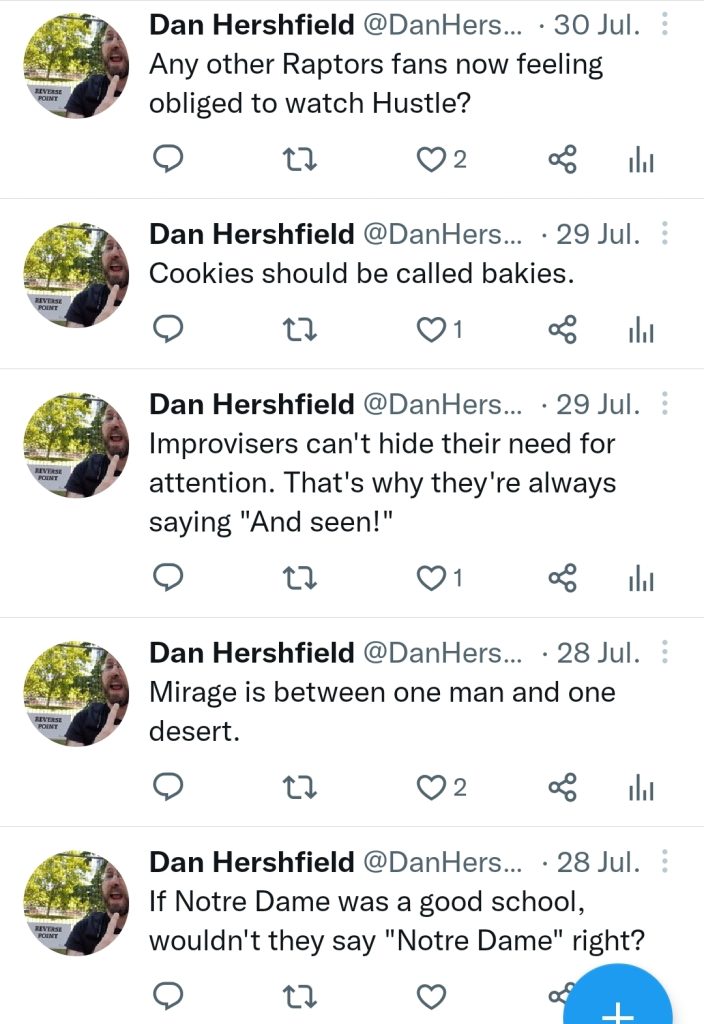 August:
Another movie night at Robin's. Independence Day! If there has even been a more popcorn movie…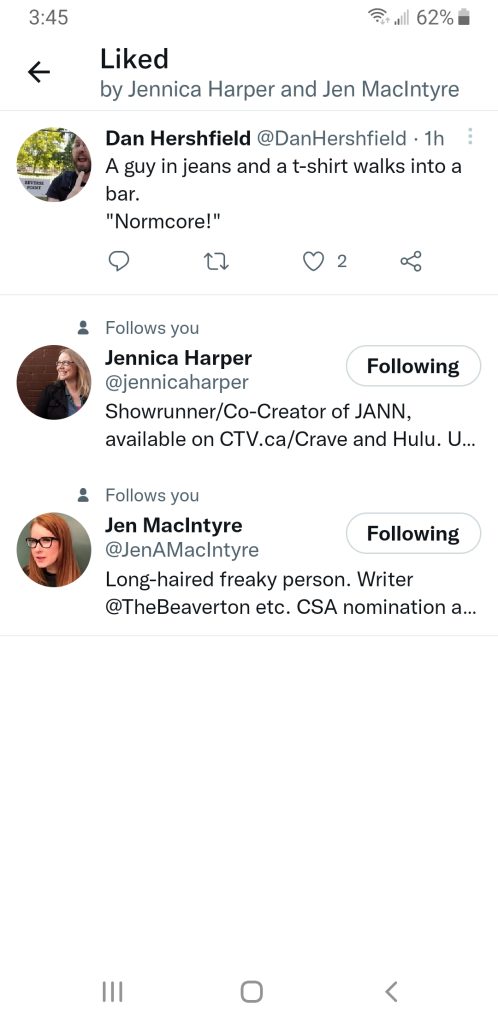 A long overdue reunion, as one of my Vancouver cohort comes to town. I take Shaun on my patented (patent pending) Leslieville+ Brewpub Walking Tour, with stops at Radical Road, Slowhand Pizza, Avling, and Saulter Street Brewery. Good times abound!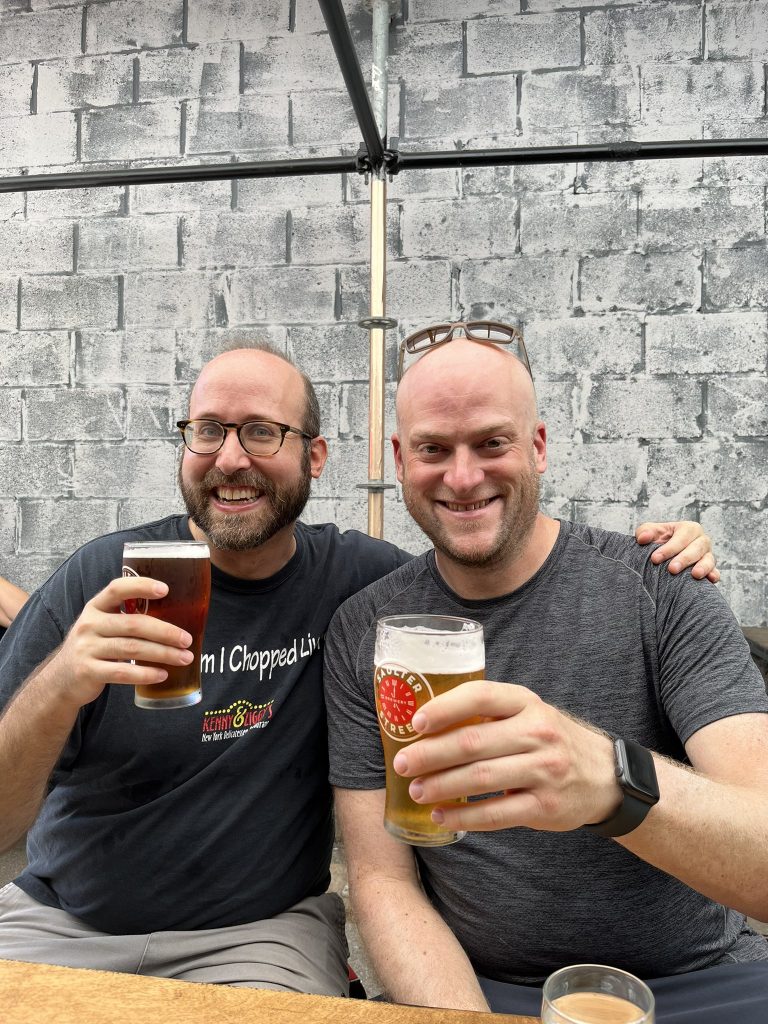 Then it's off to the cottage! Rest and relaxation and redundancy! The one bit of excitement was there was an incredible windstorm (at least), so I have to jump into the kayak and rescue many of the cushion from the Mitchells' deck furniture, which are strewn all over the deck. Nice to have a LITTLE urgency to deal with, especially since by and large, it was nicely lazy!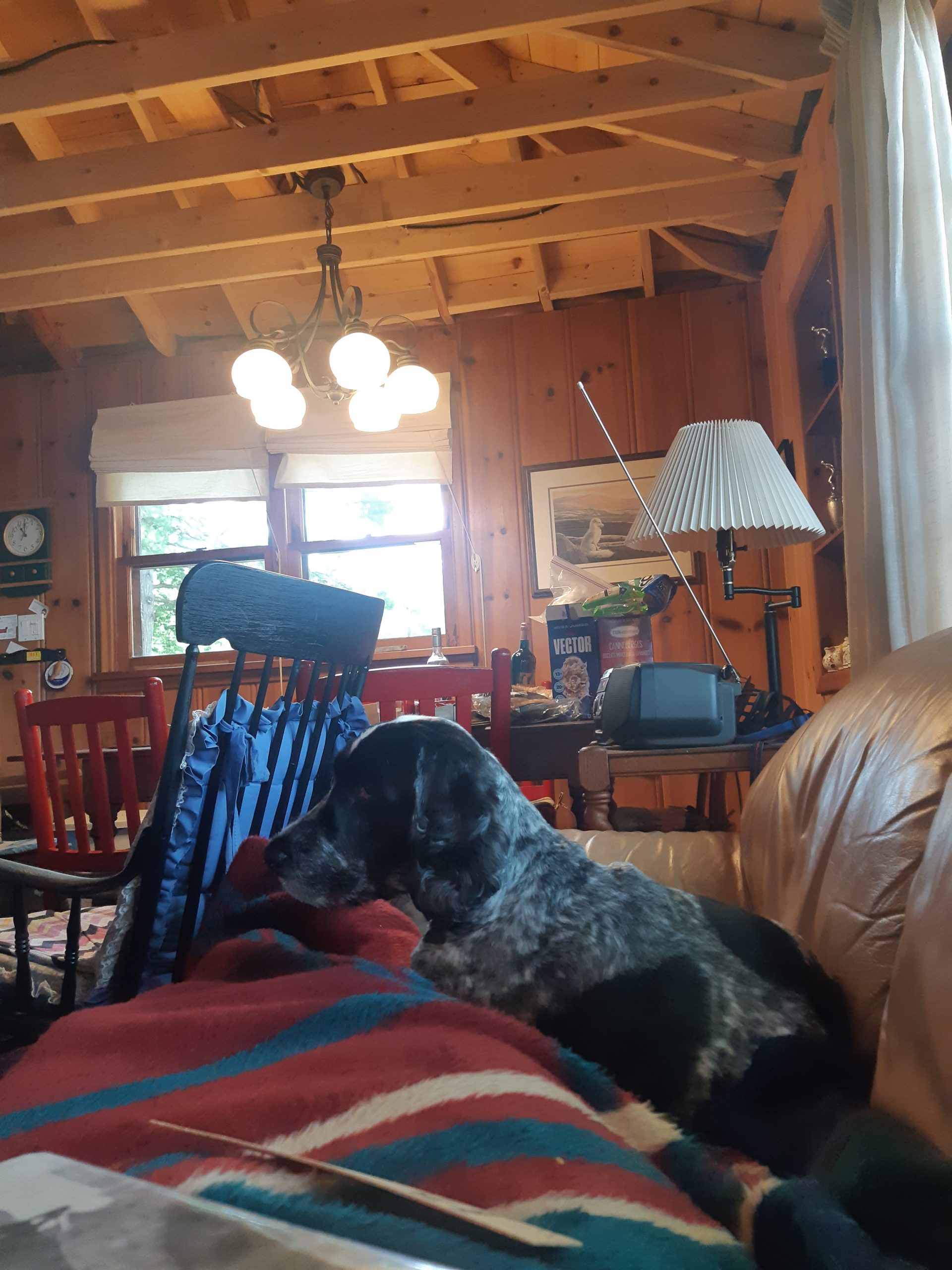 Then the cottage ends. And I tweet this.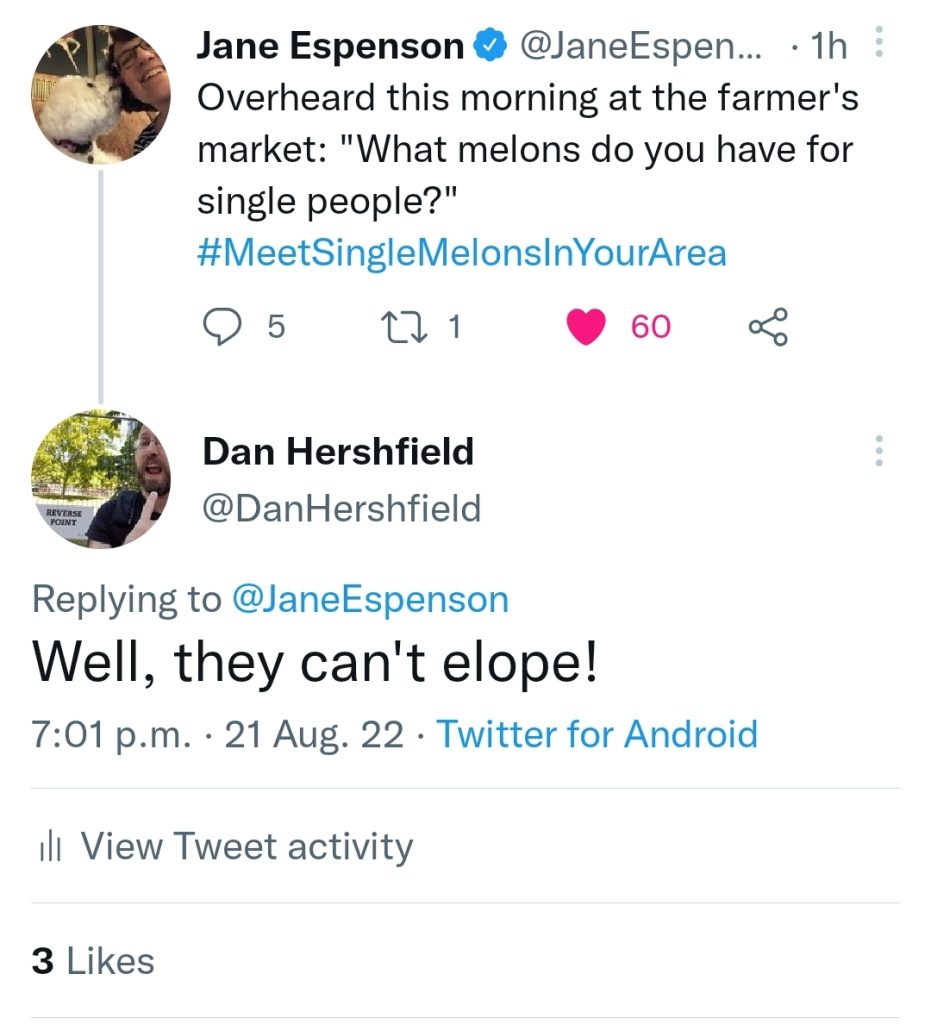 The next day, I talk to Christian B. about maybe doing a production of Chinese Coffee. Very shortly after that, I flake. And I feel bad about it. I mean, it wasn't breaking a commitment or anything… but I suggested it and then immediately began to question it. It just feels like a huge project, and if we were to take that on, it would likely be my ONE project for awhile. Anyway, I mention it here because if we ever get back to it, it'll be interesting to note the timeline. And also, because I have to decide (still) what I want my project (or projects) to be! Because while I probably can only choose one, it's terrible if I end up choosing none!
Okay, moving on… but sort of speaking of which… the next day, I end up ordering running shoes and shorts online. It leads to one run, but maybe next/this year?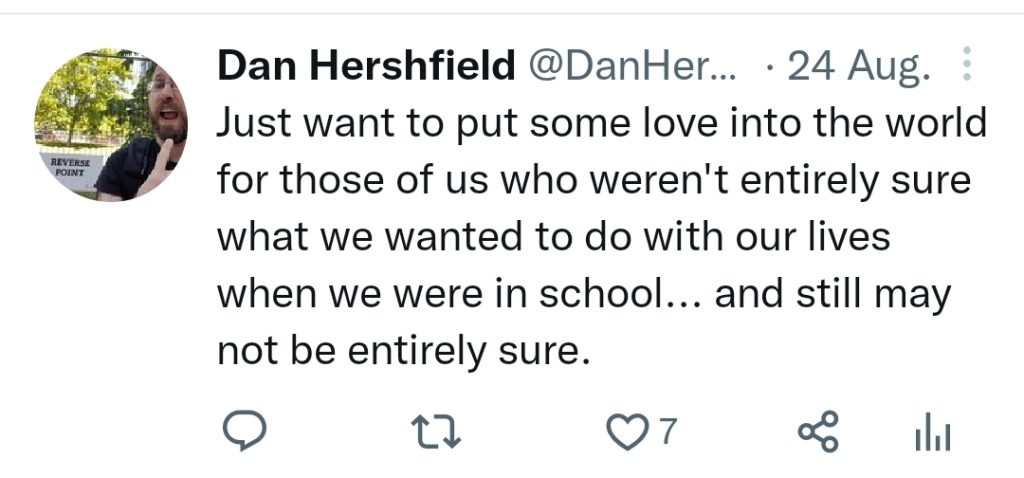 Another combined BBQ and movie night at Robin's. We watch Commando… and I honestly can't believe it took me that long to see Commando. Obviously, it stinks, but in the right way!
Mandy and I do some work in the front yard, then have some drinks in the backyard. It's like attending Homeowner Fantasy Camp.
And the month ends with Evan and I starting work on a special project. More on that when we get to October, but for now…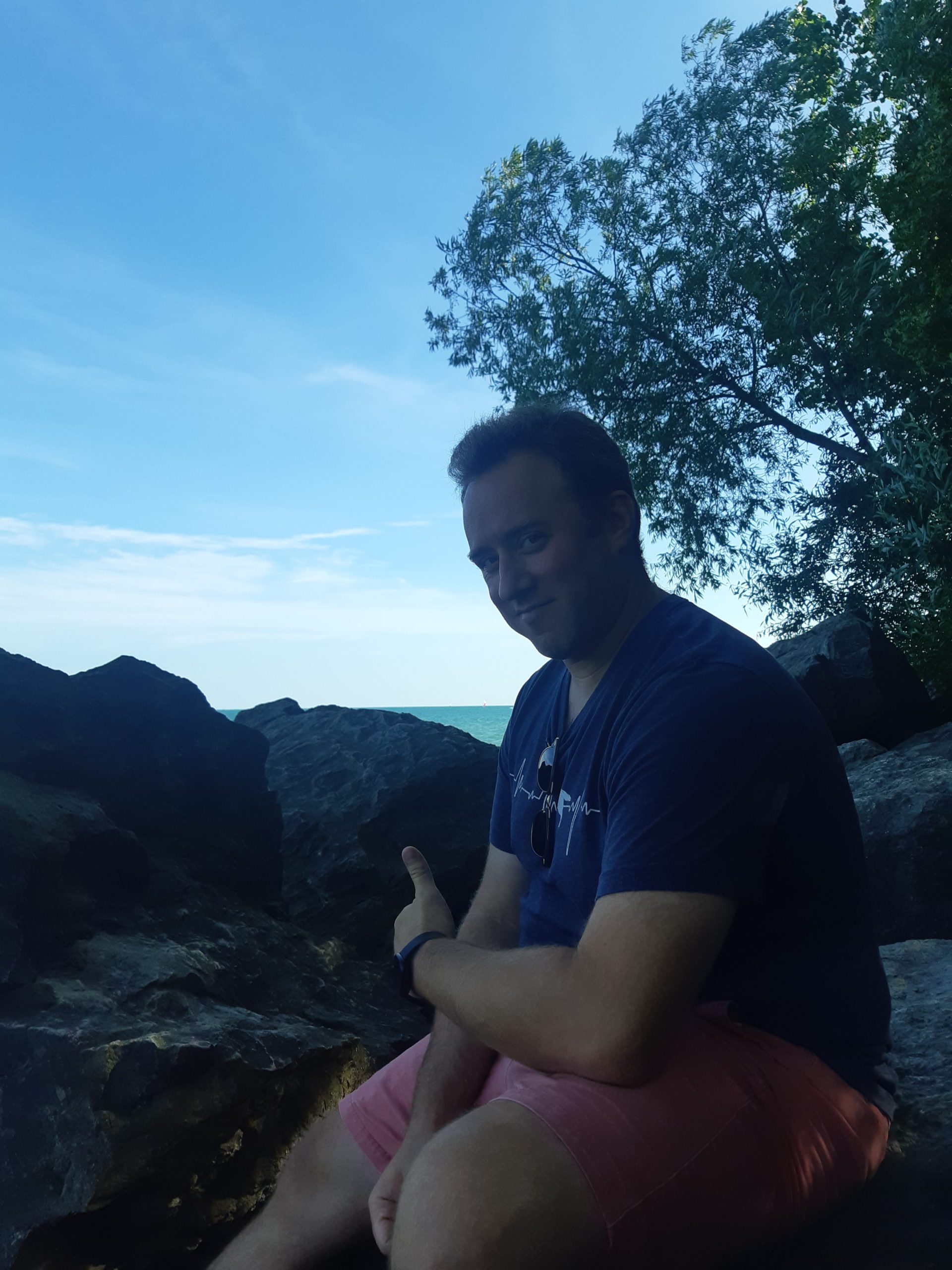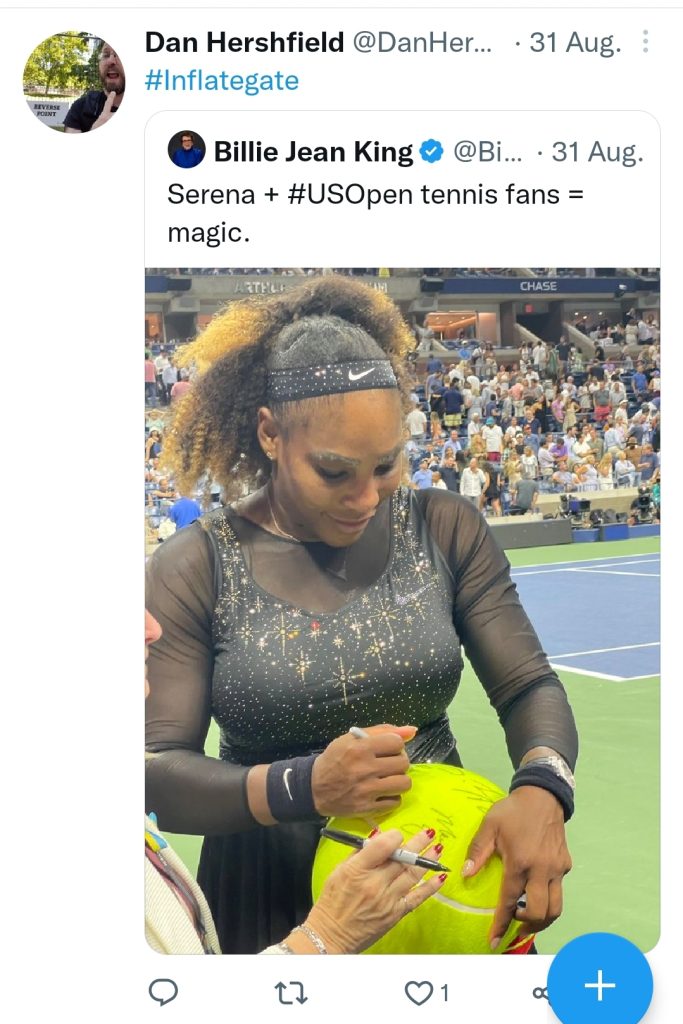 September:
The CNE Ghost Walk… which truth be told was for me more a walk around the CNE grounds with a little history and some fun conversation. No regrets, but it is does get me thinking about how I would do a ghost walk if I were in charge. Possibly more on that later… or it's just one of those fleeting ideas.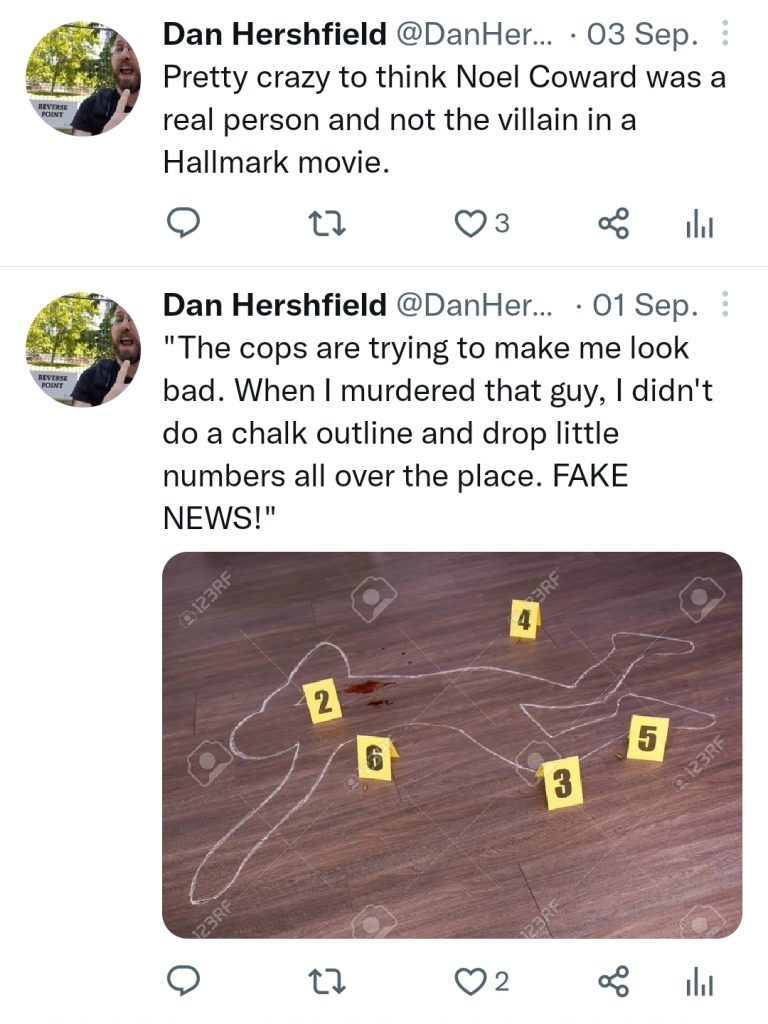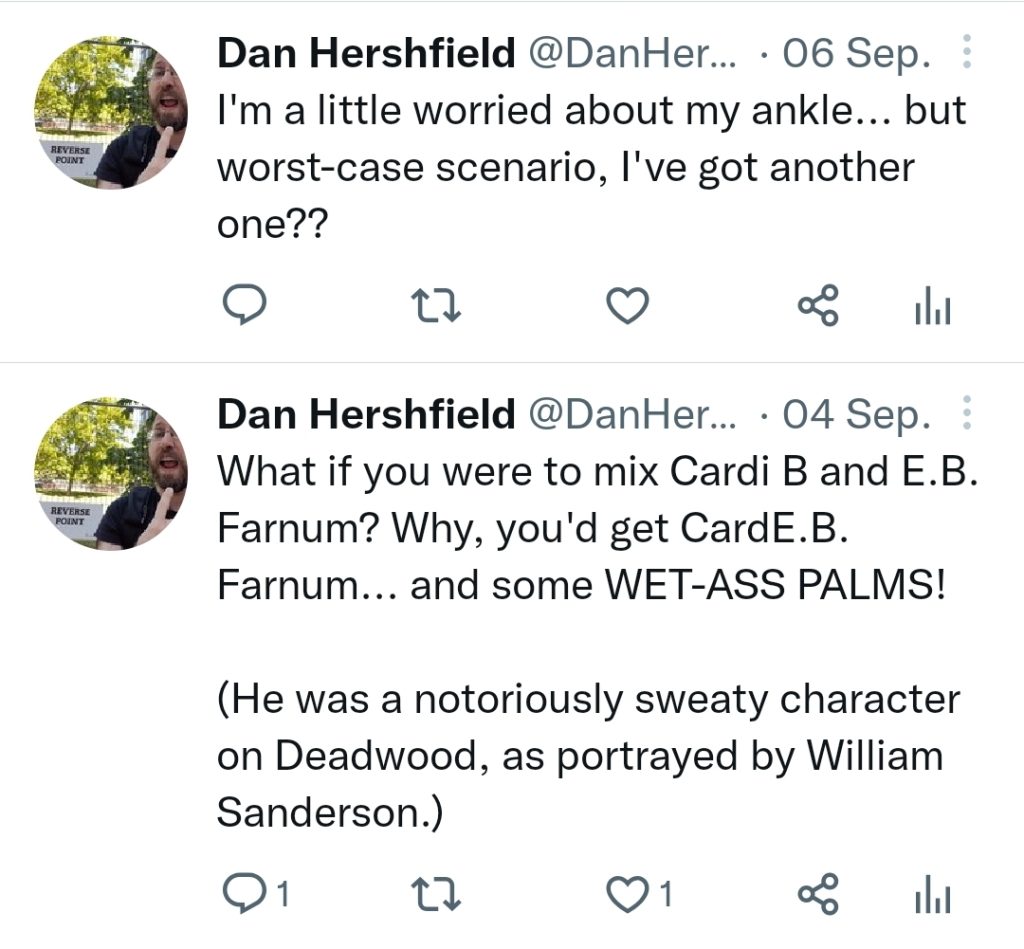 The aforementioned second tennis date with Mr. I. happens. Though I don't think he meant to, unless he's playing 4-D Chess, a comment he makes messes up my serve. Humiliations galore… though, if memory serves, I still win, with thanks to our generous treatment of serves!

On the 13th, I have a nightmare about someone I'm no longer in touch with. If we should ever reconnect, this is my note to see if I was indeed registering a disturbance in the force… or if it was just a standard nightmare.
A major change and the biggest return to normalcy in the late pandemic (I still can't bring myself to say "post-"): the Leo Baeck basketball run returns! Though being the "commissioner" is at times a bit of a headache, it's my favorite run with some of my favorite people. If nothing else, it means I'm talking to people IRL at least once a week who aren't my family… and in these end times, that's something. Plus, basketball! (At this point, my skills seem to be in some decline, but I make a nice basket every now and then, and I do seem to get my fair share of rebounds, so not quite ready to retire just yet…)
Other things that get me out of the house: more Food Trucks and more tennis!
Around now, I also send a birthday greeting to someone I haven't seen in a while. It's not something I do very often anymore… but this one leads to things…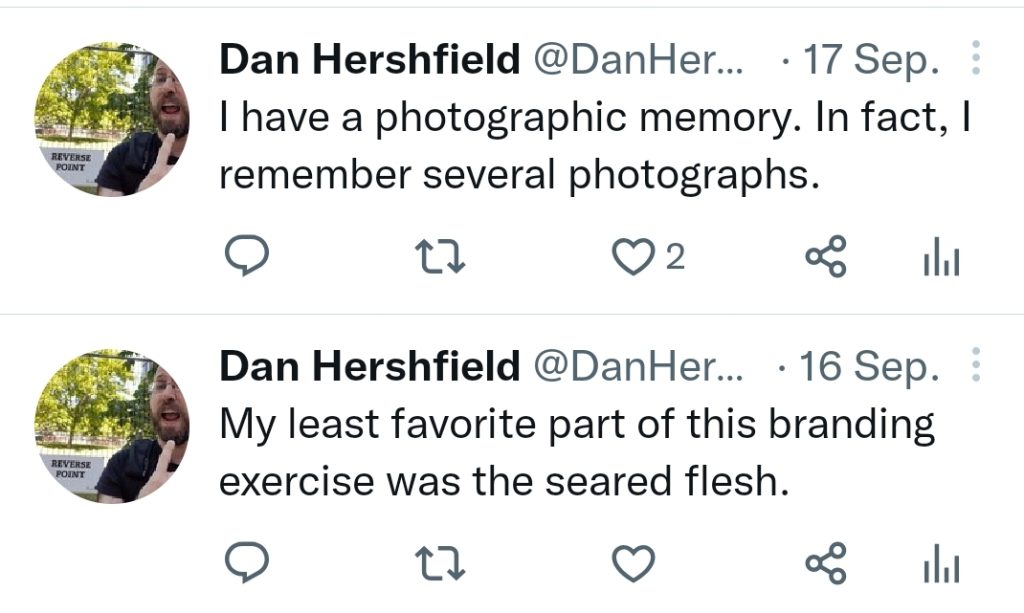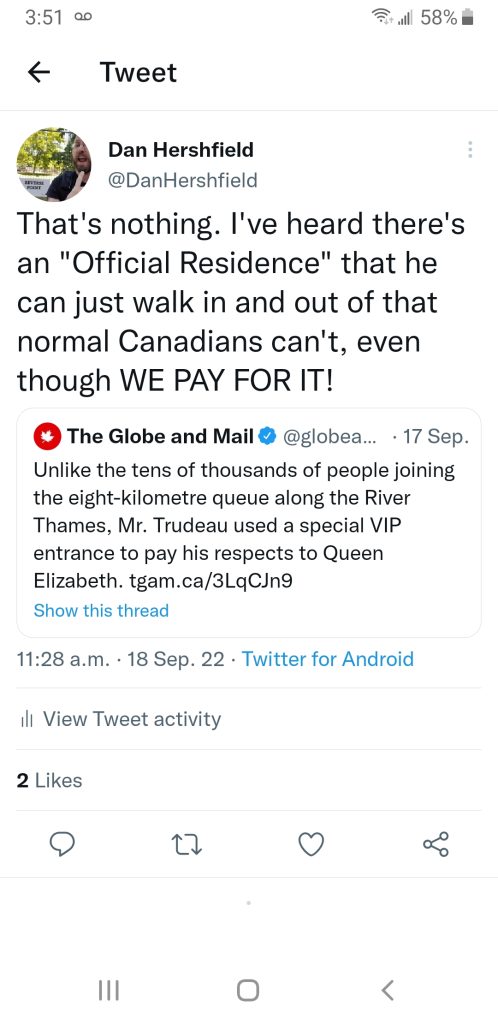 JFL Time! I kick things off with some of the free outdoor drag shows with Fionna. The big highlights for Drag Race fans would be Bob the Drag Queen and Monet X Change, though we also saw Tynomi Banks, Gisele Lullaby, Full Time Toddy (an unofficial introduction), and more.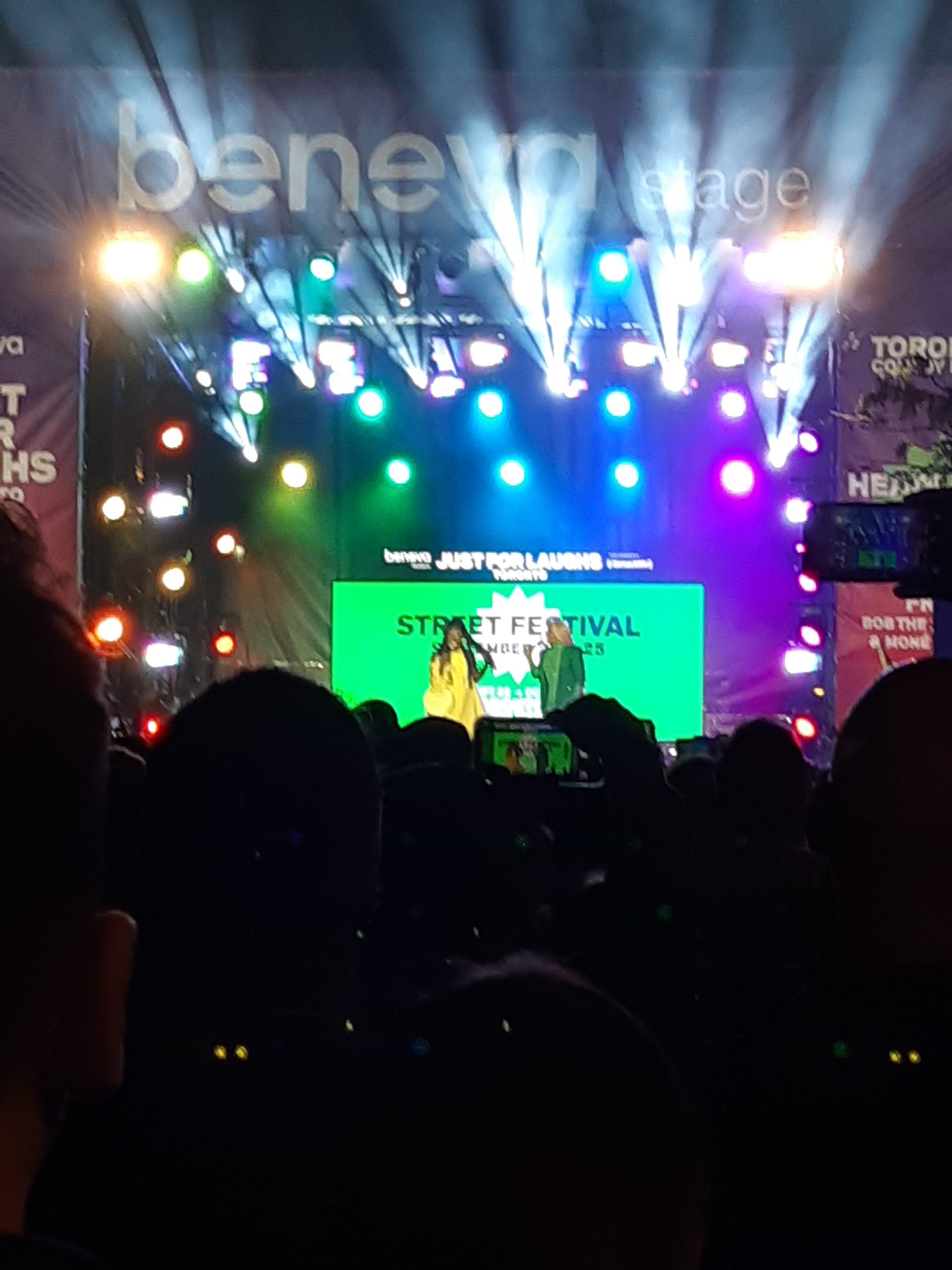 After that, I move indoors with the comedy. (Still masking with the big crowds!) The headliners I see (with Evan and Jen) are Craig Ferguson, Laurie Kilmartin, Nick Thune, Mike Birbiglia, Marc Maron, Beth Stelling, and Ivan Decker!
Also somewhere in there is a Rosh Hashanah dinner and original cancelled plans. And that was September!


October:
Settle in, everyone. October was a very eventful month. Possibly the most eventful month of my life. Major ups, major downs, and I won't try to weigh them against each other, but will say it was a big month for pondering existence. Anyway…
Let's start (as the month basically did) with Samantha's unveiling, which was combined with the launch of her book. Obviously a lot of feelings there. Sad to think of the circumstances that brought us all together, but also some joy (mitigated, naturally) at being reunited with family after so much time apart. Also a bit of a transition time for masking, so it compounded the feeling that we'd been in dark times but were slowly emerging from them.
Also, I found out when they were read aloud as part of the book launch that I'd been included in the Acknowledgments section. And honestly, it hit me a little. My contribution was very early and minor, and it frankly hadn't occurred to me with all the people who'd need to be thanked that I might make the cut. So the fact I did, I took as proof that sometimes, those moments that you hope will stick with people actually DO stick with people. And the person I was then remembering had at some point remembered me.
And the next night, I watched a horror movie. (The two aren't related. But it's funny to me.) At Robin's, in the backyard, The Descent.  All of that is recommended, if you get the chance.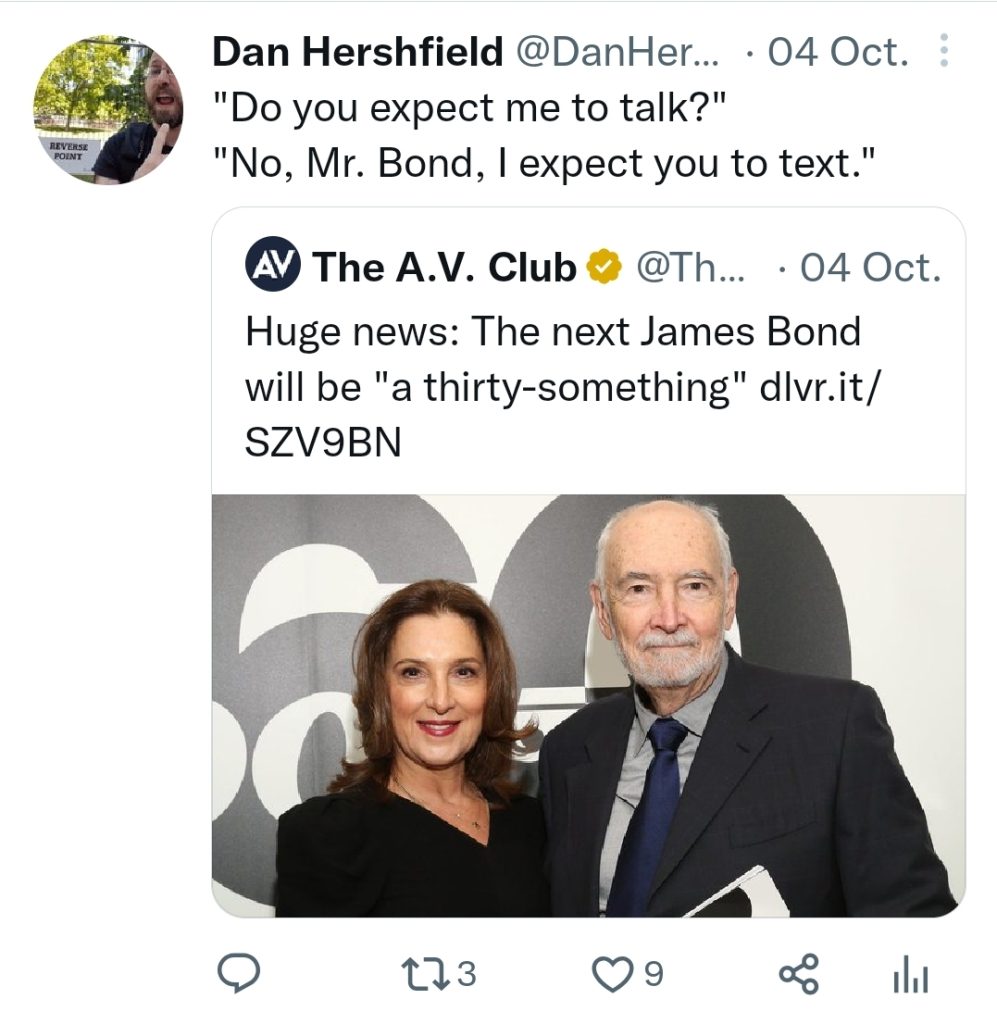 Then my parents' FIFTIETH anniversary! After going all out for their fortieth, with the surprise party and the best family movie ever, Evan and I knew we were going to be hard-pressed to top ourselves. Also, times were still too pandemic for another party, which Mom also wouldn't have enjoyed even if we were inclined. BUT we still managed to impress…
We made them a board game called Escape From Winnipeg, in which you have to move from Winnipeg to Toronto. And it could basically only be played by them. Full of trivia and quotes and family history! With a proper board and game cards! We also got those milestone certificates from the federal and provincial governments… and Evan had the fun idea that the winner would get the certificate from Justin Trudeau and the loser would get the one from Doug Ford! Politics!
But mostly memories. And oh yes/of course, we also got Chinese food. (New Sky, if you're wondering.)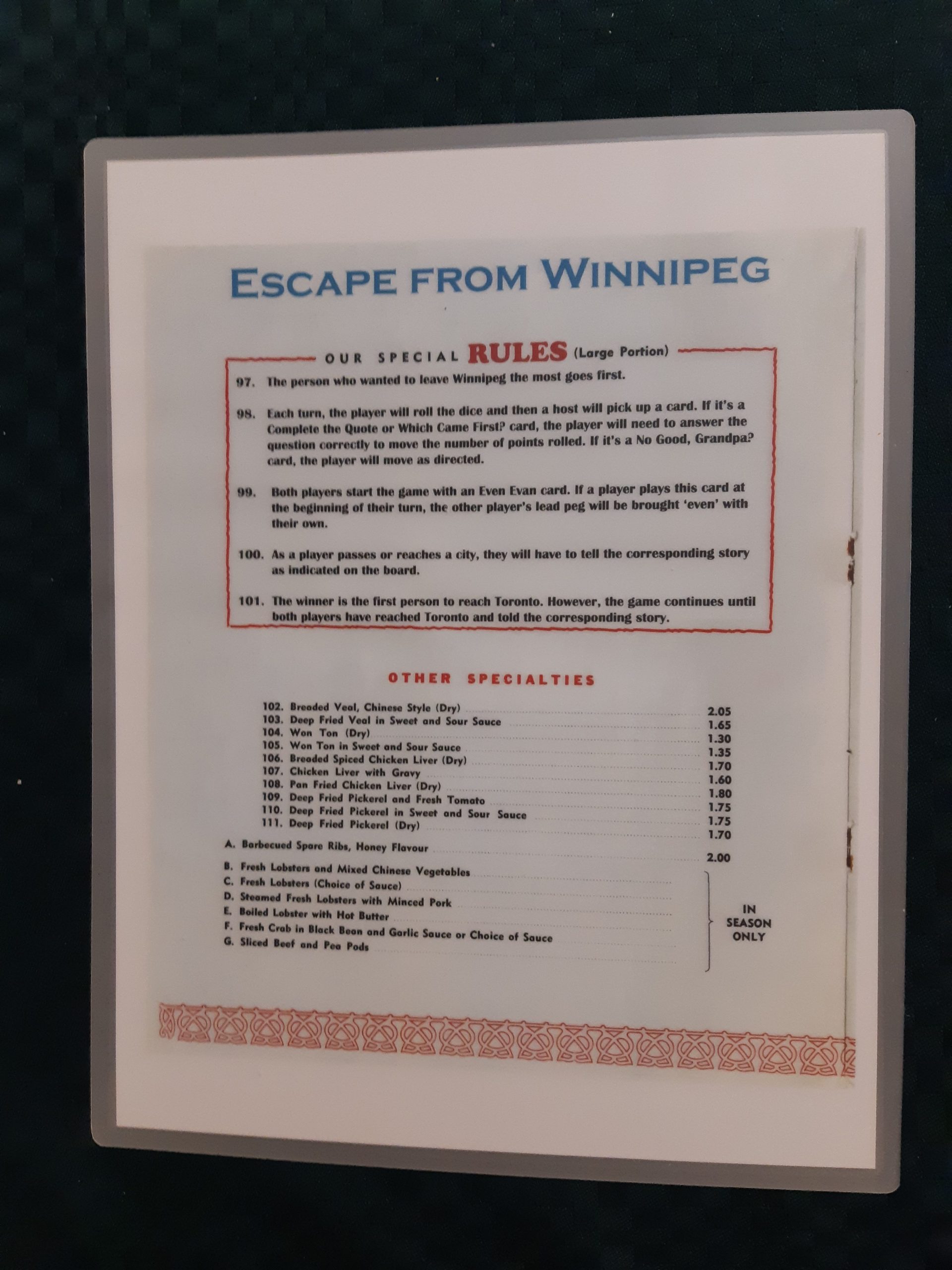 (Shame about that one little typo if you happen to see it, but still, pretty great stuff, right?!)
Anyway, shortly thereafter, I voted in the municipal election. Despite the overwhelming hopelessness that will soon be justified by the results. At least the anniversary night was a hit… and my stop at Sir Winston Churchill to use the bathroom led to this moderately humorous tweet. (Just the first one below. Though they both got important endorsements.)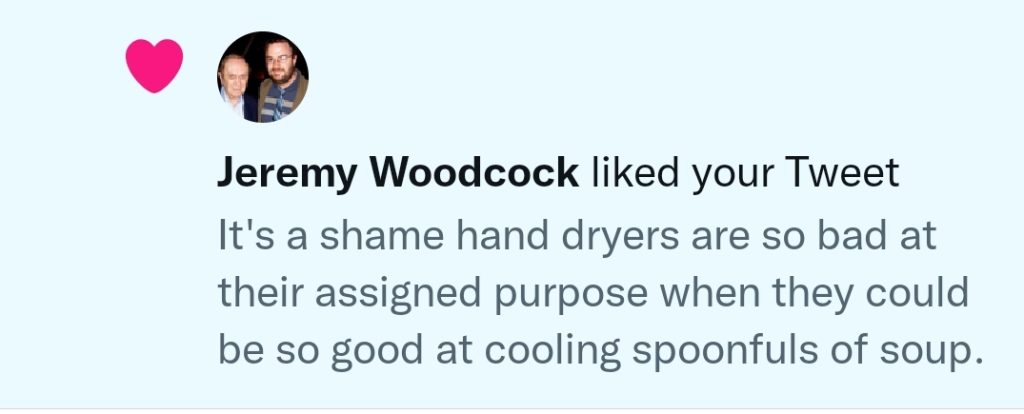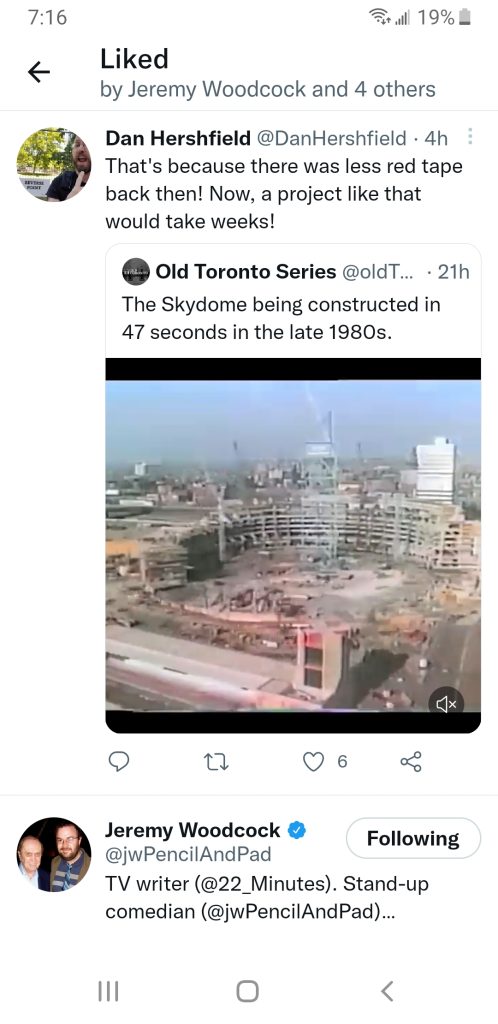 I go for a walk with Ian and Marty in the ravine and quite unexpectedly bump into Chris and Laura and kids. Since this is a reunion I can never make happen through planning, it becomes an extended hangout. Watch out, Laura; something like that is going to happen again one of these years!
Dave is back in town, and I rope him (nicely) into playing doubles tennis against Peter Marks and Larry. The youths (relatively) win, then Dave and I retreat to Casa del Hershfield for awhile to hang out and make plans with the Northerners. While this is going on, Larry is dealing with some upsetting phone calls… and while I need to get involved shortly, I'm given permission to head out. So we all meet up at the Pour House, and in the last vestiges of the pandemic life, we do our drinking outside.
So, those phone calls. It turns out my Uncle Bobo is at death's door, and if my dad wants to say his goodbyes, he needs to get there as soon as possible. Because we know he'll need emotional support to get through that, it's determined that I'll go with him and Evan will move into the house. So I play my Wednesday basketball, cancel a date for Thursday, and that next morning, we fly to Vancouver.
I'm not going to get to into the details here. It feels macabre, and I'd just as soon not dwell on the end of my uncle's life when we had so many good times together. He was quite a character (with all that comes with that), a big supporter, and the family's foremost silly talker. I will say that he passed within half an hour of us arriving in his hospital room, so to the extent I believe someone can "give up the ghost", I believe he did. That on some level, he waited for my dad to get there, and then left. Though it won't get written and finalized and all that until we get back to Toronto (continuity error!), here's his obituary, for as long as the link lasts.
At this point, we decided it made more sense to stay in Vancouver for a bit than to race home. Not that it would be a "vacation", but there were things we could do to help that were done as easily there, and it's not like either of us would be (more) productive at home.
That night, we went to Sfinaki for dinner… and though the name had escaped me, as we walked in the door, I recognized it as a place I had gone to with Bobo and the kids. So that was nice… synergy, I guess? And as we were leaving, I happened to be talking to Larry about triskaidekaphobia, and the hostess overheard us, and we got into a fairly long discussion with her and our waitress about it. (We spared her the details of our visit and described it as "visiting family.") Just one of those funny details that'll stick with me for a bit.
The next day was mostly dedicated to the administration of the thing: compiling email addresses and sending out the notifications. But knowing that the trip is going to be a lot of sitting around and eating (not to mention being sad), I do something for my and Larry's sanity: I get on Google and find us a walk that's near to the hotel we're staying at. Though it ends up being nearly too much in terms of distance (for Larry, I'm a spring chicken!), we go to the Deer Lake Trails. It's pretty great.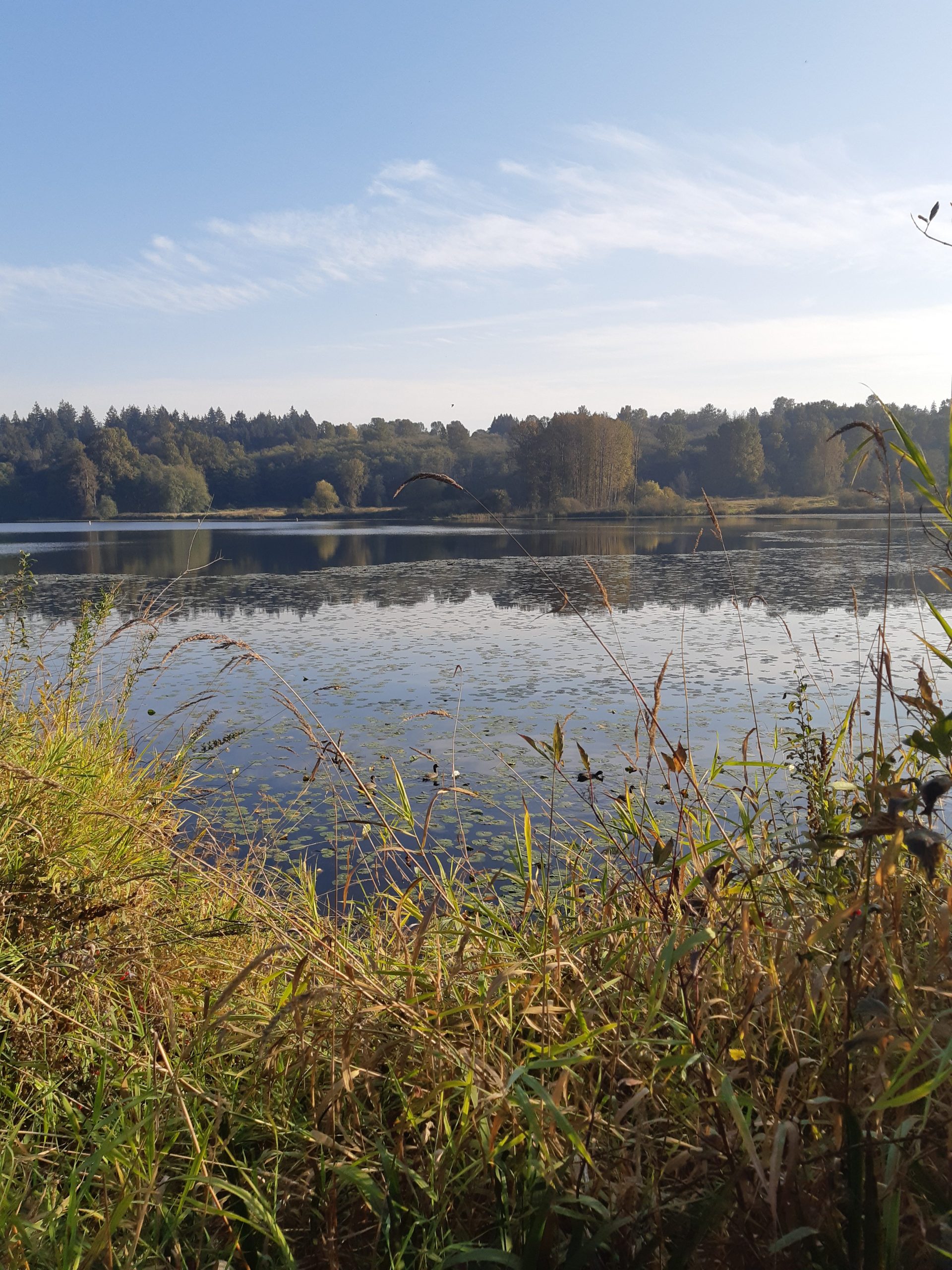 That night, we go with Zack to Rideau to do a small amount of cleaning out of the apartment and see if there's anything we want to take. I mostly take books that I think will have sentimental value, and though I don't take the majestic chickens (a regret, since I declined not wanting to overstep and then they ended up being thrown out), I do take chicken salt-and-pepper shakers, which also seems fitting. (And one of the books I took was "Cluck", in case I need to be reminded of their significance.) Also, in case I can't see them again in whatever location they end up in, check out that shell collection!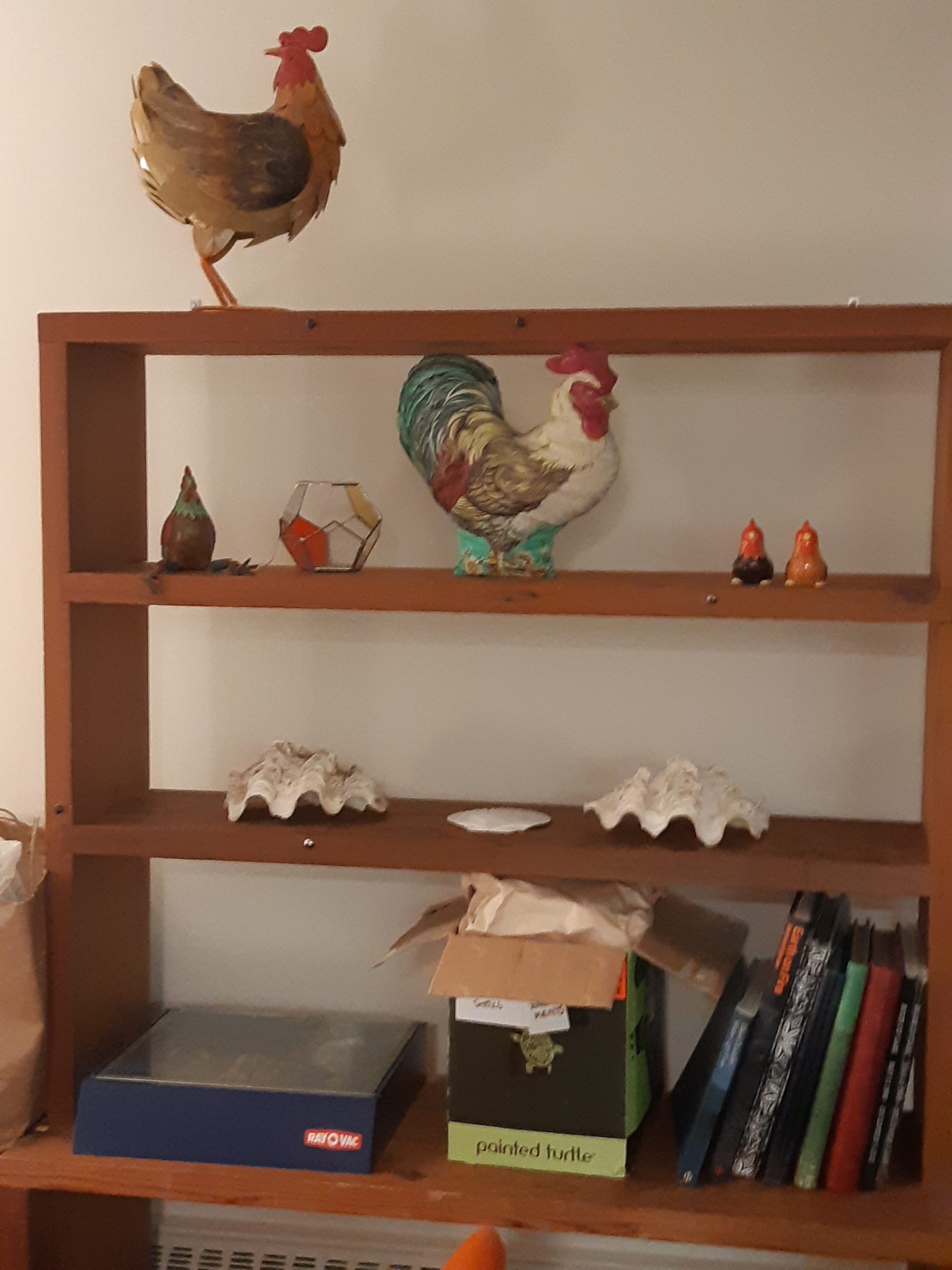 On the Saturday, having no more reason to stay in Burnaby, we move to the Blue Horizon Hotel. But we get there separately. Larry goes to shul with Sarah and her husband, and I spend some quality time with Vanessa and her wee one. It's exactly what I need: time with a dear friend, in full thrive. (The kiddo is also, as we like to say, sweeter than Jewish wine.) Much of that afternoon is spent on correspondence and the like, and that evening, feeling the nostalgia , I take Larry to the Eatery. I mean, maybe you can't go back in time, but there is something to be said for revisiting your old haunts. Especially the food ones, Remembrance of Things Past-style! It quickly becomes clear I did the right thing bringing him along, as it means I'm only the SECOND-oldest person there! (And thankfully, they have a covered heated patio, so we get a diluted sense of ambiance, in terms of sounds and smells.) I continue my nostalgia with a longer-than-necessary walk (including a pass by my old place on 6th) that also includes the Burrard Bridge.
On Sunday, I meet Jason and Helena for brunch at Templeton, while Larry enjoys an IrvCo production. The timing is good, because brunch is very much needed, and we get to shock Ian and Robin during a fortuitously timed chat with pics such as this.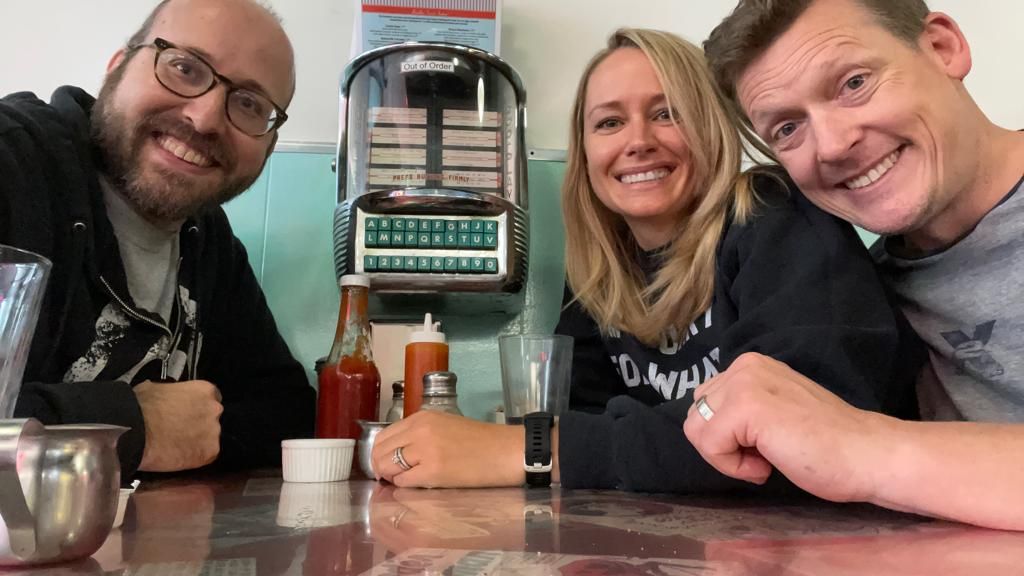 Our Tribute to Bobo tour of Vancouver adds a much-needed non-food-related stop: we walk through Stanley Park and go to the aquarium. I haven't been there in years (if you ever Google yourself, Sharla, I believe you were still working there!), but it's a good excursion, and it felt appropriate to see some very demonstrative turtles!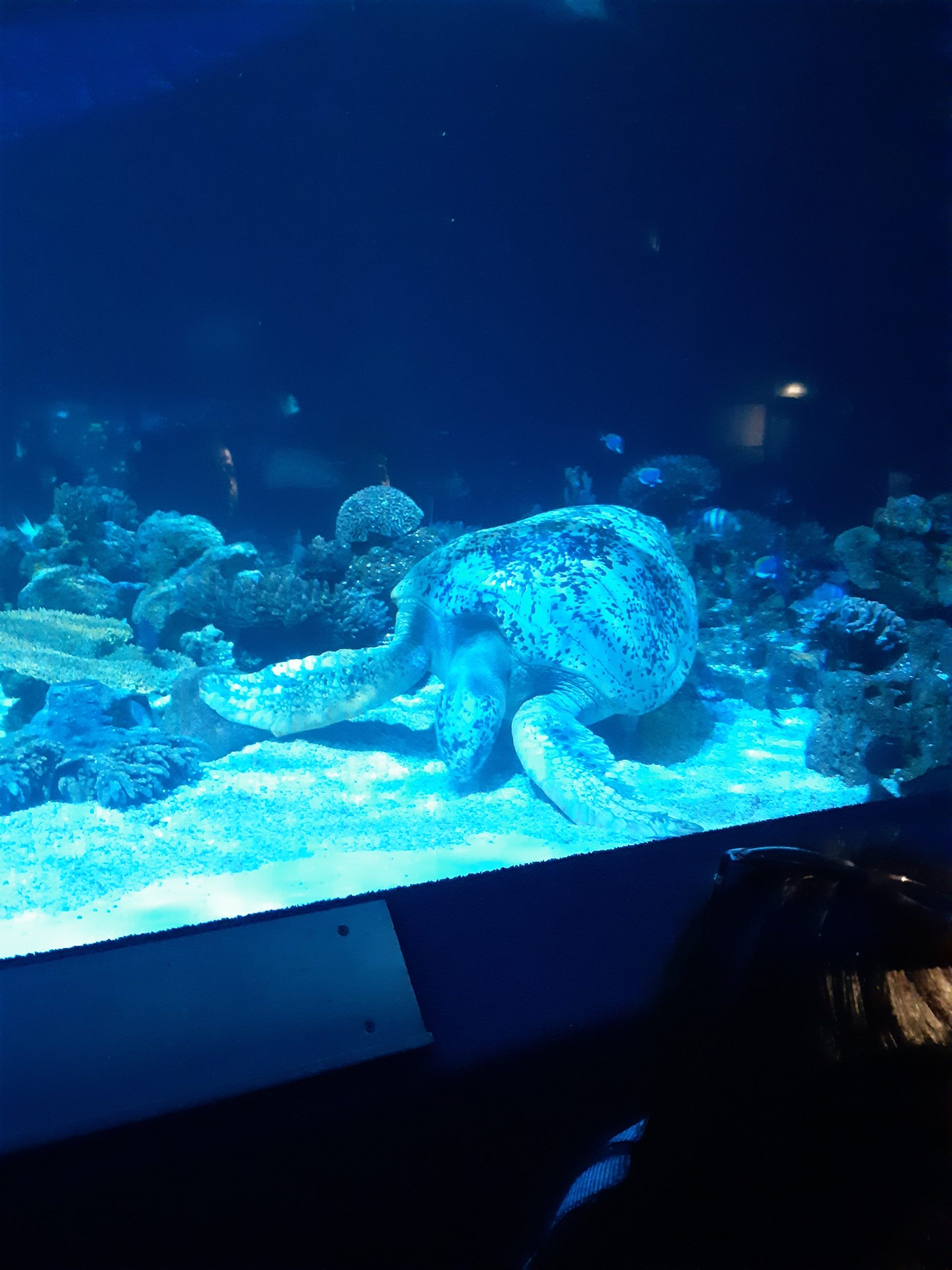 Then that night, dinner at Szechuan Chong Qing on Commercial. It's honestly the most fitting 'last Vancouver dinner' imaginable under the circumstances. That place was really our home away from homes when I was in Vancouver, with Bobo, Zack, and Gabe gracing it more times than I could count. Not to reference Proust again so soon, but it really does bring back memories. Plus we're there with Zack and the missus, plus Karp and Burton, so it's a low-key memorial on top of that. A good time, given the circumstances.
(I also make plans with Ryan which fall through. That too is nostalgic! I still love that guy, though.)
Then on the Monday, we fly back. Highlights include taking the SkyTrain to the airport (when I left Vancouver, it was still at the "construction killing businesses" stage!) and nearly becoming the person on the airplane who goes viral for arguing with a steward. Seriously, though, I get that no one wants to check their baggage anymore, but you shouldn't get to use the overhead if it's nowhere near your seat! Okay, not going to rant, it's too boring and hack… anyway, we get home. And I'm still apparently in something of a mood…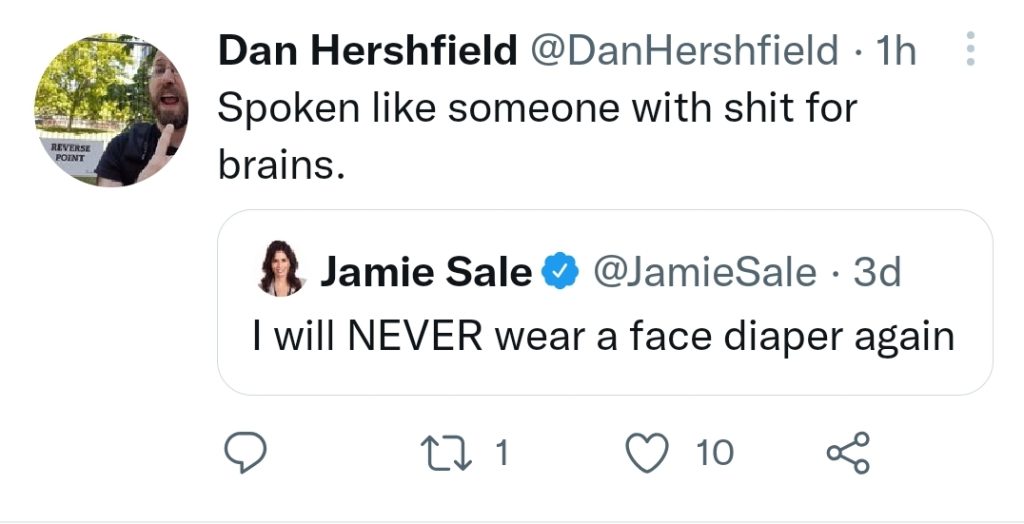 On the 22nd, I have a night with someone that's wondrous and terrible and horrifying and intense… maybe let's just go with "memorable"? Which works out… but not for this blog. A lot of the details are still locked in my head, but they don't really feel like they're entirely mine to share. So, sorry, readers who aren't me, and readers who are me, retain what you will.
The next day, I get the bivalent booster at Walmart, and the day (well, night) after that, back to Robin's, this time for Blood Quantum. Lives up to the hype! (I refer to the movie, but so far, so good with the booster.)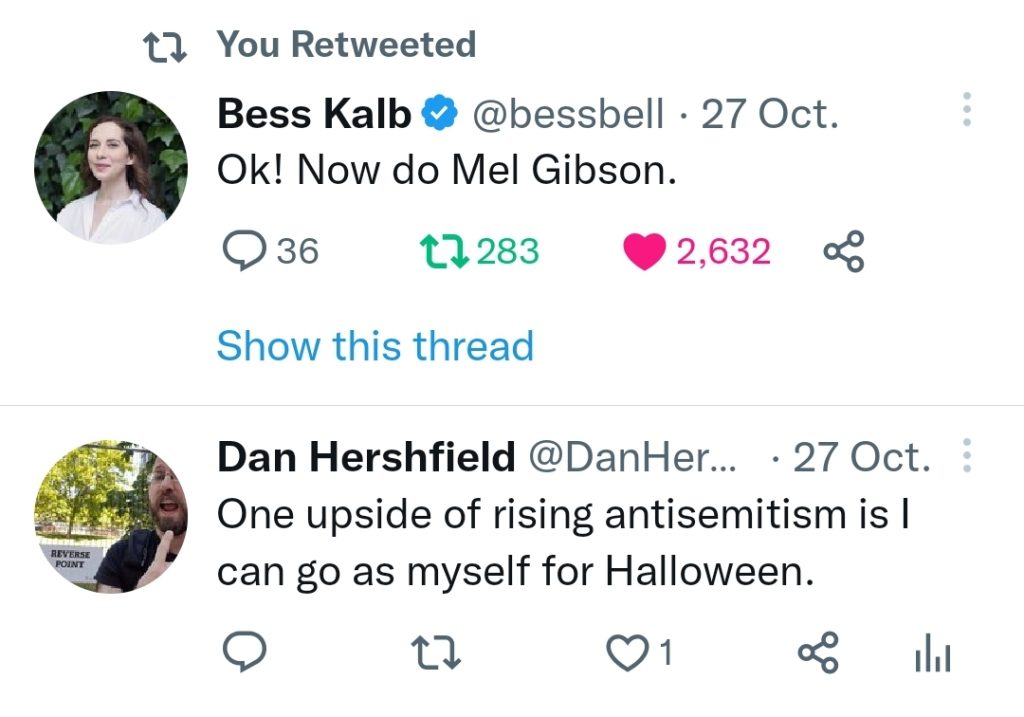 So this is less of a development than some of the ones that came before… but as of now, those are my last tweets. I still have the account, and on occasion, I lurk. (Sometimes for work.) But I no longer post or interact, i.e. no likes, no retweets, no comments. I realize it almost certainly makes no difference, and it's possible certain future artistic endeavors will make me decide to return. But for now, it turns out I am susceptible to omission bias. OR I'm actually right that E**n M**k's active encouragement of white nationalism and the accounts that spread it is substantively worse than when Twitter just didn't do enough to combat it. Either way, I'm exercising the small amount of power I have. Sigh.
Then on the 30th, I attend the Parkdale Ghost Walk with Ian, Jen, Aaron, and Maddy. And it's such an incredible trainwreck, you'd think it sprung from the head of Christopher Guest! (That's a compliment to him, in case that was unclear.) Every choice is seemingly made in the moment and they're all bizarre! But maybe that's what I need to inspire me to make a ghost walk of my own: a low bar! We'll see!
Anyhoo… told you it was a big month!
November:
At long last, being a member of the Leslievillian Facebook group gives me some valuable information.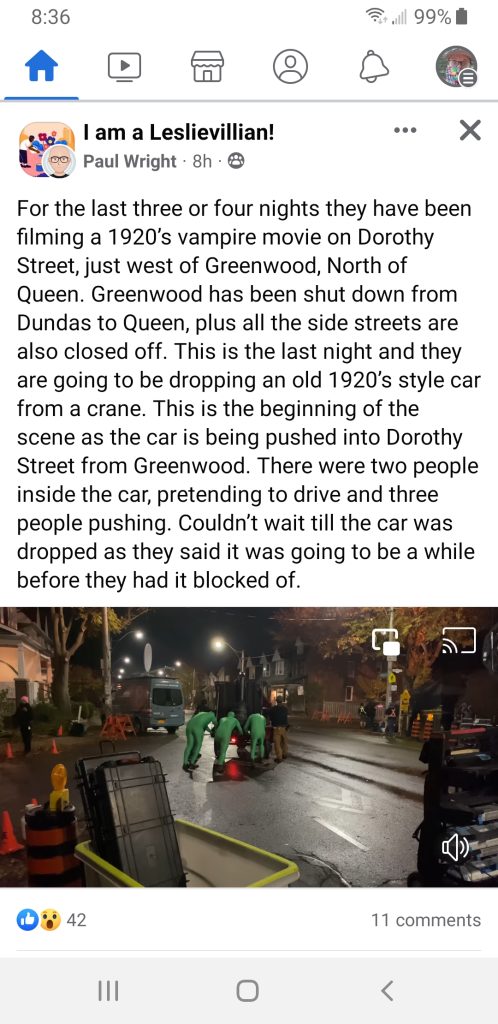 On the 6th, Isaac and I play tennis. I know I've been listing a lot of tennis games here, but I do think it's interesting/worrisome that we managed an outdoor game in November. Sunny side of global warming, I suppose…
I also start a Mastodon account. I'm barely on it, and no one's watching, but occasionally, when I have random thoughts that need to be put somewhere, I put 'em there.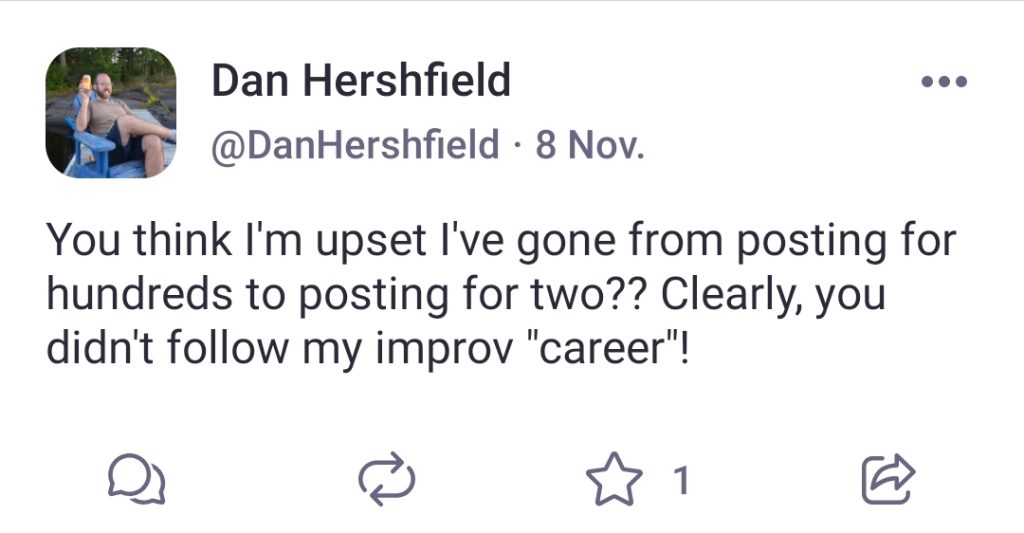 Larry takes an old friend to lunch, so I get my first visit from Marty! I take him for a walk, but he also spends time in my place, so while I would never take him away from his parents, his group, or his forever home, it's nice to know he can spend time here without going crazy!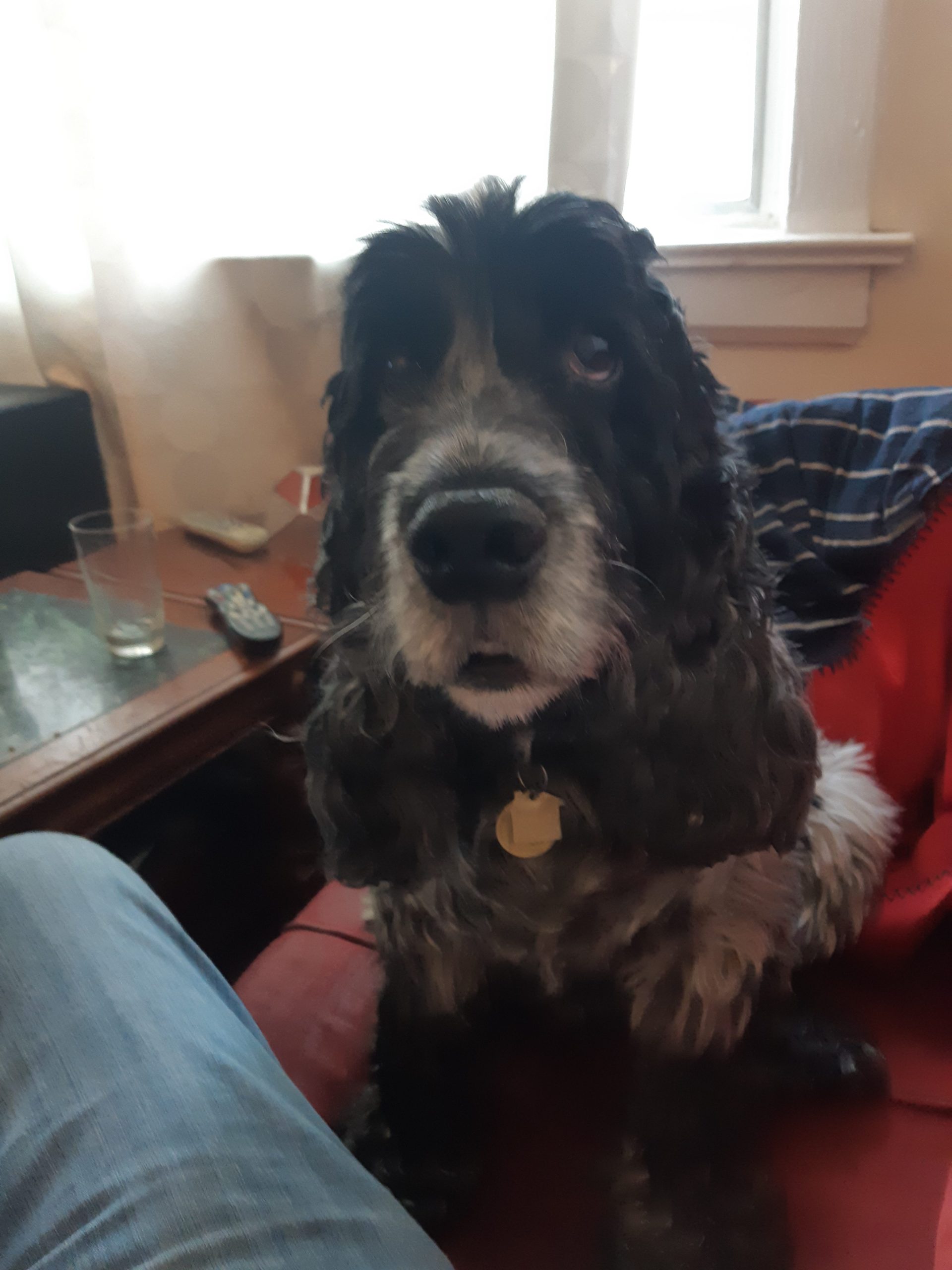 Another movie night at Robin's, this time watching Weird. I'm sure it was pretty good regardless… but for whatever reason, that night, it feels like the funniest thing I've ever seen. And I was not stoned! (Slightly drunk, but like two or three beers, so that's not it.)
I attempt to register for winter tennis through Jam Sports. It is sold out within seconds, so it doesn't happen. But the WILL was there, so maybe next year…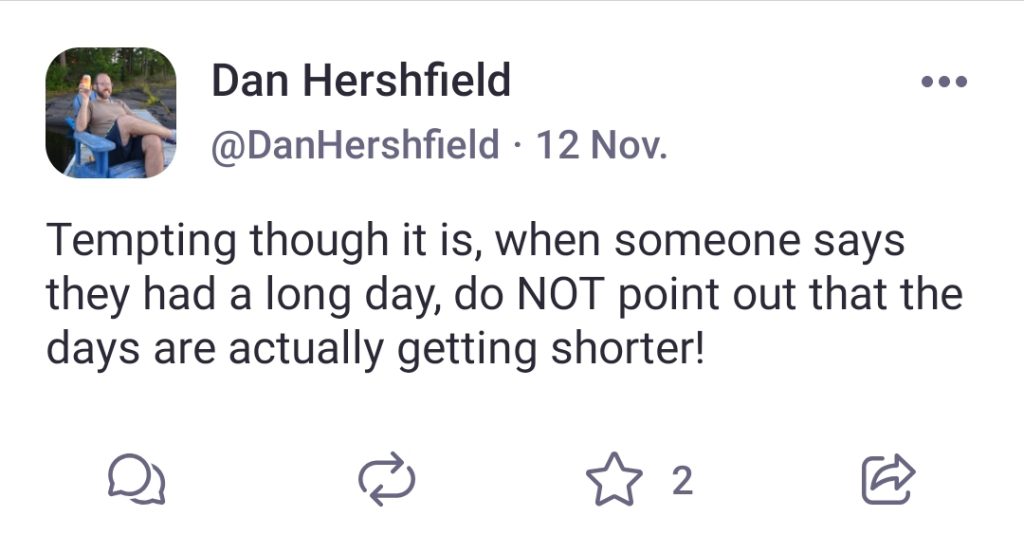 We have a bit of a memorial for Bobo on Zoom. (Technically, I think it was the end of shiva, but de facto, if not de jure…) A lot of people show up, which is very nice to see.
In the ensuing days, another Food Trucks jam (looks like we got together more than I thought this year!), I download my Twitter archive (for whatever it's worth), and at basketball, one of the baskets is stuck out of position, so we play a side-to-side game. For whatever reason, I excel, which makes me wonder if the thing that's kept me from stardom this whole time is the orientation of the court?!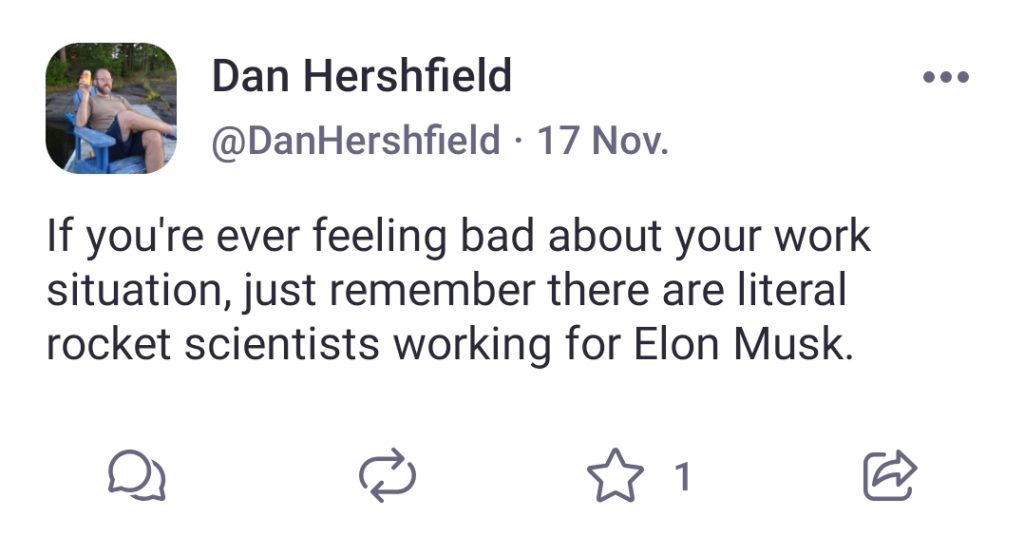 So this is where the part about Jon coming to town and the two of us going to see the Lemonheads was supposed to go. Only the concert was cancelled. And we only found out when we got there (after some drinking) and found no one in line, so we went up to the door and saw the littlest cancellation notice ever! AND my phone died, so my options to travel were somewhat limited. Thankfully, Jon is a delight to hang out with, so we just did more of that, eventually meeting up with Sam for an apartment reunion. (You were missed, Adrian!)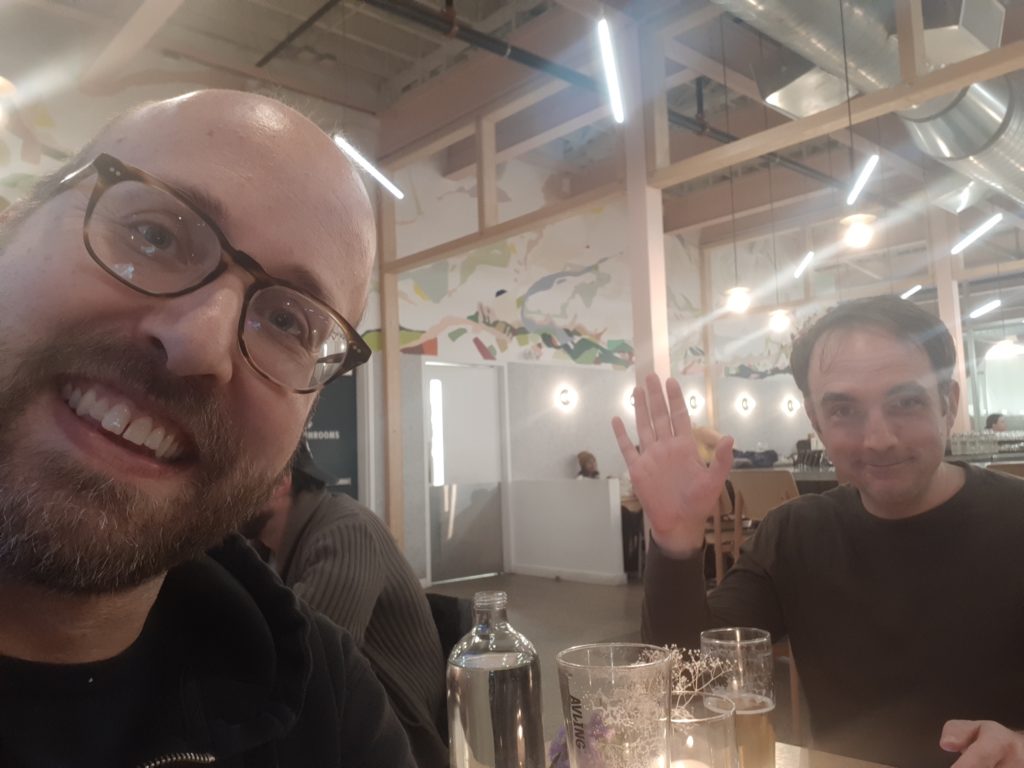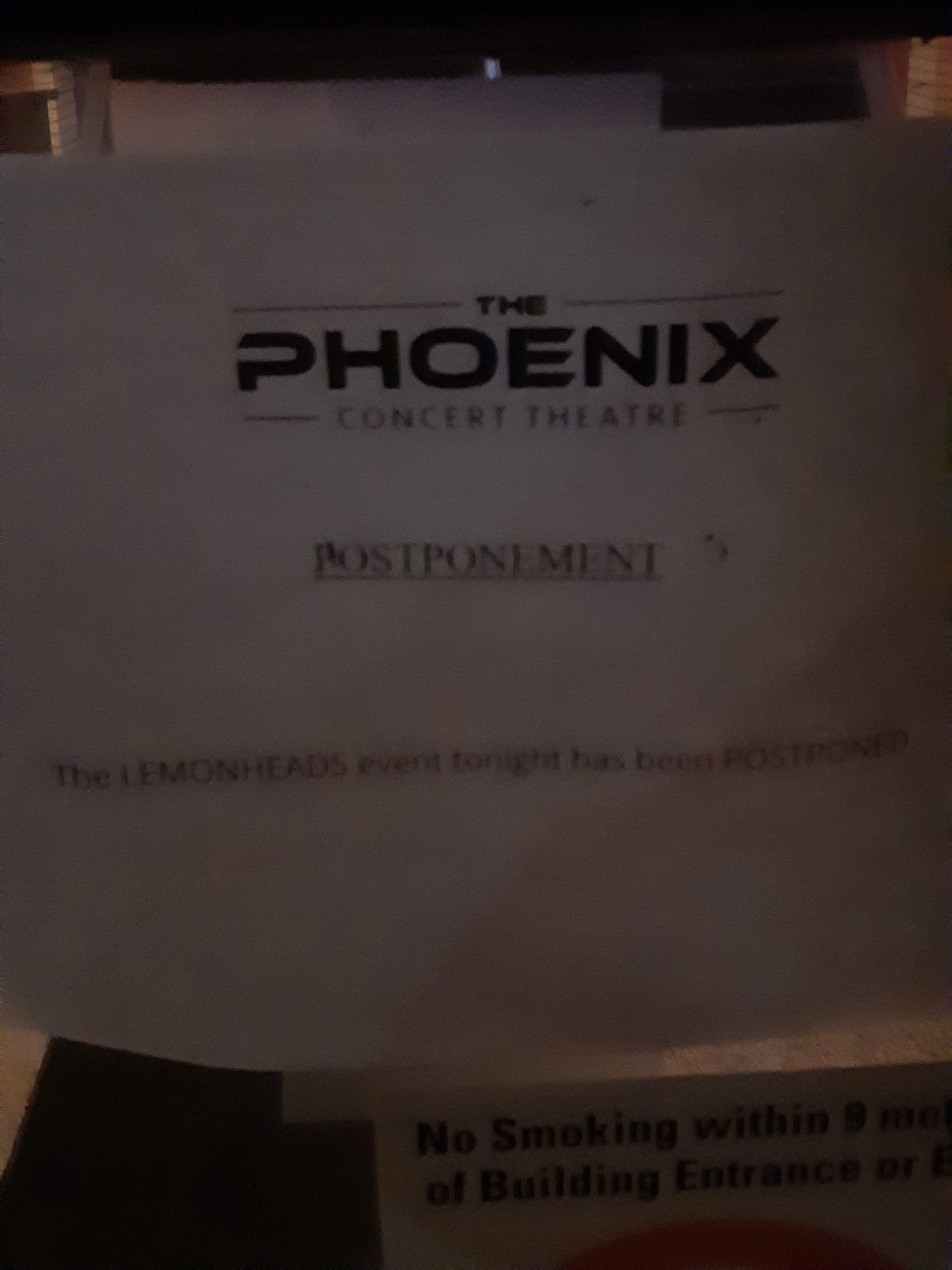 Then the next day, Faye's bat mitzvah. Always amazes me that that's a thing we do at 13, especially when it's done well, as it was here. It's also remarkable that we were sat at "the kids' table" with the cousins… but we're all actually grown-ups now! With that branch of the family, the generations are a little staggered, so I'm about halfway between the ages of them and their parents… but left to our own devices, and with no worry about sacrilege (we usually gather for high holidays), we all talked about, well, the grown-up stuff, and it was very neat. Turning point!
I get (most of) my GAP fee back. 'Tis better to have hoped and lost hope, etc.?
Through my reading, I'm turned on to the site Backgammon Galaxy. I'm not on it all the time, but it's pretty neat! (Though there are some things I'll never unlearn, no matter how much it schools me.)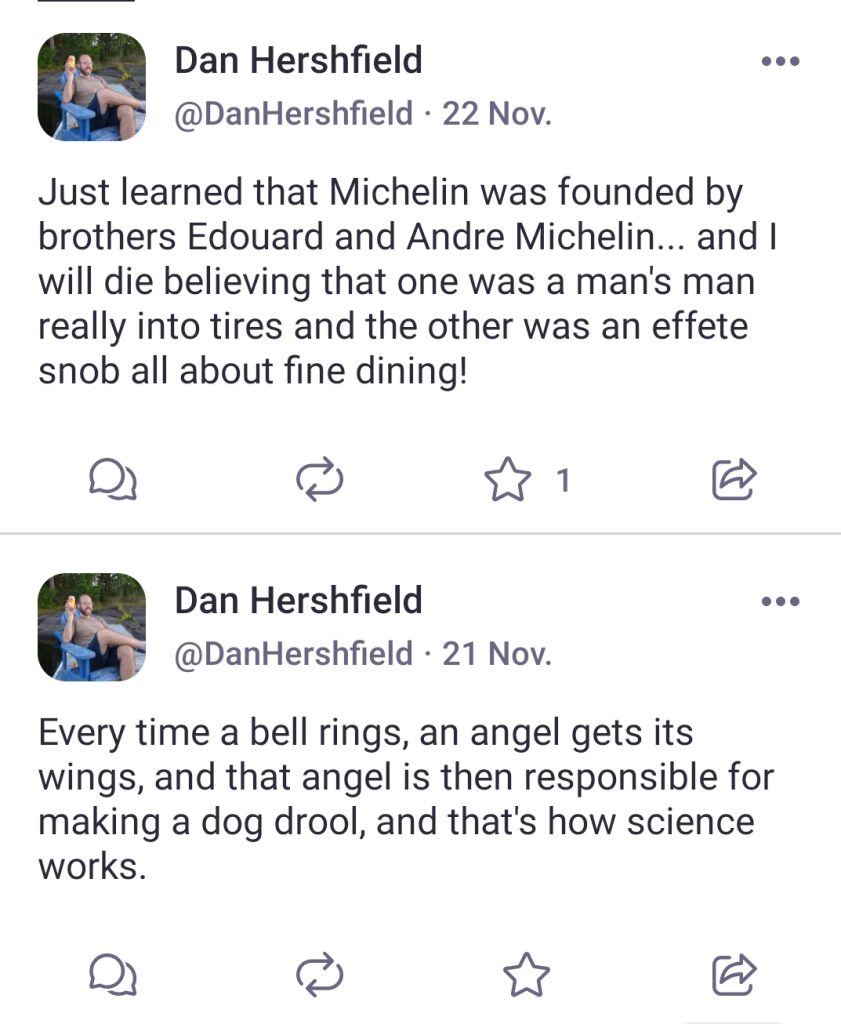 Jess and I have another one of our long-awaited drinking reunions, this time at Rorschach. A very good night, as – among other things – I have dating stories, which are always fun to pull apart with her.
And then the month ends (basically) with me dogsitting, and then playing tennis indoors at Chestnut Hill DRC with Evan. A perk of suburbia!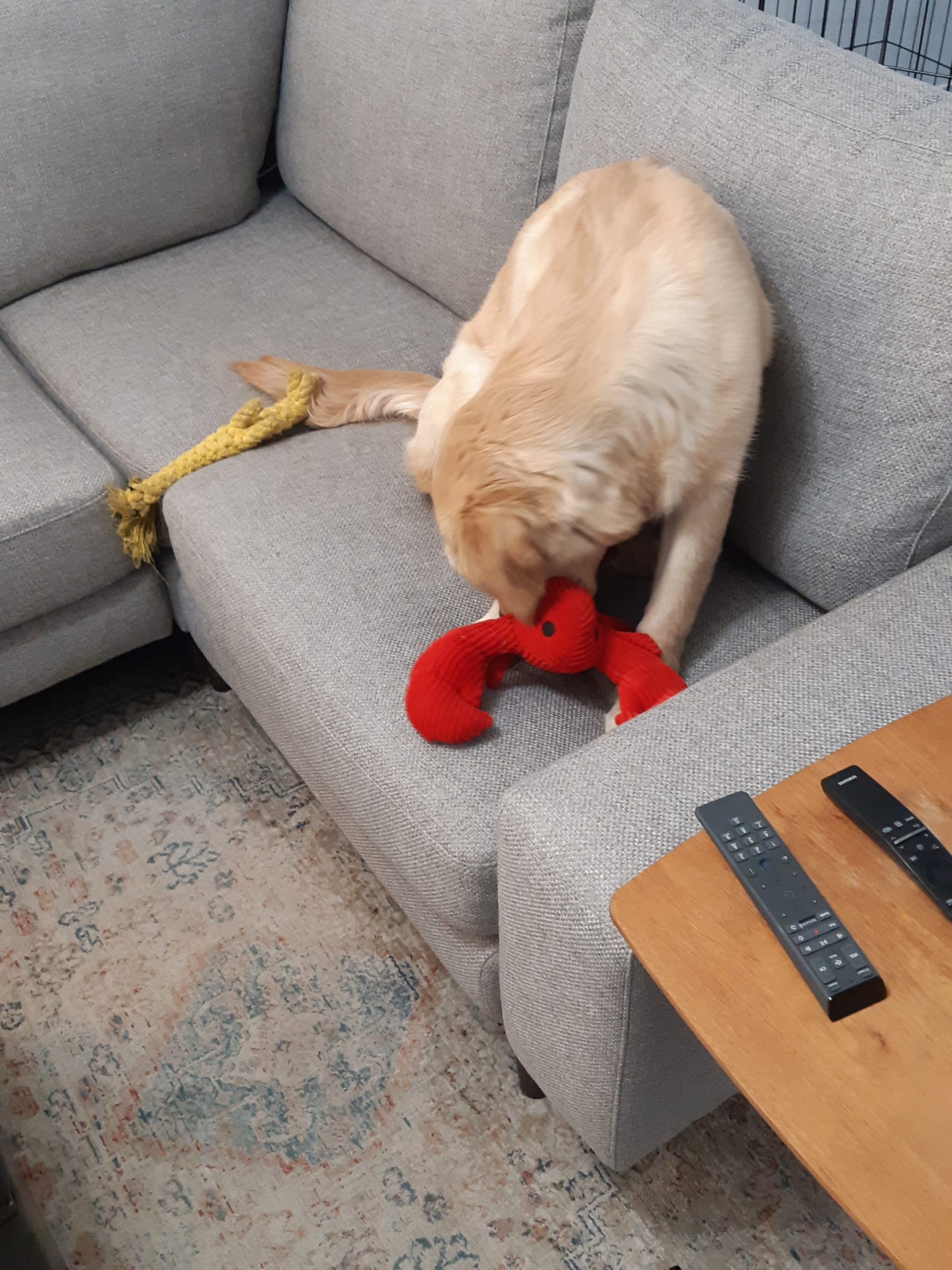 December: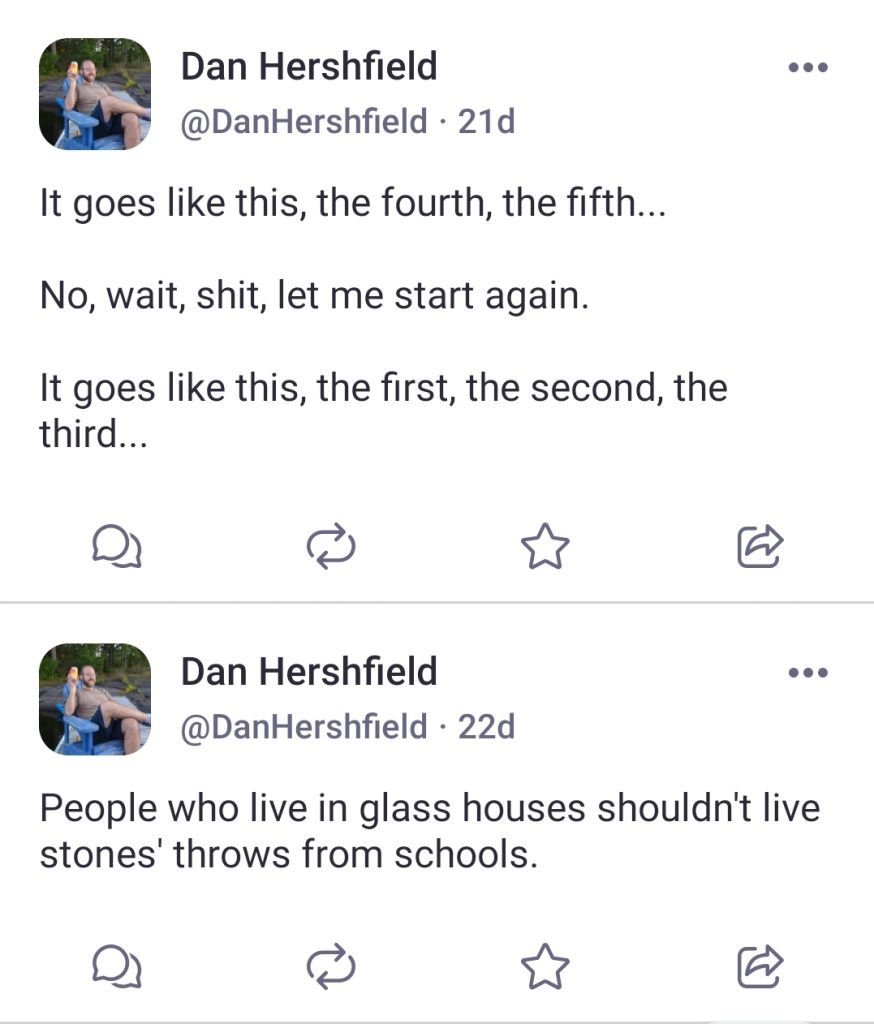 A reunion too long in the making, especially because of the pandemic: Gordo! We get down at Eastbound, with many flights of fancy… and for what it's worth, my threat to give standup another try is now a pact. We gave ourselves to the end of 2023!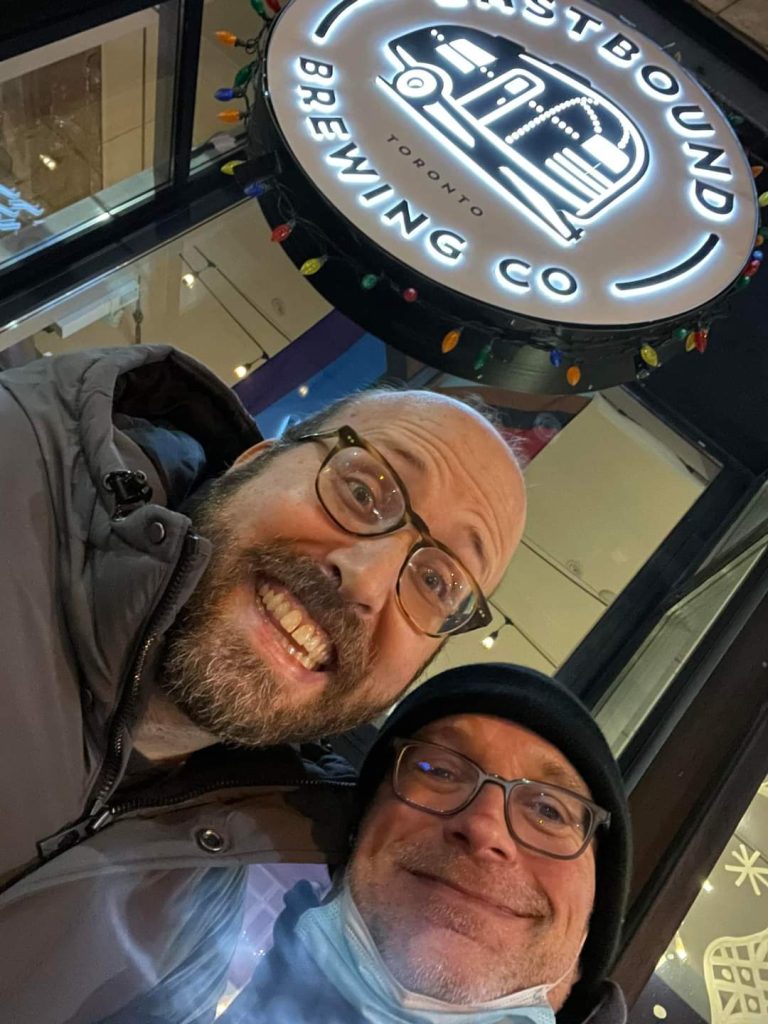 The next day, the Cedarvale-adjacent gather at Tom and Lindsay's for mulled wine, tomato soup and grilled cheese sandwiches with fancy cheese. So sophistimicated!
I go for a long walk in the general vicinity of the AGO. ("A long time, AGO, we used to be friends…", etc.) I find out the next day that the recipe I handed off was a hit!
I go for pho with Ian. The time is good, but the pho feels a little underwhelming. But because I suspect it's just a bad night (with a weak broth), two nights later, I go AGAIN for pho, this time with Fionna. After a one-woman show called Popped Out. It's a bit better (the pho, that is), and also of course a nice night.
Between those nights of pho, I give a try to Daddy's Chicken, a new addition to the neighborhood. My adventurousness is rewarded! Then, a few days later…
Burrito Monday! I get that this was an inside joke by my old director Matt Craig that I wasn't really a part of… but damn, if there's an EXCUSE to have a burrito, I'm not going to turn it down! This year's selection was a large Spicy Pulled Pork Burrito from Burrito Bandidos!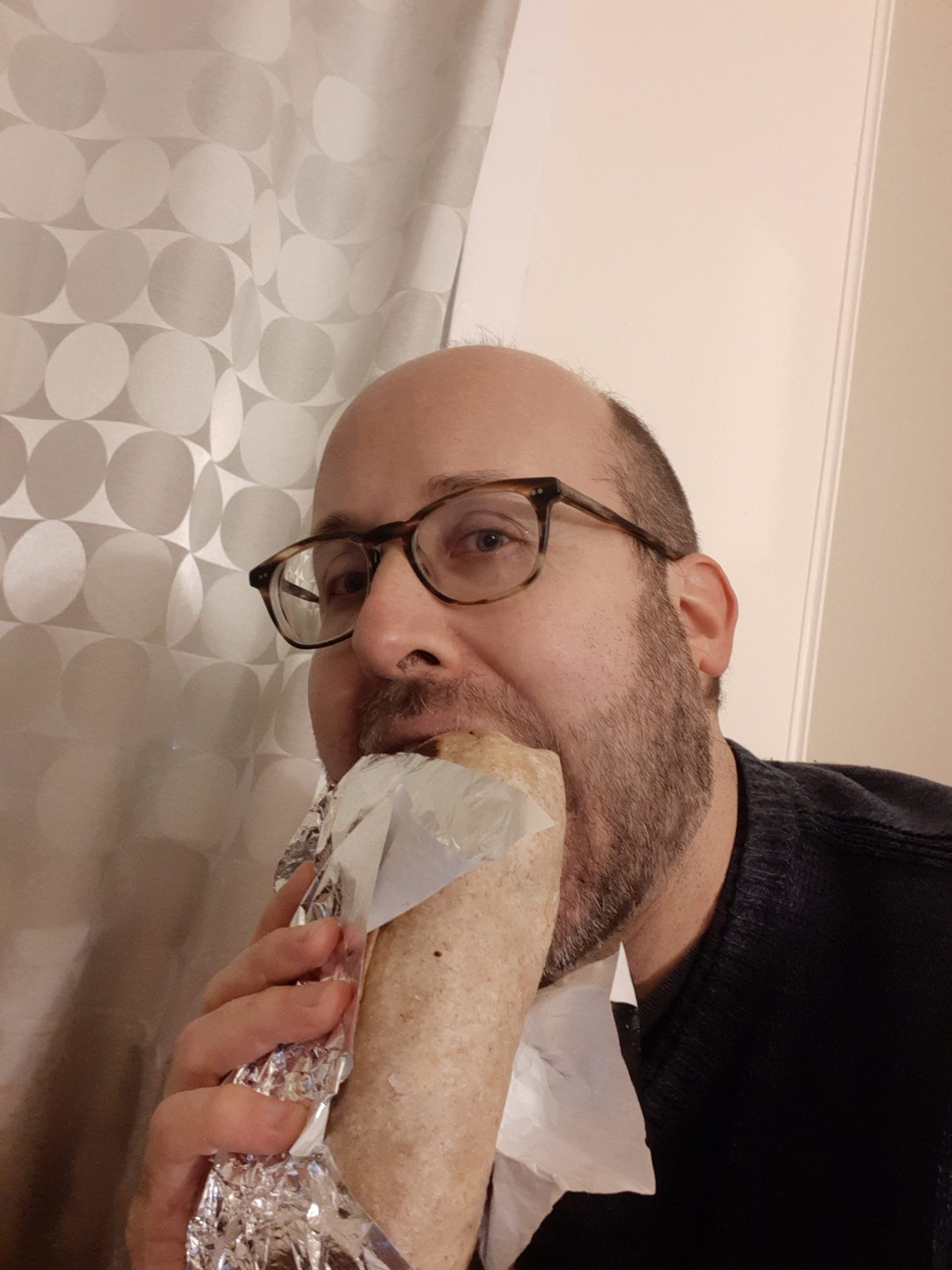 There are a couple office parties I didn't go to. I'll spare you the extended rant, but work throwing a "lunchtime potluck" means, to me, "We don't value you at all, but if you want to spend your own money to have your own party, we'll let you use the space for a limited period of time."  So yeah, not worth the time or money… though at some point, it'd be nice to get everyone back together and meet the pandemic "coworkers" who may not know I exist. Also, the parent company has a real party, but there's a Secret Santa, and that doesn't feel like it'd be fun with strangers, and also, meh.
I see Adam Bailey's The Truth! at the Deanne Taylor New Play Festival. A thought-provoker… and also nice to discover another indie theatre walking distance from my house.
A walk through Tommy Thompson Park. A discovery of the perfect spot to watch the planes coming in, especially if you want to play "Billy Bishop or 9/11?" for ages. A trip to Starbucks when all the more interesting coffee shops are closed. All the same, hands are warmed. A goodbye that turns out to be a longer goodbye than anticipated, based on upsetting phone calls the next day.
Anyhoo…
Being part of a Facebook group for Toronto tennis players pays off. (Admittedly, the payoff is in 2023, but the initial action happened here.) Someone posts that they have indoor tennis court time at UCC they're looking to get rid of. So I take four dates in January and February. I will not be denied!
I'm pleased with my contribution to this Instagram exchange, and also with myself for having funny friends.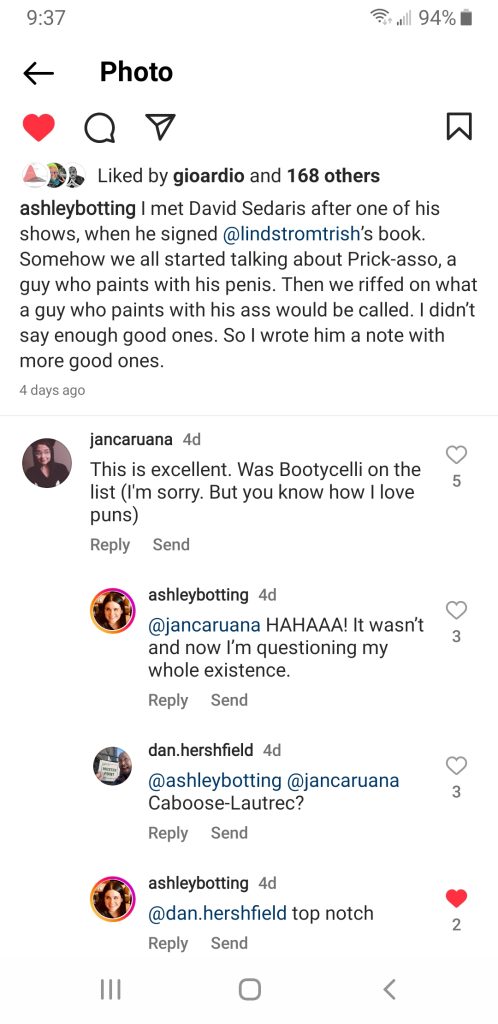 To end the year not alone, I make a move to my parents, just in time for Boxing Day dinner. We make spaghetti and brownies (separately). I also officially start my recipes binder; such a chef am I! The brownies make it to Ian and Jen's a few days later, where we (including Tom and Lindsay) enjoy each other's company and take in See How They Run. More importantly, I see Ian's Christmas gift for Jen…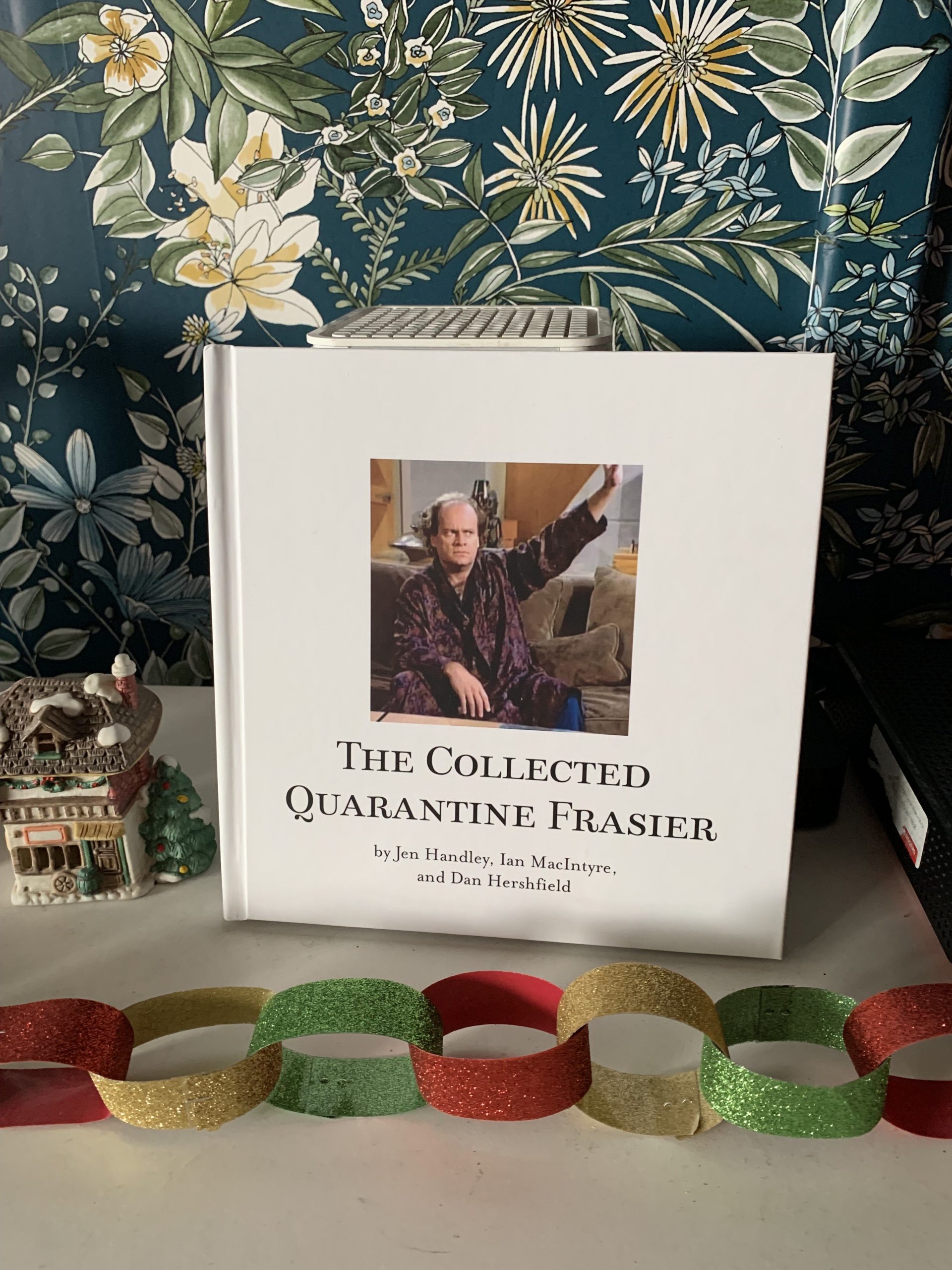 I. Am. IMMORTAL!!
But even the immortal have to eat now and then. For the Hershfields' last big cooking experiment of the year: an Irish Stew!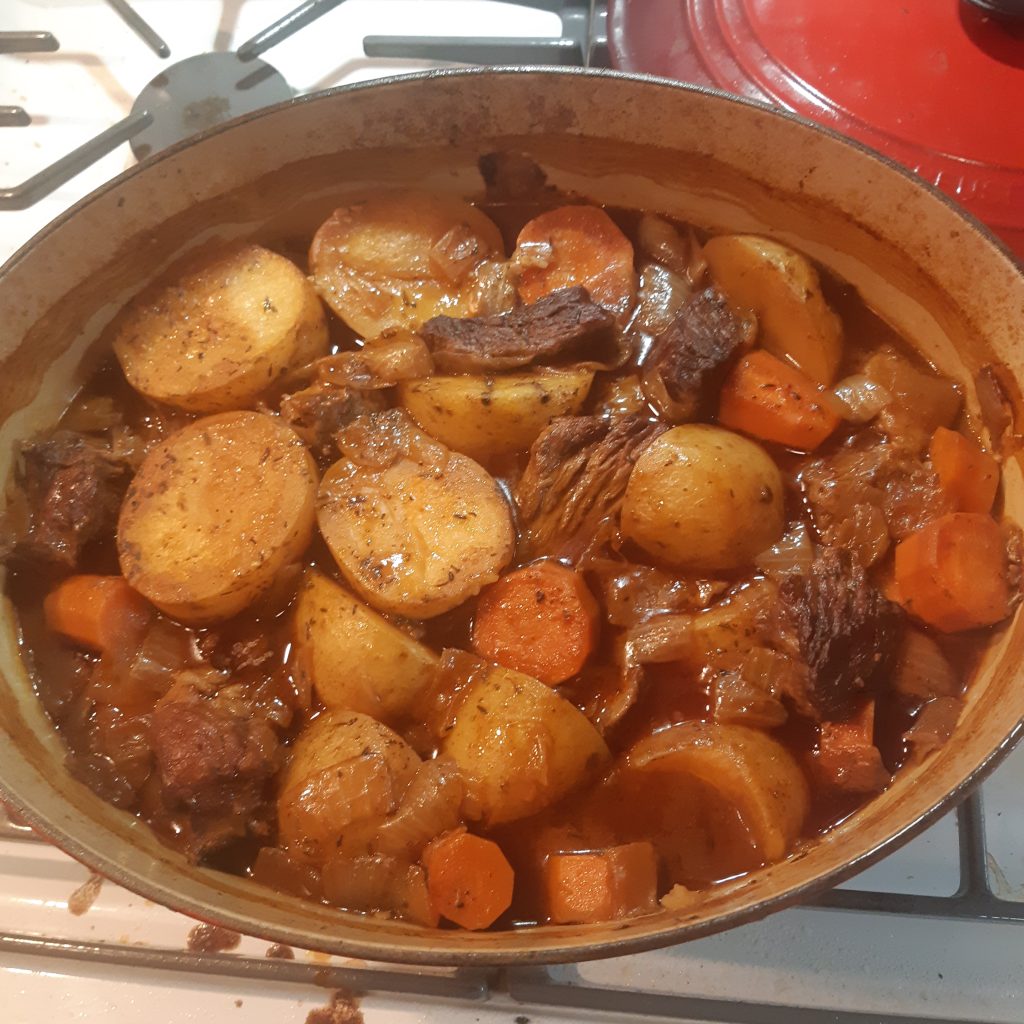 Larry and I thought it was pretty tasty; Mom (as is her wont these days) was underwhelmed.
Anyway, proving that, to me, it really is just another night, New Year's is once again spent watching Dwayne Gretzky on a livestream, then toddling off to bed.
And that's the year that was! Hoping that 2023 will be a little more light/photogenic, with a few more trips mixed in… but hey, however it works out, I don't have anything to prove to you people!
Just kidding! Of course I do! Please come back and see how I'm doing! (Seriously, if you're reading this without having just skipped to the end, I'm both grateful and impressed, not necessarily in that order.) Buh-bye!